Your guide to the best New Zealand's sand surfing on Te Paki Giant Sand Dunes. Get the cheapest board! Slide the best dune!
All adventurous souls will surely love this spot! Sandy hills reaching up to 100 m with the Tasman Sea in background. Beautiful views combined with a nice dose of adrenaline are waiting for everyone stopping by Te Paki Giant Sand Dunes in the far North of Northland, New Zealand. Don't miss the best sandboarding!
We'll show you where to hire the cheapest sand board as well as the best sandboarding spot! Let the adventure begin!
Hire a sandboard for Te Paki Sand Dunes
If you do not have your own sand board, you can rent it nearby. There are 2 possible options. Either you can rent it for $15/day directly at the Te Paki Giant Sand Dunes car park (open from 9.30 am) or you can hire it 5 kilometers South, turning to the road leading to Te Paki Sand Dunes for only $ 10 a day. There is a small farm where you can get sand boards (Red House Sand Boards) on the right side of the road. They are open every day from 7.30 AM to 9.00 PM. Prepare your passport or other ID with a photo as a deposit.
Note: Classic "water" bodyboards are not suitable for sand (you wouldn't be able to slide properly). Sand Board must have a special surface designed for sand.
Te Paki Sand Dunes and Facilities
There is free access to the Giant Sand Dunes – nor entrance fee, neither parking fee. You won't find there any tap with drinking water or toilet at the parking lot. The closest campsite (Waitiki Tourist Complex) is about 7 km away from the Te Paki Sand Dunes.
Where is the best sandboarding spot at Te Paki Sand Dunes?
Don't get confused by people climbing up the Giant Sand Dunes straight from the parking lot. You will find the best sliding spot by the river approximately at this location:
If you aren't afraid (or if you have 4WD), you can drive there by car through the river (all bus tours do so). In case you are leaving your car at the car park, follow the river towards the sea. Once you find a sand dune big enough to slide on (on your right-hand side), you are on the right place! You might see some bus tours about 100 meters further down the river. We don't recommend sliding there just because it is tooo crowded! Plus, you have much better and longer ride just from the very top of the sand dune on your right-hand side. Don't be afraid to the very top – it's the best from there!
Do some test rides first. It's better to find how does it feel like and start from lower elevation at the beginning. Then you will see yourself where your speed comfort is.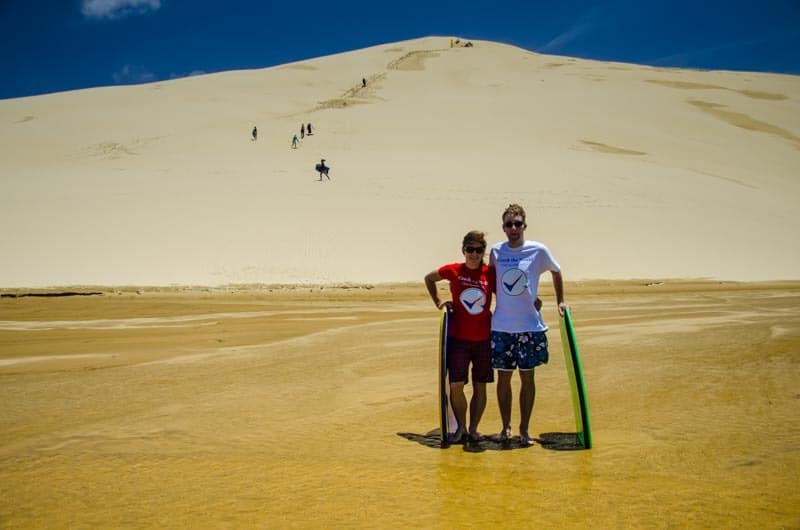 It's a great fun to finish in the river! If you climb high enough, you will probably end up in the river. Don't worry, the water is only 5 – 10 centimeters deep. But count on getting a little bit wet.
Of course, you can ride at any place there! But especially on windy days, you will be glad to find some less windy place (and that is exactly this spot by the river).
Sandboarding technique and styles
The most common and probably the safest sandboarding style is to lie on your belly with head forward. You can possibly brake using your legs (sand doesn't hurt you).
TIP: Leave some space in-between riders if you do a group ride. If you are breaking just a few meters ahead of another rider, I bet he won't be excited about it because he will have his face full of sand.
You can also ride while sitting or kneeling on the board. Then it is up to your imagination. You can also ride two on one board – while one is laying on his belly and second one can sit on him. The only thing we don't recommend is a standing position. Falls can be unpleasant.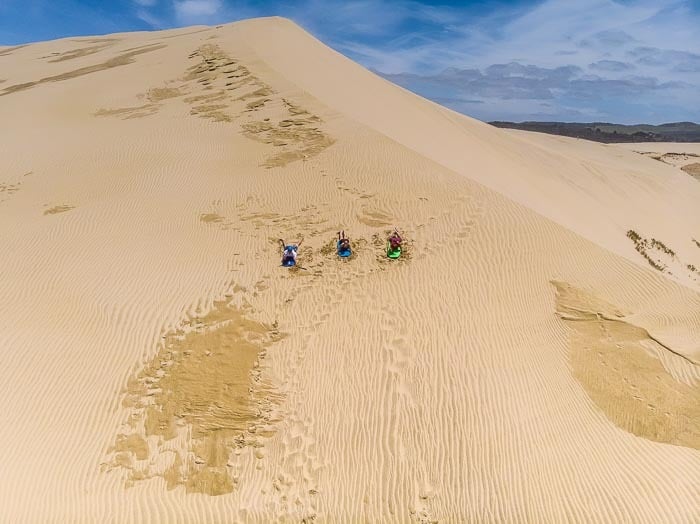 What to be prepared for?
You will have sand everywhere
If you want to go sandboarding, sunglasses are a must! But don't take your favorite ones because the small particles of sand can make some scratches on them. If you arrive at really windy day, it can be even more unpleasant. In this case, we recommend riding at place by the river, there is quite a good "wind shade" created by a giant dune.
Sand surfing will be a nice physical activity
This fun is serious sport activity! In some steep places you take one step up and you slide half a step down. Most people only do a few rides here. But if you are enthusiastic about dunes like we were, you can run up over and over again. It's definitely very nice training 🙂
Go barefoot – leave your shoes at the bottom of sand dune
Having any kind of shoes on while walking in the dunes is annoying. Leave them at the bottom or in the car.
Where to wash-off the sand?
If you feel to, you can swim in the see or jump to the lake nearby. The closest campsite is approximately 8 kilometers away.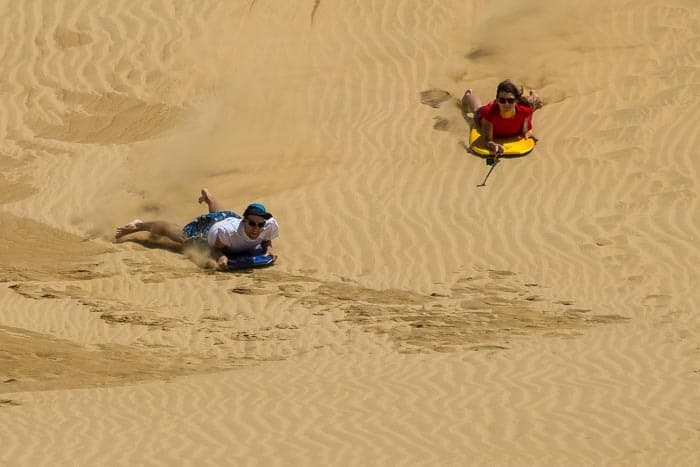 How to get to the Te Paki Giant Sand Dunes?
Location: Te Paki Giant Sand Dunes are located on the top of New Zealand's North Island, 17 km south from Cape Reinga.
You can reach Te Paki Sand Dunes by taking State Highway 1F (later marked as Cape Reinga Rd). Turn left in Te Paki Village to the Te Paki Stream Rd (dirty road). It will take you to the Giant Sand Dunes car park.
Don't forget for sandboarding:
Water
Sunglasses (but not your favorite ones because sand can scratch them)
Sunscreen
Sandboard
• Mobile / GoPro – we recommend taking pictures by phone/camera first and then leaving all the equipment (except of GoPro) on a sand-save place in the backpack or in the car, otherwise sand can easily damage it.
Where to go next?
Cape Reinga
If you made it all the way up there, then you must check out Cape Reinga. Lighthouse right at the top of the Northland and New Zealand's North Island. There are some nice cliff hikes. If you want to stay overnight, the closest campsite from the Cape Reinga is the Tatotupotu Camsite.
90 Miles Beach
Have you ever dreamed about riding the car on the beach? 90 Miles beach in Northland is made for it! You should wait for the low tide for the best conditions and ideally have a 4WD. However, some parts can be handled without a problem even with a classic car or camper van without 4WD.
Other awesome New Zealand's places:
Pin this for later or for your friends:
Did this post help you? Share it with your friends! It can help them too 🙂
Disclosure: Please note that some of the links above may be affiliate links, and at no additional cost to you, we earn a commission if you make a purchase. We recommend only products and companies we personally use and we use this income for further improvement of this website. Thank you!
---
Adriana & Matěj
Travelers, sport enthusiasts and photographers behind this blog. Creating high-quality and informative guides for your travels. Read more about us here.