Australia is one of the best places for a once-in-a-lifetime road trip experience. From the endless desert lands to the green mountain tops, from the humid tropical barrier reefs to the snowy forest roads, the land down under has infinite possibilities of surprises.
Avid adventurers come here to soak in the beauty of nature. The best way to do it is a road trip. One of the most popular routes is Sydney to Melbourne road trip, the two most vibrant cities in the country. There is no one way to enjoy a road trip. Bellow is a comprehensive itinerary favoured by many adventure-seekers as you are able to enjoy most of the route with a limited amount of time, perfect for a weekend trip.
Practical Tips for Road Trip
1) How to choose your vehicle
Going from Sydney to Melbourne can take a day or up to several days, depending on how you want to enjoy your trip. Regardless, you should choose the vehicle wisely as you will be spending hours and hours in it.
Aside from bringing your own car, more people opt to rent a campervan or a caravan. A campervan is a van remodeled to be a mini, temporary home whereas a caravan is like a trailer home with a more structured layout to a mini apartment. These two options are well-loved because once you leave Sydney, the roads are spacious and easy to drive on.
If you are looking for a budget deal, consider doing a relocation deal for rental companies. It's a lesser-known way to enjoy a road trip. Australia is divided into different states. When a car rental company rents out a campervan licensed in Melbourne, in the state of
Victoria, the customer may return it in Sydney, in the state of New South Wales. Then, the company will not be able to rent the same campervan in Sydney due to licensing issues.
A relocation deal is when the car rental company offers someone to drive the vehicle back to its licensing state for free. Sounds dreamy, right? Usually, you are given a tight time frame and all fuels are on you. You can choose to add on an extra few days at a price lower than the normal rates as well. Relocation deals are especially popular among students with high flexibility and a low budget.
2) What to pack
After you have chosen the type of transportation, it is time to pack. Most tend to overpack, bringing a whole chunk of unnecessary items that take up space in the already-not-so-spacious campervan. Most things you need will be available locally. Pack only the essentials and purchase the local products. For more tips, check this Australian road trip essentials list.
Sydney to Melbourne Road Trip Itinerary
1) Day 1 – Enjoying Sydney
Sydney is the biggest city in Australia with more than 5 million people. The world-famous Bondi beach and all the hippie areas that mesmerised visitors' hearts, it is a must-see place for any first-timers in this lively seaport.
Before you leave for an exciting road trip, make sure you check out Sydney first so you do not miss out on this gem. Bondi beach is an Instagrammable place for flashy and holiday photos. Do the Congee Walk after for a fun afternoon if time permits.
Not a fan of the sun? Book an opera at one of the world's top opera houses at the heart of Sydney. Thousands of people travel here every year for one purpose, to enjoy a world-class performance at the theatre with a top-notch sound system and talented performers.
Night markets and Carriageworks offer a diverse nightlife. Local snacks and street performers hype up your night anytime you are ready for a good party. Nightlife in this international city is abundant. There is something going on every night.
2) Day 2 – Sydney to Canberra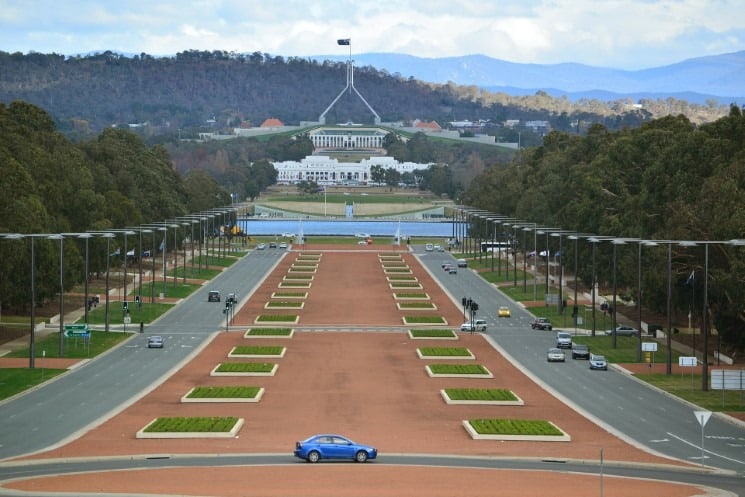 Assuming you have reserved extra time before starting the roadtrip to explore the vibrant city life in Sydney, the day of the road trip starts when you pull your car out of the city line slowly.
Not too far down the road, there is a city Wollongong just outside of Sydney. It looks like one of those fancy seaside resorts with beautiful beaches, but minus the crowd. If the bustling beach life in Sydney is too much or you just have not had enough of it, make a quick stop here before going further away from civilization.
When driving from Sydney to Melbourne, there are two options. Either you take the inland road or the coastal route. It is a tough decision because there is so much to see on both sides. A great way to maximize the journey is to take the inland route to Canberra first, then take the long detour along the coast to Melbourne.
Little did most people know, Canberra is the capital of Australia. Often overshadowed by the two lively cities, not enough people actually know of Canberra. A fun history fact before you visit the center of power situated right between Sydney and Melbourne. The reason Canberra was elected as the capital was because of the heated competition between the two huge cities. Eventually, settling down on a middle point that is Canberra seemed like a bright idea.
Canberra is 3 hours away from Sydney, 2.5 hours from Wollongong if you follow the itinerary. Coming into Canberra, you might get an eerie feeling. Empty streets and closed shops are common on the weekends. Most residents in the capital are not native to the area, they only come to work during weekdays and drive home on the weekends, emptying the place during holidays. Go on a weekday if you want to visit the government buildings and possibly join some tours.
An afternoon is sufficient to check out the not-so-conventional capital. Upon leaving Canberra, head towards the coast along the B52 highway. There is the Monga National Park closer to the sea. Finding accommodation here would be easy with plenty of caravan parks available in the region. Mogo is a small heritage town that serves as the gateway to the heavenly bay area and nature behind.
One very important note to all travellers driving a campervan/caravan. It is illegal in Australia to park in public spaces. You have to park your vehicle in a registered caravan park. In many European countries, especially in the Nordic area, you are free to park your vehicle anywhere in nature as long as it is not on private property. It is not the same in Australia. You will be fined if you are caught breaking the rules.
3) Day 3 – Exploring nature
Waking up to nature is an incredible feeling. Grab a coffee to instill the energy you need for the road early morning and continue your trip to more scenery. There are many coastal towns and national parks in New South Wales (NSW). Stop whenever you want when you see a picturesque spot to fill those memory cards on your camera.
Crossing from NSW to Victoria, you will gradually feel the weather and atmosphere changing, especially during winter times. One of the spots you surely do not want to miss is Lakes Entrance, a coastal town in eastern Victoria. It is about 5 hours away from Mogo and a very popular destination in the summer.
Make sure you check in to this peaceful town in the afternoon so you get a decent amount of time to snoop around. The beach and seaside are a must. Lakes Entrance is no stranger to tourists eager to get a taste of the resort-vibe but do not wish to be bumping head with others. Visitors adore the beautiful place and how calming it is despite the numerous tourists visiting.
Do some water sports or take a boat ride. Do not miss out on the seafood. They are often fresh and delicious. Another fun thing to try is flower gelato. Not exactly something you would be hunting for in a town like this but it will surely blow you away. Plenty of shops are selling unique dishes local to the region and with their special touch, adding flavors to the spices.
As opposed to parking your vehicle somewhere and getting ready to camp, most roadtrippers choose to park their campervan and stay in one of those resorts by the beach. It is a memorable experience to enjoy a 5-star stay in a place as calm and stunning as Lakes Entrance. If budget is not one of your concerns, staying in a lodge or a resort here is a wonderful way to fully immerse yourself with the beauty it has to offer.
4) Day 4 – Meet the friendly kangaroos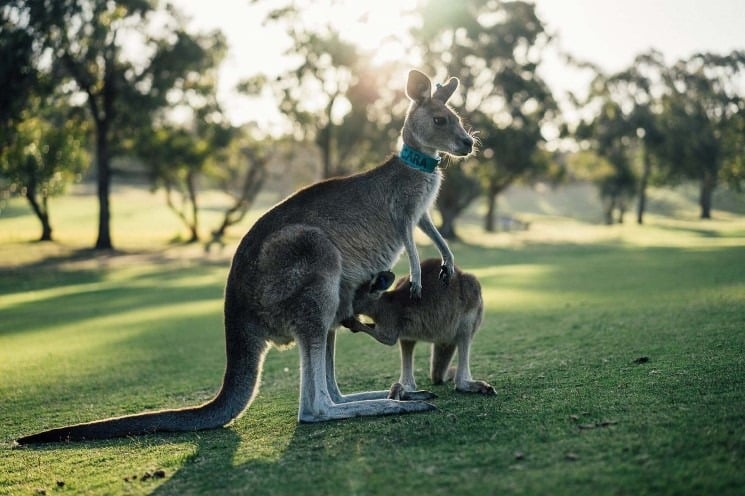 After the incredible night stay in Lakes Entrance, it is time to depart to meet some friendly kangaroos. Perhaps you would like to get some more of that flower gelato before you go.
The road from Lakes Entrance to Melbourne gets increasingly greener and more relaxing to look at. There will always be lovely small towns that make you want to pause your trip and just stay for one month. Why not if your time allows? However, most travelers do not have the luxury of time so they have to hurry on to their last stay before hitting the big city of Melbourne – Phillip Island.
A trip to Australia is not complete without jumping on a chance to see kangaroos, emus, and penguins. Phillip Island is an island located south of Melbourne, 4 hours away from Lakes Entrance. Travelers can drive there by car.
Phillip Island Wildlife Park is a place you do not want to skip. There are hundreds of species native to Australia kept in that sanctuary where they are given an abundance amount of space to run around in the field. The scene of kangaroos and emus running around will leave you in awe.
For any animal lovers, Penguin Parade takes the experience up to a whole new level. It is a nightly viewing of penguins returning home from the sea after a hunt. You see those tiny feet jiggling on the sandy beach to reunite with their family. Visitors love the natural experience of seeing animals in their natural habitat without being intrusive.
There are a ton of locations for you to stay around. You will surely find something you like. If you are adventurous enough, try their famous kangaroo burger. It might come as a shock but kangaroo meat is a delight in Australia.
5) Day 5 – Melbourne
The wonderful day spent in Phillip Island, being surrounded by nature, concludes the eventful and joyous road trip. Back to the lively city life. Melbourne is hardly two hours away from Phillip Island. The closer you get to the city, the better you see nature slowly blending in with the city skyline.
Full of the majestic Victorian-style buildings, Melbourne is the second-biggest city in Australia with a population of 4.5 million. Head to Flinders Street to check out the hub that hosts all trains connecting the city. Talk a walk and browse through the stalls in Queen Victoria Market. Grab some small bites from vendors and take a drive down to St. Kilda beach where the famous colorful beach houses are located.
Melbourne has crowned the top 2 most livable cities in the world. There are hippie corners where artists gather to create masterpieces, galleries, and museums for folks to learn history, countless street food vendors to enjoy a taste of Melbourne…The fun never ends here.
If time allows after you have returned your vehicle, Melbourne is a place worth staying for a few days to explore. There is so much to see and spreading the destinations out allows you to fully take in the essence of beauty in each place.
The Botanic Garden, Fed Square, and Puffing Billy Railway are all places that will be part of a memorable journey. Of all those, Puffing Billy Railway is one to remember. It offers a unique experience to be on an old, vintage steam train that makes you feel like you are on a Harry Potter journey.
Summary
Fortunately, the route from Sydney to Melbourne never snows, unless you go high up to the mountains, this itinerary works well throughout the year. However, depending on the seasons and months, there might be different activities and festivals going on in different cities. Stay up to date to events you would like to attend while planning your trip so you do not miss out. You can also check for relocation deals on different car rental companies like Hertz for a budget trip.
Australia is truly a gifted land with endless wonders. This special itinerary from Sydney to Melbourne would give you a taste of the vibrant, exciting glimpse of the city while fully recharging yourself with nature and lovely animals. Consider this for your next getaway trip!
Author bio
Estella is a freelance journalist, writer, and video editor traveling the world to collect meaningful stories. She runs StoryTale to publish inspiring stories from women around the world to empower and make a positive change. Travelling is her passion and she adores horses and loves the snow!
Sydney to Melbourne Road Trip Video:
Check also this video with Top 10 things to do on Sydney to Melbourne Road Trip:
More tips for your travels:
We have prepared for you this comprehensive list of links, discounts, and resources for travel planning in one place. Bookmark this page and whenever you plan a vacation in the future, just open it and save yourself a lot of time.
1) Where to book accommodation?
2) How to find cheap flights?
3) How to rent a car?
We recommend a comparison portal RentalCars.com to compare the best offers of all available rental companies.
Pin Sydney to Melbourne Road Trip Itinerary for later or for your friends:
Did this Sydney to Melbourne Road Trip Itinerary help you? Share it with your friends! It can help them too!
Disclosure: Please note that some of the links above may be affiliate links, and at no additional cost to you, we earn a commission if you make a purchase. We recommend only products and companies we personally use and we use this income for further improvement of this website. Thank you!