Do you need perfect Instagram captions to get more likes, shares and be an Instagram hero? Check our large collection!
Clever Simple Instagram Captions
Don't be like the rest of them, darling.
Life is too short to be serious, so laugh.
Success always follows hard work.
Life doesn't get easier, You just get Stronger.
If you obey all the rules. You miss all the fun.
Your Attitude determines your direction.
Today's struggle is tomorrow's strength.
Don't sit like a rock, work like a clock.
Motivational Simple Instagram Captions
Action is the foundational key to all success.
If you have never failed, you have never lived.
The comeback is always stronger than the setback.
The doors will be open to those who are bold enough to knock.
Doubt kills more dreams than failure ever will.
Look in the mirror. That's your competition.
"To be the best, you must be able to handle the worst."
Learn from yesterday, live for today, hope for tomorrow.
Dream big and dare to fail.
Everything You need is already inside you, Get Started.
Ever tried. Ever failed. No matter. Try Again. Fail again. Fail better.
Find beauty in the small things.
"You miss 100 percent of the shots you never take." – Wayne Gretzky
When shit happens, turn it into fertilizer.
Life is a one-time offer. Use it well.
Only in darkness can you see the stars.
1 Year = 365 Opportunities
You must do the thing you think you cannot do.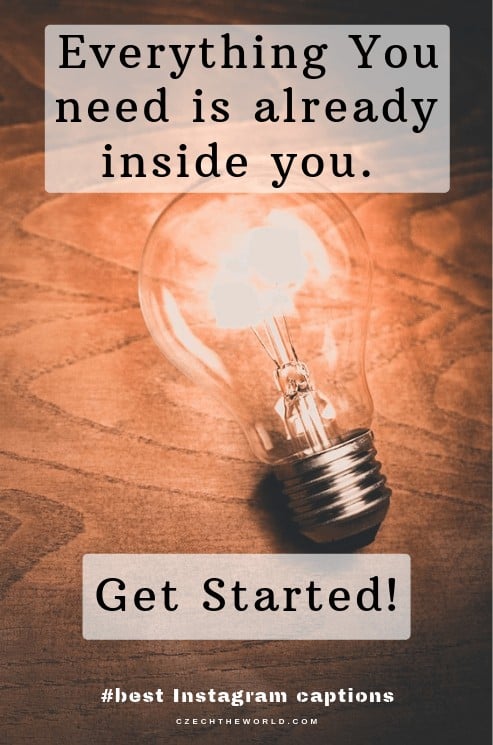 Funny Simple Instagram Captions
Funny Instagram captions are always popular! There is nothing better than making your friends laugh.
Don't give up on your dreams. Keep sleeping.

I eat cake because it is somebody's birthday somewhere!

I had fun once, it was horrible.

How do I feel when there is no coffee? Depresso.

Reality called, so I hung up.
After Tuesdays, even the calendar goes WTF.
I'm on a seafood diet. When I see food, I eat it.
Nothing is lost until your mother can't find it.
Friday, my second favorite F word.
Brains are awesome. I wish everybody would have one!
I need a six-month holiday, twice a year.
I am not lazy, I am just on save energy mode.
Follow your heart, but take your brain with you.
Life is short. Smile while you still have teeth.
It's too "a.m." for me.
I would kill for a Nobel Peace Prize!
I used to think I was indecisive, but now I am not so sure.
If you fall, I will be there. Signed: Floor.
Must read: 273 Best Funny Instagram Captions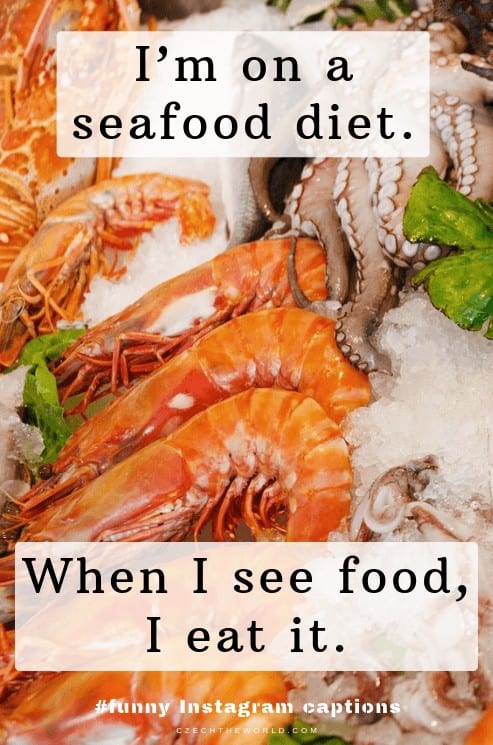 Simple Instagram Captions for Selfies
Selfie without a good caption isn't a good selfie! Let's have a look at the best simple Instagram captions for selfies:
Be yourself, there's no one better.
Life is better when you're laughing.
Confidence Level: Selfie with no Filter.
Sending my selfie to NASA, because I'm a star.
You only live once, but if you do it right, once is enough.
Surround yourself with those who make you happy.
Dream without fear, love without limits.
"Insert funny caption"
Live for the moments you can't put into words.
You cannot do EPIC shit with basic people.
If I send you ugly selfies, our friendship is real.
I did NOT wake up like this.
A selfie a day keeps the doctor away!
Crazy hair, don't care.
I just got 30 likes, #selfiepro
This is the most magical pic of your life.
Being part of this group is so much fun, I love it.
Warning – You might fall in love with me.
Must read: 315 Best Instagram Captions for Selfies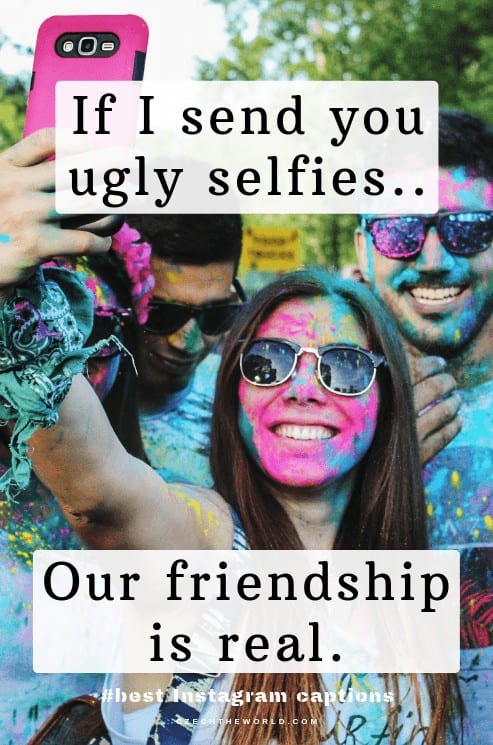 Savage Simple Instagram Captions
It's cool to use some Savage, baddie or sassy Instagram captions!
Silence is golden. Duct tape is silver.
I'm a scuba diver in a sea of idiots.
My phone battery lasts longer than your relationships.
The trash gets picked up tomorrow. Better get ready.
Zombies eat brains. You're safe.
Bitch, I wanna slap you, but I don't know in which face.
Don't stand too close to the heater babe. Plastic melts.
The uglier the snapchat the closer the friendship.
If it requires smiling, I probably won't come.
Bro, you have an entire life to be stupid. Take a day off.
You were my cup of tea, but I drink champagne now.
I am Fiji water. You are toilet water!
I love the sound you make when you shut up.
Shut up. I wear heels bigger than your dick.
Must read: 201 Best Savage Instagram Captions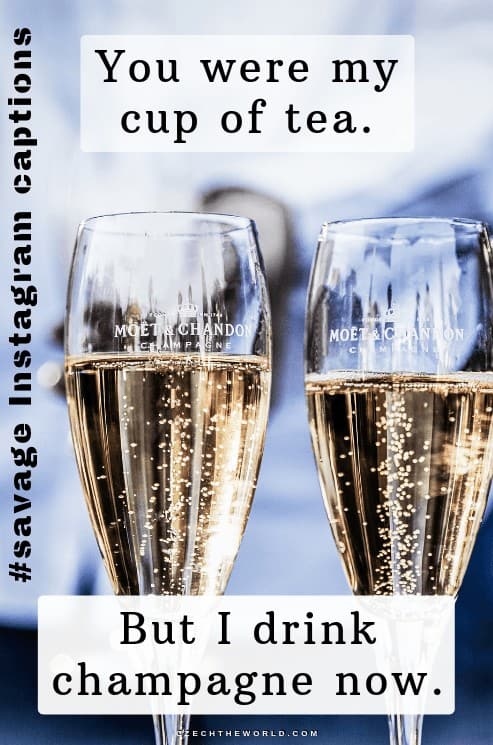 Aesthetic Simple Instagram Captions
Everyone loves art and beautiful things – just use aesthetic Instagram quotes sometimes.
She is the untouched piece of art.
It's time to shine for me.
Grace makes you more beautiful.
However, I see you in the entire room of art.
You do not have to be so beautiful.
Not so perfect, but so beautiful.
Sunsets prove that the end can be beautiful.
No makeup, no filters, no outfits.
Poor but aesthetically pleasing.
All beautiful things are around you.
This is an unwanted work of art.
Nighttime is for me.
You cannot see love with eyes.
You Can not Use Photoshop Personality
Do you think you live in the movie or in reality?
Worry less, smile more.
Paving my way of imagination.
Gracefulness makes you more gorgeous.
Must Read: 197 Best Instagram Bios for Girls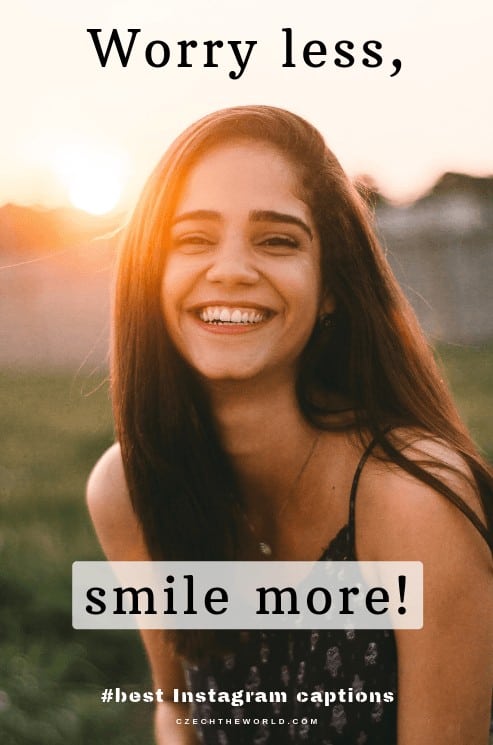 Girls, Boys, Love, and Couples
In this section, we will cover simple Instagram captions for girls, boys, love, and couples.
Girls
Behind every successful woman is herself.
Shopping is cheaper than therapy.
Real queens fix each other's crowns.
Keep your heels, head & standards high.
Quit trying to fix me, I am not broken.
A girl should be like a butterfly. Pretty to see, hard to catch.
Sometimes you gotta be a beauty and a beast!
All I need is Coffee and Mascara.
I am the princess of my own Fairy Tale.
I have enough jewelry – Said no one ever!
When in doubt, wear red lipstick.
Cinderella never asked for a prince.
Must Read: 257 Best Instagram Captions for Girls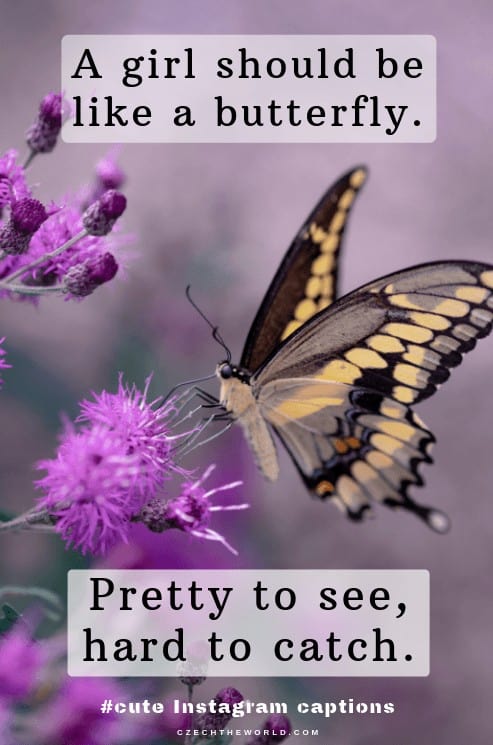 Boys
My hobbies are breakfast, lunch, and dinner.
Love me or hate me, either way, I'm gonna shine.
Never do the same mistake twice. Unless she's hot.
When life throws a rock at you, throw back a brick.
I'm on a date, she isn't very social.
I know I am Awesome, so I don't care about your opinion..!!
Boys never realise how much one little thing can hurt a girl.
I may not be perfect but I'm always me.
Real men don't take selfies.
Must Read: 195 Best Instagram Captions for Boys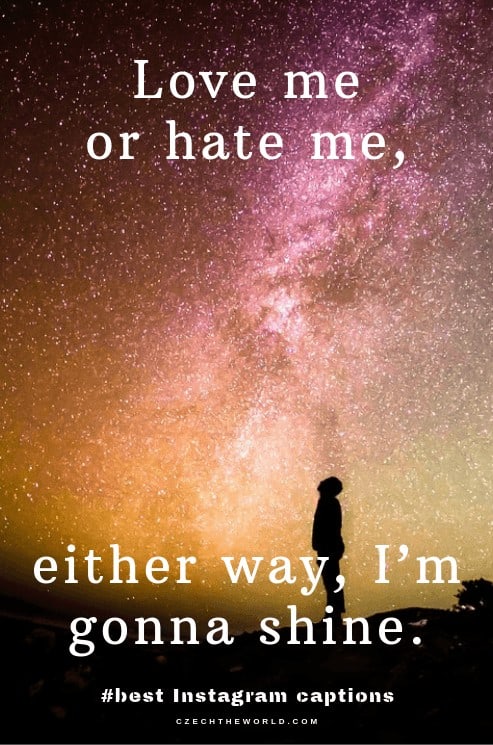 Love
Distances either make relationships or break relationships.
Love never dies, it gets trapped between egos and heartbreaks.
When trust stumbles, love falls off the cliff.
Let's commit the perfect crime. I'll steal your heart and you'll steal mine.
You stole my heart so I'm gonna steal your surname.
Being in love is the most beautiful thing ever.
Whenever you face your ego and love fighting let your love win.
Love is that holy medicine that can cure all your wounds.
Trust me, you are the best thing ever happen to me.
Loves never fades away, if it does, it's not love.
Love doesn't come with terms and conditions.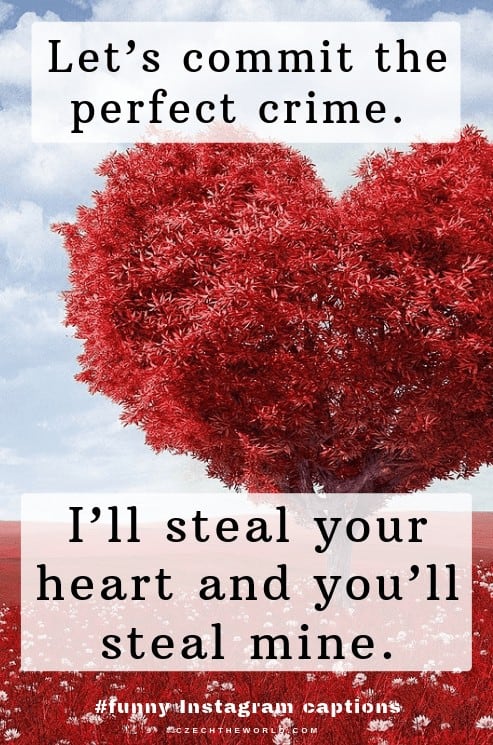 Couples
I just want to hug you so much right now.
You are the risk I'll always take.
One soul, two bodies.
I will love you unconditionally.
By the way, I'm wearing the smile you gave me.
I don't Chat to Flirt.
I am trying not to think about you but it's not working.
It's okay even the sky cries sometimes.
If you smile, every time his name pops up on your screen. You're in love.
I like the way you're everything I've ever wanted.
With you, every moment is sweet and memorable.
I wish my wallet came with free refills.
Thank you for reminding me what butterflies feel like.
Friday, my second favorite F word.
You mean more to me than you'll ever know.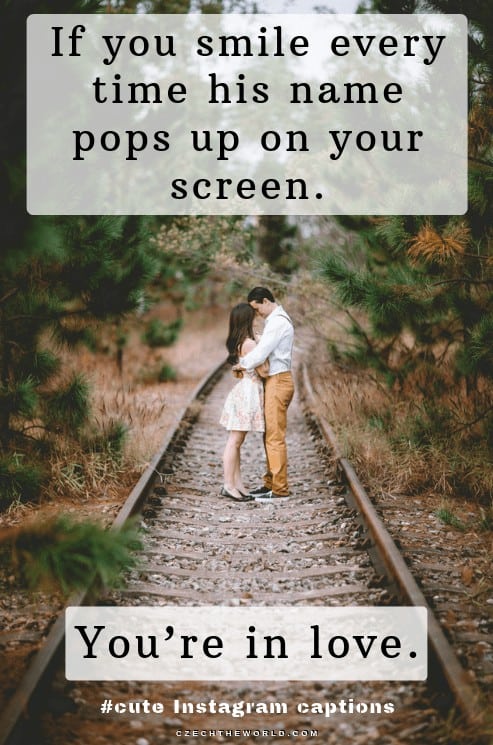 Friends, Squad, and Group Photos
Do you need Instagram captions for group photos with your friends or squad? You are at the right place!
Friends
A good friend knows all your stories. A best friend helped you write them.
Finding friends with the same mental disorder: priceless!
Friends don't let friends do silly things… alone!
True friends don't judge each other. They judge other people together.
Best Friends make the good times better and bad times easier.
Friendship isn't a big thing. It's millions of small things.
Never let your friends feel lonely… disturb them all the time.
I was an innocent being…then my best friend came along.
Must Read: 375 Best Friendship Instagram Captions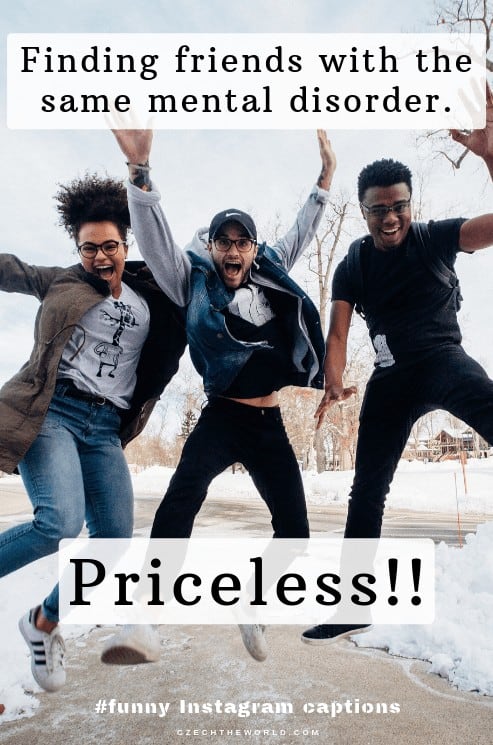 Squad
Squad means family and family means nobody gets left behind.
Nobody really likes us except for us.
When worst comes to worst, squad comes first.
We're like the super friends. We're a highly animated group.
I found out what the secret to life is — friends. Best friends.
Good vibes. Good friends. Good times.
I can't really see another squad tryna cross us.
What matters is getting the best out of the squad you have.
I don't have friends, I have a family.
Any place can be the best place if you have your Friends squad along.
True friends don't judge each other. They judge other people…Together!
You can't do epic shit with basic people.
Life was meant for good friends and great adventures.
Friendship isn't a big thing. It's millions of small things.
Friends who slay together, stay together.
Friendship is about finding people who are your kind of crazy.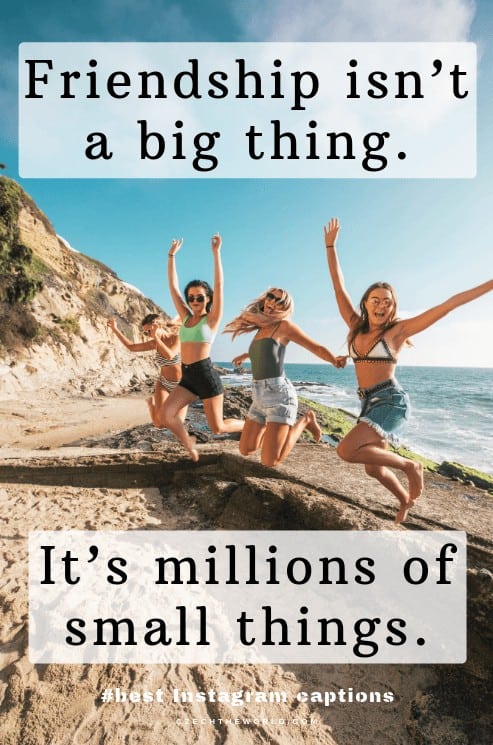 Group photos
But first…let me take a selfie!
Good friends are hard to find and impossible to forget.
Friends who slay together, stay together.
Being part of this group is so much fun, I love it.
With my friend it never gets boring.
Alone we can do so little. Together we can do so much.
Friends don't let friends do silly things… alone.
Do it for the after selfie.
Best group of buddies ever!
You can't do epic stuff with basic people.
I don't know what's tighter, our jeans or our friendship.
In squad we trust.
Nobody has to like us; we like us.
Must Read: 193 Best Instagram Bios for Boys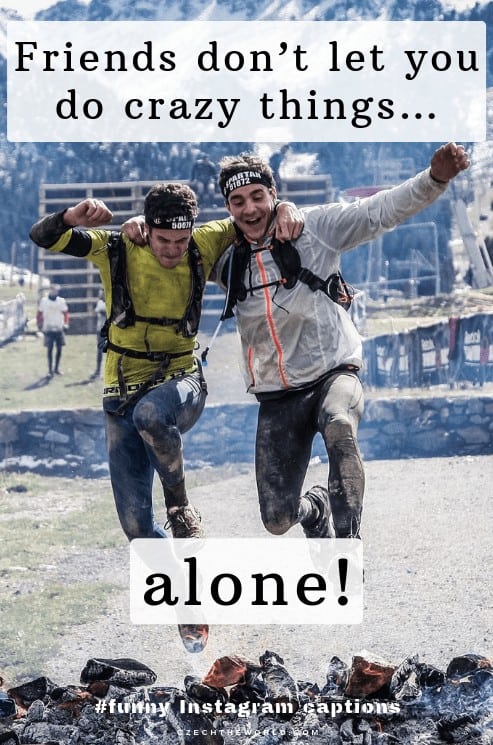 Cute Simple Instagram Captions
How about some cute Instagram caption? Play with your friends feelings.
I just wanna spend the rest of my life laughing.
A smile is the most beautiful curve on a woman's body.
A girl should be like a butterfly. Pretty to see, hard to catch.
By the way, I'm wearing the smile you gave me.
Anything is possible with sunshine and a little pink.
Let's flip a coin. Heads, you are mine. Tails, I am yours.
I'm on a date, she isn't very social.
Always classy, never trashy, and a little bit sassy.
I'm not short, I'm concentrated awesome.
Life isn't perfect. But my Hair is!
One soul, two bodies.
I am trying not to think about you but it's not working.
There's a million fish in the sea. But I'm a mermaid.
I just want to hug you so much right now.
Must read: 217 Best Cute Instagram Captions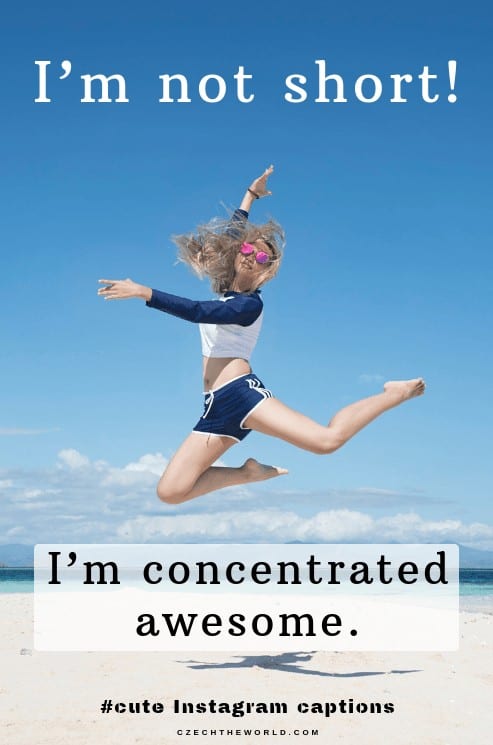 Event Simple Instagram Captions
Do you need Instagram quotes for some particular event? Check this section – you will find cool captions for birthday, wedding, Christmas, new year, 4th of July, Halloween, prom, homecoming and parties.
Birthday
On this day, a queen was born.
Birthdays are nature's way of telling us to eat more cake.
Thank you, Mom for giving birth to this wonderful child.
Gonna party like it's my birthday…'cause it is.
Today is a great day cause it's my birthday!
Hold on to your inner child as you grow older.
Another year older, none the wiser.
Live your life and forget your age.
"Turn my birthday into a lifestyle." – Drake
Making my years count instead of counting the years.
Birthdays are incomplete without the ones who love and care for you.
I hope the birthday cake is as sweet as me.
Hugs, kisses and lots of birthday wishes!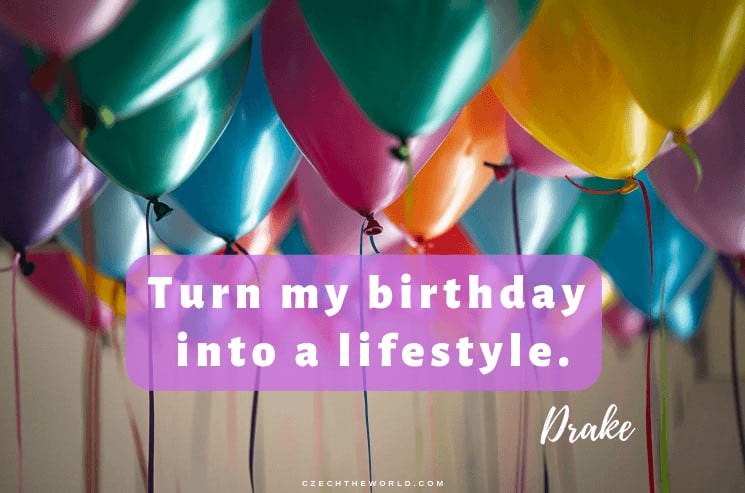 Wedding
We have tied not only the knot, but our hearts and souls.
Marriage is quite a dangerous lifelong journey. Good luck!
We are united by love and a heartbeat.
Every day you prove to me that happily-ever-after really exists.
I'm so glad you are still alive after months of wedding preparations!
It is only the beginning…
Now you are stuck with me forever and always.
All I need for true happiness is having you by my side.
I found my other half – what else to wish for?
I don't marry a person I can live with. I marry a person I can't live without.
Without you, my life would be incomplete.
I've just come to my friend's wedding party to take some pizza.
I promise that I will be there for you through thick and thin.
This is the next page of our love story.
You made me believe in love at first sight.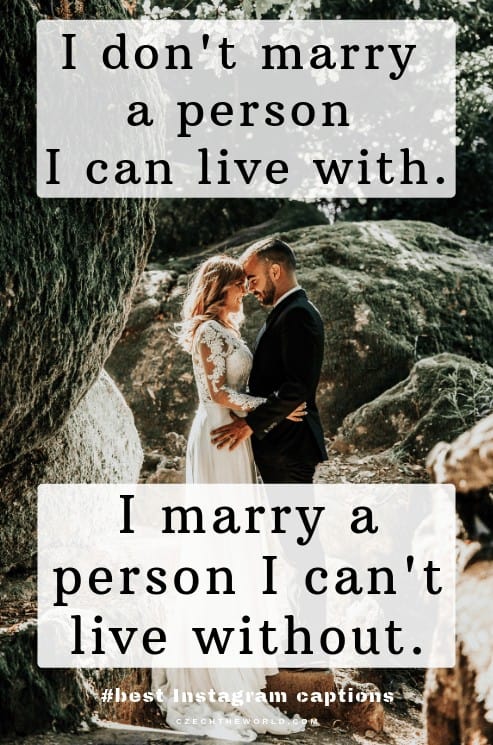 Christmas
What do you get when you cross a snowman and a vampire? Frostbite!
Merry Elfin' Christmas
Merry everything and happy always.
I Have O.C.D. – Obsessive Christmas Disorder
I Hope Rudolph Eats the Naughty List.
Sweater Weather is Better Together.
Dear Santa, I've been good all year. Most of the time. Once in a while. Nevermind, I'll buy my own stuff.
Dear Santa, is it too late now to say sorry?
You rock my Christmas socks.
But first, let me take an elfie.
I'll be ho-ho-home for Christmas.
Totally sleighed it.
What do you call an elf who sings? A Wrapper.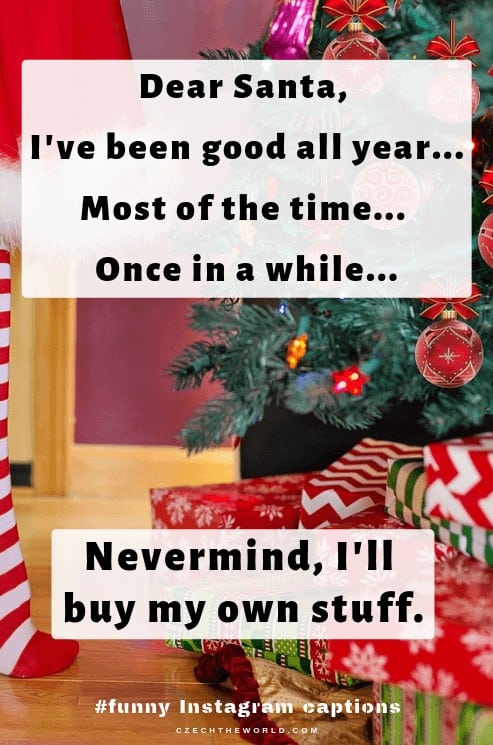 New year
The new year means nothing if you still love your comfort zone.
New Year, New Feels, New Chances, Same Dreams, Fresh Starts.
I can't believe it's been a year since I didn't become a better person.
12 new chapters, 365 new chances.
Don't live the same year 75 times and call it a life.
Many people look forward to the New Year for a new start on old habits.
Wishing you peace and love and laughter for the New Year!
The best time for new beginnings is now.
New year, new me.
4th of July
"Brought to you courtesy of the red, white, and blue." — Toby Keith
Give me liberty or give me death.
"I'm just living out the American dream." — Madonna
What's the best kind of tea to drink on July 4th? Liber-tea!
One flag, One land, one nation evermore.
Land that I love.
"You're welcome." – George Washington
America sure knows how to throw a birthday party.
They hate U.S. 'cause they ain't U.S.
Today we all share the same sparkle in our eyes.
"America, to me, is freedom." – Willie Nelson
Home of the free, est. 1776.
"I haven't partied this hard since 1776." — America
Land of the free, because of the brave.
Red, might, and blue.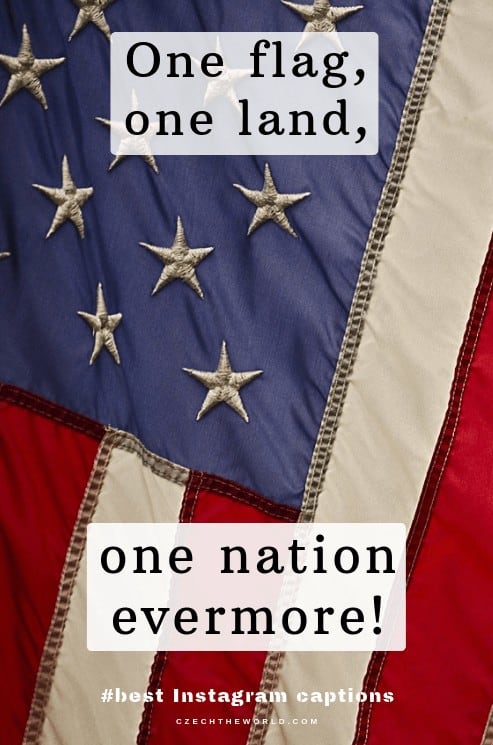 Halloween
"Clothes make a statement. Costumes tell a story." — Mason Cooley
"Life is scary, find your boo."
"You say witch like it's a bad thing."
"Let's get (pumpkin) smashed."
"If you think I'm a witch, you should meet my sister."
"I don't celebrate Halloween, I am Halloween."
"Halloween is not a day. It's a lifestyle."
"Demons are a ghoul's best friend."
"If zombies chase us I'm tripping you. Nothing personal, just sayin'."
"Witch, better have my candy."
"Everything's better with a little magic."
"Ghouls just wanna have fun."
"No tricks, just treats!"
"Creepin' it real."
"Witch way to the candy?"
"There is magic in the night when pumpkins glow by moonlight."
"What a boo-tiful costume."
"Don't forget the true meaning of Halloween: Chocolate and sugar."
"What an excellent day for an exorcism." — The Exorcist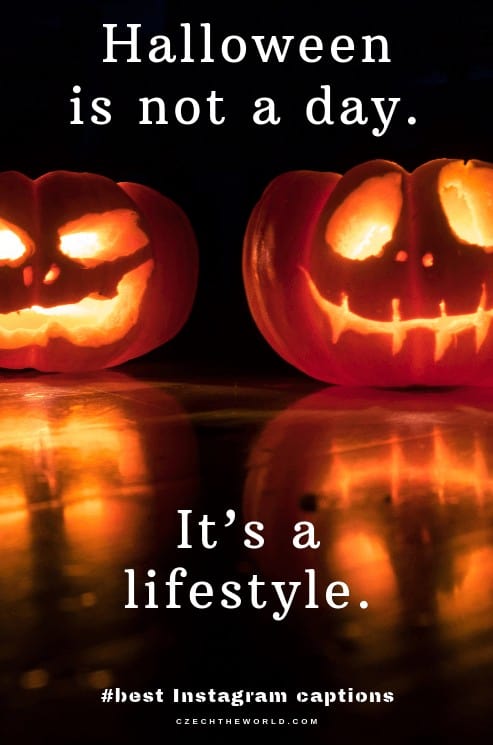 Prom and Homecoming
I wish tonight could last forever so we never have to say goodbye.
We're fools whether we dance or not, so we may as well dance.
Life isn't perfect, but your dress can be.
Always wear your invisible crown.
You never know how strong you are until you dance all night in heels.
Life is a lot more fun when you have your favorite outfit on.
I PROMise this won't be the last photo I post tonight.
With nights like these, who needs the days?
Keep calm and think prom.
Keep your heels, head, and standards high.
A lot goes down when we dress up.
A picture is worth a thousand words but the memories are priceless.
I never miss a chance to dance.
I cannot see heaven being much better than this.
I wish some nights lasted forever.
I spent two hours getting ready so you better like this pic.
Dance first, think later.
Live for today, plan for tomorrow, party tonight.
It might feel like the end, but it's really a new beginning.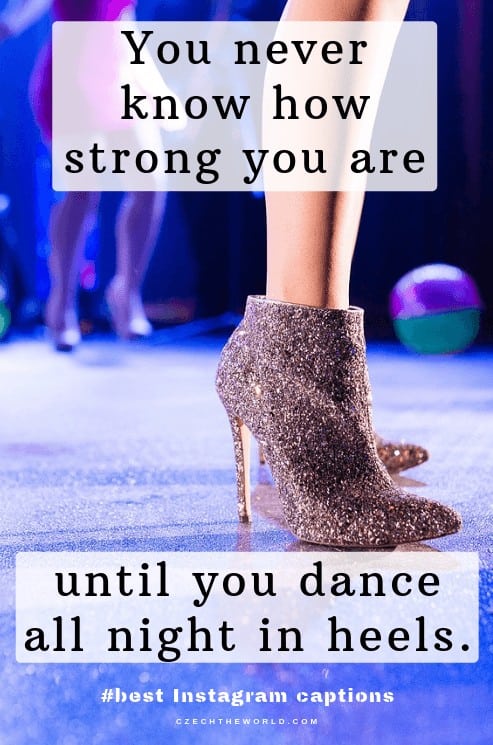 Party
All I want is good music, great friends, bright lights and late nights.
One Tequila, two Tequila, three Tequila, floor.
Soup of the day: Tequila
It's been one blur of fun.
When I read about the evils of drinking, I gave up reading.
A little party never killed anybody.
Life is made of small moments like this.
Come on Barbie, Let's party!
All the things I really like to do are either immoral, illegal, or fattening.
When I'm good, I'm good…but when I'm bad I'm better.
I wish some nights lasted forever.
Never miss a chance to DANCE
Drink all day; play all night. Let's get it poppin; I'm in Miami, bitch.
Make the most out of tonight and worry about it all tomorrow.
Goodbye reality, Hello Vegas.
"I live for the nights that I can't remember with the people that I won't forget."
Keep Calm and Party in the Club!
Sleep all day. Party all night. Never grow old. Never die. ♥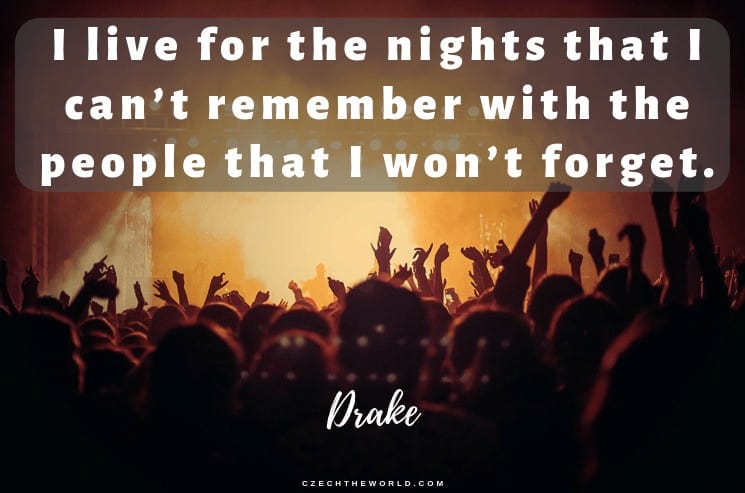 Summer, Beach, Winter, and Fall
Every season needs different Instagram captions. Winter, fall, summer and beach Instagram captions:
Summer
A balanced diet is an ice cream in each hand.
I love waking up in the morning with sun on my face.
Good Times and Tan Lines.
Sunshine is the best medicine.
I'm A true OCEANHOLIC.
Take advantage of those additional hours of sunlight.
Tan skin, Crazy days, Late nights.
If you're not barefoot, then you're overdressed.
Life is better in bikini.
"All I need is some vitamin sea."
You can't buy happiness, but you can buy ice cream on the beach!
A pineapple a day keeps the doctors away.
When you can't find the sunshine, be the sunshine!
I dream of a never-ending summer.
She said, I love places where it's summer in winter.
I need six months vacation, twice a year.
Some of the best memories are made in flip flops.
Every day is one step closer to summer.
Watch more sunsets than Netflix. Live in the SUNSHINE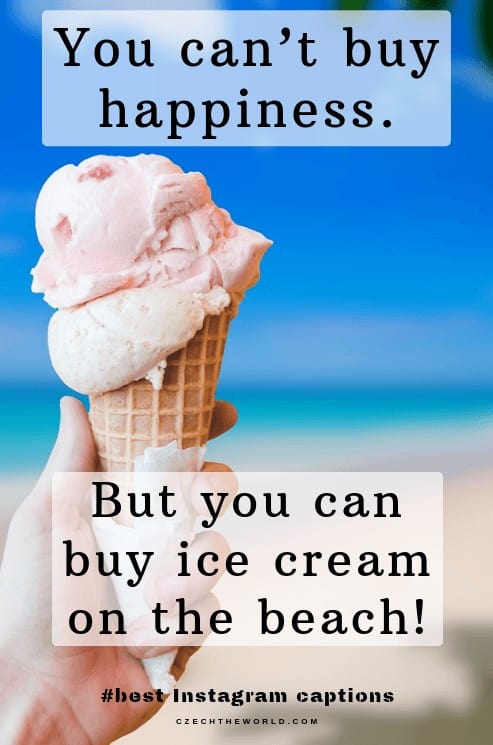 Beach
Shall we dance?
Palm trees & Ocean breeze.
If there's a will, there's a wave.
Don't worry BEACH happy!
The smell of the ocean never gets old.
I don't need a Man. I need Tequila and Tan.
The best days are Beach days.
Sun Shine on my Mind.
Breathe in the Ocean.
I am happiest when floating in Sea.
Tropic like its hot.
Sun, sand and pineapple in hand.
I look my best when I'm totally free, on holiday, walking on the beach.
Seas the Day!
Happiness comes in waves.
Ocean Air, Salty hair.
I need some beach therapy.
Beach More Worry Less.
My love for you is deeper than the ocean.
Good Vibes happen on Tides.
Do you need more? Read here: 333 Best Beach Captions for Instagram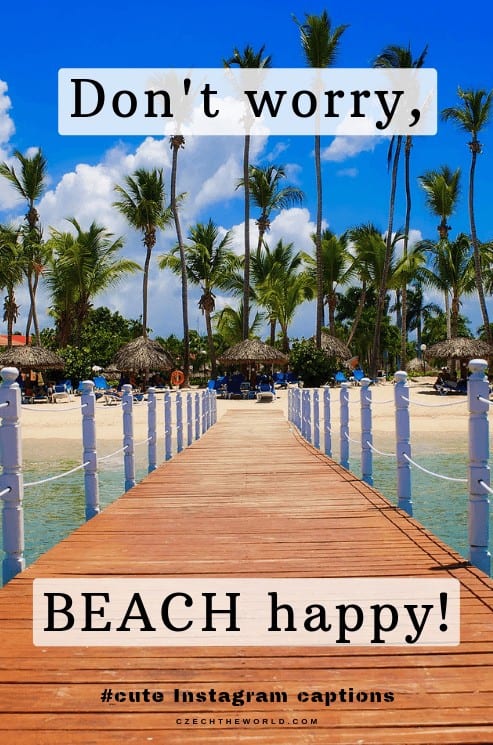 Winter
"We're all like snowflakes, all different in our own beautiful way."
"The snow is sparkling like a million little suns."
"Hot chocolate is like a hug from the inside."
"It's only cold if you're standing still."
"Have an ice day!"
"Happiness is the first tracks on fresh snow."
"A snowflake is a winter butterfly."
"Every snowflake is a kiss on your sweet, cold nose."
"Kindness is like snow, it beautifies everything it covers."
"Paradise doesn't have to be tropical."
"When it snows you have two choices: shovel or make snow angels."
"Cold hands, warm heart."
"For people who had warm memories, winter is never cold to them."
"Cold weather gives me an excuse to drink more tea/coffee."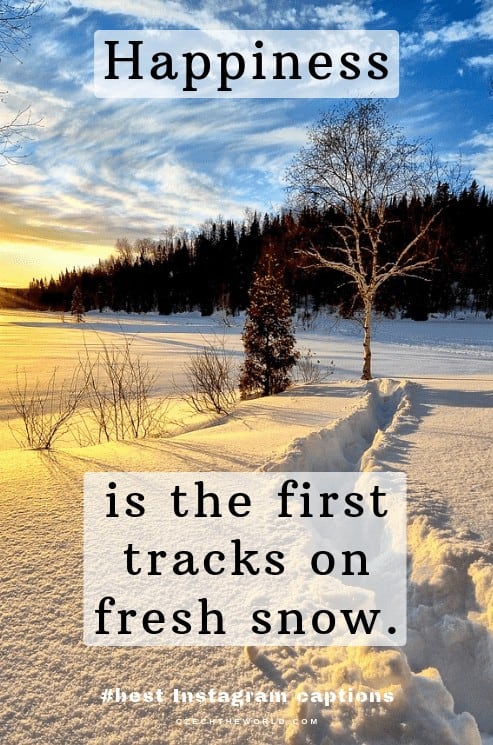 Fall
"Oh my gourd I love fall." — Unknown
Sipping cider because it's fall and that's what you do.
Free fallin'
Life starts all over when it gets crisp in the fall.
The only thing getting 'lit' this weekend are my fall scented candles.
Paint with all the colors of fall.
"Autumn is a second spring when every leaf is a flower."
Sweater weather is better together.
Keep calm and enjoy fall.
"My favorite color is October." — Unknown
"Autumn killed summer with the softest kiss."
"Autumn… the year's last, loveliest smile." — John Howard Bryant
"But I think I love fall most of all." — Unknown
"Let our hearts be full of both thanks and giving." — Unknown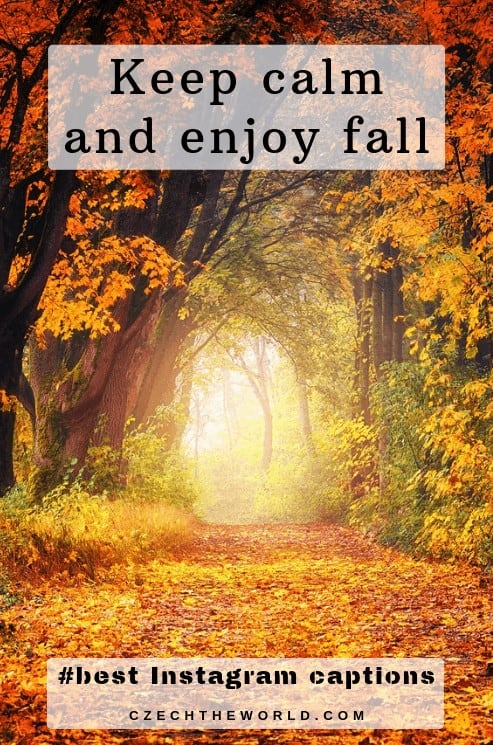 Lyrics and Quotes
Using song lyrics or famous quotes as your simple Instagram captions is wise because people know them and like them.
Lyrics
"It's a beautiful day. Don't let it get away." – U2
"Don't criticize what you can't understand." ― Bob Dylan
"You have every right to a beautiful life." ― Selena Gomez
"Love me or hate me, i swear it won't make or break me." ― Lil Wayne
"I won't be afraid just as long as you stand, stand by me." – Ben E. King
"Close your eyes and I'll kiss you, Tomorrow I'll miss you." ― Paul McCartney
"You're an expert at sorry and keeping the lines blurry" ― Taylor Swift
"I gave her my heart but she wanted my soul…" ― Bob Dylan
"I'm just a man, not a hero. just a boy, who wants to sing this song." ― Gerard Way
"Lose your dream, you lose your mind." ― The Rolling Stones
You may say I'm a dreamer, but I'm not the only one. – John Lennon, Imagine
"Every little thing is gonna be alright!" – Bob Marley
All you need is love, love. Love is all your need." – The Beatles
Must read: 335+ Best Instagram Captions from Song Lyrics
Quotes
"Every little thing is gonna be alright!" – Bob Marley
"You have every right to a beautiful life." ― Selena Gomez
"Don't criticize what you can't understand." ― Bob Dylan
"Love me or hate me, i swear it won't make or break me." ― Lil Wayne
"It's a beautiful day. Don't let it get away." – U2
"Because being with you makes perfect sense." ― Tim McGraw
"Lose your dream, you lose your mind." ― The Rolling Stones
"You may say I'm a dreamer, but I'm not the only one." – John Lennon
"All you need is love." ― John Lennon
"I gave her my heart but she wanted my soul…" ― Bob Dylan
"Close your eyes and I'll kiss you, Tomorrow I'll miss you." ― Paul McCartney
"Excuse me while I kiss the sky." ― Jimi Hendrix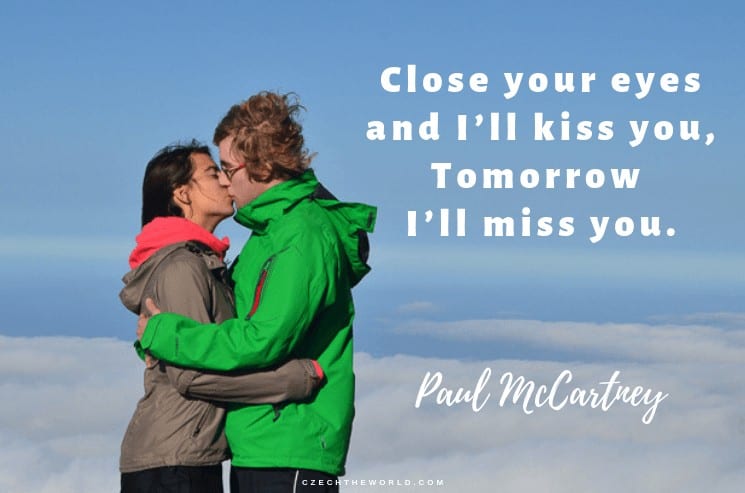 Rap lyrics
"Reality is wrong. Dreams are for real." – Tupac Shakur
The greatest loss is what dies inside while still alive. – Tupac
"Give me the beat boys and free my soul." – Uncle Kracker
Forget yesterday, live for today. Tomorrow will take care of itself. – Rick Ross
I love country music, but I also love gangster rap. – Anderson East
"Life without dreaming is a life without meaning." – Wale
"You gotta be able to smile through the bullshit." – Tupac
I've got thick skin and an elastic heart." – Sia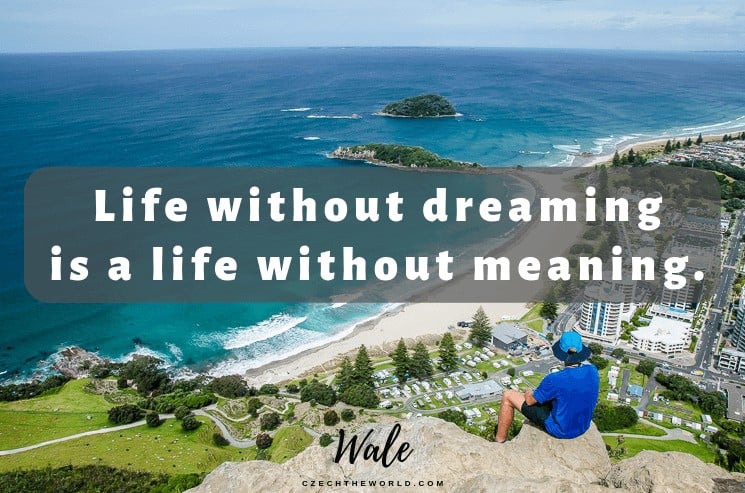 Check our other cool Instagram collections:
How to get highly engaged Instagram followers?
Pin these simple Instagram quotes for later and to your friends: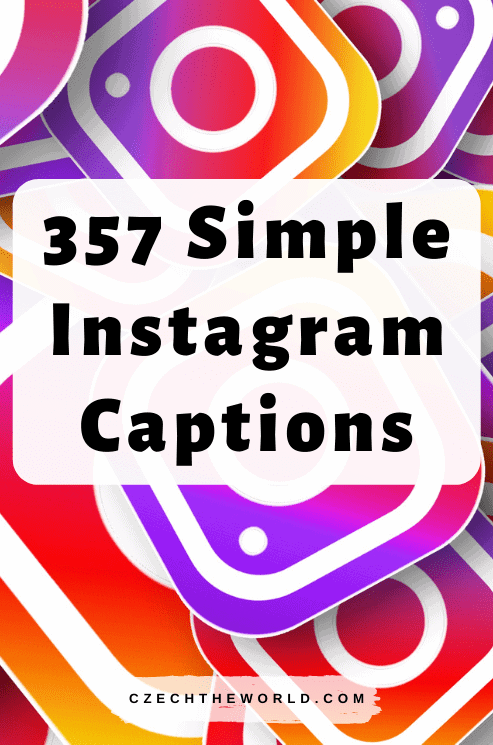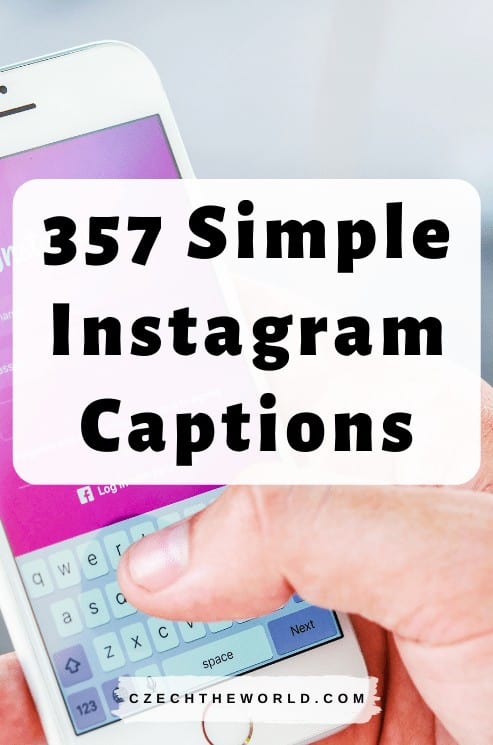 Do you like these simple Instagram quotes? Share it with your friends: