Rere Rockslide in Gisborne New Zealand is an absolutely amazing natural water slide. Ultimate guide – How to get there? What to prepare for? All the information you need!
Let your imagination go wild and get yourself anything suitable for a downhill slide on Rere Rockslide. Usually, people are using bodyboards which you can buy even in the Pak n Save supermarket. Additionally, you can use your bodyboard later on for surfing or bodyboarding in the sea. You might have an inflatable mattress. Well, sliding down on the inflatable mattress is an "Olympic" discipline for everyone who doesn't want to ride alone! We saw 6 guys going the rockslide on 1 mattress.
And what about the small inflatable boat? It's slower than the bodyboard, but landing is a bit softer. You can also try a very popular old tire. And believe me, there are people riding on many other different inflatable things. Big inflatable donuts, ice creams, sunbeds and even without anything, which is, of course, a little bit less comfortable.
How to get to Rere Rockslide?
This amazing waterfall slide is located about 50 km north-west from Gisborne at Wharekopae river. You will get there by taking Wharekopae Road from Gisborne. You will first pass Rere Falls carpark on your left. It is still 2 more kilometers to the Rockslide from there. The carpark at Rere Rock slide is on your right hand (on the way from Gisborne). When you turn there, you need to go down the hill. From this car park, it is only a few steps to the slide.
What you should know:
To avoid falling on a slippery rock (on upper part of the rockslide), make sure you step on those ones with the green moss on them. This part is not slippery! If you are a true sliding enthusiast planning to spend a lot of time in the water, you can bring neoprene, which can be very convenient. Anyway, the vast majority of people have only swimsuits. The slide is also not suitable for non-swimmers. Bottom pool is about 4 meters deep.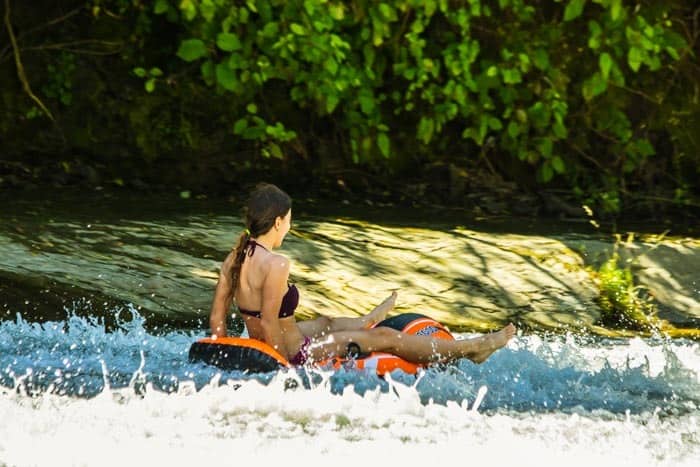 What to slide on?
The highest speed – bodyboard
The most fun for more people at once – inflatable mattresses
Soft landing – inflatable boat
Facilities at Rere Rockslide
There are 2 flushing toilets at the car park right next to the Rere Rockslide. There are also several picnic tables right by the river. Trees by the rockslide provide sufficient shade, so visitors can comfortably stay out of the sun (e.g. chill out on picnic blanket). Gisborne Rere Rockslide is a popular place for locals as well. So if you want to avoid crowds, try to avoid holidays and weekends. Although early in the morning and later in the afternoon, it's not that busy neither way. Simply don't worry about queuing, rockslide is wide enough. So just jump in and enjoy the fun!
Don't forget:
Enough drinking water
Sunscreen
Swimsuit
Anything you can possibly imagine to ride on
Lunch / Snack
Camera / Smartphone / GoPro – to capture sliding experience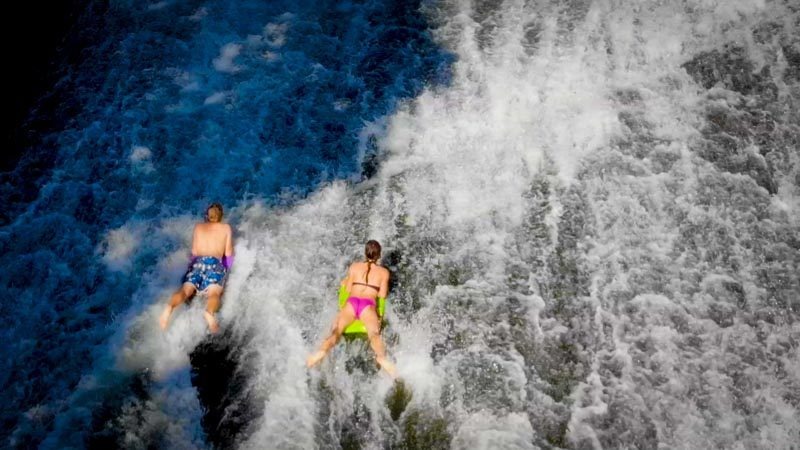 Recommended time at Rere Rockslide
We recommend reserve yourself at least half a day there. Since it is quite far from anything else, make sure to count also the driving time. Then, it only depends how you will like the sliding.
Weather at Rere Rockslide
Check the weather forecast for upcoming days at Rere Rockslide:
RERE WEATHER
Where to go next?
Relax by Rere Falls. There are Rere Falls only 2 kilometers away from the Rere Rockslide. Unfortunately, you cant slide them, but there are other ways to enjoy these wide waterfalls. Check them out, take a picture or swim under the falls.
Do you want to enjoy some more adrenaline? What about the world's highest commercially rafted waterfall? Read more here: Epic rafting in Rotorua on Kaituna Cascades – New Zealand.
Enjoy sliding!
Pin this for later or for your friends:
Did this post help you? Share it with your friends! It can help them too 🙂
Disclosure: Please note that some of the links above may be affiliate links, and at no additional cost to you, we earn a commission if you make a purchase. We recommend only products and companies we personally use and we use this income for further improvement of this website. Thank you!
---
Adriana & Matěj
Travelers, sport enthusiasts and photographers behind this blog. Creating high-quality and informative guides for your travels. Read more about us here.