There are many places to see in Morocco that are essential, a country with a culture and traditions that are very different from those of its neighboring Europe, which we are sure will catch you on arrival. Less than 20 kilometers from Gibraltar you will find places as different as cities with labyrinthine medinas where you can get lost, deserts with large dunes where you can spend the night surrounded by stars, arid landscapes of mountain ranges and gorges, fishing villages bathed by the Atlantic Ocean and others made of adobe anchored in time, all of which always have a mint tea in hand.
We have written this guide to Morocco, so based on our experience, we have made a list of what we believe are the 10 best places to visit in Morocco. Let's get started!
1) Marrakech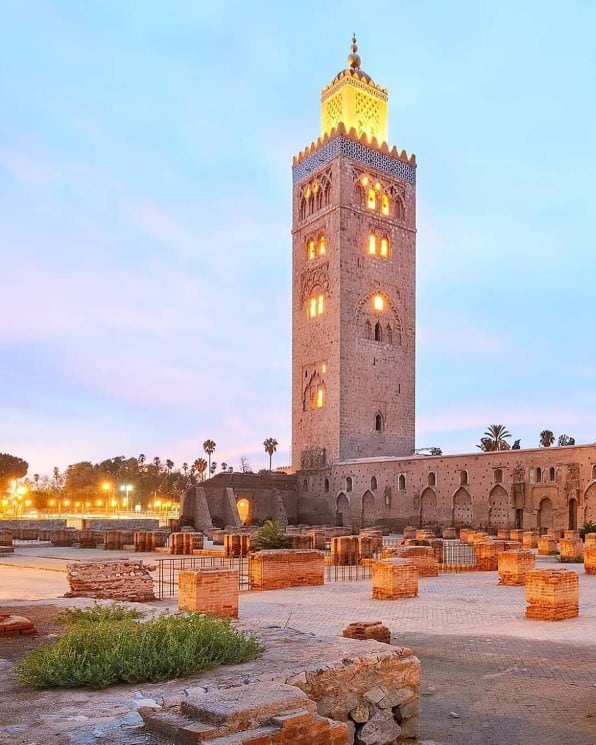 Most first-time travelers to Morocco make their first contact in Marrakech. In our case we fulfilled the tradition and visited it during the trip we made to Marrakech and Essaouira in 5 days.
This fascinating and sometimes exhausting city, where it is a must to stay in a riad in the medina and have a cup of tea at sunset while watching the life and changes of the Jamaa el Fna Square, is a symbol of the country, as well as an essential visit.
There are many other things to see and do in Marrakech, a city of palaces, markets, gardens, mosques, and madrasas, although the best thing is to get lost in its labyrinthine streets and find the true essence of the city.
2) The Kasbah of Ait Benhaddou
In Ouarzazate, the gateway to the great Sahara desert, is the Ksar of Ait Ben Haddou, one of the most essential places to see in Morocco. Ait Ben Haddou is a wonderful village of clay and adobe, stopped in time in an arid and rocky area, which we are sure, will surprise you.
We visited it on the route of the kasbahs that we did for 4 days in a rented car and, we have to admit, it was one of the highlights of the trip.
Furthermore, as an anecdote, we will tell you that this Ksar, declared a Word Heritage Site by UNESCO, has been the setting for famous films such as Lawrence of Arabia and Gladiator.
To get to Ait Ben Haddou from Marrakech you can do it by car, taxi, or bus, the ksar is less than 200 km from Marrakech although you have to cross the Atlas Mountains and there are many bends, which can take you about 5 hours.
3) Merzouga, The Sahara desert
Spending the night in a tent under a starry night in the middle of the Sahara desert is one of the best excursions from Marrakech you can make.
Keep in mind that there are two main areas of the Sahara desert that can be easily visited from Marrakech: Zagora and Merzouga. The Zagora desert is about 7 hours from Marrakech, crossing the wonderful Draa Valley and although its dunes are not as spectacular as those of Merzouga, if you don't have many days, it is the perfect option to experience a night in the desert.
The other option would be Merzouga, one of the most beautiful deserts in the world, where a sea of perfect dunes, Erg Chebbi, are the protagonists of the landscape where you can spend one of the best nights of your life under the stars.
You can make any of these excursions by rental car or taxi and once at the destination you can hire one of the 4×4 tours through the desert, which are offered at the entrance.
For more practical information, read this guide to Merzouga, Sahara desert.
4) Fes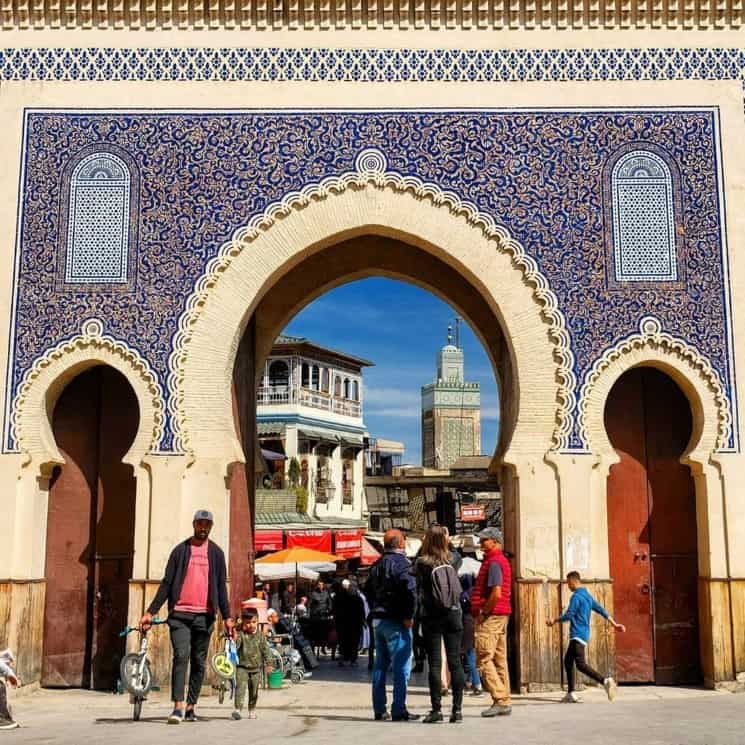 Fes, with an 8th-century medina, declared a World Heritage Site and considered the largest in the world, is one of the most essential cities to visit in Morocco. Unlike the popular Marrakech Fes allows you to enjoy its labyrinthine streets, visit its Koranic schools and shop in its souks, with more tranquillity, something that we have to confess, is very much appreciated.
The most outstanding place in the walled medina is the Chouwara tannery, a spectacle of smells and colors, among many other things to see and do in Fes.
And after touring the city, as it could not be otherwise, we cannot forget the gastronomy and more in a place like Morocco, so we recommend you to go up to some of its terraces, with views to the medina, while we devour the best couscous and tajine of the city.
5) Chefchaouen
Chaouen or Chefchaouen, known as the blue city, located at the foot of the Rif mountains, is considered the most beautiful city in Morocco. Its most famous characteristic is the dominant presence of blue of different ranges in its houses and streets, something that makes it unique and charming at the same time.
Its old medina is a paradise for photography lovers, where you will not be able to stop capturing charming corners as well as enjoying the closeness and hospitality of its people. Although walking and getting lost in the blue medina is one of the best things to do in Morocco, you cannot miss seeing the Alcazaba, the Great Mosque or the washhouses, other essential points of the city.
Chaouen is close to the cities of Tangier or Tetouan and you can get there by shared taxi in case you don't want to rent a car.
6) Dades and Todgha Gorges
The valleys of Dades and Todgha Gorges offer one of the most beautiful sceneries in the kingdom of Morocco, with their karst canyons and gorges. The Dades Gorge in the High Atlas, the first you'll find if you head towards the Merzouga desert, offers the greatest variety of landscapes and is arguably the most spectacular.
The road that takes you to the top of the gorge is spectacular, with some of the most outstanding places being the whimsical rock formations known as "The monkey fingers" or the kasbahs scattered around this arid and eroded environment.
Moreover, the Todra Gorge is located on the east side of the High Atlas, with rocky canyons, and walls that reach up to 300 meters, which is a paradise for climbers.
You can visit these valleys in only one day, if you are coming from Marrakech, you will pass by Dades then Todgha Gorges.
7) Essaouira
Essaouira is known as the pearl of the Atlantic as well as being one of the most beautiful and essential places to see in Morocco. Located about 184 kilometers from the red city of Marrakech and is declared as one of the World Heritage Sites, Essaouira is an oasis of tranquillity, perfect for those who are in Marrakech and want to run away from the noise and the crowd.
This white city of fishermen stands out for its medina where you can buy good crafts and taste fish and seafood-based delicacies in one of its many restaurants. The city is fortified and from the port area, you can take some spectacular pictures of Essaouira bathed by the big waves of the Atlantic Ocean.
To get to Essaouira from Marrakech you can take a bus from the main station, which takes about 2 hours.
For more inspiration, check these things to do in Essaouira.
8) Ouzoud Waterfalls
The Ouzoud Waterfalls, located 150 kilometers from Marrakech in the Atlas Mountains, are the most spectacular in Morocco and North Africa. Their waterfalls are more than 100 meters high and come from the Ouzoud River, where, in addition to bathing in its cold waters, you can enjoy an environment with vegetation that is very different from the typical landscapes of Morocco. During the walk through the waterfalls, you will be able to go around the waterfalls on both sides and see some of its most curious inhabitants, the monkeys.
To get to the waterfalls from Marrakech you can do it by car, taxi, or if you can afford to book a tour from Marrakech.
9) Volubilis, Walili
Volubilis, less than 90 kilometers from Fes, is considered to be the best-preserved Roman site in North Africa. This ancient Roman city, included in the UNESCO World Heritage list, preserves the remains of important places such as the Basilica and the Temple of Jupiter, the baths, the forum, and what most caught our attention when we visited it, its magnificent mosaics.
In addition, about 4 kilometers from Volubilis is the sacred city of Mulay Idris, where you can visit its medina before going to the site.
You can reach the ruins of Volubilis from Meknès in about 30 minutes by shared taxi, although another good option is to book a tour with an English speaking guide from Fes visiting Volubilis, Moulay Idris and Meknes.
10) Meknes
Meknes, the less famous of the four imperial cities of Morocco, has a beautiful old town full of souks and magical corners, which we are sure you will fall in love with.
This city was one of our stops during our trip to Casablanca, Meknes, and Fes by train and after the experience, we have no doubts about placing it among the best places to see in Morocco.
The best thing about the city is walking through the labyrinthine streets of the medina, where you can see the artisans working with iron or weaving as they did centuries ago. Other of its most interesting places are the Bou Inania Madrasa, the square of El Hedim, the mausoleum of Mulay Ismaïl "Bab Mansour", the great gateway to the medina.
All in All, the best way to travel Morocco and discover these 10 stunning places is by renting a car or checking of of the public transportation like a grand taxi and buses like Supratour.
Author's bio:
Full Name: Youssef ACHABOU
Job: Travel guide and tour organizer in Morocco.
Website and Blog: Touring In Morocco.
Education: English graduate.
Country and City: Morocco, Merzouga, the Sahara desert.
About me: I am an active traveler in Morocco, I work as a guide and tour organizer for tourists who like to visit my home town Merzouga.
Best Places to Visit in Morocco Video:
Did this blog post help you?
Did this blog post help you? You can do us a favor and book your accommodation, buy flight tickets, book a tour or rent a car using our links. It doesn't cost you anything extra and we will have a small commission, which we will use for further improvement of this website.
We have also prepared for you this comprehensive list of links, discounts, and resources for travel planning in one place. Bookmark this page and whenever you plan a vacation in the future, just open it and save yourself a lot of time.
1) Where to book accommodation?
2) How to find cheap flights?
3) How to rent a car?
We recommend a comparison portal RentalCars.com to compare the best offers of all available rental companies.
Pin Places to Visit in Morocco for later or for your friends:
Did this post help you? Share it with your friends! It can help them too!
Disclosure: Please note that some of the links above may be affiliate links, and at no additional cost to you, we earn a commission if you make a purchase. We recommend only products and companies we personally use and we use this income for further improvement of this website. Thank you!