This is your guide to the best things to do in Northland, New Zealand. All beautiful places to visit, freedom camping, accommodation, practical information.
Northland is a beautiful New Zealand's area, home of monumental Kauri forests, dramatic cliffs, as well as unique 90 Miles Beach. Let's explore Northland's magical glowworm caves, stunning waterfalls or Te Paki Giant Sand Dunes.
The Northernmost piece of New Zealand has a lot to offer. Because road tripping and traveling by van is the most popular way to travel across New Zealand, we have prepared a practical guide with a detailed map and itinerary for you. So, let the adventure begin!
Best things to do in Northland:
Let's find out the best places you shouldn't miss in Northland:
1) Cape Reinga
Cape Reinga is the northernmost point of New Zealand with a beautiful lighthouse at the end. It is the place, where the Pacific Ocean meets the Tasman Sea. You can take a nice walk from the parking lot to the lighthouse or go more adventurous with a longer coastal walk. There is the Te Paki Coastal Track with stunning views of the dramatic coastline. The whole track takes about 3-4 days, but it's worth it.
Duration: 45 minutes – Return walk to the Cape Reinga lighthouse
Location (Google Maps)
Facilities: There are toilets and drinking water at the parking lot
Where to stay at Cape Reinga
If you search an accommodation nearby Cape Reinga, there is well-rated Tekao Lodge. It's also the closest one to Cape Reinga. The nearest Campground is Tatotupotu Campsite. Very popular is also Spirits Bay Campsite, which is rated as one of the best campsites in New Zealand.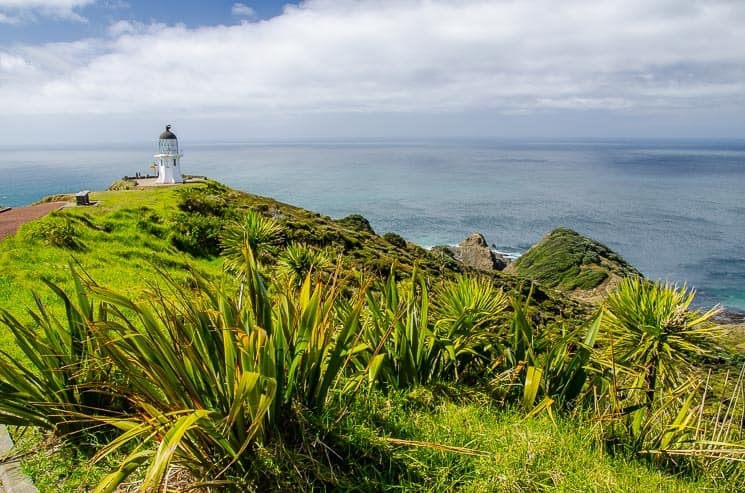 2) Te Paki Giant Sand Dunes
These Giant Sand Dunes are a must stop for every adventurous soul! I promise you will be excited about great sandboarding fun! Read our Complete Guide to Te Paki Giant Sand Dunes to find out where is best sandboarding spot and where to hire the best and cheapest sand boards. Te Paki Giant Sand Dunes are definitely one of the best things to do in Northland!
3) 90 Miles Beach
The legendary Ninety Miles Beach is a great place, where you can drive your car/van! If you are lucky to have 4WD, you can easily drive the whole way. In case you don't have 4wheeler, there is still a very nice part of the beach which can be enjoyed by driving the car. You can enter the beach at several places, the main ramp is the Waipapakauri ramp.
Enter the beach at low tide
You should try to drive on o wet sand, approximately in between the dry sand and sea. The beach is wide so there is always enough space to drive in both directions!
Be aware: right behind the ramp, there will probably be a deeper sand area which is good to pass quickly. Once you get at wet sand, you will no longer have a problem. In case you would end up stuck in the deep sand, don't worry too much because it seems that locals are used to helping cars to get out of the deep sand.
Quick note for rented cars: many car rental companies exclude car insurance from riding on the beach, so be aware of it!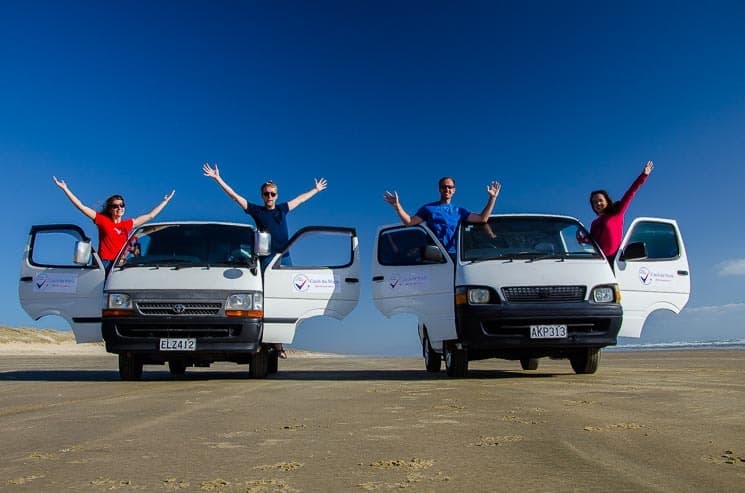 Shipwreck Bay
Shipwreck Bay is located nearby Ahipara and it's a great surf location. It is not only a beautiful bay, but it is another place for driving your car on the beach. Shipwreck Bay can be reached from Ahipara by taking Foreshore Road and later Wreck Bay Road (gravel road).
Where to stay at 90 Miles Beach / Shipwreck Bay
If you want nice and affordable accommodation by the sea, look at Endless Summer Lodge or Ahipara Holiday Park.
4) Glowworm Caves in Northland
New Zealand is an exceptional place for its fauna and flora. It's the only country in the world, where we can witness an awesome natural phenomenon called the Glowworms. Glowworms or Arachnocamp Luminosa are a special kind of bioluminescent insect that lives only in New Zealand's Caves. Adults are similar to mosquitoes. And why do they glow? The larva spins a nest out of silk and hangs down with small sticky droplets. They glow to attract prey into these threads. The more hungry they are, the more they shine. Seeing glowworms is definitely one of the best things to do in Northland.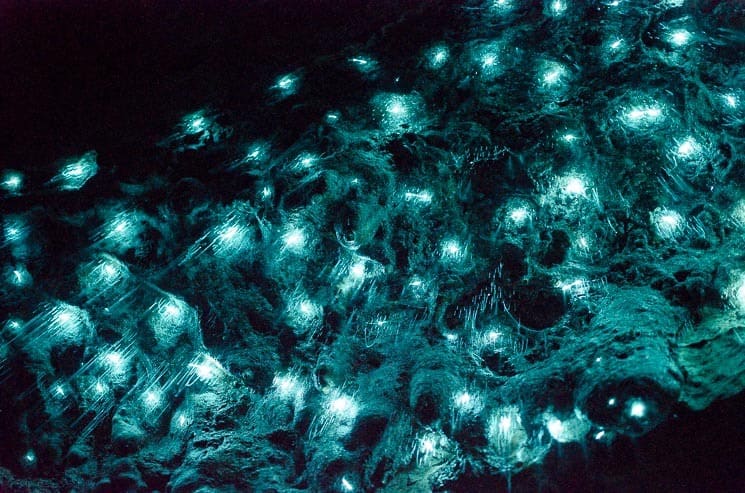 It's an unreal experience – it feels like standing in the middle of space or under the sky with thousands of stars!
Important things before entering the caves:
Never go caving alone
Take a good headlamp + extra batteries
Don't go caving after or during the rain
Abbey Caves
No entry fee is collected in Abbey Caves
Duration: We recommend a minimum of 2 hours, but you may spend there longer
Location (Google Maps)
What to prepare and how to dress for caving?
It is only a few minutes to Abbey Caves from the parking on the edge of the road. Marked trail leads to Abbey Caves. Prepare to get wet! We recommend wearing good boots for caving. Despite the safety, there are still some people who go caving in their flip flops. How deep is the water? It depends how far in the cave you go. The deepest parts are about the waist water level. The nearest parts of the caves are doable with almost dry feet.
Abbey Caves consists of 3 caves:
The Organ Cave – The largest cave got its name after the stalactites reminiscent the musical instrument of the organ. There are some huge boulders at the beginning, fist part of the cave can be done without getting wet, but later you will need to follow the tunnel, which is half full of water. The Organ cave is really long! You can see the spectacular glowworm show at the beginning of the tunnel, but if you go deeper you have a chance to see more and more glowworms!
The Middle Cave – The central cave is about 5 minutes' walk from the first cave. In the beginning, there are several big boulders, that you have to climb down. There is less water in the Middle cave and noticeably higher ceilings. The stalactites and thousands of tiny lights over your heads are truly magical!
The Ivy Cave – Smaller caves with some light access from above. This visit takes only a few minutes. The stream comes through, and water is very clear, so you might see some eel in the cave.
Where to stay nearby Abbey Caves?
Lovely accommodation, which is really not far away from caves is the Little Earth Lodge. There are also several campgrounds at Whangarei town.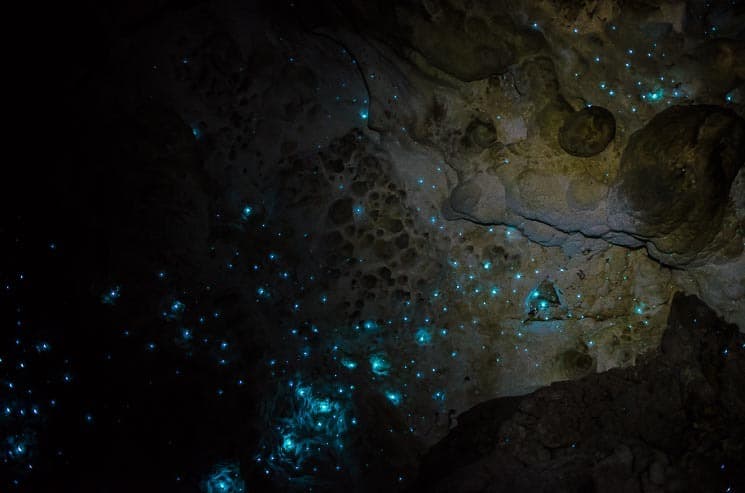 Waipu Caves
No entry fee to Waipu Caves
Duration: Count for at least 0.5 – 1 hour, so you can spend more time here.
Waipu Caves Location
Waipu Caves are the largest cave system in Northland. You can find there literary the Glowworms Galaxy! Waipu Caves are spacier compared to the Abbey Caves and you should also count that you will get a little wet. The best place to watch glowworms is right before the beginning of the lower ceiling tunnel. There is a shower at the parking lot, right next to the toilet, so you can remove the mud from your shoes after caving.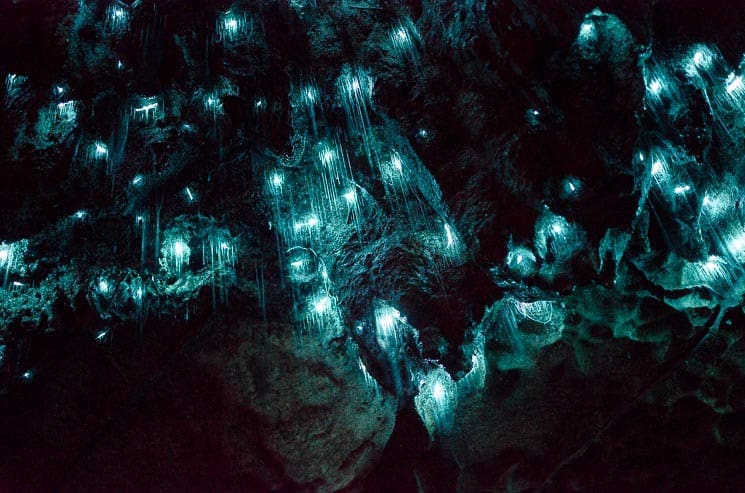 Photo TIP: If you plan to take a long exposure shot of the cave and glowworms, come to camp in the evening and plan your visit to the next day early morning. Otherwise, you will be distracted by other visitor's lights. You need ideally 5 minutes exposure for nice pictures and it's quite difficult to have these 5 minutes of darkness during the day because it is quite busy there (even at 11 pm).
Read also our complete guide to Waipu Caves.
Where to stay at Waipu Caves?
There is a campsite right at the Waipu caves car park – only 50 meters from the cave entrance. If you prefer some nice coastal accommodation, there is a Camp Waipu Cove.
5) Whangarei
Whangarei has a lot of things to offer. There are beautiful waterfalls, coastal tracks as well as Abbey caves full of shining glowworms. You won't have a problem to find campground or classic accommodation in Whangarei town.
Whangarei Falls
A short walk to impressive Whangarei Falls can be a nice stop on your road trip. Definitely walk down to the lagoon to catch some nice pictures or have lunch at a perfect placed picnic table.
Duration: 15-20 minutes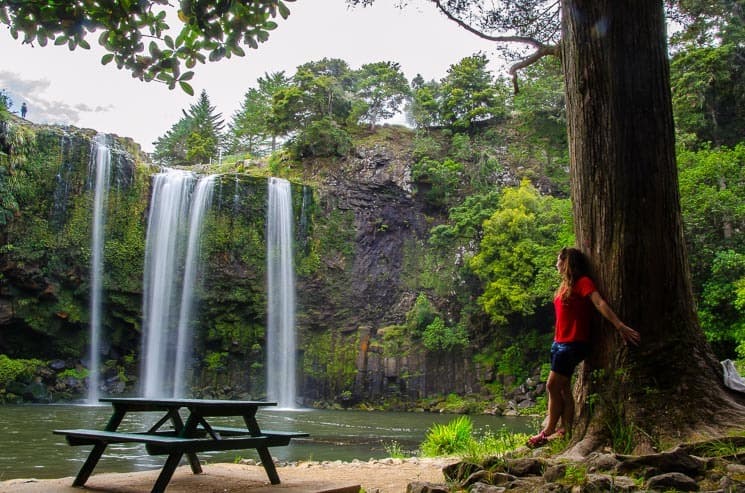 Whangarei falls, Northland
Whangarei heads
This area offers beautiful beaches and popular tracks. Grab your surf to enjoy good waves or head to the nearest track.
Te Whara Track (Bream Head Track)
Te Whara Track is ideal for a hot day because most of the trek leads in the shade of the forest. It is a one-way track and it can be started both from Urquharts Bay and Ocean Beach. But we recommend starting from Urquharts Bay (to get the best views at the final part of the track). If you want to skip hitchhiking back to your car, park at the Ocean Beach and climb to the TOP of Te Whara mountain. There are the best views from the whole track (you can still do a Te Whara loop if you want to avoid going the same track up and down).
Duration: 5-6 hours
Location: Between Urquharts Bay and Ocean Beach (track map)
Terrain: forest footpath, stairs
Mount Manaia
There is a very interesting rock formation at the top of this track. Be prepared for many steps as well as beautiful ocean views.
Duration: 1.5 hours (return trip)
Ocean beach
Beautiful sandy beach and popular surf location. Even if you skip Te Whara Hill, Ocean Beach is well worth visiting.
Where to stay at Whangarei?
Budget option would be Whangarei Falls Holiday Park, located by Whangarei Falls. One of the best accommodations in Whangarei is Discovery Settlers Hotel with swimming pool. There are also several campsites around the town.
6) Waitakere Ranges Regional Park
Waitakere Ranges is an area known for its famous surf beaches, Kauri forests and waterfalls. This park offers 250 km of trails, including the well-known Hillary Trail. Which places in Waitakere Ranges shouldn't be missed?
Arataki Visitor Center
The Arataki Visitor Center is the ideal gateway to this park. You get updated maps there as well as latest information. There is a small museum with a beautiful lookout terrace and mini skywalk too. You can head to the first track – The Arataki Nature Trail, which takes about 75 minutes.
Piha Beach, Northland
Piha is not only a beautiful beach well known for its gorgeous views but it's a perfect surf location. I am sure you will meet a lot of surfers there. The Lion Rock is the Piha Beach dominant landmark, you can climb up to the top – there is a quite a nice path. If you would like to try surfing, you can arrange a surfing lesson directly at Piha beach or at the campground.
TIP: Do not miss the most beautiful viewpoint on the way to Piha Beach: location can be found here.
Facilities: There are toilets and shower by the beach as well as nice campgrounds
Where to stay at Piha?
Piha is simply an amazing place! Very nice is Piha Beachstay Accommodation.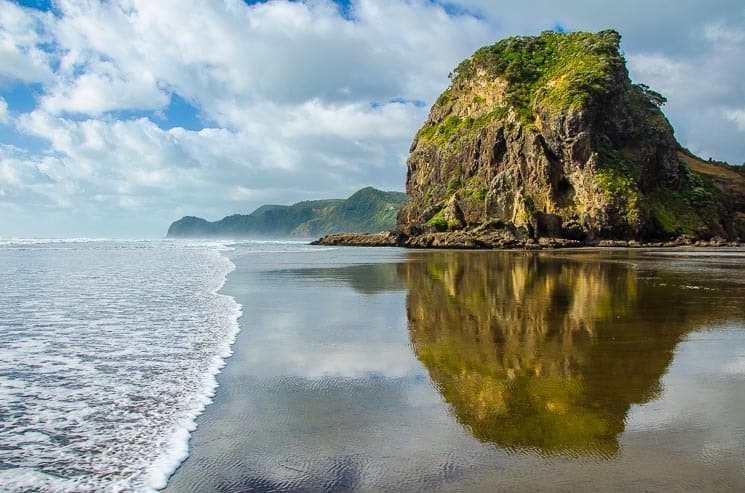 Kitekite Falls
The Kitekite Falls Track is less than 10 minutes' drive from Piha Beach. It's a nice walk through the forest, and if you go out at night, you might see some glowworms on the way.
Duration: 1.5 h (return trip)
KareKare Falls and Karekare Beach
Karekare is another nice waterfall and Karakare Beach is interesting for its black sand. The waterfalls are about 5-10 minutes' walk from the carpark.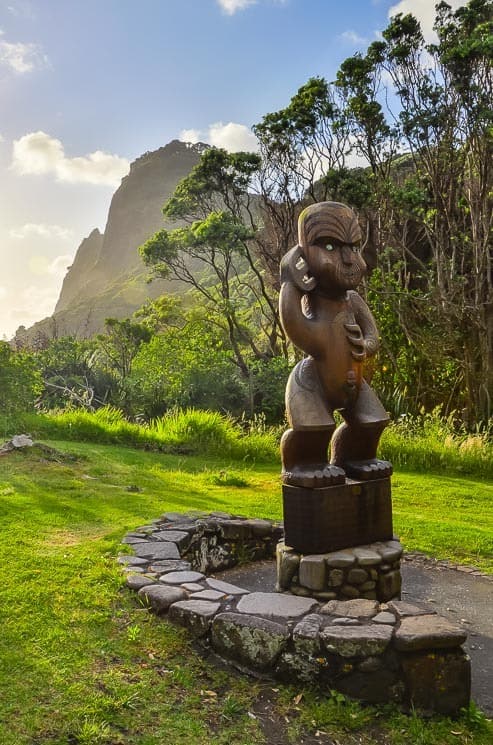 Hillary Trail
If you plan to enjoy hiking through the Waitakere Ranges, then there is a 4-day track named after Edmund Hillary. Hillary Trail is 76 km long. It begins at the Arataki Visitor Center, later on, it nearly copies the coast, so beautiful views await. Campgrounds for overnight stays have to be booked in advance.
Note: Some parts of the Hillary Trail are currently closed due to the Kauri Dieback, you can check the current situation at the Auckland Council website.
7) Lake Kaiiwi and Taharoa
These lakes are a popular weekend destination – for families, friends, fishermen or kayakers. Their turquoise blue water and sandy bottom gave them their charm! The water temperature is ideal for swimming, during the summer season.
Where to stay at Kaiiwi and Taharoa lake?
There are 2 different (paid) camps, each on different side of the lake. There is also a classic accommodation at Wai Hou Oma Lodge.
8) Waipoua Kauri Forest
Waipoua Forest is a beautiful native forest, full of original New Zealand's Kauri trees (Agathis Australis). These massive trees measure up to 50 meters and can be 2000 years old. A person feels so small in comparison to these giants!
Recently, there is a problem with the disease called "Kauri Dieback", which spreads through the soil movement (e.g. on your shoes) and it's killing these precious trees. That's why some trails are closed, but the Auckland Council is building new cleaning stations in order to open these trails again. So please, be responsible !!! and clean your shoes properly before entering any trail leading to Kauri area. If there is a cleaning station, clean your shoes (brush and disinfect your shoes) and never leave the trail!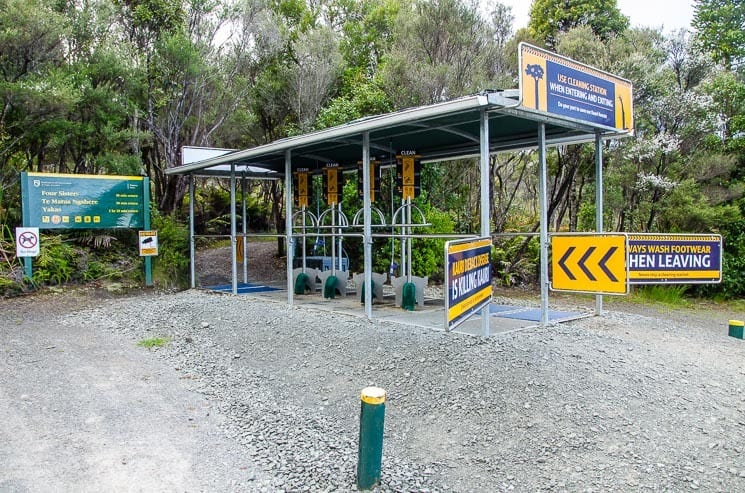 Please visit the Department of Conservation website to find out which trails and walks are currently open.
Visitor Center and Te Roroa camp site
Te Roroa camp is very nice place in the middle of the forest. You can find current information about open tracks at Visitor Center. There is also Wi-Fi available at the café.
Kauri Walks
These trails will take you to see the magnificent giants. These are the most famous ones:
Yakas – Cathedral Grove
Four Sisters
Te Matua Ngahere
Te Mahuta – the most famous tree of New Zealand
The mass of this Kauri tree is incredible: 516.7 m³ and its age is estimated to 2500 years. Again, there is a cleaning station and you have to come through the cleaning process. If you want coffee or a little snack, there is a mobile Café as well as toilets at the beginning of this trail.
Where to stay at Waipoua Kauri Forest, Northland?
You might stay at Te Roroa campsite or in Kauri Coast TOP 10 Holiday Park which is nearby the Kauri forest.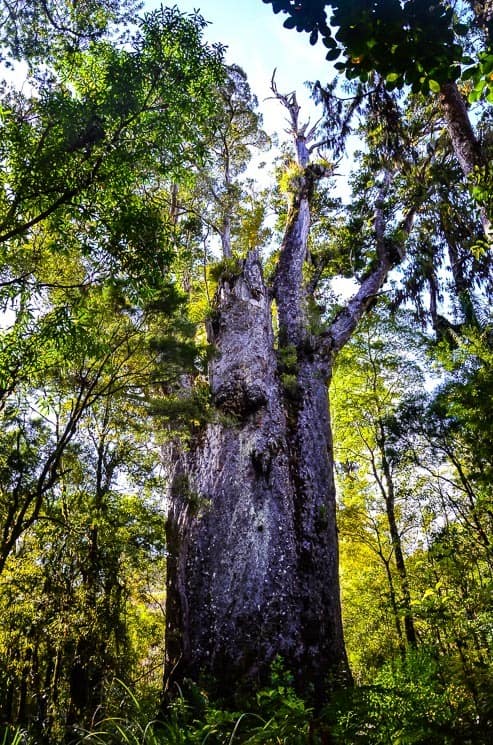 More things to do in Northland:
This is a list of other things to do in Northland if you have spare time:
9) Tokatoka Peak
Tokatoka peak is the only rocky peak miles and miles around in this "flat" land. It can be a short stop on the way through the Northland.
Duration: 45 minutes (return trip)
10) St. Paul's Rock
Hike to the St. Paul's Rock is another beautiful stop on the way through the Northland. When the weather is nice there are gorgeous views of the surrounding bays, which reminds fjords.
Duration: 50 minutes (return trip)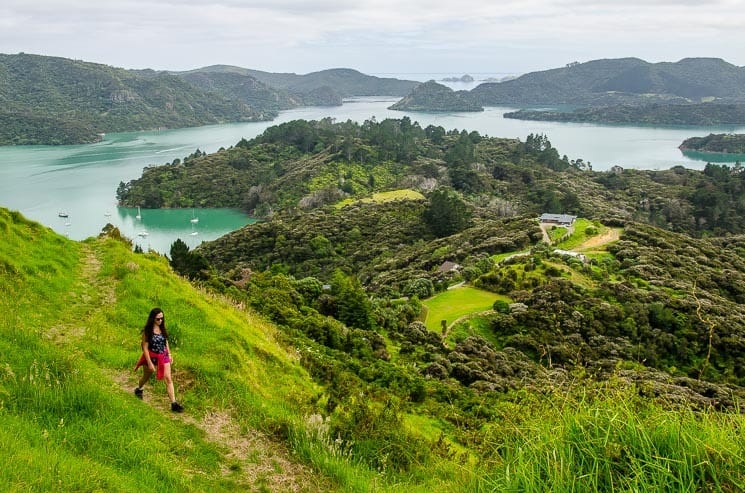 11) KeriKeri
This town is historically very important to New Zealand. European missionaries and Maoris met for the first time in history in Kerikeri town. In addition, there are beautiful waterfalls or wineries nearby.
Rainbow Falls
You can admire Rainbow Falls from several different viewing platforms. It's only a 2-minute walk from the parking lot to the upper viewpoint. But if you really want to see a rainbow, you must walk down and swim to the waterfall. There is a space (overhang) behind the waterfall from where you can see the rainbow.
Rewa's village and Stone Store
The village of Rewa is an open-air museum of the original Maori settlement. There is an entrance fee to Rewa's village, but you can have a free walk around the beautiful park and historical buildings across the river. Very nice is the historic Stone Store. You can walk to the original settlement of Kororipo Pa (historic place, where you can read about the Maori history of the place). If you want to have a longer walk, you can head to the Wharepuke falls.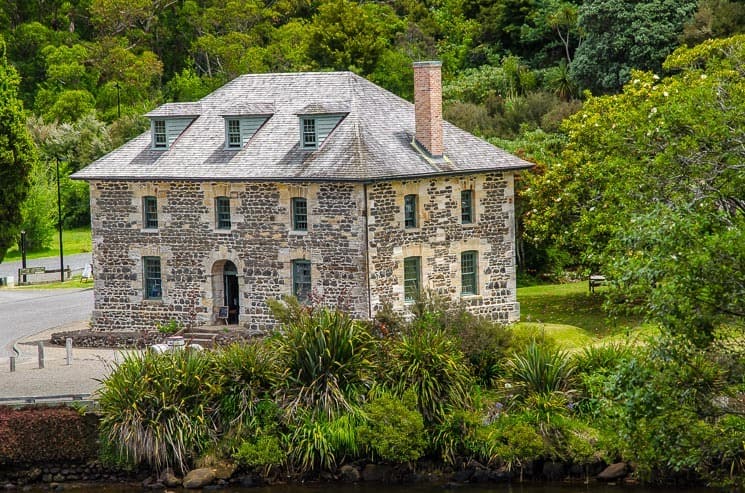 WharePuke falls
A pleasant walk by the river. There is an old water turbine along the way. You can also swim by WharePuke falls. We recommend not forgetting the bug spray (there are mosquitoes in the forest).
Duration: 35 minutes (return trip from Rewa's village)
There are four waterfalls in total and they are connected by walking trails called Kerikeri Walks.
Aroha Island – Wild Kiwi Reserve
Nearby Kerikeri is the Aroha Island – despite the name, it's only a peninsula. During the night you still have a chance to see some wild Kiwis. You can stay right at Aroha Island Reserve. One night at camp costs around $ 21-23 or you can go for a classic accommodation.
Kiwi TIP: You need a red light (for example on your headlamp) to be able to see Kiwi bird. That's the only way you can see them because they are not afraid of the red light.
Where to stay at KeriKeri?
If you are not staying at Aroha Island, Woodlands Motel is a popular and affordable option. If you want something special, try Wharepuke Subtropical Accommodation.
12) Russell and Bay of Islands
Russell offers a wide range of water activities. You can book many different trips from diving to sightseeing and swimming with the dolphins.
We enjoyed especially these three following things in Russell:
A short trek to Tapeka peninsula
Short Tapeka track offers beautiful views along the way. You can park your car at the end of the "Du Fresne Pl." road. The beginning of the trek leads across the meadow. If you are lucky enough, you can see even dolphins swimming in the sea. We saw dolphins jumping out of the water nearby Fraser Rock.
Duration: 40 minutes (return trip)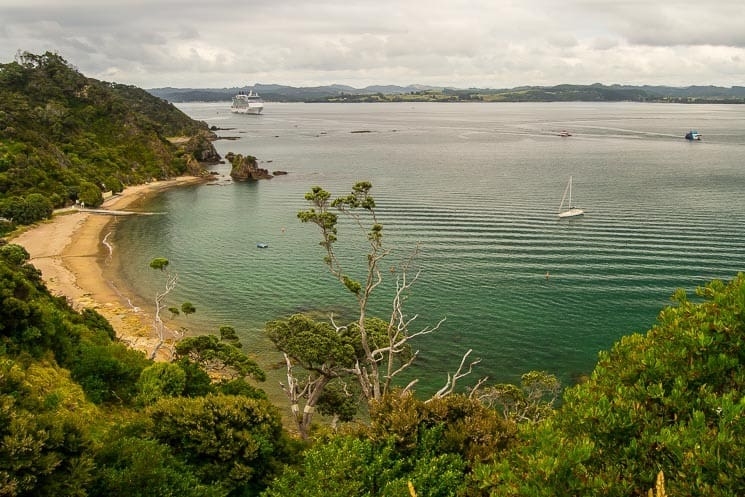 Waihtiti Beach (Oneroa Bay)
Nice beach where you can have a nice swim and potentially see dolphins too. Toilets and the showers are right next to the parking lot.
Flagstaff Hill Historic Reserve
You can drive by a car almost to its very top. There is a nice view of the bay as well as information about historical events.
Where to stay at Russell and Bay of Islands?
Nice location directly in Russell offers Motel Russell, across the bay there is plenty of accommodation in Paihia, great not only for backpackers is Bay Adventurer Backpackers & Apartments, beautiful view and great reviews are at Changing Tides BnB.
13) Omaha Beach
A popular white-sand beach just an hour's drive north of Auckland. Great for surfers, swimmers, and even windsurfers. There is a surf rescue/bay watch during the season.
You can check this guide to Omaha Beach for more information.
Other Nice Tracks to do in Northland
14) Mangawhai Cliffs Walkway
Mangawhai Cliffs Walkway is a very nice coastal trek. It starts on the beach, which is again the favorite destination for surfers or bodyboard enthusiasts. You can arrange a surfing lesson directly at the car park. To find more information about the trek, check out the Department of Conservation website.
Duration: 2-3 hours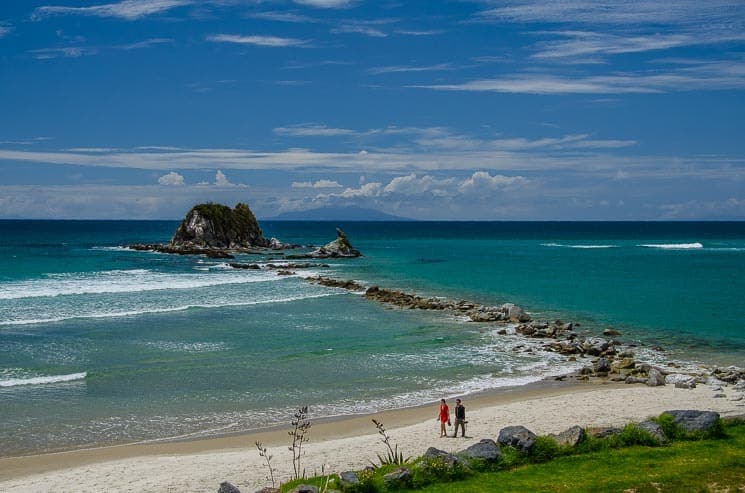 15) Cape Brett track
Cape Brett track is another coastal hike. It's 16 km long (one-way) and you can plan overnight stay at Cape Brett Hut. You need to make a reservation in advance. More information about this track can be found at the Department of Conservation website. Beware, there is a $40 fee collected for private land crossing between Rawhiti and Deep Water Cove.
Duration: 1-2 days
Practical info for your Northland road trip
Camping grounds in Northland – campsites and freedom camping
In Northland, there is quite enough freedom camping places and DOC campsites. The handiest apps that save you money on your road trip are these:
CamperMate – The handiest app for all travelers traveling by campervan. You will find there not only campsites and Freedom Camping areas, but you can search also for showers, toilets, Wi-Fi or drinking water nearby. There is always detailed information about each place or campsite. You will find out whether the camp is paid and what facilities you can expect there.
WikiCamps – Similar app to CamperMate, it's good to have both because sometimes happens, that one app is missing some campsite and vice versa.
Gaspy – A mobile app for finding the cheapest gas stations
Things to do in Northland by campervan
Traveling New Zealand by van is a very popular way to explore both islands. You can either hire it or buy it.
Buying a van in New Zealand
If you are staying in New Zealand for more than a month, you will probably think about buying your own car. There is a large market every Sunday in Auckland (Ellerslie Car fair), where you can find all types of cars and sizes. If you have only limited time in Zealand, you have to take into consideration that you might not sell it after the end of your trip for the same money you purchase it.
Good offers have the TravelCars.nz, where you can book the car online in advance and buy it straight after you arrive (they will pick you up from the airport). We were happy with their service and we have arranged a special discount for you: $100 OFF. To claim your discount, show them this coupon.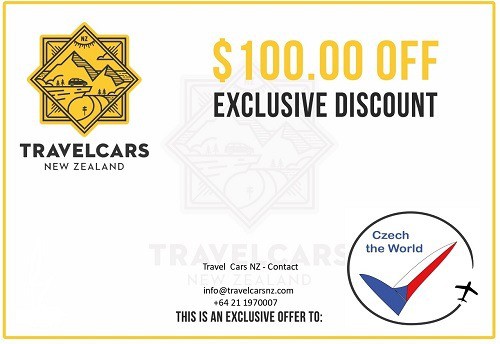 Renting/hiring campervan in New Zealand
If you choose the option of renting a car or van for your New Zealand travels, then you don't need to worry about anything. Usually, the insurance and assistance are included. Simply choose the right car/campervan and hit the road. Car rentals often offer the possibility of taking a car from one place and returning it elsewhere.
The best offers of car rentals can be found here.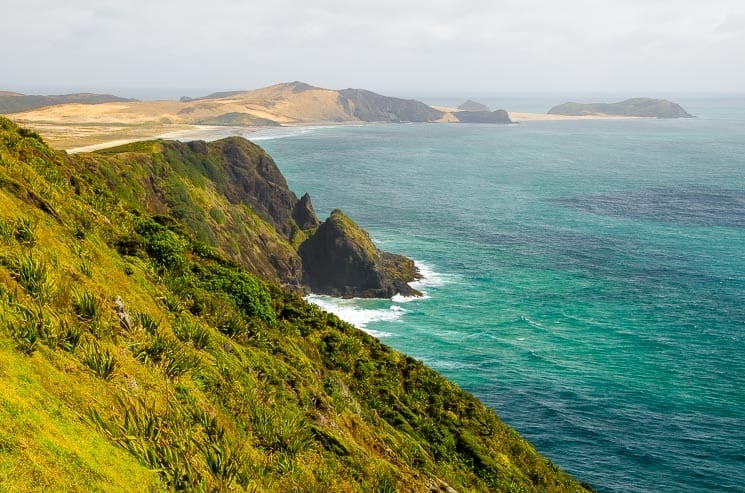 Hitchhiking in Northland
Hitchhiking works very well in New Zealand! Average waiting time can be less than 15 minutes. Kiwis are very nice and open people and it might even happen that they invite you for dinner to their home. Other travelers are also taking hitchhikers. We did it in Northland as well.
Pluses and minuses of hitchhiking:
+ It saves you money
+ More adventure and meetin interesting people
– You can't plan everything 100% in advance
Things to do in Northland by bus tour from Auckland
If you don't want to rent a car or hitchhike, you can also find some organized bus tours from Auckland.
Things to do in Auckland
You will probably begin your New Zealand trip in Auckland, which is also worth exploring. Check this comprehensive guide to the best things to do in Auckland. And if you need advice on accommodation, check this guide to where to stay in Auckland.
Map with things to do in Northland
We prepared for you a detailed map with all important things to do in Northland.
You can export this map and import it to your mobile application such as Maps.me or Locus Map.
Check this beautiful video about things to do in Northland:
Weekly itinerary with things to do in Northland:
More tips for your travels:
We have prepared for you this comprehensive list of links, discounts, and resources for travel planning in one place. Bookmark this page and whenever you plan a vacation in the future, just open it and save yourself a lot of time.
1) Where to book accommodation?
2) How to find cheap flights?
3) How to rent a car?
We recommend a comparison portal RentalCars.com to compare the best offers of all available rental companies.
Pin best things to do in Northland for later or for your friends: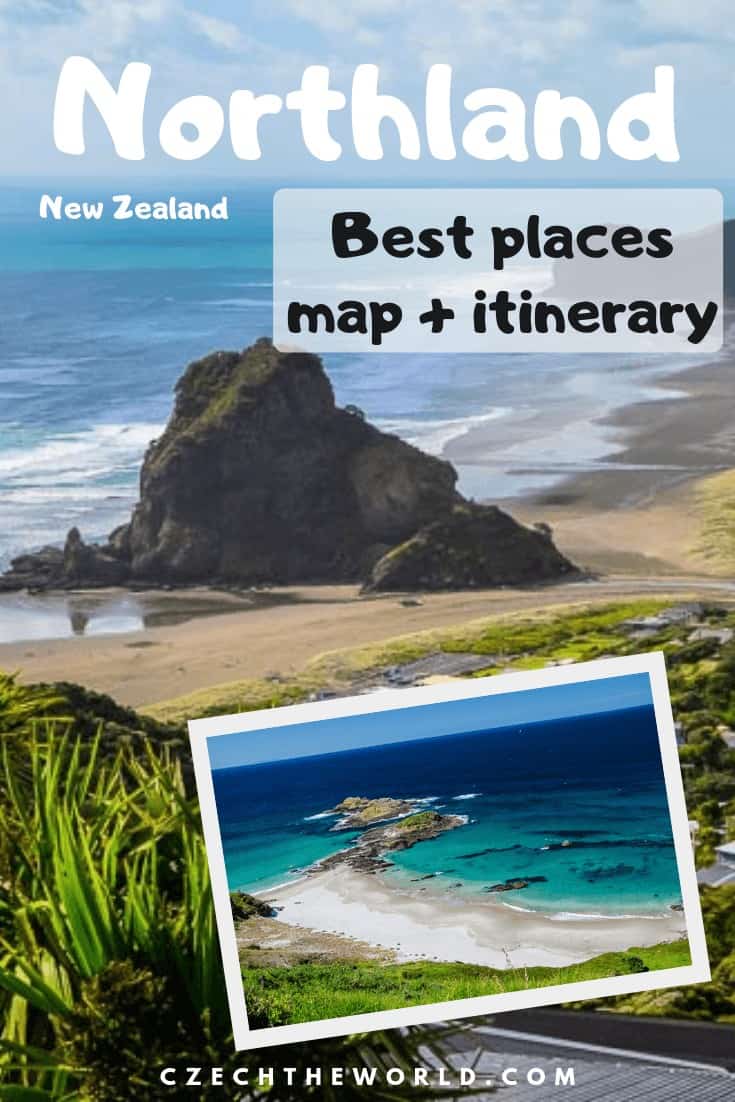 Things to do in Northland – FAQ:
Did this post about best things to do in Northland help you? Share it with your friends! It can help them too!
Disclosure: Please note that some of the links above may be affiliate links, and at no additional cost to you, we earn a commission if you make a purchase. We recommend only products and companies we personally use and we use this income for further improvement of this website. Thank you!