Are you looking for interesting Never Have I Ever questions for kids? You have found the right place!
We have prepared for you a huge collection of game questions divided into several categories – funny, family, school, friends, naughty, food, animals, activities, and more … Check the rules of the game.
You can jump directly to your favorite category:
Never Have I Ever Questions for Kids – Family and Friends
Never have I ever …
pretended to be sick to get away from household chores.
embarrassed my parents in front of the guests at home.
accidentally left the refrigerator open and blamed someone else for it.
fed the dog under the table.
eaten old candy I've found in mom's purse.
spent the entire day playing video games.
lied to my parents about how my brother hit me when actually he didn't.
entered a friend's house without permission.
gone to bed without brushing my teeth.
made my brother or sister think they were adopted.
gotten into a serious fight with a sibling.
ordered something on Amazon using mom and dad's card.
borrowed something without asking.
shouted in front of my parents.
kissed a girl/boy.
asked dad something after mom already said "no."
borrowed my sibling's pens without asking.
tried on my parents' shoes.
helped paint walls in a house.
hid something under my mattress.
played a prank on my brother or sister while they were sleeping.
cheated while playing monopoly with my family.
slept until afternoon during summer break.
lied about doing my chores.
attended a game night with friends.
tried to trick the tooth fairy.
didn't like something my mom cooked.
eavesdropped on my parent's arguments.
been embarrassed by my parents.
locked myself out of the house on accident.
been the only one in the family not to catch a cold.
drank milk from the jug.
taken money out of mom's purse.
stayed up all night.
gotten something I didn't want for Christmas but pretended to be happy.
sat at the table by myself after dinner because I wouldn't eat my vegetables.
paid a sibling to do my chores.
tricked my siblings to do some work at home on my behalf.
put all the blame on my sibling for the mess I created.
hid my sibling's books.
put stuff under my bed or in my closet and pretended I cleaned my room.
snuck out of the house.
broken my parents' rules intentionally to see what happens.
arranged a surprise party for my family or friends.
pretended to be a sleep yet I was not.
watched something on tv that I knew I wasn't allowed to.
held a baby in my arms.
gotten my brother or sister in trouble.
hid in the closet while playing hide and seek.
secretly tried on my mother's/father's clothes.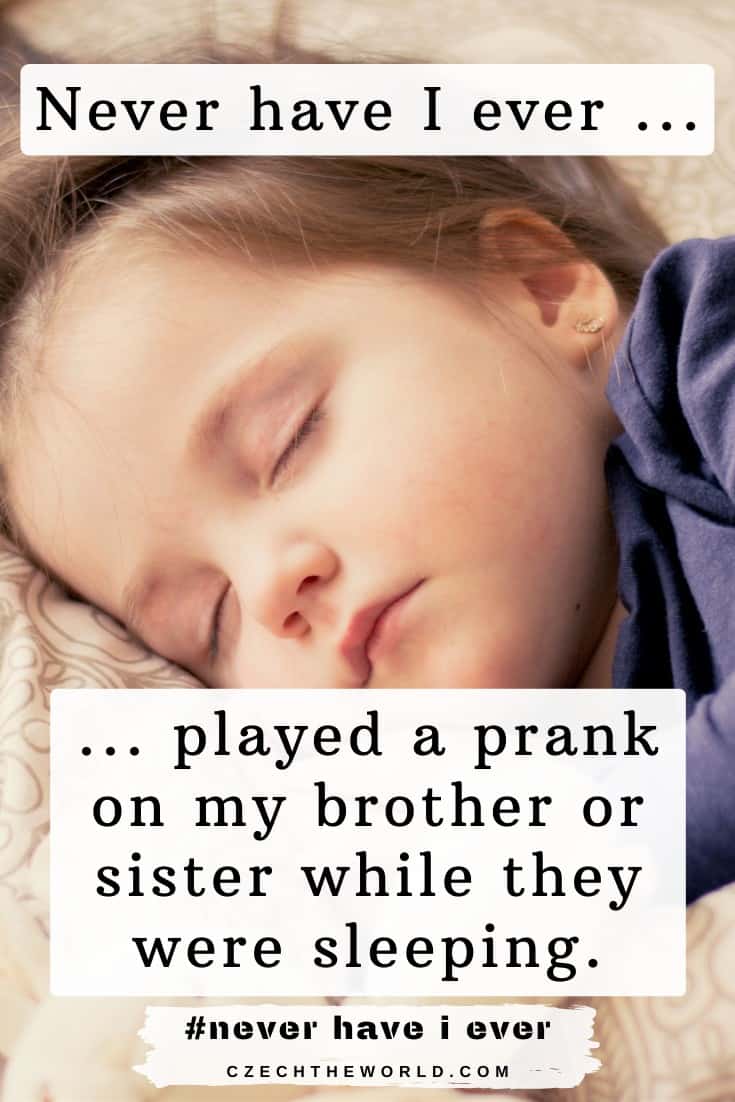 Never Have I Ever Questions for Kids – School
Never have I ever …
written on my school desk.
had my mom or dad do my homework for me.
fallen off playground equipment.
texted my friends during class.
walked into the wrong classroom.
cheated on a test.
forged a note from my parents.
told a joke in class.
danced at a school dance.
been part of a school musical.
been on a field trip.
given a funny nickname to a teacher.
snuck out of class without getting caught.
tried to change a grade on a report card.
played on a sports team at school.
used the excuse, "my dog ate my homework."
gotten an F.
done 'show and tell.'.
hidden a bad grade from my parents and siblings.
pretended to be sick so that I could go home.
written my parent's signature on something.
called my parents to pick me up from school.
missed the school bus.
scored 100% in a test.
added a teacher as a friend on social media.
been sent to the principal's office for something I didn't do.
cheated during hide-and-seek.
written a book report without reading the book.
played a prank on my best friend at school.
passed notes in class.
texted a teacher.
gotten giggles when answering a question in class.
copied from someone else's paper.
gone to the bathroom and stayed there until class was over.
made up an excuse to get out of gym class.
successfully used an excuse to get out of trouble.
lied to a teacher.
forgotten my lunch at home.
had a class pet.
fallen asleep on the school bus.
spent my lunch money on candy.
ate during my classes.
pretended not to know the answer to a question because I didn't want to speak up in front of the whole class.
been given a detention.
gotten lost during a field trip.
been sent to the principal's office.
gotten straight A's.
been punished by the teacher in class for cracking jokes in the class.
thrown something out of the school bus window.
never have I slipped and fallen in the class while in school.
never have I eaten from my friend's tiffin boxes when she brings my favorite.
embarrassed myself in any way during class.
fallen asleep in class.
thrown something at someone in the classroom.
taken a class pet home.
gotten into a fight at school.
written a note to someone I liked.
skipped class.
been late to class and snuck in without getting caught.
admired other children's food in school.
thrown up in class.
swapped lunches with someone else.
fell off my chair during class.
brought the wrong books to school.
tried out for a school sports team.
eaten someone else's lunch while they weren't looking.
chewed on my pencil.
been a teacher's pet.
drawn something bad on the board before class.
ran out of the school.
Never Have I Ever Questions for Kids – Funny
Never have I ever …
sung miserably in a bathroom.
pulled a prank that went wrong.
tried to draw with my toes.
fallen over my own feet.
stuck my finger in a birthday cake.
made silly faces at myself in a mirror.
accidentally bumped into anything in the street while texting.
pretended to be a grown-up when answering the phone.
peed in the shower.
kicked a ball only to fall just before kicking.
found and eaten someone's secret food stash.
put an entire spoon of cinnamon in my mouth.
had the wind blow me down.
owned an exotic pet.
made silly faces by putting tape on my face.
accidentally put clothes on backward and not noticed.
experimented with ants and magnifying glasses.
laughed so hard I cried.
had an imaginary friend.
been chased by the neighbor's dog.
been scared of ghosts after watching a horror movie.
pretended to be a superhero.
made up a secret language.
wondered how is it to be a dog.
secretly stayed up all night watching movies or playing games.
spun around so much that I threw up.
been scared by my own reflection.
tried to strategically time farts with loud noises.
stayed awake all night after watching something scary.
drawn a face on my hand and used it as a puppet.
licked my pet in secret.
blabbed a secret.
jumped into a trash can or dumpster.
played video games for more than 4 hours a day.
slipped on a banana peeling in public.
watched a tv program I was too old for, just for fun.
tried cutting my own hair.
told a friend's story and acted as it was my story.
laughed so hard that my drink came out of my nose.
laughed at the wrong time.
stuck my tongue to a frozen pole.
used my phone under the table when I shouldn't.
made silly faces at random strangers.
done a duck face selfie.
had an argument with myself… and lost.
never have I hidden food under my bed.
put on my mother's makeup without her knowing.
forgotten to pass on a telephone message.
recorded a video of myself being silly.
knocked over a drink on the table and soaked someone else.
Read also: 753 Best Never Have I Ever Questions for Adults
shouted at night from a nightmare.
spilled juice on my computer.
been to a website I knew I shouldn't.
gone to the store for someone and come back with the wrong thing.
waved back at someone only to realize they weren't waving at me.
broken something special to someone else and put it back together without telling them.
never have I tripped and fallen in the middle of a gathering.
mistaken a woman for a man.
played a prank on adults.
told myself a joke and laughed out loud.
accidentally said a swear word in front of my parents.
made a prank phone call.
been left hanging for a high-five.
wondered what it would be like to live with a different family.
drank more than 2 cans of soda in a day.
fallen out of bed while sleeping.
made up a fake language with my friends.
talked out loud to my toys.
laughed at a lame joke.
pulled out my loose teeth and shown it to others.

used up all of the hot water.

rocked out to disco.
sang along with blue's clues.
fallen asleep in one place and woke up somewhere else.
drawn a mustache on my face.
taken a bite from something and put it back in the fridge.
walked into a wall.
been scared of tall building falling on me while walking in between them.
danced in front of a mirror.
fought with a friend.
pretended to laugh at something that wasn't funny.
spilled coffee on my book.
danced in front of the mirror.
borrowed clothes without asking.
never have I made silly faces at my parents and teachers.
accidentally laughed out loud with earphones on.
forgotten an important date like a birthday, and asked someone else if the gift they bought could be from both of us.
picked my favorite color skittles out of the pack and left the other.
dreamt that I was peeing only to find I have peed on the bed.
watched a Star Wars marathon.
accidentally worn shoes on the wrong feet without noticing.
been scared of jets and airplanes sound.
lied about where another family member has gone.
wanted to be an astronaut.
thought of escape plans from an alien, ninja, or zombie invasion.
Never Have I Ever Questions for Kids – Food and Drinks
Never have I ever …
eaten something dropped on the floor.
drank straight lemon juice.
drank coffee.
eaten an insect on purpose.
eaten chocolate for dinner.
eaten raw cookie dough.
eaten so much junk food I've been sick.
used too much salt.
drank pickle juice.
drank milk right from the carton.
experimented with food to make a unique dish.
accidentally put sugar on my food instead of salt.
eaten a rotten fruit by mistake.
eaten snow.
eaten stale chips.
tried artichokes.
eaten the last item in a packet and put the empty box back in the cupboard.
eaten an entire box of cookies in one sitting.
eaten squid.
tasted blue cheese.
roasted marshmallows.
made cookies or a cake by myself.
eaten a large pizza by myself.
had a banana split.
had dessert for dinner.
smelled a rotten egg.
eaten Nutella with a spoon.
eaten breakfast food for dinner.
eaten a whole pack of chips at once.
eaten the hard popcorn kernels.
eaten cold pizza.
hid cookies under my t-shirt.
broken eggs by accident.
eaten from a bowl, like a dog, to see what it was like.
secretly poured my food down and declared that I have finished it all.
eaten a lemon.
eaten the insides of Oreos and put them back in the container.
eaten a whole box of Little Debbie snack cakes by myself.
mixed together random items from the kitchen cupboard just to see what would happen.
exploded anything in the microwave.
made a bowl of cereal out of only the marshmallow pieces.
eaten a non-edible item like soap.
put Mentos in a Coke or Pepsi.
eaten escargot.
had a deep-fried candy bar.
Never Have I Ever Questions for Kids – Animals and Pets
Never have I ever …
locked an animal in my car.
milked a cow.
petted an elephant.
eaten the dog's treats.
touched a worm.
petted a snake.
killed a spider.
picked up a worm and chased someone with it.
run into a flock of birds to make them fly away.
been pecked or chased by a chicken or rooster.
like spiders.
owned a pet.
dressed up a dog or cat.
held a snake.
owned a hamster.
held a tarantula in my hand.
caught lightning bugs.
touched a slug.
kissed a frog.
seen a dolphin.
licked my pet.
seen a bison, deer, or a pony.
stepped on dog poop while barefoot.
been stung by an insect.
named my stuffed animal.
swallowed a bug by accident.
seen a cat or dog throw up.
seen a bear.
found a bug crawling inside your shirt.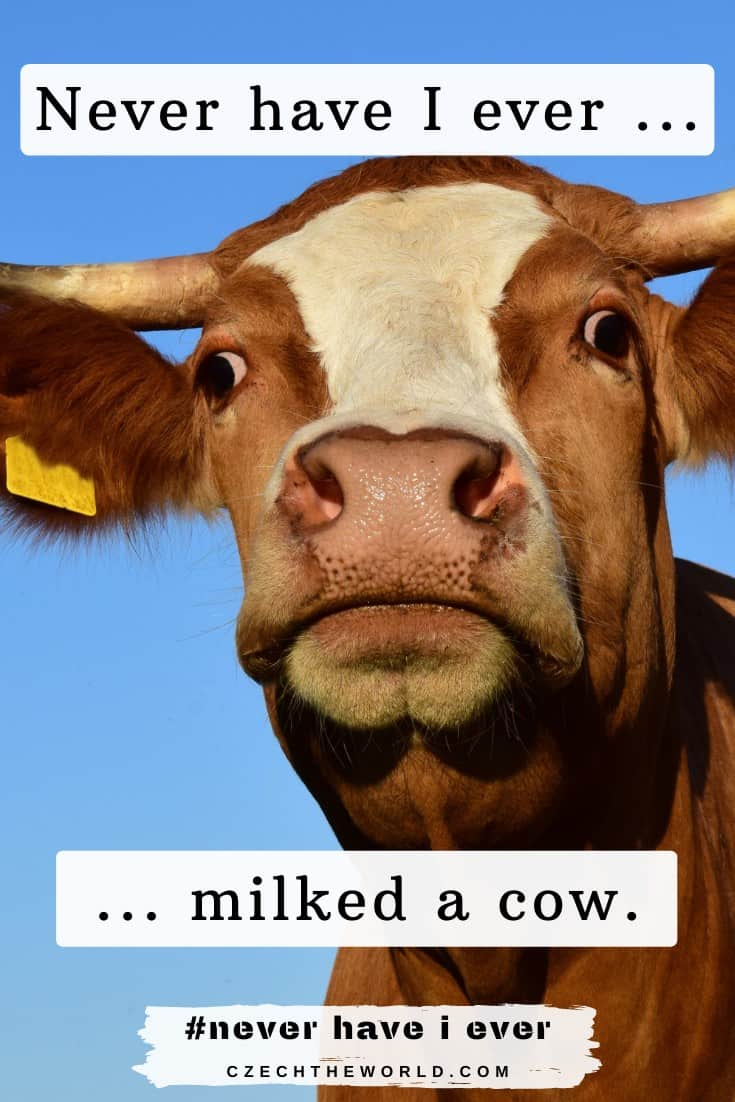 Never Have I Ever Questions for Kids – Activities and Achievements
Never have I ever …
played the piano.
climbed onto the roof of a building.
gone zip lining.
climbed a tree.
been downhill skiing or snowboarding.
played an instrument.
been to a wedding.
been on a rollercoaster.
been to Disneyland or Disneyworld.
done a 1000-piece puzzle.
shot a gun.
traveled out of my country.
been on a boat.
done a backflip on a trampoline.
binge-watched my favorite cartoon.

jumped off a swing.

attended a professional sporting event.
been in love with someone.
participated in a talent show.
done cosplay before.
looked through a microscope.
hammered a nail.
rode in a boat.
been covered up in the sand.
gone inside a castle.
identified any birds.
been to a concert.
slept under the stars.
been on a sports team.
gone camping.
learned another language.
tied a square knot.
finished a game of risk.
written a poem.
been to comic-con.
seen the Grand Canyon.
said a swear word in front of my parents.
won a competition.
been swimming in the ocean.
used a hammer.
run a marathon.
explored a cave.
played truth or dare.
collected recycling to make money.
learned how to swim.
hiked to a waterfall.
played the guitar.
won a painting competition.
built a fortress out of pillows.
been to a monster truck show.
ridden an ATV.

pitched a tent.
gone digging for worms.
counted to 500.
surfed.
been to an outdoor concert.
participated in cosplay.
saw a movie in a theatre.
flown on a plane.
drawn a cube.
swam in the ocean.
made a stamp out of a potato.
driven a car.
cut my own hair.
kept a diary.
climbed a rock wall.
ridden a scooter.
cleaned a toilet.
donated to charity.
crocheted.
ridden a horse.
been to an art gallery.
played an electric guitar.
seen a shooting star.
eaten a flower.
swung on a rope into the water.
moved to a different state.
gone ice fishing.
been swimming with dolphins.
learned to play chess.
gone tubing.
seen the Pacific Ocean.
moved to a different town.
identified any wildflowers.
gone out on a picnic with school friends.
seen the Atlantic Ocean.
climbed a mountain.
washed windows.
been inside a police car.
been on a train.
been to the fire station.
built a snow fort or blanket fort.
ridden on a train.
loaded a dishwasher.
Never Have I Ever Questions for Kids – Embarrassing
Never have I ever …
screamed aloud while watching a scary movie.
told a joke and had nobody laugh.
farted in the class.
called someone mommy by accident.
sent a text message to a wrong number.
made kissy faces at myself in the mirror.
argued with myself or told myself off out loud.
dialed the wrong number and started talking before the other person could stop me.
been caught making faces behind someone's back.
been caught staring at my crush.
answered someone only to find they weren't talking to me.
had an embarrassing haircut.
turned up at an event only to discover I was in the wrong place, or it was the wrong day.
pretended to be from another country and spent the day speaking in a fake accent.
been on stage and forgotten my lines, my steps, or otherwise frozen up.
blurted out a secret I was supposed to be keeping.
imagined I was someone else.
incorrectly answered a simple question about myself, such as "what's your name."
pretended to like something just because my crush liked it.
been too scared to look under the bed and check for monsters.
walked in on someone in the bathroom.
fallen over and had everyone see my underwear.
made an embarrassing video.
said something I shouldn't online when I thought my microphone was off.
broken the screen on a phone or tablet.
said something embarrassing in my sleep.
answered the phone in a silly voice, thinking it was my friend calling, only for it to be someone else.
farted in the car.
Never Have I Ever Questions for Kids – Naughty
Never have I ever …
hidden in my room when my grandparents came to visit.
broken my parents' rules just to see what happens.
bunked a class and went out to play with friends.
spilled something on the floor and blamed someone else.
eaten cookies before dinner.
pretended to have an important appointment so I could spend some time on my own.
eaten an entire box of ice cream, put it back in the freezer, and pretended I hadn't eaten it.
spray-painted my pet's tail.
stolen my sibling's candy on Halloween.
said sorry or excuse me for something when I was on my own.
tasted my mucus.
lied to my parents about where I was going.
taken money from my parent's wallets.
cried just to get my way.
invited friends over without permission.
snuck out of the house while I was grounded.
bullied anyone.
eaten the cream from Oreos and put them back in the box.
teased my siblings until they started to cry.
peed in the shower or bathtub.
imitated my parents in front of my friends.
tripped someone on purpose.
lied about my grades so my parents wouldn't ground me.
said I was going to a friend's house, and actually gone somewhere else.
read a sibling's diary.
been so mad at a video game that I've thrown controllers.
hidden broccoli on my plate and threw it out.
rode my bike without a helmet.
drawn on someone with a permanent marker.
tried to fart slowly not to get caught.
hidden a few coins from my parents as said they got lost on the way.
burned an ant with a magnifying glass.
Never Have I Ever Questions for Kids – Gross
Never have I ever …
been shat on by a bird.
gone out with onion breath.
found week old food in my room.
thrown up on someone.
drank milk that's gone bad.
forgotten to wash my hands after using the bathroom.
rolled around in the mud.
scratched and sniffed my underarms in public.
ate food that had fallen on the floor.
eaten something that was expired.
stepped on a doggie's poop while still in my socks.
never have I picked my nose and wiped it on the working table.
never have I eaten chalk sticks in secret.
eaten a bug.
worn a smelly shirt to school.
had a cockroach on me.
stuck my hand in ketchup.
had diarrhea, run to the toilet, but not made it in time, and pooped my pants.
eaten brussels sprouts.
eaten a raw egg.
sneezed all over a stranger.
used someone else's toothbrush.
fractured myself.
wiped my running nose on my sleeve.
dropped my phone in the toilet.
used a public restroom to poop, discovered there was no toilet paper on the roll, and had to use the cardboard tube to "clean up."
sat on someone else's discarded chewing gum.
let a dog lick my face.
eaten rotten fruit by accident.
scratched inside my ear and then tasted my finger.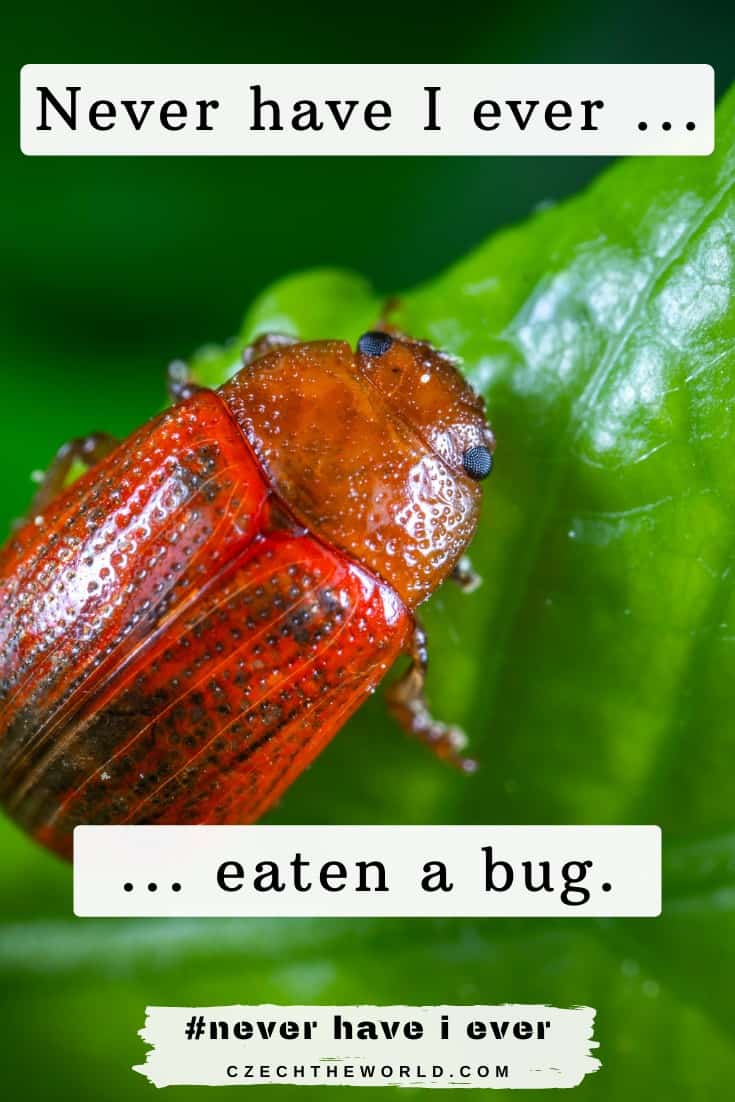 been stung by a bee.
eaten cat food or dog food.
been in the hospital.
fallen off my bike.
been in a car accident.
broken a bone.
got bullied in school.
spit in someone's drink.
played in the mud.
used the bathroom and not washed my hands.
wet the bed at someone else's house.
put something other than my finger in my nose.
had the food stuck in between my teeth all day long.
eaten something off the ground and realized it wasn't food.
sniffed my underwear to check if it's clean or dirty.
pooped my pants.
hurt myself in sports class.
sat down on the toilet and realized there was someone else's pee on the seat.
blown my nose into anything other than a tissue.
picked my nose and ate it.
weighed myself before and after going to the bathroom so I would know how much my poop weighed.
been gratified by the amount of ear wax I got out of my ear.
picked a scab and ate it.
picked mold off a piece of food and eaten what was left.
had to kiss my brother or sister.
gone to school without taking a bath when I'm getting late.
undergone any major surgery.
licked someone's food.
squished a snail with my foot.
eaten food from the trash can.
eaten a spoonful of a condiment.
peed in the pool.
licked my pet.
How to play "Never have I ever" game?
There are several versions of the game but the rules are very simple:
A) Points version (fingers version)
Everyone starts with 10 points. The original version was played with hand fingers. Each finger means one remaining point.
One person starts and says "Never have I ever…" and something he or she has never done. For example: "Never have I ever dated more than one person at once."
Everyone, who dated more than one person, loses a point (one finger).
The next person continues and says something they haven't done.
If you don't have any points (fingers), you are out of the game.
The last person left in the game wins.
If only one person has done the statement, they can tell the story, how that happened.
B) Candy version
Everyone gets 10 pieces of candy.
If you have done the statement, you have to eat one piece of candy.
After you eat all your candy, you are out of the game.
C) Right or wrong version
Every round, one person reads out loud one "Never have I ever…" statement.
The other players say in a turn, whether they think the statement is true or not.
The reader says if they have done that or not.
The players who guessed right get one point.
It's good to have a pen and paper to write down the points.
Check our other good collections:
Pin these never have I ever questions for children for later and to your friends: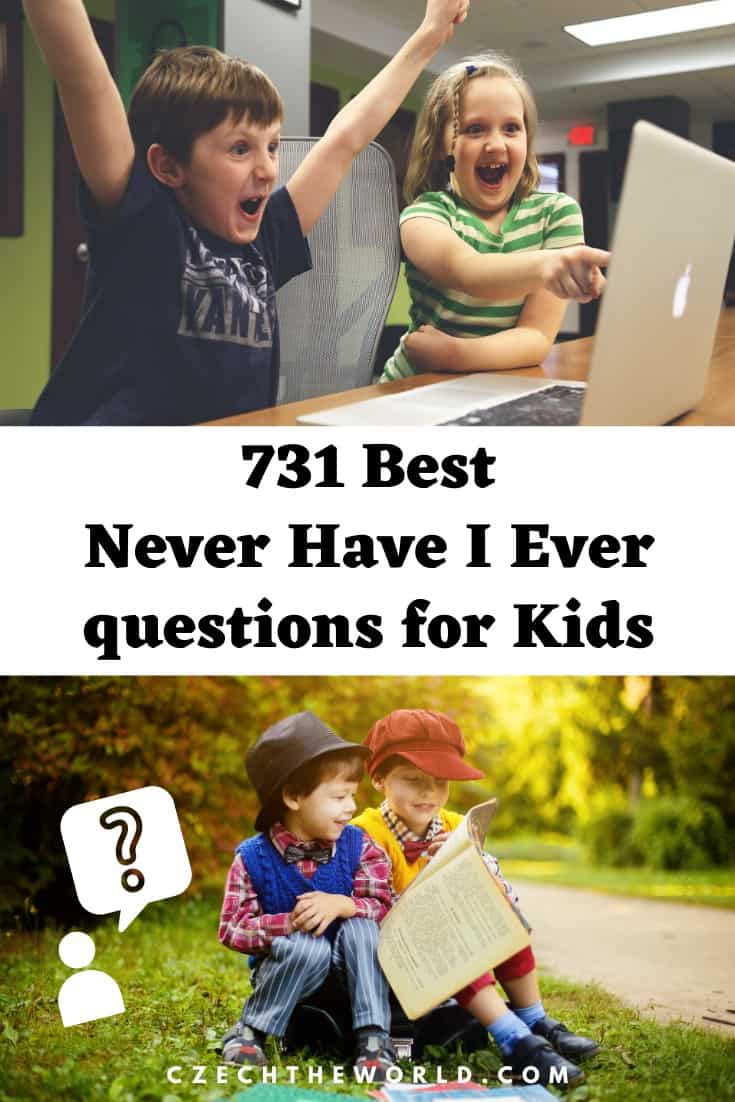 Do you like these questions for children? Share them with your friends:
Disclosure: Please note that some of the links above may be affiliate links, and at no additional cost to you, we earn a commission if you make a purchase. We recommend only products and companies we personally use and we use this income for further improvement of this website. Thank you!