Mokoroa Falls are beautiful waterfalls hidden in a native bush between Muriwai and Waitakere. There is a beautiful track leading from Horsman Road. This walk can be an ideal day trip from Auckland. For the most spectacular show, visit the waterfalls in the rainy season.
Mokoroa Falls – Walk overview
Distance: 1,5 km
Duration: 30-40 minutes (one way)
Distance from Auckland City Center: 45 minutes drive
No dogs allowed
Is the track open? Find out the latest update at DOC website
Facilities on the track: Portable toilet at the beginning of the track
How to get to Mokoroa Falls trailhead?
Type in your GPS: Mokoroa Falls Track Entrance or Goldie Bush Walkway. The address is Horsman road, Waitakere, Auckland 0782.
From Waitakere: Take a Bethells Road from Waitakere, turn to the right to Wairere and later on it begins Horsman Road (which is a gravel Road).
Parking is limited there, so just don't park at signs "No Parking". You might be towed away.
Track to Mokoroa Falls
The track starts at Horsman Road. There is also a toilet at the beginning. You will find a cleaning station at Mokoroa falls track entrance. Please clean your shoes properly to help stop the Kauri Dieback and don't walk off the trail. The track is a very well maintained path and it's descending on the way to the waterfall. It might take 20-25 minutes to get to the viewing platform.
Mokoroa Falls consists of 2 different waterfalls, beside the main waterfall, there is also the second one – leading from Houheria Stream (on your right-hand side). You will see both waterfalls from the lookout.
You can get down to the base of both waterfalls from the upper platform. There is a staircase which leads down to the stream. Be careful, it might be slippery. Waterfalls are beautiful especially in the rainy season when there is a lot of water.
The walk back to the Horsman Road takes approximately 40 minutes.
Longer loop via Strem track & Goldie Bush Walk
There is a possibility to make a longer walk on the way back. If you take a Mokoroa Stream Track and Goldie Bush Walkway, it will take about 3-4 hours to get back to Horsman Rd. Another option is to walk from Constable Road to Mokoroa Falls and back. It is approximately 1 hour 45 minutes one way. You can download the map of these tracks in PDF.
Outdoor map
We can also recommend downloading an outdoor map on your phone. Locus Map is our favorite Map app.
Geocaching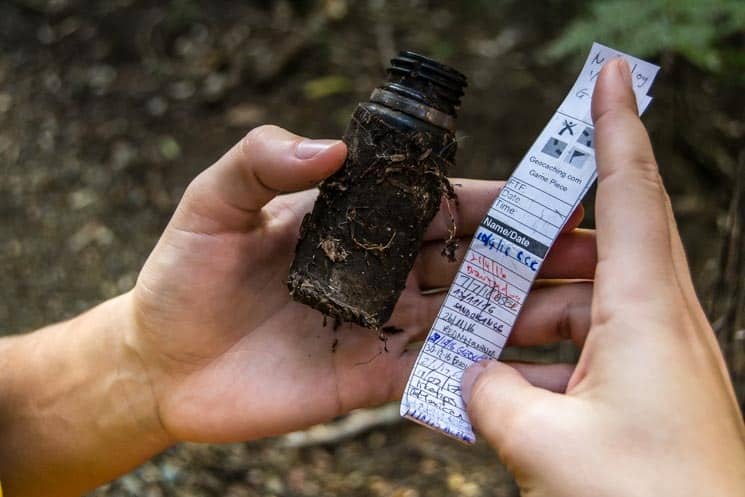 Have you ever heard of the Geocaching? It is a great "treasure hunt" outdoor game. There are several Geocaches in the Mokoroa area. Fist you need to sign up to be able to find cache location. There is one very nice and easy to find, right on the trail: T Tree Tiny. Always remember to stay to the track. Enjoy Geocaching!
Check this drone video:
Where to go next?
The area around Mokoroa falls is very nice. You can make a trip for example to Muriwai Beach, Bethells Beach, Te Henga Walkway or Lake Wainamu.
Great places around the North Island
Did this post help you? Share it for your friends! It can help them too 🙂
Disclosure: Please note that some of the links above may be affiliate links, and at no additional cost to you, we earn a commission if you make a purchase. We recommend only products and companies we personally use and we use this income for further improvement of this website. Thank you!
---
Adriana & Matěj
Travelers, sport enthusiasts and photographers behind this blog. Creating high-quality and informative guides for your travels. Read more about us here.