The ultimate collection of best love messages for him that are absolutely heart-touching.
We have divided these messages into several categories – positive, sweet, romantic, hot & sexy, creative, and more….
Sweet Love Messages for Him
I prefer love above all, I know it can hurt and what it means to be vulnerable before others, but compared to the burden of hate, love is worth it.
I have never felt like this before. You make me feel so alive, so beautiful, so inspired. I can't stop thinking of you, and I feel like I know what it means. I love you, and it's absolutely crazy, but it's true. I love you. Love you. Love you.
How to say "I love you" in a non-corny way? It's so hard! All I want is for you to understand that my feelings for you are not mediocre or typical. It's something that changed my life completely. You've changed my life completely.
The greatest joy we can experience in our miserable lives is love if it is the only thing that makes us happy. Why are we so idiotic as to lose it? I am not an idiot, that's why I will treasure every kiss and hug you give me and I will protect your heart with all my love.
Only love allows us to find in others those unique characteristics that they did not even know they had, but that makes them beautiful to our eyes and hearts, that is why the question Why do you love me? It cannot be easily answered when it comes to true love.
I could stare at your face all day. It's so strange that you never knew. I'm madly in love with you, and I think it's time to let you know. I want to spend every second of my life with you, and want to share everything with you. I love you.
It's always been hard for me to express my feelings, but I'll try my best for you. You make me feel like I actually belong in this world, and I'm obsessed with this feeling. I love you. Wasn't that obvious?
Love is a feeling worth experiencing, no matter if we have lost it, if you managed to love, even once in your life, you are a lucky person.
You make me feel safe. There are a million reasons for why I love you, actually. I wouldn't know where to start. I just wanted to say that you make me very happy and I love you more than anyone else in the world.
I'm so proud of the man you have become. You are the most amazing human being I have ever known, and I can't believe that I'm the one who got you. You are the love of my life, sweetheart.
There are many ways to say "I love you" sometimes it is disguised as a "call me when you get home" or an "I wish you a great day" sometimes, it is more than just a kiss or a hug, it is a look full of meaning.
I was so sure that I will never be able to love again, but you proved me wrong. Thank you for showing me that life is a beautiful adventure, and I don't have to go through it alone. I love you, baby.
I would be so lost without your love. It lifts me up when my spirit is down. It helps me to get through the toughest times. I'm so madly stupidly in love with everything you are and everything you do, baby.
It was your smile and your love that slid sinuously under my skin and came to my heart to make a home there and fall in love forever.
Why do I love you? My love, you are the most perfect person who has ever set foot on this planet and that is just one of the little things that led me to love you.
Hot & Sexy Love Messages for Him
Your kisses are like sips of the finest wine. I could never grow tired of them. You are my drug, and I am dying to get my next fix. Every time I am with you makes me want to be with you more. You are everything I want in a man and so much more! I love you so very much!
I have to say. You are the sweetest boyfriend ever, and I am truly blessed to have you. You always make me smile and bring me so much happiness. Every time we kiss, I fall for you a little harder. Love you!
Sometimes I lay in bed just wishing you were next to me. No words could express how I feel for you. You are so amazing, and I will spend forever loving you.
If you come early today, you can do whatever you want with me.
Just thinking about our first kiss….I'd do it all over again and again.
As midnight strikes, you're probably asleep now. Can I come slowly into your dreams and hug you tight?
I love you so completely. You are the most beautiful, charming, funny, sexy man I know. I am so lucky to be in love with you. I love your soul and heart as well as your body. I want to give my heart to you and have yours too, forever.
Nothing is impossible as long as we are together. The butterflies in my tummy make me feel like there aren't any mountains high enough to keep me from getting you, and just like the moon, I will always be around you.
I love the way you look at me when we kiss. Your eyes tell me everything. I can't stop thinking about you, and I can't wait to taste your sweet lips again. You are my everything.
Every single cell in my body yearns for your love, isn't it obvious? I am in love with you. I have never felt anything like this before, and I will do anything to make it last. So let's make it last together.
I promise I will be by your side. Even under you or top of you if you prefer.
Baby, I want to feel you all over my body.
I die for your kiss, hug, and wonderful smile, my love. I want to be with you forever.
I was sweating a lot when I woke up today. Not because it was too hot in the morning, but because of the dream I was having about you. It was too hot to handle.
The first time I saw you, I was afraid to touch you. The first time I touched you, I was afraid to hug you. The first time I hugged you, I was afraid to love you, but now that I love you, it has come to stay and I can't lose you.
Romantic Love Messages for Him
It's funny how you can go through life thinking you were complete until you fall in love. Now every time we're apart I feel incomplete, my other half. I love you.
I don't care about anything and anyone else, as long as you love me. I can ignore the rest of the world if you're with me. I love you so much.
Never believe that you have to flatter me with materialistic things. All I need is your love, because unlike materialistic things your love won't fade away. It's forever embedded within my heart.
You can finish counting the stars in the sky, but you can never finish counting the love I have for you. Because my heart is filled with infinite love for you!
Every time you look into my eyes, you melt my heart and make me fall in love all over again. I love being loved by you.
Most women have a certain degree of fear about growing old, as did I. However, as long as I get the opportunity to grow old with you, I know I'll be just fine.
In a world of chaos, pain and suffering. As I look forward to seeing you again, it makes my trials and tribulations less hectic knowing that there's a light at the end of the tunnel. At the end of the day, I'll see you again.
Independence is great. But interdependence is nothing less than Godly. My friend, my world, my lover. I love you.
I need an entire lifetime to appreciate God for bringing you into my life. All I want now is to dedicate this life to loving you!
I have a special chamber inside my heart. Nothing can occupy this but you. Sending you a box full of love, my sweetheart!
I've always wanted to be with you, my love. Your kiss, your hug and your wonderful smile are what I die for!
You are the sunshine of my life; you make me the happiest. Thank you for making my life brighter in ways that you can't even imagine; I love you.
It's funny how you could go through life not knowing what real love is. But this. This indescribable feeling I've never felt before. I guess this is what it's like to be with a real man.
You make my life so colorful; you give me so much peace and make me feel at home. I pray to the Lord that you stay with me till my last breath.
My love for you is never-ending, and no matter how hard life becomes, I will always be there for you like you have been for me. I love you, darling.
Inspirational Love Messages for Him
Our love is like a great ocean, sometimes it is calm, you can see the beauty of the seafloor and sometimes it is intense, overwhelming, full of foam with the flavor of kisses to deliver.
I can't wait to see you again. Every moment I spend with you is my favorite.
The days that I cannot see you, I feel that I am submerged in an eternal and cold night, that your eyes are the light that illuminates mine, your kisses are the warmth that my heart needs and your love is the breath of life that fills with hope my life.
You are the glue that holds me together, baby. Thank you for being such an important part of my life, especially when things get tough.
I will never tire of looking at your sweet eyes, kissing your soft and smooth lips, caressing your warm skin and of course, I will never stop loving that beautiful heart that has captivated me and steals my sighs.
While I sleep my soul and my heart leave my body, they go to your home and watch you sleep, I can't help it, you are their other half.
I want to become a thief of seconds, minutes and hours, I want to have power over time itself, so I could stop and treasure every second that we spend together.
You're the best thing that ever happened to me, and I'm going to keep telling you that each and every day.
You make my life feel like a dream. There's so much love and happiness in it, all because of you. 
I can't believe how happy you make me. Just thinking about you puts a smile on my face and makes me feel so good…and so lucky.
I am so excited about all that the future holds for us. There's no one I'd rather discover it with.
I love that what we have is so real. I have so much faith in our love for one another. Thanks for being an amazing partner. 
I adore you. I can't believe I get to be with you on this adventure together. 
There is nothing more beautiful than looking up at the sky at night and looking at the stars, so I can find a new one and whisper another reason why I love you. Keep this in mind when you look at the sky, each little point of light tells one of the reasons why I love you so much.
Do not worry, if you are busy it is fine, just give me that little time you have left and during those moments I will make you the happiest person on the planet.
Positive Love Messages for Him
If only you knew how much those little moments with you matter to me.
Love makes no sense if it is not to the right person. I feel very lucky to be with you!
You have no idea how much my heart races when I see you.
Every day with you is a wonderful addition to my life's journey.
You are the owner of my heart, my feelings, my soul and my body. I completely belong to you, baby. I love you. Always.
I'm giving you my heart now and forever. My goal is to make sure that I always make you feel loved, appreciated, and accepted, even over text.
The world is so perfect because of you, without you the world would be meaningless. I Love you.
You wanna know who I'm in love with? Read the first word again.
Your voice is my favorite sound.
So far, every moment we've spent together has been awesome. But I promise you, that the best is yet to come.
Since the time I've met you, I cry a little less, laugh a little harder, and smile all the more, just because I have you, my life is a better place.
Your image is always in my mind, I can always hear my heart whispering your name and I can always see your face when I close my face, how beautiful you are. I love you.
I love you so much that I'm going crazy. I can't stop thinking and dreaming about you. Only it makes me feel alive and gives my life a meaning.
You're my paradise, and I'd happily get stranded on you for a lifetime.
What is love? It is what makes your cell phone ring every time I send text messages.
Clever Love Messages for Him
Our love is stronger than Gorilla Glue.
If you're cute, you can call me baby. If you're nice, you can call me sweetie But if you're hot, you can call me tonight!
Let's commit the perfect crime, I'll steal your heart and you steal mine.
If you were asked to make one wish today what would it be? Mine would be that our love lasts until I see orange in an apple tree. I love you!
Loving you makes me hot like sriracha on ghost peppers!
If you checked with your doctor, I bet he'd say you've got a bad case of being loveable.
I love you like a nerd loves his bow tie.
No matter what economists might say, you have no substitute. You're my one and only.
Your love is like a drug -the legal ones that take away illness or pain, not the ones that kill people!
I lied to you once. I told you I'd love you forever, but then I realized I couldn't live that long.
You can fall from the sky, you can fall from a tree but the best way to fall is in love with me!
Falling in love with you sure beats the other falls I had today!
Last night I hugged my pillow and dreamt of you… I wish that someday I'd dream about my pillow and I'd be hugging you.
If our love were a triangle, it'd be a-cute one!
Creative Love Messages for Him
Every conversation, every date, every drive, every smile, every laugh, and every moment in between– I fall more and more in love with you.
The happiest people in life don't have everything they want in life; they make the most of everything that comes their way.
I have traveled to the furthest end of the world, but the thoughts of you are always in my mind. I'm in love with you. I love you
Since I was born, I have been waiting for you. The moment I met you, I knew you were the one, my heartbeat, and soul. I love you.
You're irreplaceable, non-returnable, and priceless to me. Never change.
Life is awesome, not because I can offer everything in the world, but because you are always there for me.
You've been on my mind every moment since I've woken up, and I hope you're still there in my dreams when I go to sleep.
God puts a person in our lives for a particular reason. He makes people meet in the strangest ways. I thank God I found you.
I hate labels. You're my best friend, true love, adventure partner, sweetheart, partner-in-crime, and so much more. And I'm supposed to call you just one? No fair.
The best thing that ever happened in my life is finding you. Loving you and caring for you is all I ever want. I love you.
My biggest joy is to see you smile, be happy, and know you are loved. I will always be there for you. I love you.
I am so completely and totally in love with you. All those butterflies, love songs, and the weightlessness of love– It's all real with you.
I love you so much that if I had to choose between you and chocolate, I'd choose you.
I have never felt this before, I thought I was in a dream, I thought it was a wish, Since I could not wake from the dream, I knew I had found what I had wished for, that's you. I love you
It's not that I love you for allowing me to be me. I love you because you encourage it.
Happy Love Messages for Him
I love you more than all the grains of sand on the Earth and all the stars in the sky combined.
I'll never be able to explain how much I love you, but I'll try by telling you every morning when you wake up and every night before you go to bed.
I hope you know how wonderful you are, even when we are apart.
Every night I love coming back home. Because home is being in your arms. Good night.
When I say that you are the love of my life, believe me, it's true. You are the only one in my heart.
These three small words aren't enough to tell you just how wonderful you are, but I'll say them anyway: I love you.
Love is the air I breathe. Without you, my darling, I wouldn't be alive, because you have a piece of my heart, and that's why I need you by my side so much.
Only the fortunate ones get the chance to wish their loved one a good morning when they wake up. I'm so lucky.
As long as we're together, our future is bright. Here's to another new day. Good morning, my love!
My days are worth it if I can end them with you by my side. Good night.
I have loved you long before the beginning of times and I will love you even when the memories of us will be erased from the face of the Earth.
When I close my eyes, I see you. When I open my eyes, I see you. There is nothing I can do without thinking of you.
The only time I stupidly smile at my phone is when I get text messages from you.
You are the first person I think of after opening my eyes each day. Sending you kisses and hugs for a wonderful day ahead!
Counting down the seconds until I get to see you again!
Cute Love Messages for Him
I don't know how I should feel really. Having a handsome boyfriend like you is a blessing and headache at the same time.
You make my heart very happy because you are all my heart needs. Life without you is meaningless.
I start missing you right after opening my eyes in the morning and waking up next to you is all I wish for. Have a good morning, honey!
You make my life balance and bring shine like a sun in it. You must be an angel, and I am happy to have you in my life, love.
Your smile takes my breath away. It took my breath away on the day we met, on our wedding day, today, and every day in between.
Being with you is the easiest choice I have ever made, and I'm so lucky I get to make it every day.
I wish every day you could see yourself the way I see you. Because I see you as absolutely perfect.
Baby, You make me fulfilled with your presence. I love you, and I want to spend my whole life with you. Let's be together forever.
You're my soulmate, my best friend, my partner, and my confidante. Thank you for that.
Distance seems small when feelings are deep. Love entwined us, so it doesn't matter wherever we are now. I Miss You!
There are a million ways to say how much I love you that I truly don't know where to start.
You're my first thought every morning and my last thought before I go to sleep.
I love your honesty, your passion, your resilience, your courage, your partnership, and your smile.
You are muscular and spectacular. Two things I love the most. So glad that you are my man. Love you.
You are my one in a million, darling. I hope to always make you smile as you make me with your goofy jokes.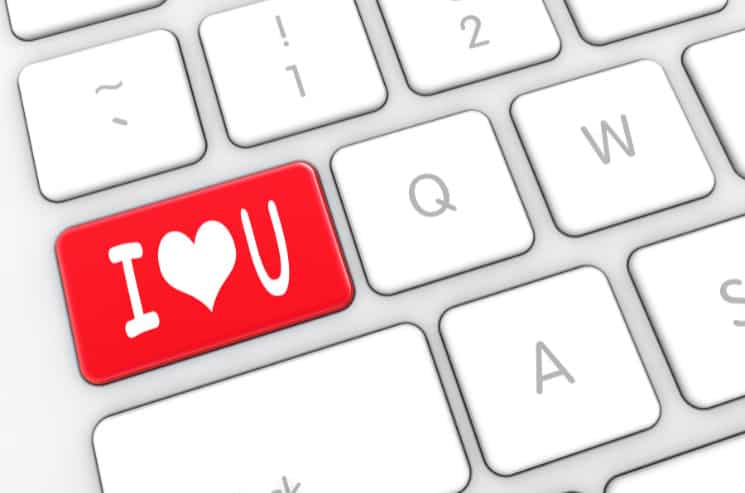 Unique Love Messages for Him
I just want you to know that I love you from the bottom of my heart, from deep within my soul.
You are so good to me, and don't think for a minute that I don't appreciate it.
Here Is My Heart, It Is Yours So Take It, Treat It Gently, Please Do Not Break It. It's Full Of Love That's Good And True, So Please Keep It Always Close To U.
I love you so much, it feels like my heart is going to jump out of my chest and jump into yours.
All these years together, and I've never felt more in love with you. I just had to let you know.
I will never get tired of seeing your face in the morning, or feeling your touch in the evening.
I'm the happiest woman in the world when I'm with you. It doesn't matter if we're out on the town, in front of the TV, or… doing other things. Being with you just feels right.
You are the other half of me and with you my soul feels complete. There is nothing worse than being without you. I love you.
My dear, my love for you knows no limits… you are in my heart and soul.
Do you even know how special you are? I wouldn't trade you for all the heartthrobs in Hollywood.
I don't need coffee in the morning. I just need to think about you, and pretty soon I start to feel giddy about what the new day will bring. Your love is the ultimate stimulant.
I give you my heart and soul. I love you with everything that I am.
I have a love song in my heart and its lyrics are a serenade dedicated to you.
Thanks for being my strong and sensitive guy all these years. I don't know what I'd do without you.
I wish I had the words to tell you how much I love you. Guess I'll just have to show you.
Funny Love Messages for Him
You know, at a point in my life, I thought my mirror was true to me until I saw myself in your eyes.
I won't hesitate to do ANYTHING for you, except to die of course! I don't need to explain further, do I?
Our relationship is based on one simple ground rule. You break my heart, I break your jaw.
If I met you as a space traveler, the only gravitational force that would keep me on the surface of the moon would have been your smile radiating from the earth. Keep smiling, darling!
I'm still clueless in deciding who the real copycat is, between you and the rainbow; you're glowingly beautiful, dear.
When it comes to our relationship, I want you to be stress-free all the time. Just keep calm and do as I say.
You are every girl's dream come true. But never ever take that for granted, else I'll be your worst nightmare.
Hello Handsome, are you one of the mannequins that escaped from the shopping mall today, "cos you look too good to be true. Trust me, baby, I know what I'm saying.
I actually thought I didn't have much to learn until I met you, 'cos you are an embodiment of good manners and the meticulous labors of good and respectable parents.
Whenever we're fighting, always remember that every minute spent arguing could've been spent cuddling.
Our relationship will always be a two-way street as long as both ways are peppered with gifts for me.
Our relationship is a two-way street. As long as both ways lead to me.
They say the sun sets in the west" how wrong they must have been. Actually, it sets in your face and the stars take permission from your beautiful eyes to rise and shine at night-do you not know that?
When I see soldiers heading out to war, I wonder if their battles are worth fighting. But each time I go out of the house, I know I'm going out to fight because of a worthy cause – that's YOU!
Our relationship is based on two simple rules. Number one, you do everything I say. Number two, never forget number one.
Long Love Messages for Him
It was meant to be you and no one else. You happened to be my dream come true. Ever since we met and you came into my life, I have always wanted to be with you; it's you that I have always needed. I craved to see your beautiful smiling face; I long for your touch and the way you kiss and caress all of me. I am blessed to have someone as special as you are and I vow to always cherish and love and respect you. I love you beyond the stars, baby.
There is nothing I cherished and loved more than the beautiful and wonderful bond between us. During my down times, you have always been there to support and motivate me. You loved me like I have never been hurt before, even when there was no reason to. Your kind is truly rare and I'm blessed to have you in my life. I love you beyond the stars, my king.
Thanks for making me believe that love can be just as beautiful as it's shown in fairytales and more. You are my prince charming, my knight in shining armor. May we never get lost and be always united with our unique bond and get everything the world offers us. Love you more than anything or anyone dear boyfriend.
With you in my life, I can always put a smile on my face even amidst the uncertainty of life, the chaos and the ups and downs. Reminiscing about you and how much you love me turns every obstacle into an opportunity. Knowing that you always have my back keeps my hope alive and I know that there will always be a light at the end of the tunnel. I love you so much, handsome.
Words can never justify my love and adoration for you. You are the most amazing and beautiful person both inside and out I have ever met. I'm forever grateful to God for sending you into my life. May God bless us to be together just like this forever, my love!
Even if I could travel the entire universe looking for a perfect boyfriend, I would never be able to find someone like you. You are so uniquely made by God just to come into my life and make it wonderful. I love You so much!
I love you entirely with all my heart. Through thick and thin, we have been together and have fought for the survival of this relationship. I will always be there for you. I love you, baby!
When asked what I need in life, here was my response. All I needed and wanted is you and your love. I don't want any material things because they will not last long enough, unlike your love. Things will fade away with time, but your love keeps getting stronger and growing deeper with time. Things will not always be invoked, but your sweet love will always evoke. I love you more than you know, my dearest.
A million stars up in the sky, one shining brighter I can't deny. A love so precious, a love so true, a love that comes from me to you, The angels sing when you are near within your arms, I have nothing to fear You always know just what to say just talking to you makes my day. I love you honey with all of my heart together forever and never to part.
A well composed cute love paragraph with sweet words cannot truly express how much you mean to me and describe how your special love for me makes me feel happier each and every day. And if my heart were to be a house, the firm foundation within my heart would be laid with your care and love. I will always cherish and love you so much, my one and only. I love you dearly.
God has blessed me with so many things in life, but you have the most beautiful blessing. The love and care you have given me all these years is something that can only be compared with heaven. I will love you till my last breath.
I know that when I am older, I will look back at the days when we used to argue about petty things and I will be happy, knowing that our love was stronger and bigger than those things. You need to know that I am thankful that you are in my life and that I will love you till the day I die. Unconditionally and without any end, I love you, baby!
The only thing I want in my life is the presence of you. I may not always express my feelings but if you look into my eyes, you will see an ocean full of love, respect and care only for you!
Sometimes, I wish every girl in this world should have a caring boyfriend like you. But then I realized that I would be extremely jealous if it happened. You are the only one mine forever, and I don't want anyone to enjoy the love I have in life.
Whenever I am close to you, I always have goosebumps and butterflies in my tummy. It is a feeling of what it's like to be loved and cared for by someone as special, handsome and amazing as you are. I guess this is what it's like to be with a real woman. I love you so much more than you could ever imagine.
Short and Simple Love Messages for Him
Hey, I just wanted to let you know I love you a little more every single day.
I wake up and go to bed every day with one thing. That's thinking about you. I think about you every single day.
I love you with everything that I am.
My love for you is too big and deep to describe.
I never knew it was possible to find true love until I met you. Thank you for giving me all your love sweetheart!
You are the one that gives my life a meaning. Thanks for loving me like you constantly do.
I'm kind of obsessed with you.
You make me feel what I've not felt for others before. I am incomplete without you.
I miss your handsome face already.
We both are guilty of criminal offense. I stole your heart and you stole mine?
My heart skips for joy whenever I set my eyes on you.
You make my heart beat faster.
Never forget, I love you so much.
I'm the luckiest girl in the world.
I just felt a huge surge of love for you. You're the best!
Read our other collections:
Hot & Sexy Love Messages for Him
Romantic Love Messages for Him
Do you like these messages? Share them with your friends: