Laguna Esmeralda was one of the first hikes in Ushuaia we heard about. And I am not surprised – this emerald lake is truly magical. It's not just about the lake itself – I am sure you will be already amazed on the way to Laguna. Imagine the landscape lined with the emerald stream flowing through the beautiful meadows with an impressive mountain range in the background.
We have prepared a practical hiking guide for you, where you will find all that you should know about this hike.
Laguna Esmeralda Trail Parameters
Time: 3 – 4 hours
Distance: 9 kilometers / 5.5 miles (round trip)
Elevation: 200 meters / 656 feet of elevation gain (round trip)
If you need to prepare your Ushuaia itinerary, plan half a day for the Laguna Esmeralda Hike (including the transportation to the trailhead and back).
Tip: Hiking poles might be handy, as there are muddy and swampy areas, which can help you master these passages with ease.
Altitude profile: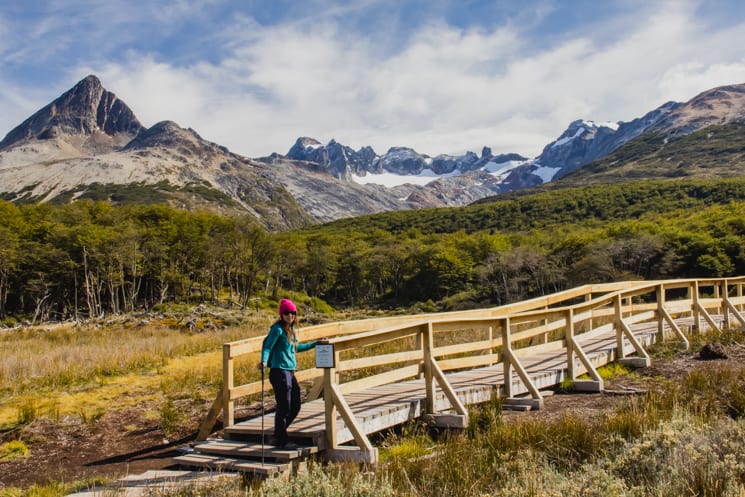 Laguna Esmeralda Hike Description
The hike to Laguna Esmeralda belongs among the easier ones in the area. I would say easy to moderate. As it is easy and beautiful, it is also very popular. In case you want to avoid crowds, head to the trailhead early.
Surprisingly, it's not uphill at the beginning, instead, there is a slight descent through the forest. The trail is more or less flat, but it can be muddy from the beginning (especially after the rain).
The first opening offers a beautiful view of the meadows and mountains, and a little bit later you meet also an "emerald stream" going from the lagoon. From there the trail goes gently uphill and leads you through the forest again. After that, you will walk in the proximity of the "emerald stream" which offers perfect photo sceneries.
The trail keeps this character all the way to the lagoon. The lagoon needs sun to have its emerald color, so it's better to plan the trip for a sunny day. You can have your snack or lunch by the lagoon or you can decide to explore the lagoon coasts.
Then, the trail follows the same path all the way down to the parking lot.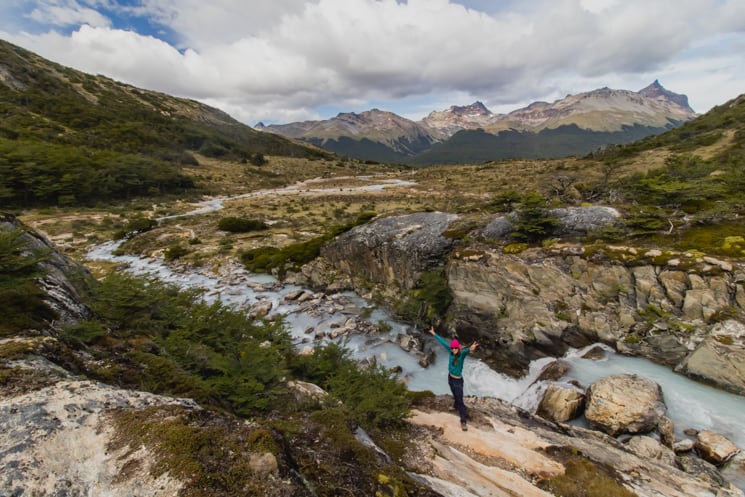 Secret Extension of the Hike to Laguna Ojo del Albino
I will tell you something that we found out later on from our friend, who climbed all the way to Laguna Ojo Del Albino. There isn't an officially marked hiking trail on the maps, but you can download GPX of the trail to Laguna del Albino here.
From there, there are beautiful views of the Laguna Esmeralda. If you want to go there and don't want to get lost, you can find the agencies in Ushuaia that offer day hikes to Laguna Ojo del Albino.
How to get to the Laguna Esmeralda trailhead?
By bus
There is a shuttle bus service in Ushuaia downtown, from where you can take a bus to various trails around Ushuaia. It's better to ask for an up-to-date schedule there, but as far as we know, there should be a bus at 10 AM on the way there and a bus at 3 and 5 PM on the way back.
By your (hired) car
The easiest way is to get there by car, just remember that the trail is very popular and the parking lot can get crowded.
By hitchhiking
It's not uncommon to get there and back by hitchhiking. When we were there, there were plenty of people hitchhiking on the way from the lagoon.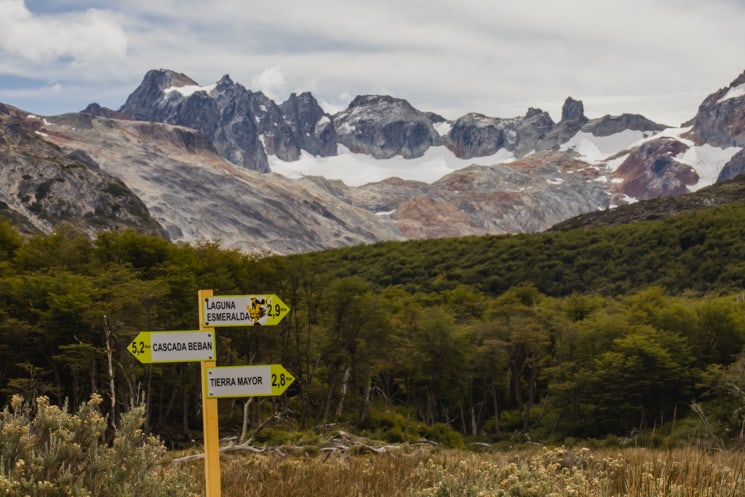 What to pack for the hike?
It's always a good idea to pack some extra layers as the weather can be unpredictable. In general, we can recommend:
Hiking poles
Good hiking boots
Layers of sports clothing
Rainproof jacket
Hat and gloves
Water
Sunscreen
Sunglasses
Snacks/lunch
Outdoor offline maps (app)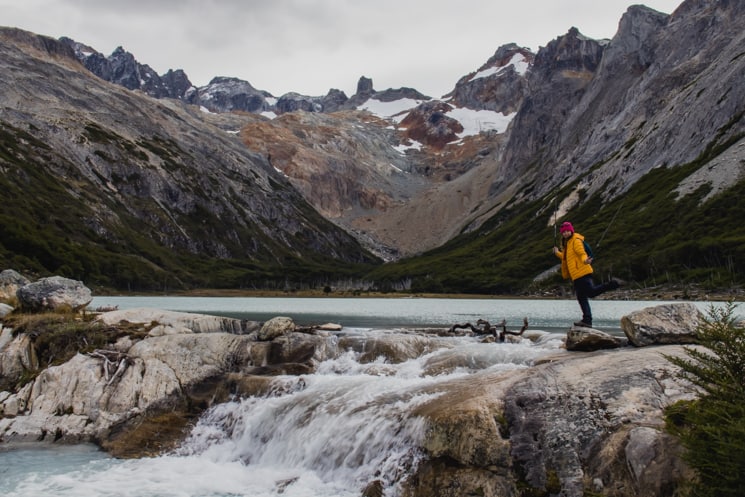 Weather in Ushuaia in the upcoming days
The weather is really unpredictable due to strong winds. It might change suddenly from a completely sunny day to a snowstorm. So be prepared for everything.
You can check the weather for upcoming days here:
USHUAIA WEATHER
Read about more hikes in Ushuaia
Where to stay in Ushuaia?
Accommodation
Accommodation in Ushuaia is pretty expensive. If you want to save money, you can go camping for free. Otherwise, choose these:
Budget: Casa de Familia – the cheapest good option. Very nice and clean accommodation. The disadvantage is that it's not directly in the city center. It's 20 minute walk or 10 minutes by bus.
Midrange: Rosa de Los Vientos: close to the city center and all the popular museums
Luxury: Cilene del Faro Suites & Spa – there is no better feeling than having a spa after a long hike or cruise. It's also directly in the city center.
Camping
There are 2 free municipal campings.
Municipal camping at Valle de Andorra
This is a nice campsite by the river Arroyo Grande with quite a lot of space for camping. There are nice dry toilets and water from the river is potable. This campsite is closer to the city center and bus stops.
Municipal camping by the "Fin del Mundo" train station
The other campsite is a big flat area by the river Río Pipo. It is right in front of the "Fin del Mundo" Train station, and I would recommend staying there in case you plan to visit Tierra del Fuego National Park. The only problem is that the toilets are in the train station, which is closed during the night. There are also dry toilets, but it seems that nobody is taking care of them.
More photos from the trek: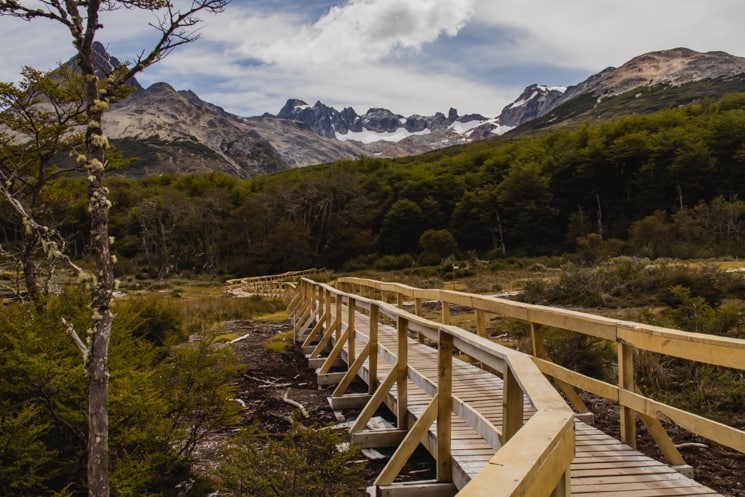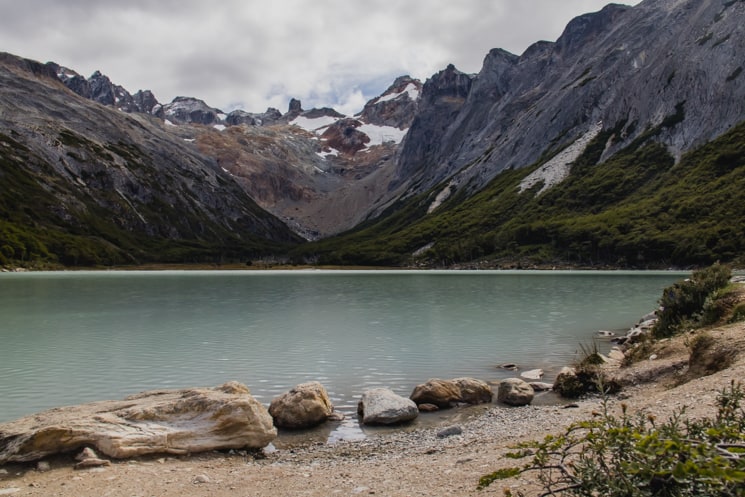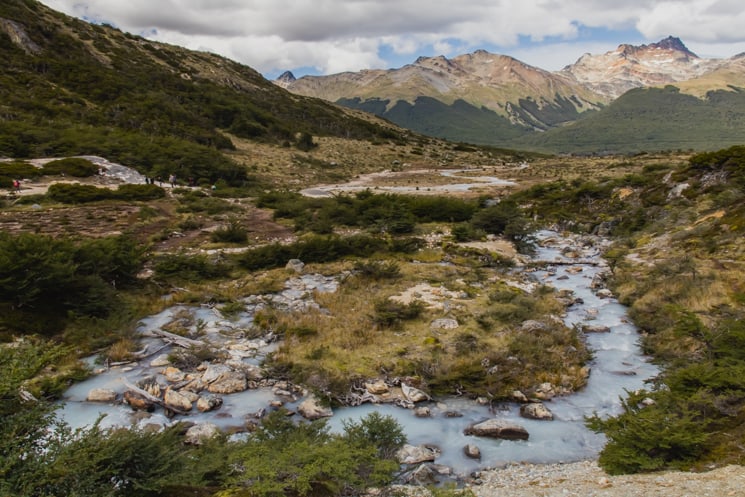 More tips for your travels:
We have prepared for you this comprehensive list of links, discounts, and resources for travel planning in one place. Bookmark this page and whenever you plan a vacation in the future, just open it and save yourself a lot of time.
1) Where to book accommodation?
2) How to find cheap flights?
3) How to rent a car?
We recommend a comparison portal RentalCars.com to compare the best offers of all available rental companies.
Pin this guide for later or for your friends:
Laguna Esmeralda Trail Parameters
Laguna Esmeralda Hike Description
Did this post about help you? Share it with your friends! It can help them to
Disclosure: Please note that some of the links above may be affiliate links, and at no additional cost to you, we earn a commission if you make a purchase. We recommend only products and companies we personally use and we use this income for further improvement of this website. Thank you!