Laguna de Cuicocha is a beautiful crater lake near Otavalo. It's a perfect destination for hikers and all nature lovers. From the rim, you can see nearby Cayambe Volcano as well as the rich vegetation of the valley below.
It's an ideal day trip from Otavalo, whether you want just to enjoy the view with a cup of coffee, take a boat trip around the inner islands, or hike the complete loop of the Laguna Cuicocha trail.
You can read all the information you need for your trip in this guide:
How to get from Otavalo to Laguna Cuicocha?
Getting from Otavalo to Laguna Cuicocha is easy – there are two options, you can take a bus or go by taxi:
By Bus
To get from Otavalo to Laguna Cuicocha you need to take the bus to Quiroga and then change to the bus straight to the Cuicocha lagoon.
The first bus you need to take is a green bus that goes to Quiroga. It costs 0,4 USD and starts at Otavalo main bus station. You need to change buses at a bus stop by the park. The bus ride to the lagoon costs 50 cents.
Probably the last bus from Laguna Cuicocha to Otavalo is at 17.30 (we took that one).
By Taxi
The fastest and easiest way to get from Otavalo to Laguna Cuichoca is to take a taxi. It cost us 10 USD from Otavalo to Cuicocha. If you want to go back also with a taxi, it's handy to take a phone number from the taxi driver (in case there are no other taxis).
Laguna de Cuicocha – History
Laguna Cuicocha was created after the huge eruption of the Cotacachi Volcano more than 3000 years ago. The lake's name comes from a Kichwa langue, where "cuicocha" is the name for guinea pig, after the shape of the islands in the middle of the lake. "Cuy" is a Spanish word for guinea pig even nowadays – because of the sounds of guinea pigs – the do "cuy, cuy, cuy".
Practical Tips for Laguna Cuicocha
There is no entry fee to Laguna Cuichocha
You only have to do the registration at the entrance – they will want the passport number, name, and nationality
Beware that the only cellphone signal is near the entrance, museum, and at first viewpoints around Calendario Solar and Lunar.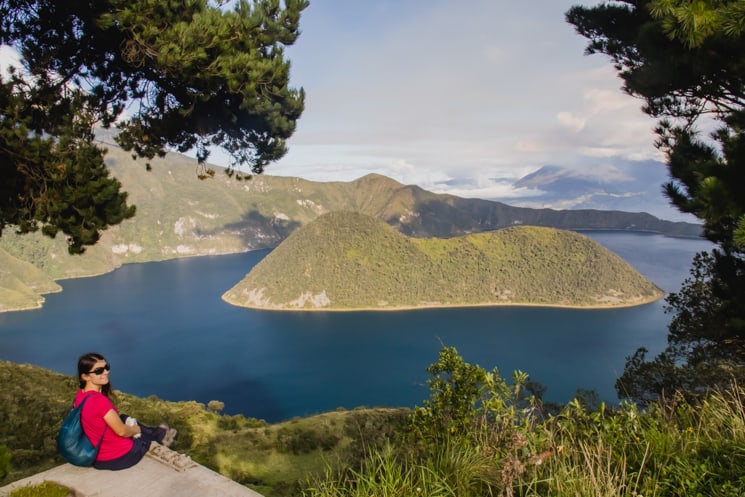 Laguna Cuicocha Hike
The route takes you along the outskirts of the lake, offering incredible views nearly all along the trail. It is important to remember that the trail is situated at a high altitude level so you should be already acclimated to the altitude. It is only 12 kilometers, but it was one of our first hikes in Ecuador, so it felt pretty difficult for us.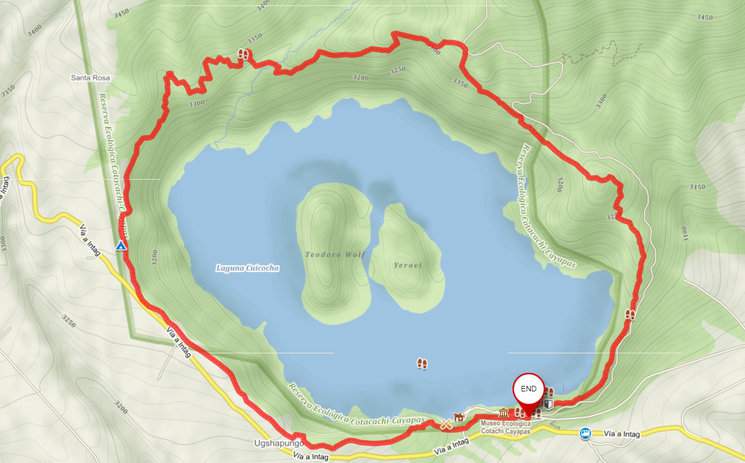 Trail parameters
Distance – 12 km (8,4 miles)
Time – 5 hours
Altitude – from 3100 m up to 3450 m (9300 – 10350 feet)
Difficulty – Moderate
Ascent – 726 m (2381 feet).
The marked trail leads counter-clockwise and we also think that's the better way to hike the loop. There are kilometer pole signs every 500 meters along the trail, so you will always know where you are.
To get to the trailhead, go up the stairs (right of the visitor center). First, you can stop at the Inca's Solar and Lunar calendars. There are also Incan ritual baths. The trail starts by the administrative building, where you can find the first pole sign. It's a well-marked trail, so you shouldn't get lost.
The first quarter of the trail is the most difficult, as you need to climb to the highest point of the trail. This part offers incredible views to both sides – the lake one and also the view of the valley and Otavalo with the mountains in the background.
Once you are at the highest point, the trail gets much easier and you gain kilometers much faster. There is also a nice shelter on the way, which is a great place to eat a snack or lunch.
The trail continues around the rim to the grassy meadows, followed by ups and downs. The trail ends by the visitor center.
A shorter version of the hike
In case you want to do a shorter and much easier version of the hike, there is a way. There is a road leading nearly to the highest point of the trail. It is a dirt road and if you want to do that, a taxi can take you there. We didn't take this shortcut, but we saw some people doing this.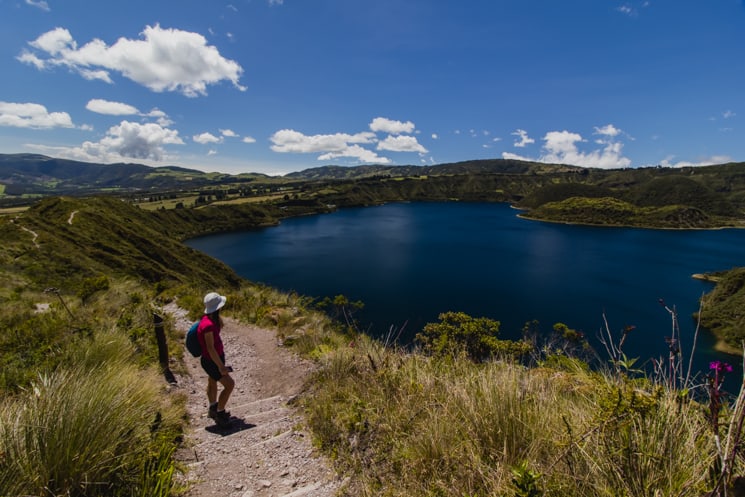 Facilities at Cuicocha Crater Lake
There is a huge free parking lot, visitor center, restaurant and café, and small craft shops. Toilets can be found either in the visitor center or at the restaurant.
Visitor center
A few dozen meters behind the entrance gate there is a "Museo Ecologica" with a little exposition. Right behind the building, there is a viewing deck. If you continue a little bit uphill – following the trail you will meet first Solar and then the Lunar Incan calendar.
Restaurant – Hostería Cuicocha
There is a nice restaurant with a beautiful view of the lake! We stopped there to enjoy a cup of coffee while waiting for our friend. It's a little bit pricey in comparison with other local restaurants but still cheaper than in Europe.
Laguna Cuicocha by Boat
Laguna Cuicocha is a great place even for those who don't enjoy hiking that much. There is a possibility to take a boat and go around 2 inner islands. To take the boat you need to go all the way to the end of the road where Hostería Cuicocha is. There were several boats throughout the day. If you want to get to the 3,5 USD/pp rate, there need to be at least 8 persons.
What to pack for Cuicocha Hike?
You won't need that much, but don't forget:
Hat/cap
Sunscreen
A lot of water
Sandwich/snack
Rainproof jacket
Mosquito repellent
And also, some extra layers can be handy (in case of bad weather).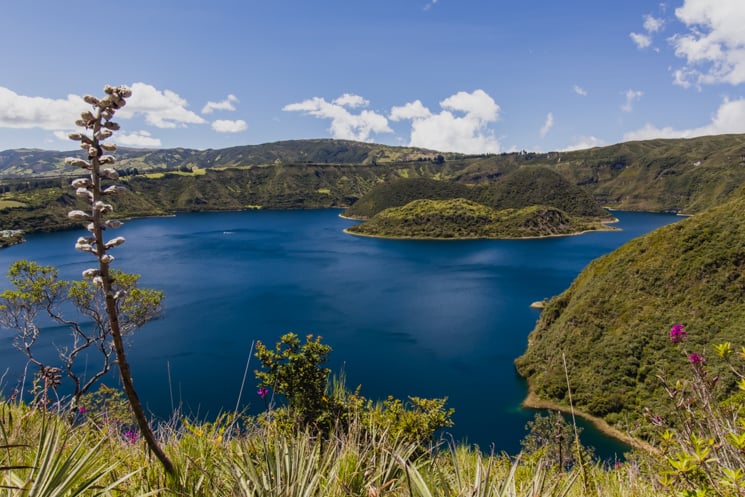 Weather
Here you can see the weather for upcoming days in Otavalo:
OTAVALO WEATHER
Visit the Moutain forecast to see the weather prediction for Laguna de Cuicocha.
Where to stay in Otavalo?
Budget
There are a lot of places where to stay in Otavalo, but our favorite and also budget-friendly accommodation was Hostal Chasqui with a wonderful rooftop terrace.
Mid-range
If you prefer a hotel over a hostel, choose Hotel El Geranio, which is perfectly situated in the city center.
Luxury
If you prefer something more luxurious, you can go to Hotel Otavalo, which is also perfectly situated in the city center.
Check our other Ecuador guides: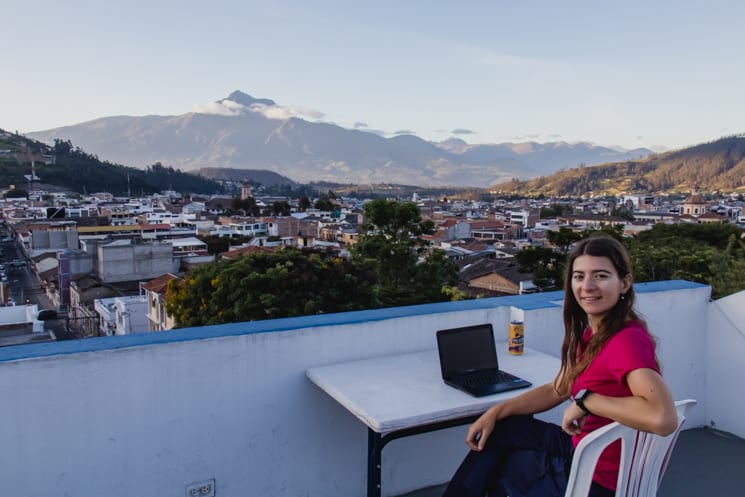 More tips for your travels:
We have prepared for you this comprehensive list of links, discounts, and resources for travel planning in one place. Bookmark this page and whenever you plan a vacation in the future, just open it and save yourself a lot of time.
1) Where to book accommodation?
2) How to find cheap flights?
3) How to rent a car?
We recommend a comparison portal RentalCars.com to compare the best offers of all available rental companies.
Pin this guide for later or for your friends:
How to get from Otavalo to Laguna Cuicocha?
Practical Tips for Laguna Cuicocha
Did this post about visiting Pailón del Diablo help you? Share it with your friends! It can help them too!