Karlštejn Castle – a majestic Gothic castle, strategically placed on a hill overlooking some of the beautiful forests in Czech Republic. Karlštejn can be easily reached from Prague by train (in 40 minutes).
Karlštejn Castle holds an exceptional position among Czech castles. It was founded 1348 by the Czech king and Roman Emperor Charles IV. as a private residence and a safe place for the crown jewels of the Holy Roman Empire. In a Chapel of the Holy Cross can be found a world unique paint collection of Master Theodoric, the court painter of Charles IV.
Nowadays, Karlštejn is the most visited castle in the Czech Republic, for its beauty, fairy tale look, and rich history.
How to get to Karlštejn?
Karlštejn Castle is located above the village of the same name, only 29 km South West of Prague. Public transport is great in the Czech Republic, so you can get easily from Prague to Karlštejn by train, car or bike.
How to get to Karlštejn Castle from Prague?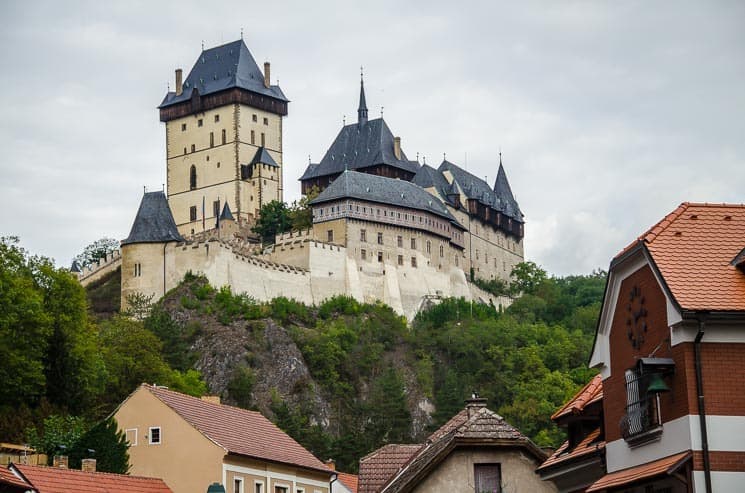 Train from Prague to Karlštejn
Getting from Prague to Karlštejn by train is quite simple. There is a train leaving from Prague every half hour (train connection between Prague and Beroun). You can get on the train at Prague Main Station (Praha Hlavní nádraží, Metro station of red C line) or at Praha-Smíchov (Smíchovské Nádraží, Yellow Metro line B). The journey takes 40 minutes and bicycle transport is supported at these trains. We recommend checking IDOS website, to search for the exact time of the departure. Ticket from the Main station costs 57 CZK, from Praha-Smíchov 52 CZK.
It's only 25-minute walk to the Castle from the train station. When you arrive at Karlštejn – railway station, go out and turn right. Then turn left to the bridge over the Berounka river. Cross the bridge and turn right and after 50 meters turn left to the castle.
By car from Prague
The best way to get from Prague to Karlštejn is taking the D5 motorway (you need a motorway sticker) and leave it at Exit 10 – Loděnice. Castle is well marked from there. You will pass Bubovice and Hlásná Třebáň on the way.
Another option is to go via Praha – Radotín along the road 115 through Dobřichovice, Řevnice, Hlásná Třebáň to Karlštejn Castle.
Parking
Parking is possible only in the lower part of the village (by the river) in the central parking lot. Full-day parking costs 100 CZK.
From the parking lot, it is a 15-minute walk to the castle. There is a pedestrian zone only (from the river towards the castle).
Bike trip from Prague
You can easily get from Prague by bike if you take the cycling path A1 by Vltava River. Later you will continue along Berounka River and cycling path no. 3. It is a nice bike trip around Czech rivers.

The other option is cycling path no. 13 starting at Luka Metro Station (yellow B line) in Prague. It is 19 km from there, but the terrain is more demanding than the previous option.
Karlštejn Castle and its surroundings offer beautiful terrains and cycling paths for an active weekend trip. There are bicycle stands in the castle courtyard. Be careful that there is a pedestrian zone only from the Berounka river to the castle, so you need to walk by your bike in this zone.
Admission and opening hours of Karlštejn Castle
Opening hours
Opening times vary throughout the year. The castle is usually open every day except Monday, from 9.30 am to 5 pm. Detailed and current opening hours can be found on the Castle website.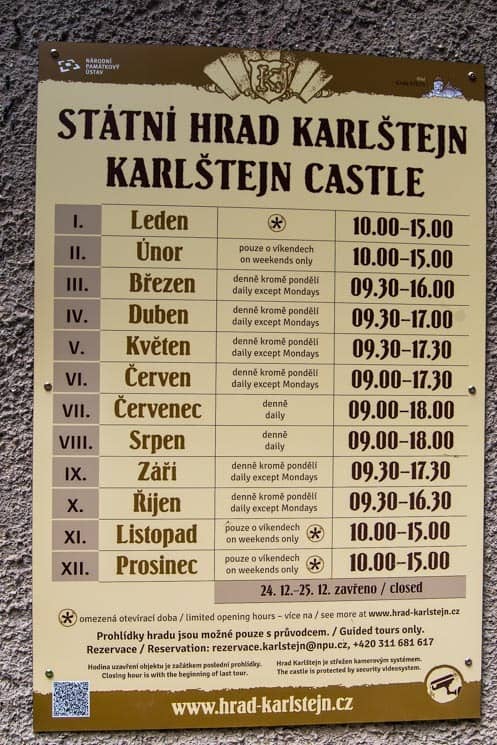 Admission and tickets to Karlštejn Castle
You can buy tickets directly at the castle as well as online. Castle entrance fees vary according to the chosen tour circuit. There are following guided tours you can choose from.
Guided tours
The Private and representative rooms of Emperor Charles IV. (basic tour)
Price: 320 CZK / 230 CZK (children 6-15 years, seniors and students – don't forget your ISIC)
Length of the tour: 55 minutes; max. 55 persons
On this tour, you will see a copy of St. Wenceslas Crown – the medieval crown of Czech Kings. Tour includes two floors of the Imperial Palace and the 1st floor of the Marian Tower. You will visit for example the Knight's Hall, Charles's Bedroom, the Chapel of St. Wenceslas and former castle prison.
The sacred rooms of the castle with the Chapel of Holy Cross (Exclusive tour)
Price: 750 CZK / 530 CZK (children 6-15 years, seniors and students – don't forget your ISIC)
Length of the tour: 100 minutes; max. 16 persons
This exclusive tour offers historically most precious rooms and chapels. Tour passes through the Imperial Palace, the upper floor of the Marian Tower and the Great Tower. You will visit the Castle galleries, the Church of the Virgin Mary, the St. Catherine Chapel and especially the most important Chapel of the Holy Cross with precious pieces of Master Theodoric. Tour is designed for smaller groups and is also not suitable for children under 7 years (due to the length and demanding content)
The Great Tower View (Base Circuit)
Price: 260 CZK / 180 CZK (children 6-15 years, seniors and students – don't forget your ISIC)
Length of the tour: 40 minutes, max. 20 people
Tour of the Great Tower without the Chapel of Holy Cross. You will explore the former guardroom, armory, and staircase with Gothic wall paintings. There is a beautiful view from the tower.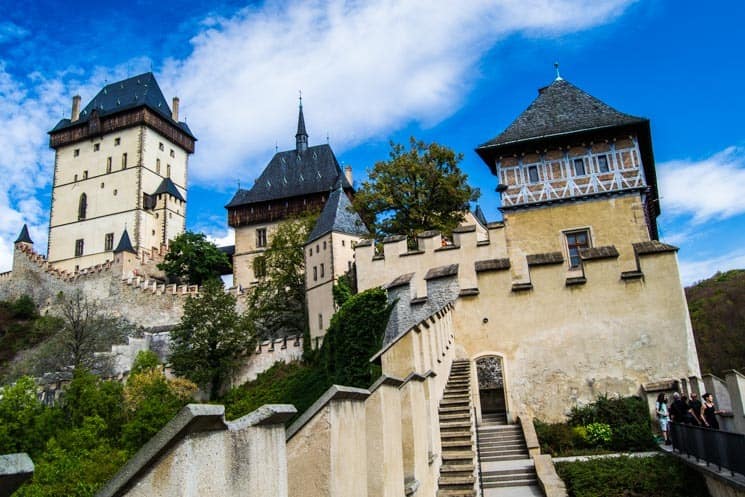 Interesting facts from Karlštejn Castle history
The largest collection of panel paintings by Master Theodoric can be found in the Chapel of Holy Cross.
Chapel of Holy Cross was locked by 9 locks and protected by four thick iron-plated doors.
Replica of St. Wenceslas crown of Czech kings is still at the castle
By the command of Charles IV. no one was allowed to "sleep or lie" with any woman, neither his lawful wife in the Great Tower.
Castle Well is 78 m deep and didn't have its own spring, water was led there from the Budňany stream.
Map of Karlštejn and surroundings
For better orientation, we have prepared for you a map, which you can download to your phone with all the important points, parking, and side trips. The map is available here.
You can export this map and import it to your mobile application such as Maps.me or Locus Map.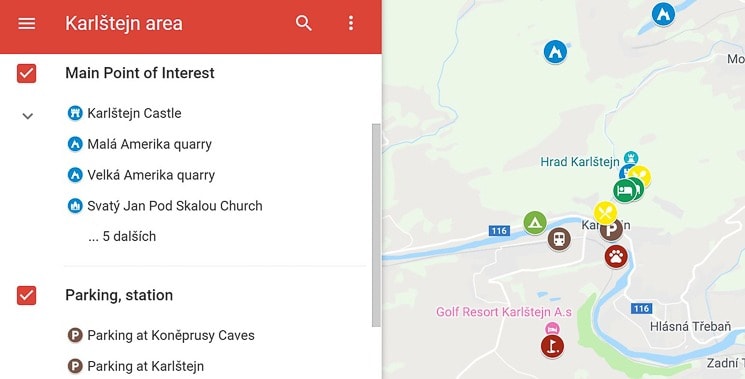 Accommodation at Karlštejn
Karlštejn town offers several accommodation options. The most popular and best rated is Hotel Karlštejn with a swimming pool and a beautiful view of the castle. Another lovely hotel is Romantic Hotel Mlýn Karstejn by the Berounka river. Karlštejn Apartments offers affordable prices.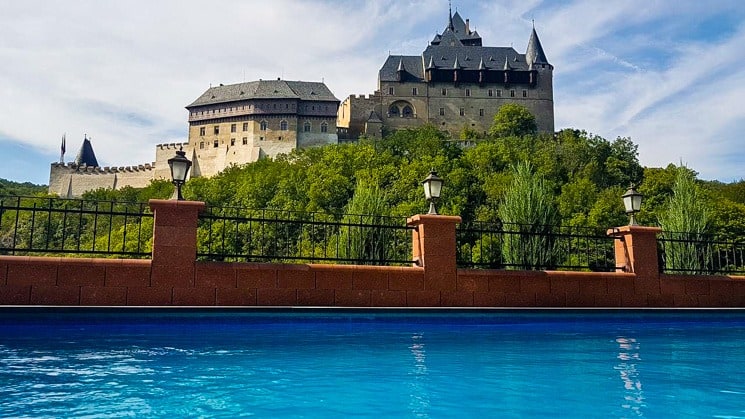 Camping
For those, who are searching for a camp, there is one by the Berounka river called Autokemp Karlštejn.
Accommodation in Prague
If you prefer to stay in Prague, we recommend Old Town Apartment Konviktska directly in the city center (5-minute walk from Charles Bridge) with a great owner and the best reviews. Book right now, because it's popular and usually fully booked early.
Another great option is MOODs Charles Bridge.
If you prefer a cheap hostel, than go to The Republic Garden with a great location and good reviews.
Food and Restaurants
You can choose from many restaurants in the castle area, there is also a stand with delicious pancakes. Our favorite is the restaurant U Adama.
Side trips from the castle
Karlštejn area (Karlštejnsko) is a beautiful nature area with a lot of hiking and cycling trails for your perfect trip. Local forests are a popular destination for cyclists, tourists, hikers, and runners. Don't worry, you won't get lost, the Czech Republic has the best trail marking system in the world. You can stop to grab some map at the information center near Berounka river.
Hike to quarries Malá a Velká Amerika ("Little and Great America")
Flooded quarries Malá and Velká Amerika (Americas) are a traditional trip from Karlštejn. They are part of the Bohemian karst. Several films have been filmed there and we called it the Czech Grand Canyon.
The Velká Amerika quarry is an 800 m long limestone quarry with clear water lake. It's up to 100 m deep. You can park on its eastern side from Mořina village.
Malá Amerika quarry – slightly smaller, also flooded limestone quarry. Both quarries are connected with the surroundings by former mining tunnels. It is forbidden to access these tunnels for safety reasons.
You can get to the Malá Amerika quarry from castle by following the red marked trail, which will take you to the Dub sedmi bratří (The Oak of Seven Brothers), from where you will follow the yellow trail. It is only 2.4 km from Karlštejn to Malá Amerika (Little America). And from there it is less than 2 km to the Velká Amerika (Great America) quarry, (again you will follow the yellow markings).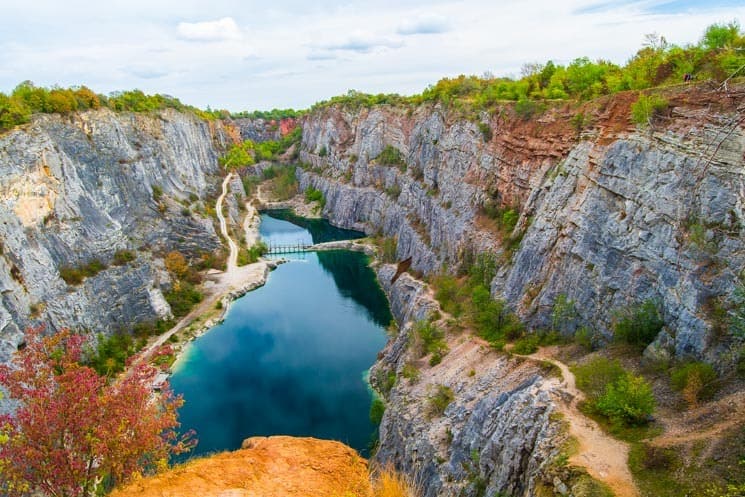 Svatý Jan pod Skalou
Svatý Jan pod Skalou is a picturesque village, with a church of Svatý Jan under the huge rock massif, which rises above village up to 150 meters high. It is a popular climbing destination. There is also a Benedictine monastery nearby.
Baroque church of Svatý Jan is open from April to October at weekends (between 10 – 13h and 14 to 17h), during July and August it's open all week through, except Mondays.
There is also a nature trail around the village of Svatý Jan (4.5 km long). It starts at the village square and leads to the top of the rock with the cross. You can visit the open-air museum of Solvay's quarries on the way (open at weekends from May to October).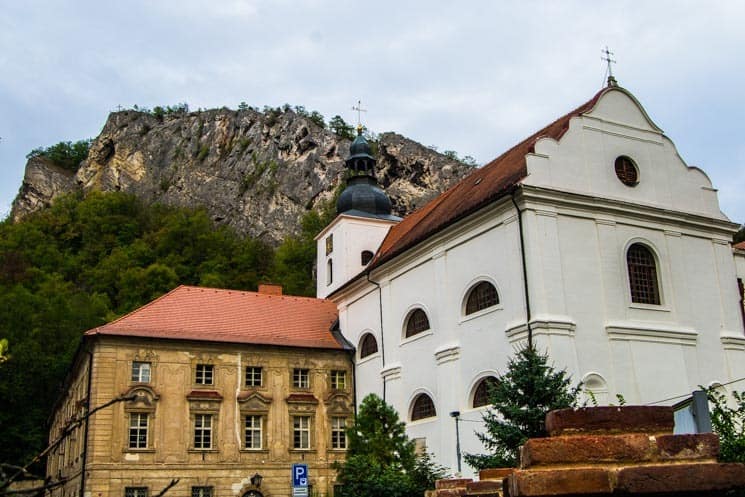 Koněprusy Caves (Koněpruské jeskyně)
If you are a cave enthusiast, you shouldn't miss the Koněprusy Caves. It is the longest cave system in the Bohemia. The cave system extends to 3 floors of Devonian limestone. The site was discovered in 1950 by works at a local quarry. 13,000 years old human bones were found there as well as counterfeiting tools and Hussite coins from 1460-1470.
Caves are located about 13 km from Karlštejn Castle (5 km from Beroun). There is a 150 CZK entrance fee and guided tour takes about an hour. Koněpruské jeskyně are open every day from April to October.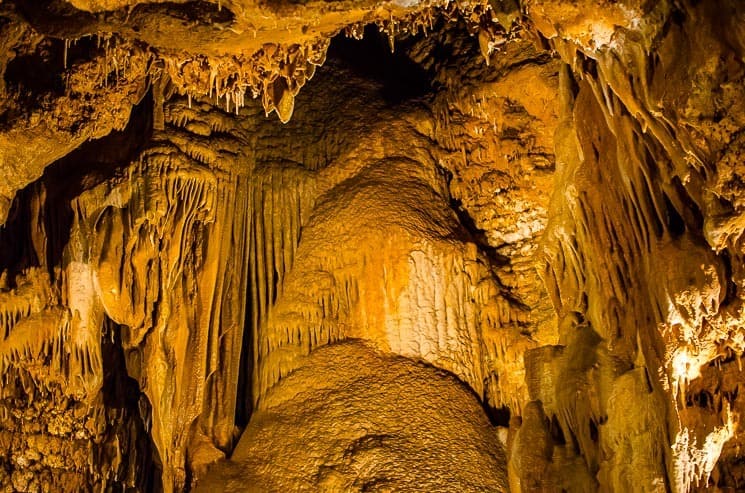 Activities at Karlštejn
Golf at Karlštejn
On the other side of the Berounka River, there is a golf course with amazing views of the castle. The golf resort is located in between villages Krupná and Běleč. The golf season starts in April. It is an 18-hole course with natural obstacles like lakes and sand. Thanks to its views of Karlštejn Castle, it is one of the most beautiful golf courses in the Czech Republic.
Zoopark Karlštejn
Especially children will be excited to visit local Zoopark. You can meet lions, tigers, camels, bison, llamas, zebras, donkeys, felines and monkeys there. Children can also ride a pony or even a camel. Admission to the Zoopark is 100 CZK for adults and 50 CZK for children.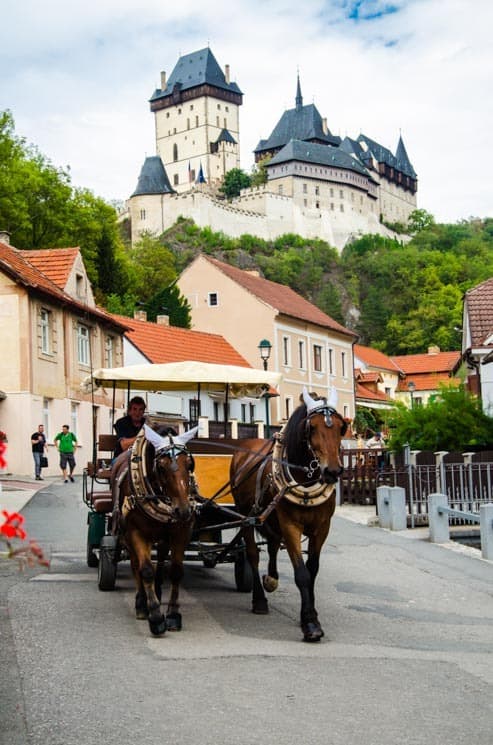 Events at Karlštejn
Karlštejn is the venue for many events, ranging from concerts, special castle excursion to the wine festival. Events held at the castle can be seen on the official castle website.
Royal Parade of Charles IV. – It is a very unique event when "King Charles IV." is joining the traditional pilgrimage from Prague-Radotín to the Karlštejn Castle (the event was associated with the exhibition of the Imperial Crown Jewels in Prague at Charles Square. Royal Parade takes place every First weekend of June.
Karlštejn Vine festival – held annually at the end of September, this festival is ideal for all wine lovers
Karlštejn Guided Tours from Prague
If you don't want to care about planning and transportation and learn more about Czech history, opting for a tour with a professional guide could be a great idea. You have many options to choose from. We recommend these tours with good reviews:
A tip for another trip in the Czech Republic
Check this beautiful video about Karlštejn Castle:
Pin this for later or for your friends:
Did this post help you? Share it with your friends! It can help them too 🙂
Disclosure: Please note that some of the links above may be affiliate links, and at no additional cost to you, we earn a commission if you make a purchase. We recommend only products and companies we personally use and we use this income for further improvement of this website. Thank you!
---
Adriana & Matěj
Travelers, sport enthusiasts and photographers behind this blog. Creating high-quality and informative guides for your travels. Read more about us here.