There is no doubt that Queenstown is New Zealand's adrenaline center. A beautiful town located among mountain ridges offers more than scenic mountain views and Wakatipu lake. Visiting Queenstown should definitely be high on your list of places to see and things to do in the south island. You will find there a possibility for nearly every outdoor and adrenaline activity.
Two of the most popuar activities in Queenstown are rafting and jet boating. Go Orange company offers a great combination of both in one tour. How was our Jet to Raft experience?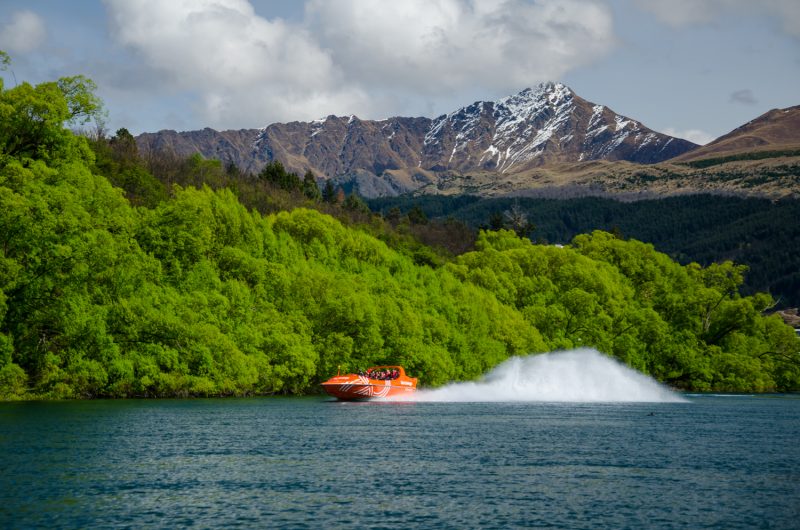 What was Jet to Raft experience on the Kawarau river like?
1. Check-in and getting the gear
It all starts at Go Orange base in Queenstown, where you should come 20 minutes earlier to fill in the forms – just a few safety questions on tablets. When all the participants arrive, there is a small introduction to the following activities. When the briefing was done, we met our driver and jumped on the shuttle to the base in Arthur's Point, where you get all the equipment and where you can leave your valuables locked in lockers.
TIP: It is a good idea to leave there all the jewelry like earrings or rings.
You are going to get changed to the swimsuit and put on the wetsuit and all the proper rafting equipment. When everyone is ready, it is time to get on the bus and go back to the town – excited to head of jet boating.
2. Jet Boats
If you have never been on jet boats before (like us), you will definitely enjoy it! We have heard that it is a fast ride, but we couldn't imagine how fast it is to fly 90 km per hour on the river. It is crazy fast, so be prepared for a very windy ride full of 360-degree spins.
You will get on the board together with your rafting team and other passengers. When everybody is in, your driver will tell you a little bit about those famous spins. And then it's time to go for a thrilling ride. The views from lake Wakatipu are simply amazing!
Drivers will take the jet boat further down the Kawarau River under 2 bridges to the raft put. And that is the moment to change to boat and head from one exciting adventure to another!
3. Rafting
When we jumped off the jet boats, our rafting guides were already prepared. Everybody got the paddle and safety briefing and instruction could begin. When everybody knew what we should do in an emergency and how to hold the paddle, it was time to get "on board". Already the jump of a higher bank to the river was fun.
In the beginning, as one team, we had to practice a bit to make our teamwork perfect (well, not perfect but got enough to smoothly paddle through the rapids). Front paddling, back paddling, changing the position, etc. Our guide told us everything that was needed.
Then, the first rapid was about to come! The waves were huge! It was raining a lot in the past days so the water level was quite high. Other sections of the river were calmer. The average rating of those rapids is level 2-3.
If you are a fan of Lord of the Rings, you will have a chance to paddle the Anduin River with a little bit of imagination, the scene where the Fellowship canoe up to The Pillars of the Kings is just few hundred meters before the famous Kawarau bungee bridge.
Going under the Kawarau bridge is also fun! We saw a person jumping off the bridge while we were paddling towards it. Brave jumpers, it's 43 meters!
Another part is called swimmer's rapids, so anyone who is feeling warm should jump in the water and try that. There are also some other funny parts where you can do some stand up paddling, turns, etc.
Last rapid is the most famous one: 400m long Dog Leg Rapid, which is New Zealand's longest commercially rafted rapid. There are some good waves to come! It is also nice to see that your kayaker buddy is watching your safety.
Nice and quick but last rapids, so it is time for last paddle "high five" and for getting the rafts off the water and riding the bus back to the base.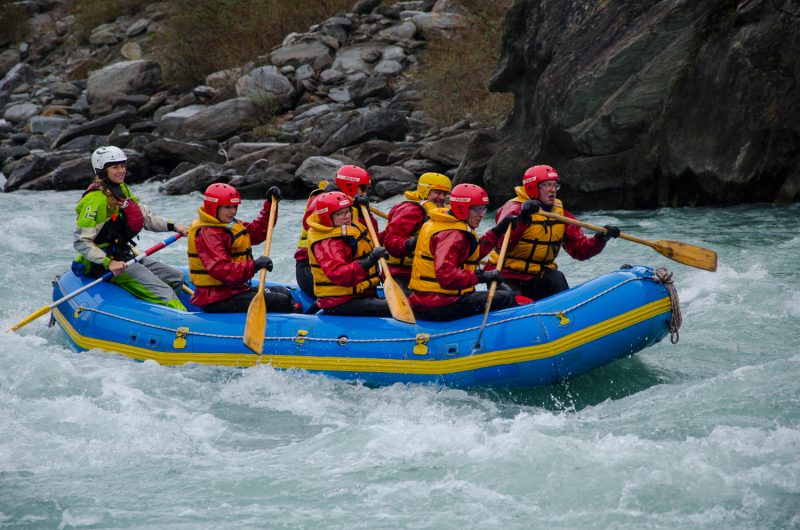 4. Hot shower and cold beer
When we got back to the base there was a nice surprise waiting for us. After we changed from the wetsuits and had a nice hot shower, we got a free cold drink at Canyon Food & Brew Co brewery with nice view of the bridge over the Shotover River. They have various kinds of beers with different flavors and delicious food menus if you would like to have lunch or dinner. This was a very nice end of the whole Jet to Raft experience.
There is a shuttle bus leaving every 15 minutes back to Queenstown from the Arthurs Point, so you don't need to hurry with your beer or food.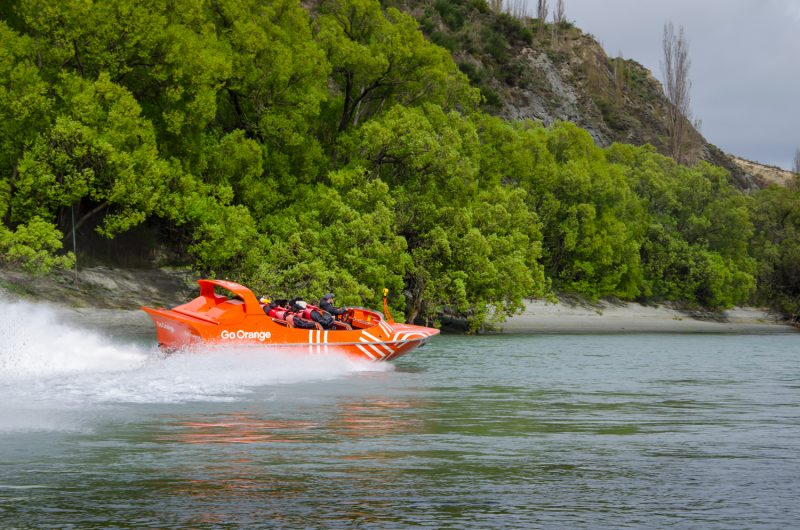 Practical Information about Jet to Raft:
Here are a few practical tips and handy information and experience what to expect:
The time needed for the whole experience:
4,5 – 5 hours in total approximately
30 minutes Jet Boat
2 hours Rafting
Isn't it too cold for rafting in the winter season?
No! Actually, it was our biggest fear, that we are going to be cold, but even though it was 6 °C outside we felt very comfortable. Wetsuits provided are thick (5 mm neoprene) and keeps you warm and comfy.
What to bring with you?
Swimsuit + towel is a must.
Shampoo is optional for the final hot shower at the base.
GoPro or some other waterproof camera.
Overall Jet to Raft experience in Queenstown with Go Orange
It was a great experience and we enjoyed it a lot. Our biggest worries were about the cold weather, but with those thick wetsuits, we were perfectly fine and warm! Our guides were friendly professionals. The river is not crazy wild, so it is a perfect chance for all first-time rafters to experience it! When it is not after heavy rain, the water in the canyon has absolutely amazing blue color!
So if you are thinking about rafting and jet boats combined – Go Orange!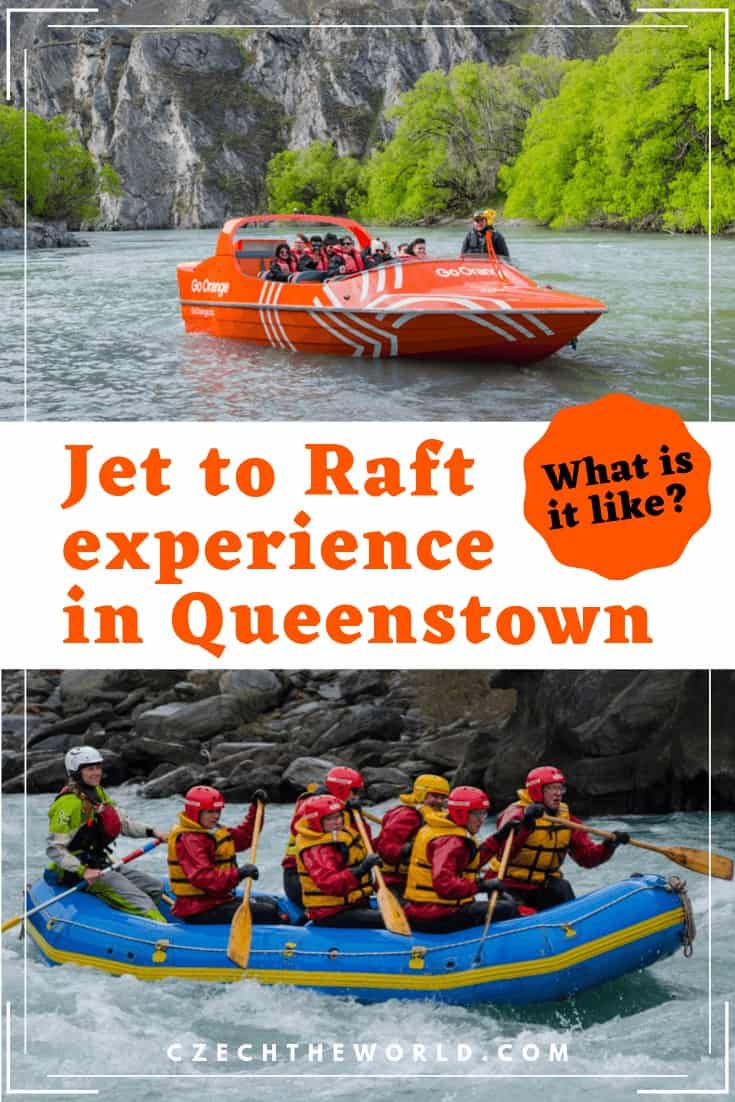 Jet to Raft – Photo gallery:
You can click on the photos to view the full size.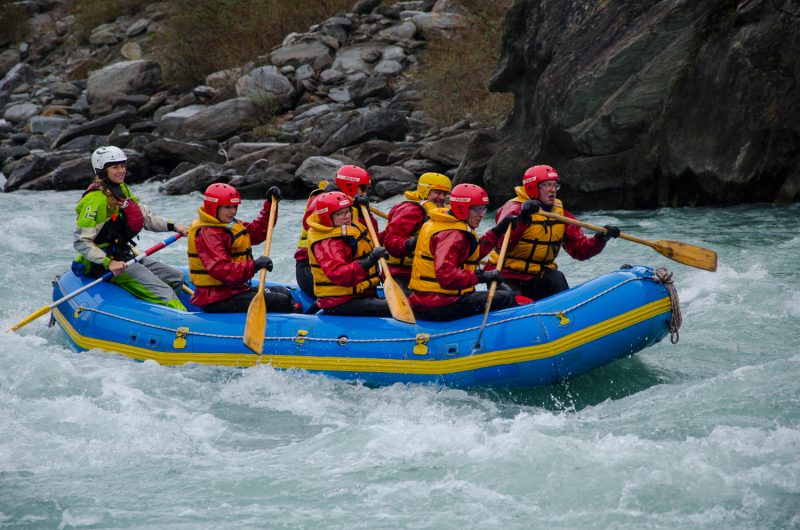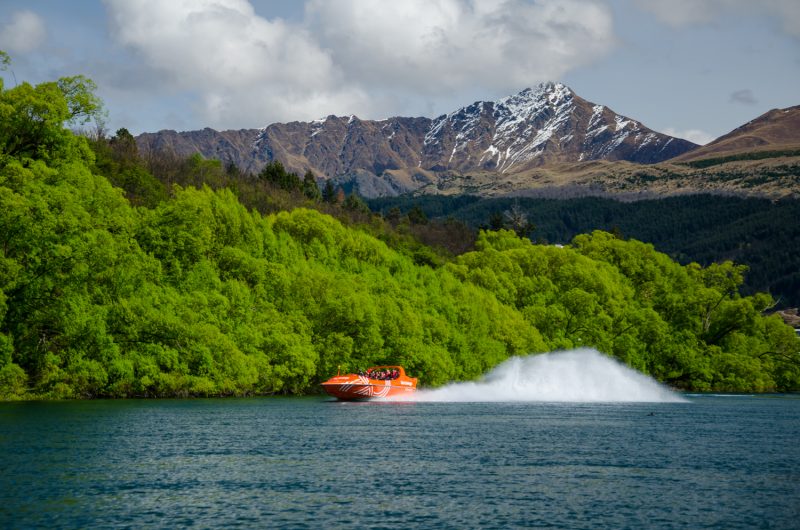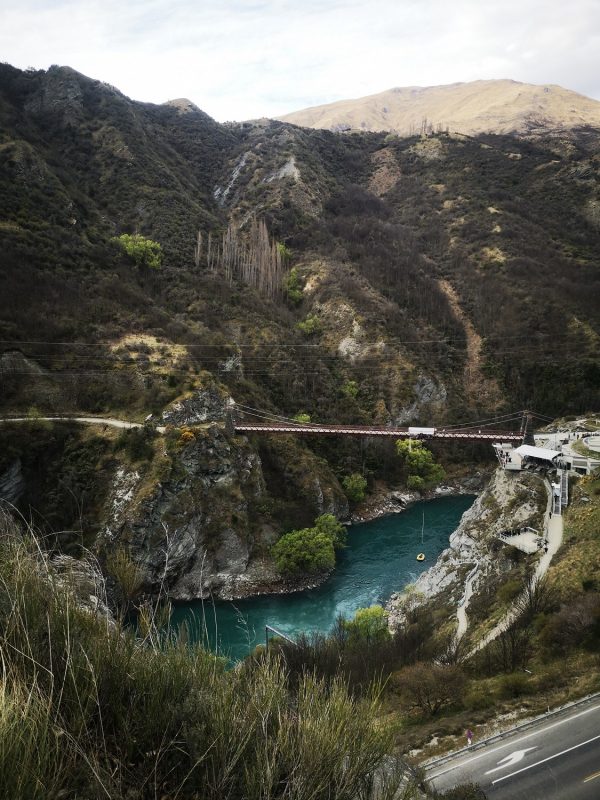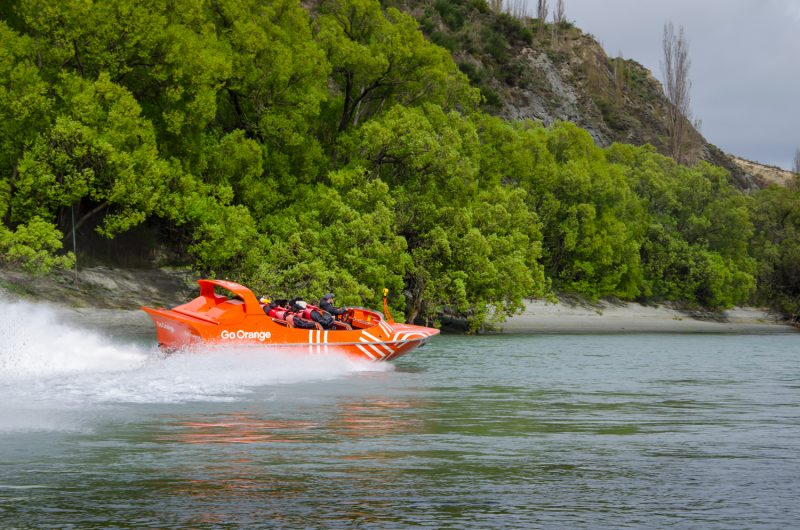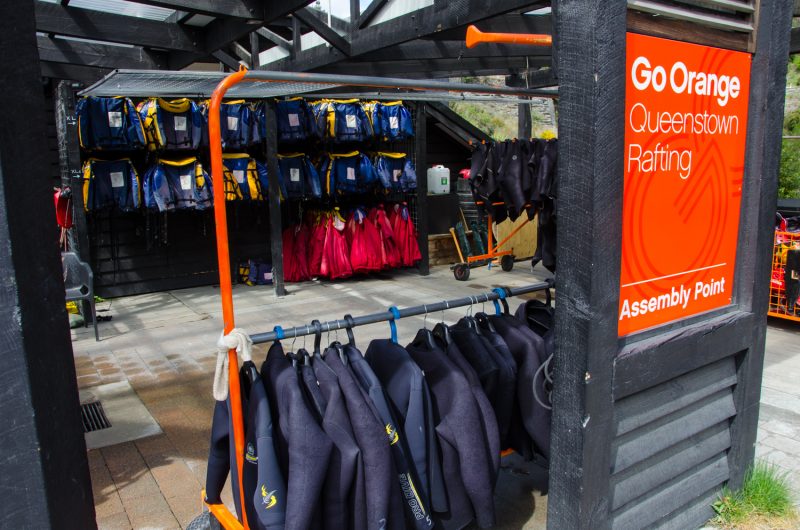 Disclosure: Please note that some of the links above may be affiliate links, and at no additional cost to you, we earn a commission if you make a purchase. We recommend only products and companies we personally use and we use this income for further improvement of this website. Thank you!