Would you like to have a long-lasting love? You have found a right place to read! We have prepared for you a list of tips on how to be a better girlfriend.
1) Trust him
Trust is one of the keystones in any relationship. If you have trust issues, you need to work
on the insecurities behind them. Because reading your boyfriend's text messages, questioning him about what he is doing and whom he is hanging out with, any making scenes if he hadn't called you for a few hours can quickly lead to a breakup. So, try not to control your boyfriend in every step he makes and show him that you trust him.
2) Be honest
Men don't like a woman who lies. How can he trust you if you can't be honest to him even in simple things? If your guy asks you what's wrong, tell him directly. Let him know what you think and what you need.
3) Respect his time with friends
Respect his time with friends and he'll respect you for valuing those people who are significant to him. Remember, for him, they are as important as your own girl support group. He will feel more at ease knowing you are not against any of his pals and that you actually like spending time in his friends' company. However, don't make him choose between his friends and you. So don't be that girl who gets mad at him for having a guy's night – he deserves to be with his dudes every once in a while.
4) Don't flirt with other men
A good girlfriend won't make her boyfriend feel jealous and won't flirt around with other guys. Just like girls, guys also want to be the only one for their girlfriend. The best girlfriend should not make eyes at his friends or even get acquainted with other guys in clubs or cafes. So, make him feel safe with you.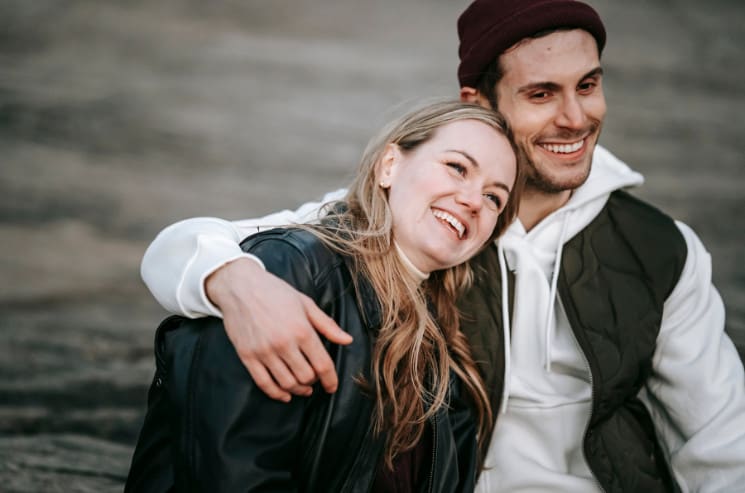 5) Don't take him for granted
The worst thing you can do to your boyfriend is to take him for granted. Let him know that you are aware of his efforts and hard work – in and outside of your relationship. A good girlfriend should make sure that her boyfriend feels cherished. So, pay attention to him and don't stop appreciating all the little things you used to love about him.
6) Sweet messages
Text him sweet things throughout the day. Don't bombard him, but let him know you're thinking of him. A quick message telling him "Good morning" or "I love you" every day can brighten up his day. No matter how short it is, as long as it's sweet, he'll appreciate it because it makes him feel like you're reminded about him each day. He wants to know that you're still into him.
7) Listen when he needs you
One of the best things you can do as a girlfriend is to listen to him to know what he wants so you can fulfill his needs. Learn how to listen without offering your opinion or advice. Sure, sometimes it is needed. Moreover, you'll get to learn more about his likes and dislikes which helps you know what to do to make him feel loved plus what not to do.
8) Don't make a decision when you're angry
If you don't want to regret your decisions in the end, then don't make it in the first place, especially when you're in the midst of anger. Give yourself time to cool down so you'll come up with the best judgment.
9) Pamper him
Be that girl who'll give him nice things all the time. Send him a cute text message, write him a love letter or buy him his favorite candy. Doing something sweet for him every once in a while will make him feel like the luckiest guy on the planet. Action speaks louder than words when it comes to expressing your love.
10) Be empathetic
Your ability to step into the shoes of another person, understand their feelings, and recognize their perspectives seems to be in free-fall. It is not easy to be a man, so try to listen to his side instead of constantly trying to tell him yours.
11) Give him space and freedom
Spending quality time isn't about being together everywhere all the time. If he has a ritual of coming home and sitting on the front stoop, respect it. So let him have his space and free time, in this case, he'll appreciate the time you are together a lot more.
12) Tell him how happy and blessed you are to have him
Guys also want to hear sweet words coming from their girlfriend. It isn't hard to tell him how happy you are to be with him today or how blessed you are to have him each day.
13) Inspire him
Inspire your partner to not only be a good boyfriend but also the best version of themselves they can be. So, motivate and inspire your boyfriend every day. Be that woman behind his every success.
14) Take care of him
Show care to your partner even in simple ways, like cooking a healthy meal for him or giving him a relaxing massage to get rid of stress.
15) Make him feel special
Every girl wants to be treated by their boyfriend as the most special one in this world that most of them have already forgotten to treat their boyfriend the same way too. So be thoughtful and show him that he's your priority.
16) Be his adventurous companion
Your boyfriend wants to spend time with you on trips, hobbies, as well as other adventures such as volunteering for a cause. So, if you are trying to be the best girlfriend he has ever had, sharing some activities with him will bring you closer to this ideal. And, he will surely be impressed and grateful when you will want to participate in something he used to enjoy alone.
17) Look better than ever before
Men love it when the hot girl in the room is their girlfriend. So, wear something they told you makes you beautiful. Just remember to know what your man really wants you to wear. It's not how expensive or how physically attractive you think you will look like but it is how your guy's eyes, mind and heart will approve.
18) Be a wife material
Girls may come and go but a girl who is wife material is on a different level. There is no better way to be a great girlfriend than to be a partner who is mature, responsible, and ready to take care of her future children and husband.
19) Be his friend first
Being a friend to your boyfriend is about being a safe, non-judgmental space for you boyfriend to share anything with you. Romantic relationship works best when you're more of a friend to your partner than simply a sexual partner in love.
20) Respect your differences
To be a great girlfriend, you'll have to respect some of these differences and stop nagging him to change.
21) Support his dreams
Guys love women who are supportive of their goals and dreams. So, give him small notes of encouragement.
22) Praise him publicly
Your boyfriend has to know that you're proud of him in private as well as in public. So, you can provide him a boost of self-confidence by expressing his best parts among family and friends as well as in front of co-workers whenever relevant.
23) Don't bring up past mistakes
If your boyfriend is repeating the same mistakes, keep correcting the present context instead of telling them how they never do something right.
24) Let him be emotional
Let him know that it's ok for him to break down if he needs to and show him that you'll be his shoulder to cry on. Never make him feel ashamed of being sad because sadness is a human emotion.
25) Do things that you don't want to do
Whether it's watching a movie that you're not interested in, or going to a place you'd rather avoid, you should just suck it up and do it for him. It'll show him how much you care, plus you have to repay him for all those chick flicks you make him sit though.
26) Buy him tickets to see his favorite band or sports team
Buying him tickets to see his favorite band, or to go to his favorite sporting event will make him over the moon excited. You don't even have to wait for a special occasion to buy him tickets, you can just surprise him at a random time.
27) Make him laugh
Sometimes, all you need is someone to put a smile on your face or to make you relax and have a good laugh. It's the same for your boyfriend. A simple gesture like this goes a long way, especially when he has had a bad day.
28) Cook for him
Cooking food for a guy is probably the oldest trick in the book. People still say that the way to a man's heart is through his stomach.
29) Be kind to his family
Don't get mixed in with his family drama, and don't fight with his family members. Being the best girlfriend means trying to fit in with his family, not make things harder.
30) Be a good team player
We need to learn to be good team players and share the burdens, not only successes. If you want to make your boyfriend feel supported, have open discussions about his perspective on what a good team should be like.
31) Be imaginative in the bedroom
Be willing to try new things and attend to his sexual fantasies when you can. Being open and vulnerable is the best way to build a trusting and lasting relationship. Talk about what you like and what he likes. It is also an excellent way to find out for yourself what feels good.
32) Don't be too critical
Your little joke about his nose hairs or how he wears his hair might seem harmless, but it probably cuts a lot deeper than you think. Just as you are self-conscious, he is too.
33) Don't argue over small things
This is often a difficult habit to break, so you should deal with it from get-go- If you feel like flaring up over small details, try to get better control over your reactions- If you want to be a better partner to your man, don't be that girlfriend who explodes whenever he does something you disagree with or you don't like.
34) Put down the phone
When you are together, try to make that time quality time by putting your phone away. It may even be helpful to plan out phone-free dates, so you both share your undivided attention.
35) Don't nag
He was a teenager once, and his mother nagged him to clean his room. The last thing he needs is for you to replace her. When you want him to do something, ask him. Let him know calmly that you feel ignored when he doesn't do what he says he will.
36) Just give him a hug
Sometimes he just needs a hug. Don't hang on him, but just give him a hug. Rub his shoulders. Sometimes some simple physical touch can make all the difference.
37) Just be yourself
The best girlfriend isn't some remarkable role model you should mold yourself into. What makes one guy feel special might have the opposite effect on the other. So, if you want to make your boyfriend happy, try to better yourself for your own sake, not for his.
Read more great tips:
Pin these tips on how to be a better girlfriend for later and to your friends:
Do you like these tips on how to be a better girlfriend? Share them with your friends:
Disclosure: Please note that some of the links above may be affiliate links, and at no additional cost to you, we earn a commission if you make a purchase. We recommend only products and companies we personally use and we use this income for further improvement of this website. Thank you!