Have you ever dreamed of a luxury villa with a swimming pool, a farm or a mountain hut? House sitting in New Zealand gives you an opportunity to make such a dream come true, at least for a while. It is not surprising that the cost of living in New Zealand is quite high. House sitting is the ideal option for all travelers who prefer slow traveling. A lot of people having "Working Holiday Visa" choose to live in a van to save some money. But they don't have to because of the high popularity of house sitting in New Zealand.
This article will guide you through a house sitting in New Zealand specifically. You can read also this article about house sitting in other parts of the world.
What is house sitting?
House sitting is looking after the house, while its owner is away. House owners are usually looking for somebody to take care of their pets and their property, while they are on vacation. Sometimes there is also a need for garden care, flowers watering, lawn making, etc.
House sitting has benefits for both parties – the owners have somebody to take care of their house and pets, and house sitters can live rent-free in a beautiful house.
Why is house sitting in New Zealand so popular?
One of the biggest reasons for the high popularity of house sitting is that New Zealand is very far from all other countries, so if owners plan their overseas vacation, it is usually for a long period of time. You will also notice that New Zealanders (Kiwis) are very friendly and open-minded people. Therefore, house sitting is quite a common thing in New Zealand.
Why is house sitting in New Zealand perfect for you?
Van life is a big thing in New Zealand. Most of the travelers either on Working Holiday or Tourist Visa buy a campervan or a bigger car with sleeping space. This makes New Zealand the ideal house-sitting destination, because in case there is a gap between two house sits, you can always stay in one of many freedom camps.
House sitting in New Zealand: advantages and disadvantages (for house sitters)
Free accommodation sounds great, right? However, there are also some disadvantages. Let's have a look at the pros and cons of house sitting in New Zealand.
Benefits of house sitting in New Zealand
The benefits are clear and outweigh the disadvantages:
Free housing in an expensive destination.
Opportunity to try different houses, apartments, farms, etc.
Spend some time with beautiful dogs, cats, horses or even other farm animals.
Getting to know locals and local culture.
Some owners allow you to use their bike or even a car or horse.
Cons of house sitting in New Zealand
You can't choose specific dates; you have to choose from the offer.
Sometimes happens that one house sitting is not followed by another one, so you might be "homeless" for a few days.
A lot of visits/interviews and communication with house owners.
Usually, you can't go for an overnight trip while house sitting.
If you are working in a small town, there isn't going to be so many house-sitting offers.
How to become a house sitter in New Zealand?
Becoming a house sitter is very easy. Everything starts with a registration on the largest New Zealand's house sitting website: KiwiHousesitters.com
Registration is only the first step of the process. Let's have a look at how to fill out the profile and how to successfully reach the owners?
Click on the red "Become a house sitter" button to fill out the registration form. The annual membership costs NZD 84, which is nothing compared to the weekly rent of a small room in Auckland. The fee pays for itself literally after the first house sitting.
If you want to look at the offers before paying, click on the "Find a House Sitting Job" button to start browsing the offers.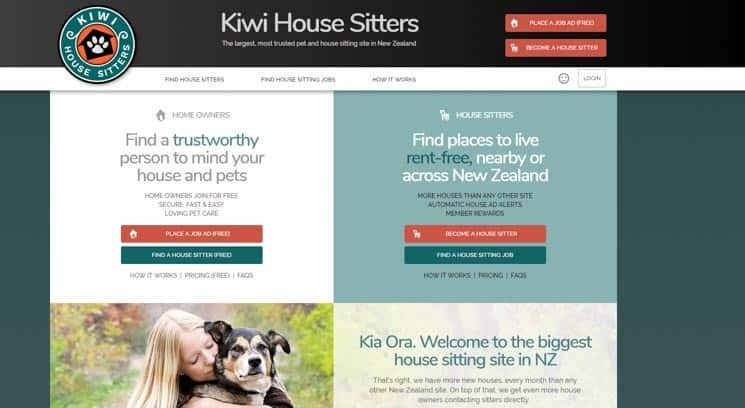 Filling out your house sitting profile
Once you've registered, you can move to fill out your profile. The profile is very important – it is your first virtual contact with the owners. Owners decide based on your profile if they invite you to a meeting. You should emphasize these crucial things on your profile:
Your positive attitude to animals + relevant experience: You can write a little bit about your pets at home, mention you have helped a lot at grandmother's farm or took care of the neighbor's dog. Try to easily find any relevant experience.
Your motivation – why do you want to do house sitting?
Photos
Photos are a very important part of your profile. Your face should be clearly visible on the profile picture. Choose the one you smile on – it should be clear that you are a nice, pet-loving person. If you are going to house sit as a couple or a family, choose a photo of all of you in the picture.
In addition to the profile photo, there is also an option to upload other photos. Those pictures should include you with pets or animals. E.g. walking the dog, having a cat in your arms, pictures with horses, etc. Show your love for animals!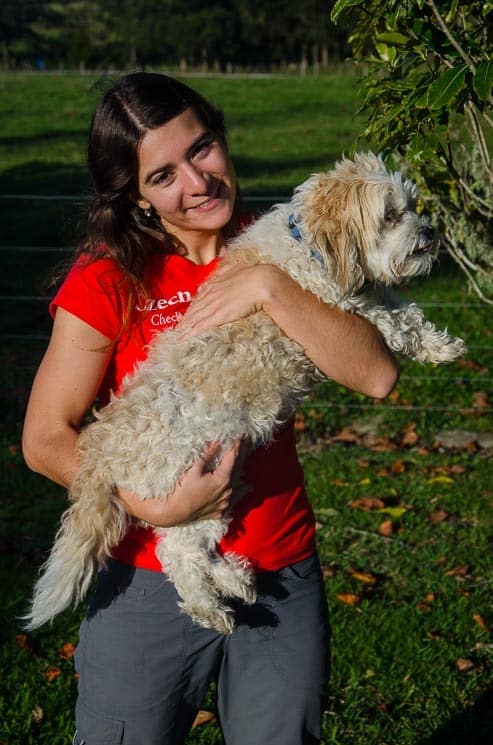 Reviews and references
You may have already found out that references in New Zealand mean a lot! Good references and recommendations are the core of your success. Once you get your first reference, you'll no longer have a problem getting more and more house sitting.
Obviously, everyone has to start somehow. Therefore, it is good to look for alternatives. Have you ever done Couchsurfing? Try to include such a reference in your profile, e.g. you can include a screenshot among your pictures. You can also ask your boss if you can include his phone number as a reference.
How to get your first review?
The first review is a real key to a successful house sitting in New Zealand. You can simply get it by accepting not that "hot" offers. It can be either house sitting only for a few days or in a remote area. You have a high chance to be accepted in cases like this.
For example, we found out that the Auckland city center has a very high competition among house sitters, while more distant areas have much fewer people interested in house sitting. Short house sits aren't that favorite among house sitters either. And that's the chance for you!

Once you get the first reference, you will no longer struggle to find a house sitting in New Zealand.
First contact with house owners
Did you find an offer you like? Look at what you have in common with the owners before replying. Do they have the same kind of cat or dog you love? Tell it to them! Simply try to find something that you and owners have in common and mention it in your message. It may be a job, hobby or anything else. Try to sell yourself as an ideal house sitter for the owner. Do you enjoy gardening? Perfect! Do you like long walks with dogs? Anything can be an advantage.
It's good to be flexible when it comes to meetings. It's polite to suggest meeting at a time that suits the owners.
Meetings
Meeting with the owners is the best way to get to know each other. You will learn about the house and what are the expectations of owners. Form of the meeting depends on the owners. Usually, it is an informal chat with a cup of coffee and a brief introduction of their house and animals.
In general, if you are already invited to a meeting it means you have a good chance to get that house sitting. However, it depends on the number of interested house sitters. Typically, the owners in Auckland city center get many requests, and they usually invite more candidates, so they can choose from more different sitters. Outside the center, interest is lower. It happened to us several times that we were the only ones invited and the owners started showing us practical things around the house directly.
How make a good impression?
The answer is simple: Ask!
About details on feeding pets.
Where to take dogs for walks?
Details about waste management in the area.
How often do they wish to be informed about their furry darlings?
Details about the gardening or watering flowers.
And anything else that comes to your mind while you are there.
Preparation is also important. Remember the names of the owners and their pets. For some owners is also a big advantage if you can work remotely.
Requirements of house owners
You will find out most of the specific things in the advertisement. Some people care more about choosing new house sitters more than others. Someone prefers single person, another one family or couple. An estimated 25 % of house owners demand house sitters be with animals for most time of the day. Others don't care even if you work long hours. Every person is different.
Alerts – you need to be quick
You need to respond quickly to increase your chances. Most of the house sits in New Zealand are arranged within 1-3 days. New Zealand's house sitting platform has a great feature where you can set up an alert for the desired area + there are a lot of other filters. As soon as you receive a notification, try to respond as soon as possible.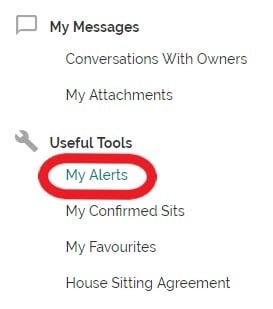 House sitting in New Zealand – personal experience
House sitting in New Zealand was our first experience with house sitting ever. In the beginning, one has to write quite a lot of requests and ideally look for some short house sits to get the first reference. It is good to know that house owners are looking for house sitters quite ahead. So, it is possible to arrange a meeting in a first week after registration, but you can expect the first house sitting maybe 3 weeks after the registration. You can't expect to have a house sitting immediately.
Since we got the first reference, there was no problem getting more and more house sits. Few times, the owners contacted us directly without any published ad. They wrote that they like us and want us to house sit for them.
Slower beginning
In the beginning, we had a week or two weeks gaps between each house sitting. Later we managed to fit house sits perfectly one after another, so the longest gap was just 2 days.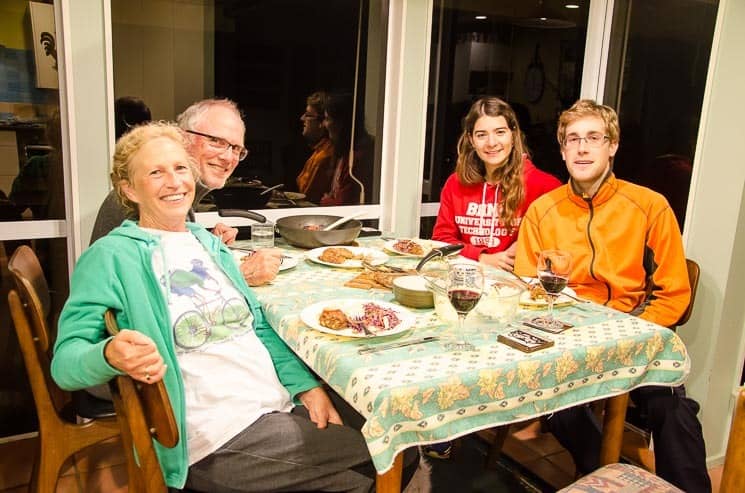 Only good experiences with house sitting in New Zealand
We have met only very welcoming people in New Zealand. Many times, we were invited to dinner, once to horseback riding, as well as we could use the owners' car. We are enjoying the house sitting in New Zealand for 100 %. Right now, we are in a beautiful big house with a beach view with one amazing cat.
We can definitely recommend house sitting in New Zealand to everyone.
Try house sitting in other parts of the world
Read more about other opportunities: House sitting: Your worldwide free accommodation! You will find there a list of the best websites across different parts of the world.
More tips for your travels:
We have prepared for you this comprehensive list of links, discounts, and resources for travel planning in one place. Bookmark this page and whenever you plan a vacation in the future, just open it and save yourself a lot of time.
1) Where to book accommodation?
2) How to find cheap flights?
3) How to rent a car?
We recommend a comparison portal RentalCars.com to compare the best offers of all available rental companies.
Pin this for later and for your friends: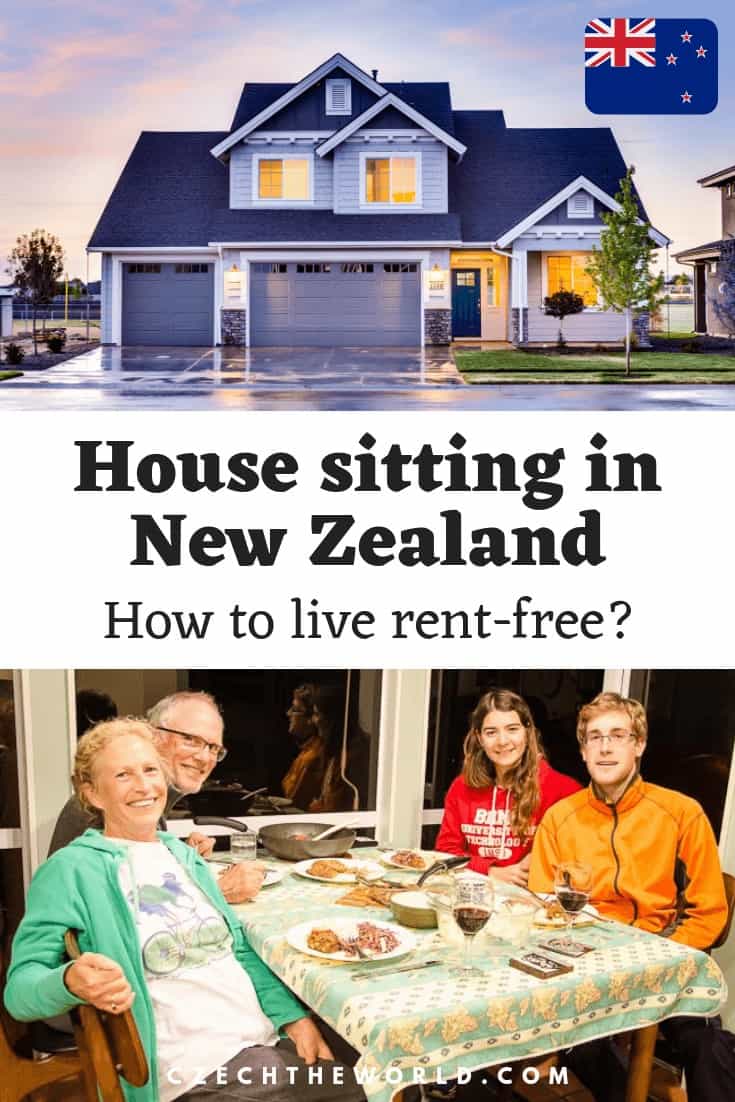 Did this post help you? Share it with your friends! It can help them too!
Disclosure: Please note that some of the links above may be affiliate links, and at no additional cost to you, we earn a commission if you make a purchase. We recommend only products and companies we personally use and we use this income for further improvement of this website. Thank you!