The otherworldly landscape of Cajas National Park is located around 35 kilometers (20 miles) from Cuenca. There are about 786 bodies of water, including beautiful alpine lakes.
Visiting Cajas national park is magical, as you can see several types of mountain flowers, explore local caves, meet llamas, or wander through Polylepis forests. There are many hiking trails to choose from, including multi-day hikes.
So let's have a look at all the important information you need for your Cajas National Park visit: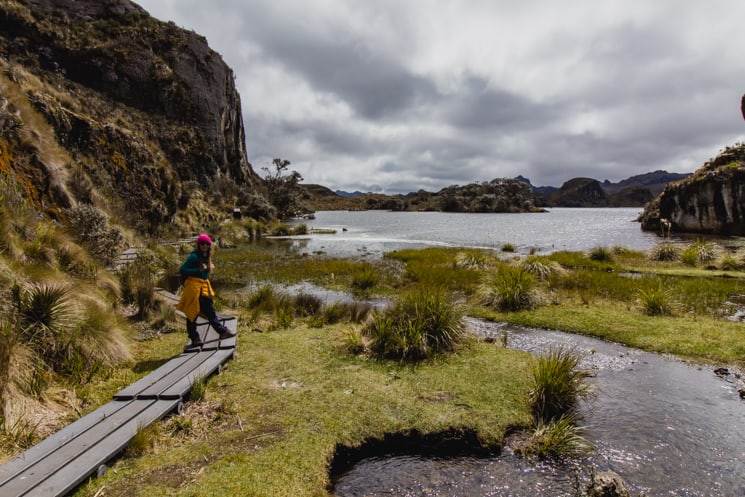 How to get to Cajas National Park from Cuenca
The park opens at 8 AM, so the first bus to Cajas you can get on is at 7 AM. The bus goes from Terminal Terrestre and costs 3 USD. There are regular buses running the whole day from Cuenca to Guayaquil, so you can get there (and back) basically any time.
We would recommend getting there early because there is a limit of 92 people per day they allow into the park. Plus the weather is usually nice during the morning.
Going back from Cajas to Cuenca
You don't necessarily need to go back to the visitor center. It is enough to go anywhere to the main road and wave the bus heading in the direction of Cuenca. Just make sure the bus driver will see you in advance, and there is a good spot for him to stop.
Just be prepared that all the seats might be full and you will need to stay in the aisle.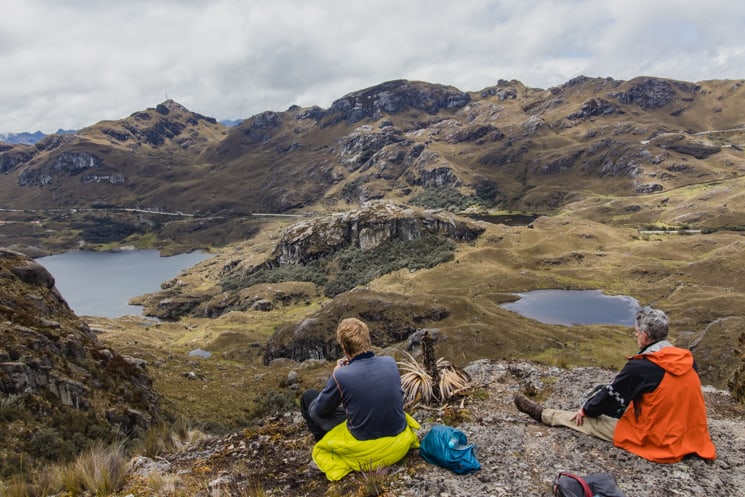 Important info about park rules and registrations
The park opens daily from 8 to 4.30 PM.
High Altitude – Cajas is situated at about 4000 meters (13 100 feet) above sea level. So be prepared for it. If you want to hike, you should be already acclimatized to the altitude. If not, plan just short hikes around the closest lakes.
You need to register at the visitor center – There is a limit of 92 people who can enter the park each day. Bring a passport with you (or have at least a photo of it). You also need to tell the ranger which trail you plan to take.
No fires are allowed anywhere in the park.
Download the app Park Nacional Cajas – the app is in Spanish, but there are maps of all the park trails. Alternatively, any other offline outdoor map app is good. We can recommend Locus for Android users.
There is no phone service in the park.
Cajas visitor center and facilities
There is a nice exposition about the Cajas National Park at the visitor centers. Plenty of photos and interesting information about the fauna and flora.
If you get hungry, there is also a restaurant and café, but it's quite pricey.
There are also restrooms in the same building.
Best hikes in Cajas National Park
You have several options to choose from if you want to do a day hike in Cajas National Park. You will probably choose one of the trails 1, 2, and 3 or their combination. We think that the best option (regarding the views and the length) for a one-day hike is a combination of trails 2 and 1.
A) Combination of Cajas trails no. 2 and no. 1
This combination of trails will take you to all the interesting places on the way – including the mountain Cerro San Luis – from where are breathtaking views, a mysterious cave, the magical Polylepis forest, and of course around the beautiful lakes Toreadora, Totora, and Patoquinuas.
You will start your hike to the left of the registration office. There are several viewpoints on laguna Toreadora. You need to have the lagoon on your right-hand side (for about 2,5 km), then the turn is very hard to find (it copies the stream from laguna Chica Toreadora). The steep climb begins after you pass this small lagoon, but the views from the top are well worth it.
You will see both sides of the valley.
Be careful on the way down, some parts of the trail are very steep and might be slippery after the rain. Hiking poles might be very handy. Once you are down at Laguna Toreadora again, turn left and continue through the magical curvy Polylepis forest. We found that there is more than one cave! The rest of the trail follows the river and lakesides. You don't need to close the loop and climb back to Refugio, instead, you can go directly to the road where you can wave the bus back to Cuenca.
B) Trail no. 1
Trail number one, skip the huge ascent to the Cerro San Luis. This trail is the easiest of all the marked trails. It visits the lagoon, cave, and Polylepis forest. You can also choose to go around the Toreadora lagoon from either side. In case you want to skip the final ascent, you can also go directly to the road and don't need to get back to the visitor center.
C) Trail no. 2
Hiking trail no. 2 means following the same route as it is described in A) version, the only difference is, that once you are back at the Laguna Toreadora, you go back directly to the visitor center. You can always decide to prolong it and do a combination with trail no. 1.
To see more hiking options, download the official Cajas National Park app.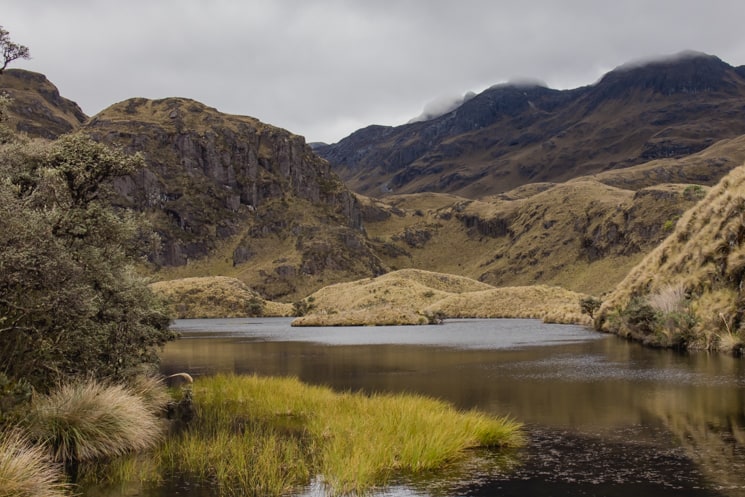 Maps and GPX of the trails to download
What to pack?
For one-day hiking trip in Cajas National Park is enough to have:
Hiking boots
Daypack
Water
Sunscreen
Sunglasses
Cap/Hat
Rain jacket
Some extra layers
Snack/lunch
In case you won't have enough water, you don't have to be worried, there are plenty of small streams and rivers and the water from there tastes good. For multi-day hikes, I would bring a water filter, just in case.
Camping at Cajas National Park and multi-day hikes
Camping in Cajas National Park is possible. You only need to register at the visitor center, pay the small fee (about 5 USD/night) and share with rangers your itinerary. For multi-day hikes, you can choose some of the trails from number 4 or higher (or from their combination). These trails are located on the other side of the road from the main visitor center (Refugio Toreadora).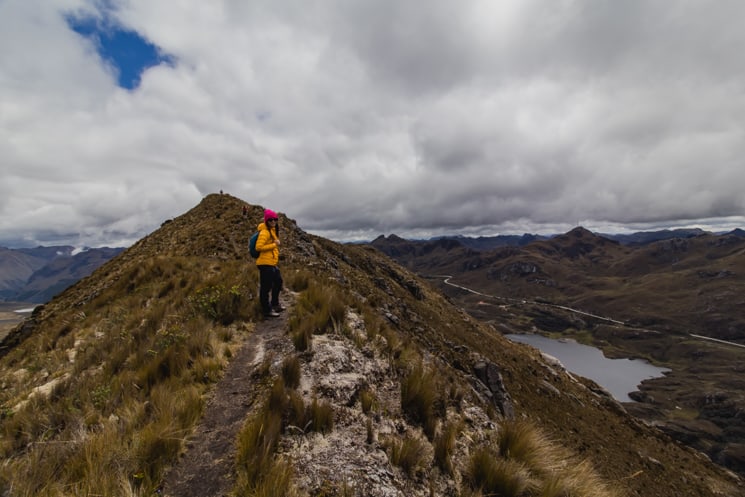 Weather in Cajas National Park
The average temperatures in Cajas National Park are somewhere between 0° C and 14° C (32 – 57° F) year-round. The altitude is high and it can change quickly in the mountains, so it is good to be well-prepared for all kinds of weather. Especially the rainproof jacket can be very handy.
You can expect better weather during the dry season from June to September.
Here you can check the weather for Cajas National Park in upcoming days:
CAJAS WEATHER
Where to stay in Cuenca?
Budget
There are a lot of places where to stay in Cuenca. We stayed in Check Inn Bed and Breakfast with a wonderful rooftop terrace and breakfast.
Mid-range
If you prefer a hotel over a hostel, choose Suite Le Fabrique, which is perfectly situated in the city center.
Luxury
If you prefer something more luxurious, you can go to Itza Hotel Boutique Internacional, which is also perfectly situated in the city center.
Check our other Ecuador guides:
Photo Gallery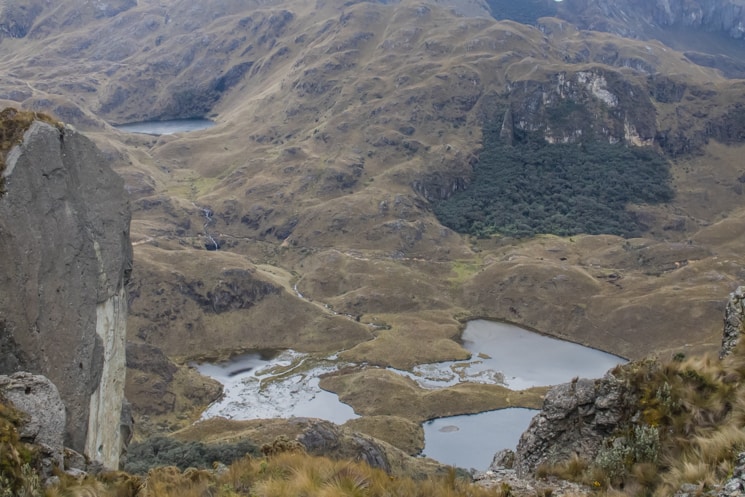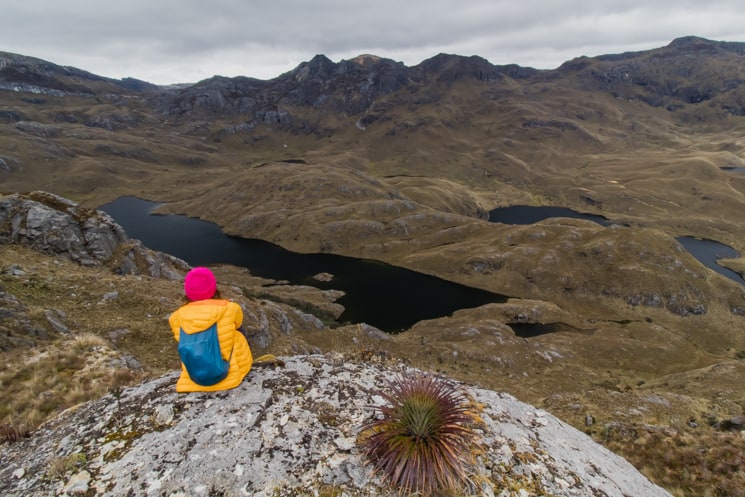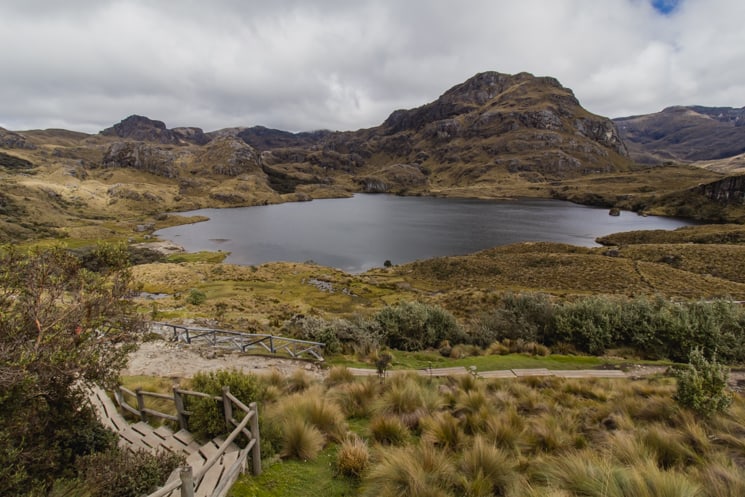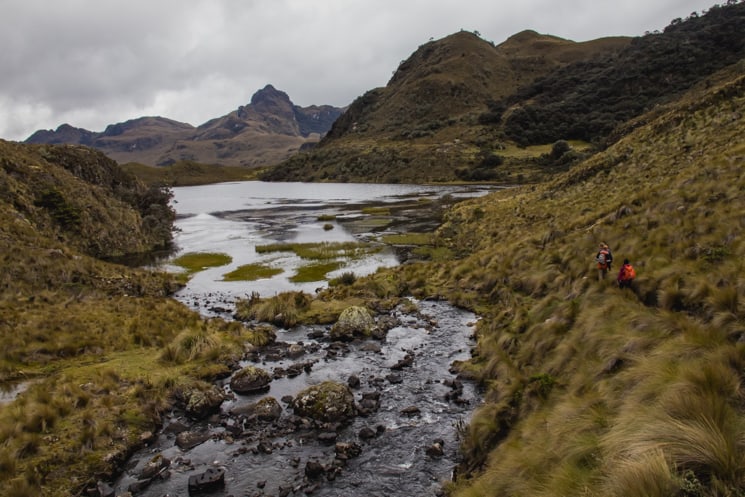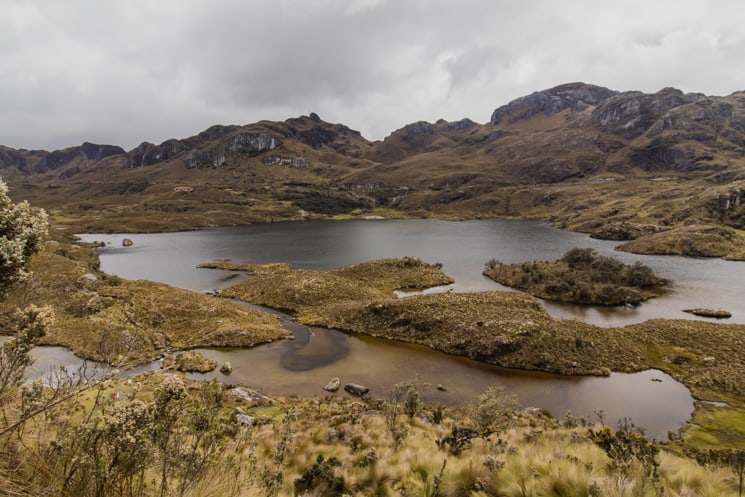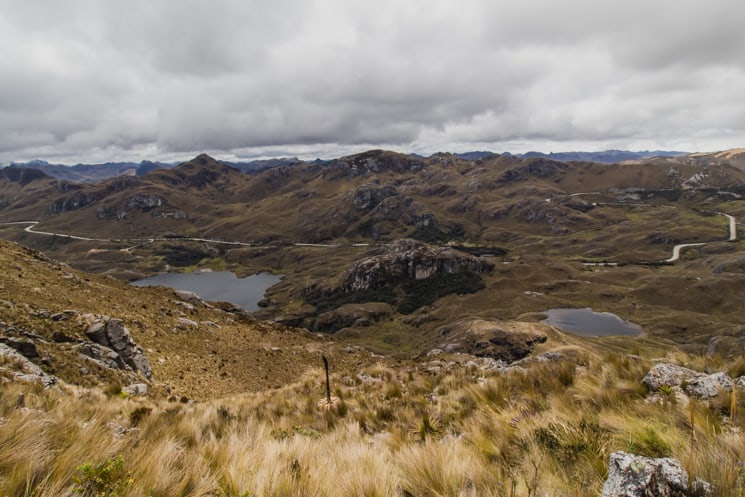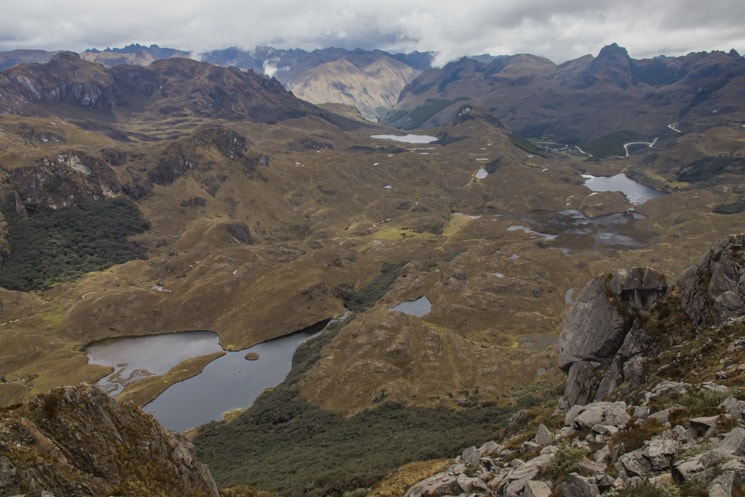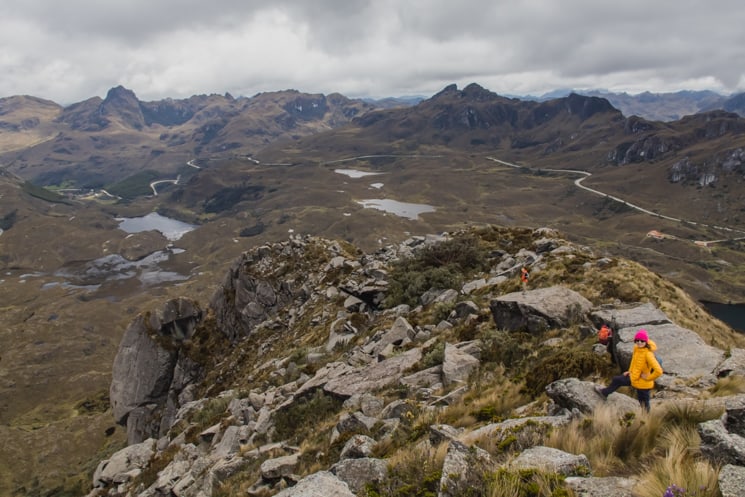 More tips for your travels:
We have prepared for you this comprehensive list of links, discounts, and resources for travel planning in one place. Bookmark this page and whenever you plan a vacation in the future, just open it and save yourself a lot of time.
1) Where to book accommodation?
2) How to find cheap flights?
3) How to rent a car?
We recommend a comparison portal RentalCars.com to compare the best offers of all available rental companies.
Pin this guide for later or for your friends: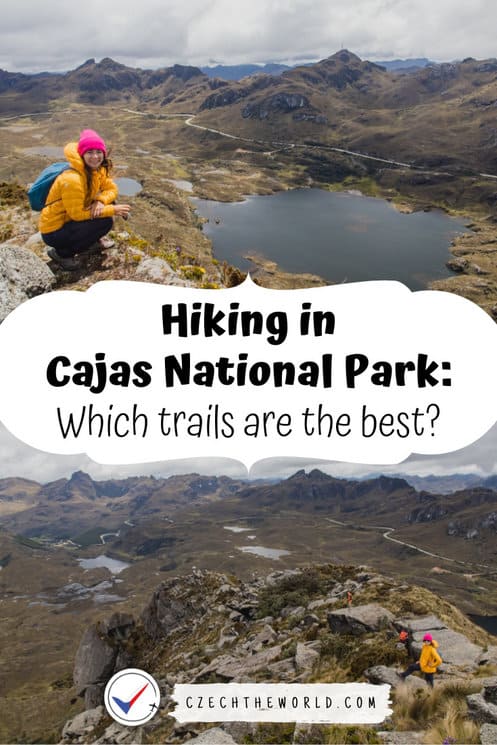 How to get to Cajas National Park from Cuenca
Best hikes in Cajas National Park
Did this post about visiting Cajas National Park help you? Share it with your friends! It can help them too!
Disclosure: Please note that some of the links above may be affiliate links, and at no additional cost to you, we earn a commission if you make a purchase. We recommend only products and companies we personally use and we use this income for further improvement of this website. Thank you!