There are many exciting places to visit in Venezuela for avid tourists. Venezuela has pristine beaches, historical landmarks, and even dune deserts in the Médanos de Coro National Park! Perhaps one of the most famous and breathtaking places in Venezuela to visit is the Canaima National Park.
The Canaima National Park was hailed as a World Heritage Site by UNESCO in 1994 due to its impressive natural beauty and biodiversity. Any avid hiker or nature lover is sure to come out of Canaima satisfied. Here is a quick guide on what you should keep in mind when visiting the Canaima National Park!
What to Experience
If you plan on visiting Angel Falls, many of the lodges in Canaima can already be an experience of their own! Some of them have a great view of the Laguna de Canaima, perfect for resting after the numerous plane rides. Some tours will take you to Sapo and Hacha falls, which are relatively easy to trek to from the lodges.
Even those that just want to relax can find a perfect place in Canaima!
The main attraction here is the Angel Falls! To get to the largest waterfall in the world, you will need to travel through the Carrao and Churun rivers. The Angel Falls is a sight to see, being the world's tallest uninterrupted waterfall with a height of 979 meters.
On the other side of the park, you will be able to hike through the Gran Sabana. This hike offers quite a different experience. You will be able to trek the Gran Sabana and boat through the Rio Kukenan across a lush savannah, with massive mesas or tepuis looming all around you. The Gran Sabana is also the starting point to Mount Roraima, one of the large tepuis in the Canaima National Park.
The Auyán-tepui hike awaits those looking for a challenge. While reaching Angel Falls at the base of Auyantepui is one thing, hiking up this massive mesa is a different beast. It is quite a challenge compared to Mount Roraima and Angel Falls. But the sights and experience are sure to be worth it!
How to Get There
There are many ways to get to Canaima National park, depending on where you want to go. The most common way is by plane from Ciudad Bolivar. There are flights available from Caracas to get to Ciudad Bolivar. From there, you can fly to Uruyén to hike up the Auyán-tepui. If you want to see Mount Roraima, you need to ride a bus or other private transport from Ciudad Bolivar to Sta. Elena, then another jeep ride to Pareitepuy. This ride will take around 13 hours, so rest up!
If the plan is to reach Angel Falls, you can get to Canaima by plane from either Ciudad Bolivar or Ciudad Ordaz. Ciudad Bolivar has a lot of colonial-style architecture to see around the city. It is also a nice place to rest before continuing your trip. When planning your trip, you might want to check out the lodges in Canaima when you book your flight. The different lodges in Canaima offer packages that include airplane tickets and pickup from the airport, making the visit to Angel Falls more convenient.
Things to Remember
1) Secure Your Permits and Local Guides!
The Canaima National Park is the second largest national park in Venezuela. The park is a protected site and is relatively remote. There aren't any trail guides, and sometimes, there are no clear trails to follow. It's also illegal to hike in the park without a permit and local guide! Its remoteness makes securing the necessary permits, guides, and porters essential for a good and safe trip.
2) Watch Your Health.
Make sure that you are in good physical condition before attempting the hikes. Getting help can be difficult with how remote and physically intense the treks can be. While Angel Falls can be a one-to-two-day trip, Mount Roraima can take up to eight days, and hiking up the Auyán-tepui can take nine days! Make sure that you are fully prepared for the challenges ahead.
3) Learn the Local Culture.
The Canaima National Park is home to the Pemon Indians, indigenous peoples with a cultural connection to the tepuis. Learning about Pemon culture is a great way to show respect to the land. It would also help you appreciate the Canaima National Park and its tepuis more. By learning about their culture, you will be able to better interact with those you meet, especially the guides or porters you hire who could be Pemons.
What to Pack
1) Mosquito Nets and Bug Sprays
The Canaima National Park is abundant with lush wildlife, and mosquitoes and bugs are no exception. Make sure to pack enough mosquito lotion and nets to keep yourself protected from the biting bugs.
2) A Cushion
There are very few roads in Canaima National Park, and a significant portion of your travel will be spent in curiara, a south American canoe, as you trek through the many rivers of the park. A comfortable cushion can help prevent any sores from the hours of travel. It can also help you sleep better at the camps.
3) A Durable, Waterproof Backpack
Due to the remoteness of the hikes, having a durable backpack is better than a suitcase. There are also many river treks, so make sure to prepare for any unfortunate events that might get your things wet. The climate at the top of the tepuis is also very different from the forest floor, and you might get hit by unexpected rain. It is best if you prepare for the worst!
4) Waterproof Hiking Boots
With how rugged the trek could be, combined with the number of river crossings, having a pair of durable, waterproof hiking boots is recommended over typical waterproof shoes.
5) Rain Jackets
Preparing for unpredicted rain is essential, and having a rain poncho on hand can be a lifesaver. A warm, comfortable jacket is also great during cold, jungle nights.
6) GPS Devices
These hiking trails are deep in the wilderness, and it may be exciting to plot your map of the trek with a handy GPS device!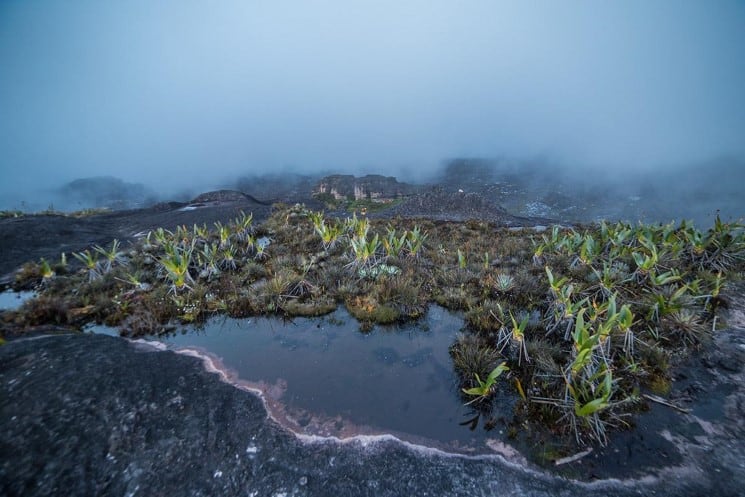 A trip to the Canaima National Park can be a once-in-a-lifetime experience. With sprawling savannas, rivers, jungles, and tepuis, it can feel like you have walked into a whole new world! Remember to plan your trip well to ensure that your travel is a great experience.
Disclosure: Please note that some of the links above may be affiliate links, and at no additional cost to you, we earn a commission if you make a purchase. We recommend only products and companies we personally use and we use this income for further improvement of this website. Thank you!