Guide to the best things to do in Georgia country. Historical churches, mountain treks, wine tasting, sea, and other sightseeing tourist spots.
Georgia (country) offers many stunning places for any traveler, either you are a mountain lover or you rather prefer gastronomical and cultural experience. Let's explore its green valleys, old churches, and magnificent mountain scenery.
This article is your guide to the specific things to do in Georgia. If you would like to find practical tips for traveling around Georgia, see this Online travel guide to Georgia Country.
I divided the best things to do in Georgia into 7 main areas: Kutaisi, Svaneti, Tbilisi, Kazbegi, eastern Georgia, southern Georgia, and Batumi.
Kutaisi and surroundings
Most low-cost airlines fly to Kutaisi and many people start their travel here, so we'll start with this area. There are not many interesting things to do in Kutaisi itself. You can arrange a SIM card, exchange money, or taste local food for the first time. But there is no need to stay there longer.
However, the surrounding area offers a few interesting attractions:
1) Prometheus Cave
Prometheus Cave is the largest accessible cave in Georgia is absolutely breathtaking! I dare to say that this is the most amazing cave I've ever been to. There is an incredible amount of stunning stalactite and stalagmite formations spread along an 1600-meter long path. You might say that caves are similar everywhere in the world and that the photos are similar to some of the caves where you've already been. I also thought that, but I was absolutely amazed by the size and length of this cave. In most caves, there are only a few beautiful formations and the rest are just tunnels. Here are amazing formations at every step along the 1600 meters long route.
Prometheus Cave is closed on Monday.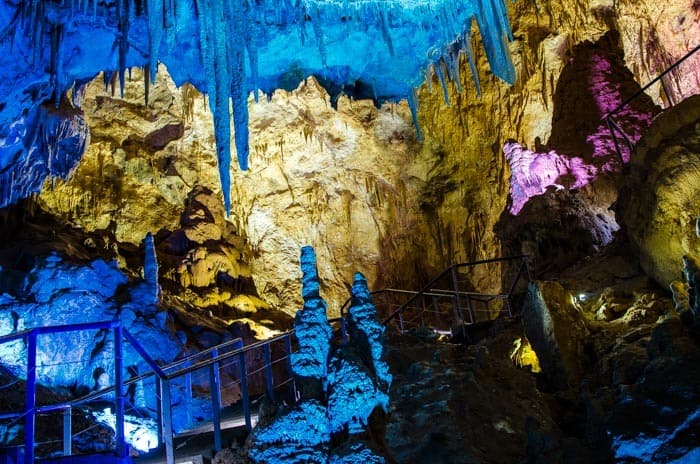 2) Sataplia Nature Reserve
Sataplia Cave is smaller and poorer than Prometheus Cave. It's significantly worse, so if you don't have much time, you can skip the visit. But if you like caves, Sataplia is still definitely worth it! There is also a nice view of the entire Kutaisi and the park with dinosaur statues.
Sataplia is closed on Monday.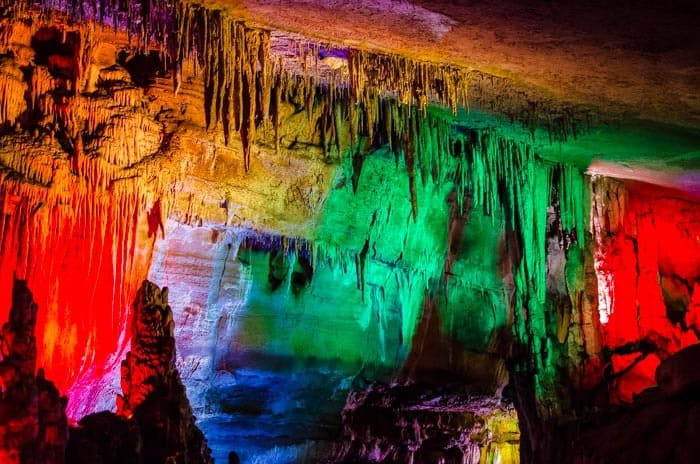 3) Martvili canyon
Martvili is a beautiful natural canyon that offers a possibility of rafting, boat rental or even bathing, when the weather is good. The canyon is 2400 meters long and 20-40 meters high. There are also fossils of animals that lived on Earth 75 million years ago. Read here more about the Martvili area.
Martvili canyon is closed on Monday.
4) Katskhi Pillar (Column)
Katskhi Pillar is high natural limestone column with a church built on top. Approximately 1 km long walking path leads to the pillar, but it can also be seen from a greater distance. Only a vertical ladder leads directly up to the church. Climbing up the leather is not allowed, unfortunately.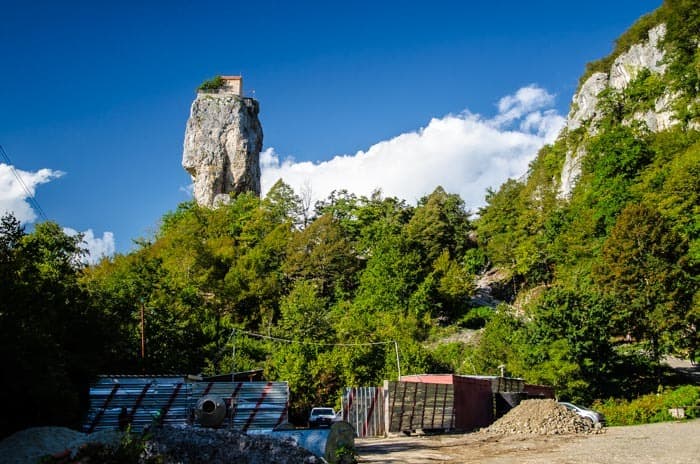 5) Chiatura
Chiatura is former mining settlement, which is located between vertical walls of the surrounding hills, where manganese and iron were mined in the past. It was very demanding for workers to climb up the hills every day, so they built a lot of cable cars in the village. More than 10 were still in operation a few years ago and it was possible to ride them. In 2019 there is the last one still operating. Do you have the courage to ride this extremely old and scary cable car?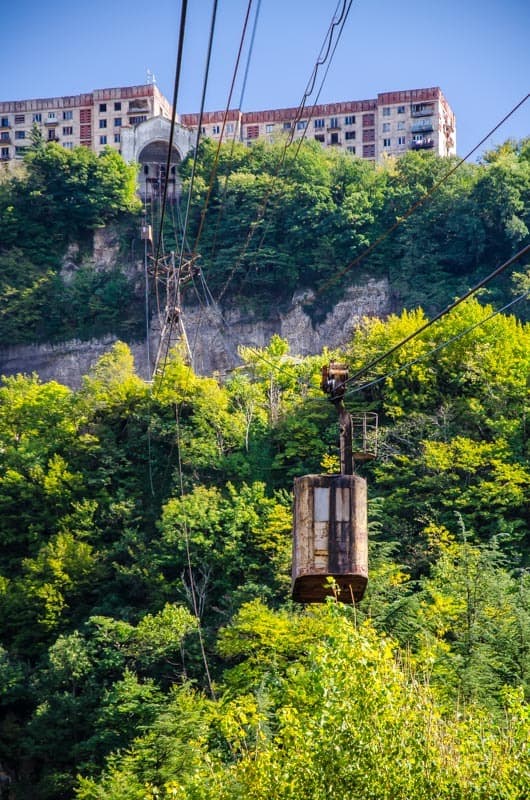 More places to visit near Kutaisi:
Gelati Monastery – beautiful monastery UNESCO
Motsameta Monastery – another monastery, with interesting cliff-edge setting.
Okatse Canyon – beautiful canyon for a shorter walking trip.
Accommodation in Kutaisi
It's best to search hotels on Booking.com. We were very satisfied in Guest House Old Kutaisi. The owner was very kind and he accommodated us even though we arrived at 3 AM. He also showed us the way to the closest money exchange and where can we buy a local SIM card.
Svaneti, Northwest Georgia
Svaneti mountain range in northwest Georgia offers amazing mountain treks and breathtaking scenery. It's one of the most beautiful areas of Georgia that no one should miss. The whole area is also known for a huge number of defensive towers you can find in every village.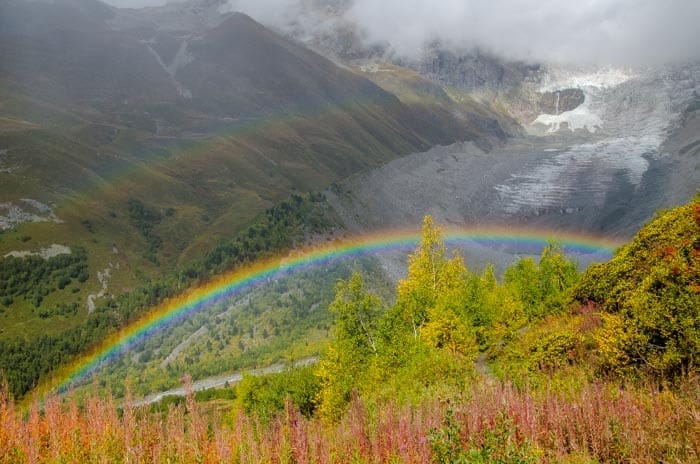 6) Mestia
Mestia is a small town is a base camp for several mountain treks. I definitely recommend flying here by plane. The flights from Kutaisi and Tbilisi are extremely cheap and you will save on a demanding day trip by marshrutka. Tickets must be booked in advance because they are sold out very soon. More information can be found here.
From Mestia you can go to the well-known trek to Ushguli (see below), or to day trips to Chalaadi Glacier or Koruldi lakes. You can also take ride a funicular to Mount Zuruldi, where you can enjoy a beautiful view of the Caucasus.
Accommodation in Mestia
We can highly recommend Manoni's Guesthouse. Clean rooms, nice personnel, and great dinner. What more can for ask for? Personnel will also answer you any questions about the trek and can arrange your Marshrutka to Ushguli.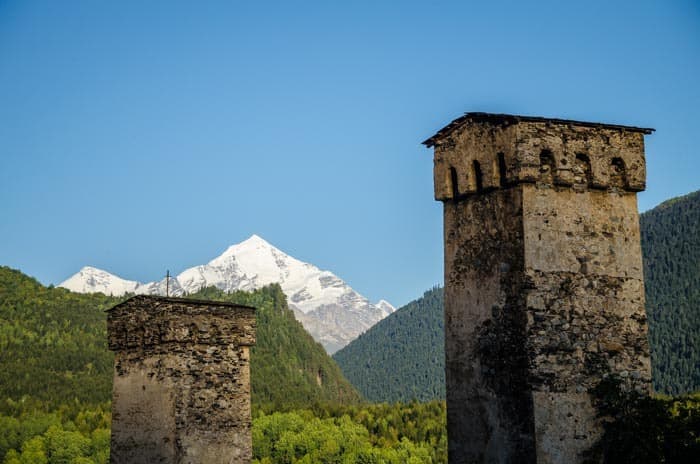 7) Mestia – Ushguli trek
Mestia – Ushguli is probably the most famous Georgian trek is totally worth the effort. You are hiking at an altitude of about 2000 m surrounded by snow-covered mountains rising up to 5000 m. Another pleasant experience is the visit to local villages where it seems as if time has stopped. Don't expect anything fancy, rather simple, half-ruined buildings, but nice people to take care of you. Just beware that they are used to tourists and aren't afraid to put prices high. Therefore, it's important to ask for the price in advance and to haggle.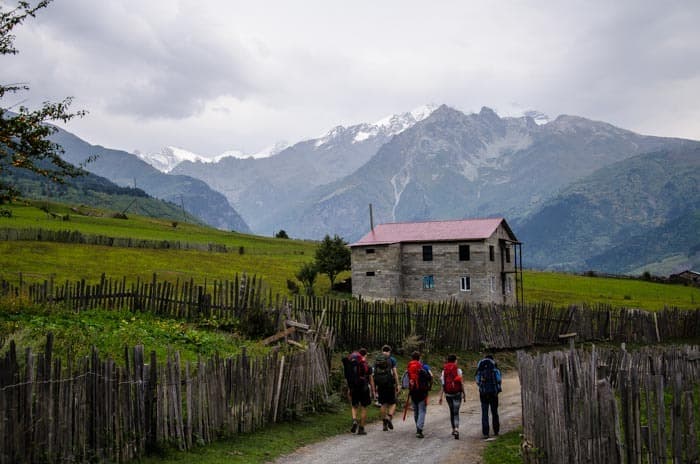 Trek can be done in 3 to 4 days and is divided into the following sections:
Mestia – Zhabeshi
Trek begins with a steep climb from Mestia to the saddle and then slowly descends along smaller villages until Zhabeshi. We stayed two nights in Guesthouse of Irina in Zhabeshi. Nice personnel and great dinners and breakfasts.
Zhabeshi – Adishi
From Zhabeshi there is a steep climb to the ski resort, followed by a flat part and slight descent to the most isolated little village of Adishi. We stayed in Old House in Adishi. It wasn't really luxurious, but probably no hostel in Adishi is. Pleasant evening with Ukulele together with other backpackers was great!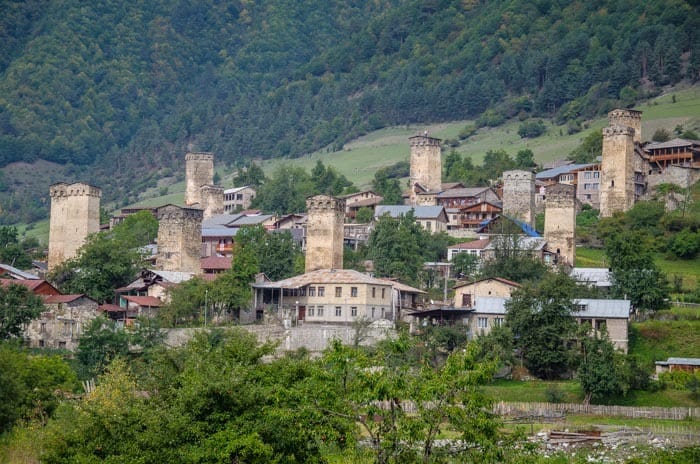 Adishi – Iprari
First few kilometers go along the river to the place where you have to cross the glacier river. If there is not as much water (autumn time), the river can be crossed barefoot (it's really icy though). Local residents with horses are waiting there willing to take you on horseback to the other side for 10 GEL. It's good to ask in Adishi whether there will be horses or you need to order your own from the village.
After the river crossing, there is a steep climb to the saddle, where there are amazing views. Then it continues back down to the valley at to the village of Iprari.
Iprari – Ushguli
The last stretch goes along the road and is less interesting, so you can skip it and get to Ushguli by car. We managed to arrange a car for 50 GEL.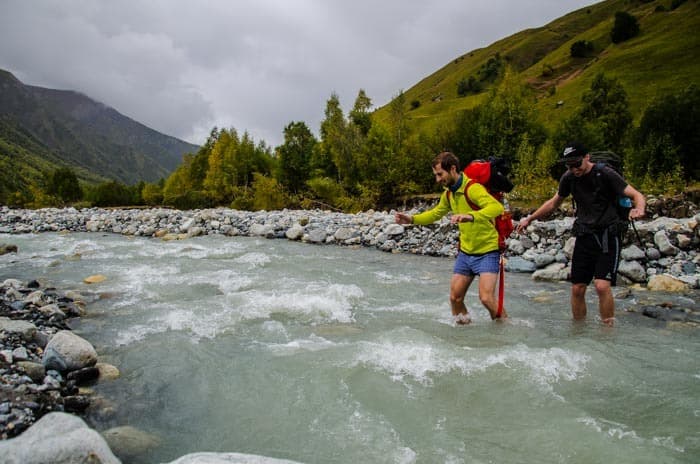 It's a good idea to take some snacks with you on the trek because there is nothing to buy on the way. You will get food at the hostel, but according to our experience, portions are a bit smaller than elsewhere in Georgia. The cost of accommodation is around 50 GEL per person per night, including breakfast and dinner. Usually, it's possible to arrange a lunch pack for 10 GEL extra.
In the high season, it's good to book your accommodation in advance because the villages are really small and there are just a few hostels.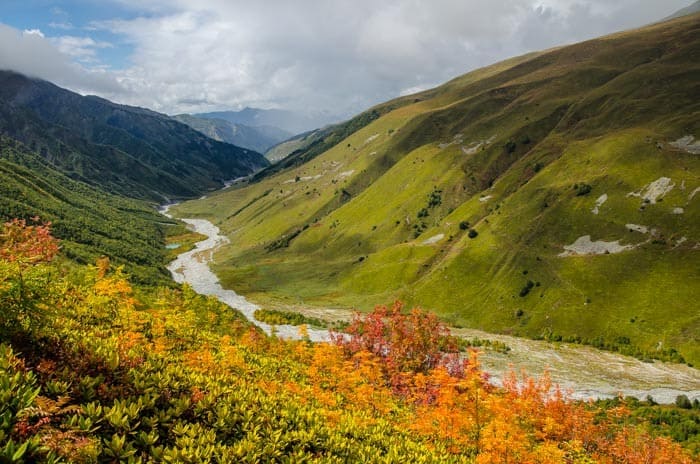 8) Ushguli
A village of Ushguli surrounded by huge mountains is definitely worth visiting even if you don't plan to walk the whole trek. There are regular marshrutkas (minibusses) from Mestia. I recommend doing a day trip to the Skhara glacier. It's about 8 km one way and no climbs, just flatland. But the views are staggering! You can also arrange taxi marshrutka in Ushguli, which takes you just under the glacier. We managed to hitchhike on the way back.
Accommodation in Ushguli
There are many accommodation possibilities in Ushguli. Some of them very old and some modern. We stayed in one of the more modern ones in Mshvidoba and we can definitely recommend this place.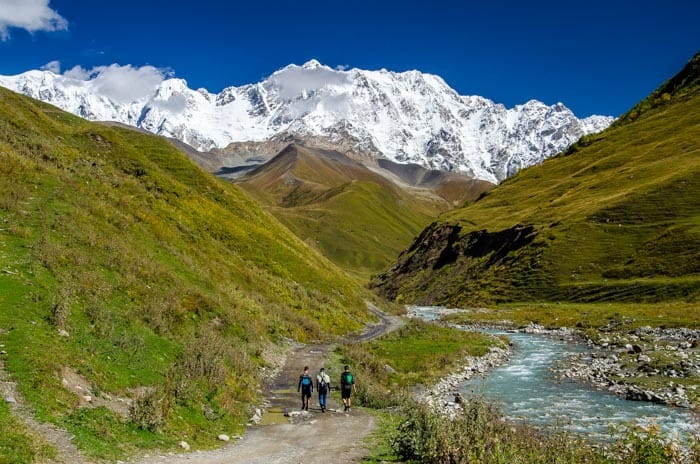 Tbilisi and surroundings
The capital of Georgia is a modern Western metropolis. It's totally different from the Georgian countryside. Tbilisi can be the starting point for day trips to the surrounding sights.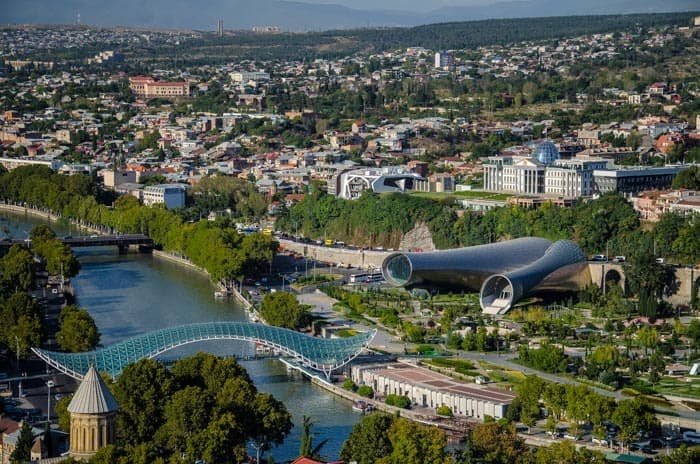 9) Tbilisi, Georgia Capital
Tbilisi itself is very interesting with its architecture. The combination of historic buildings with modern ones is really done well. The entire city center can be reached by foot or you can use the subway, which costs close to nothing.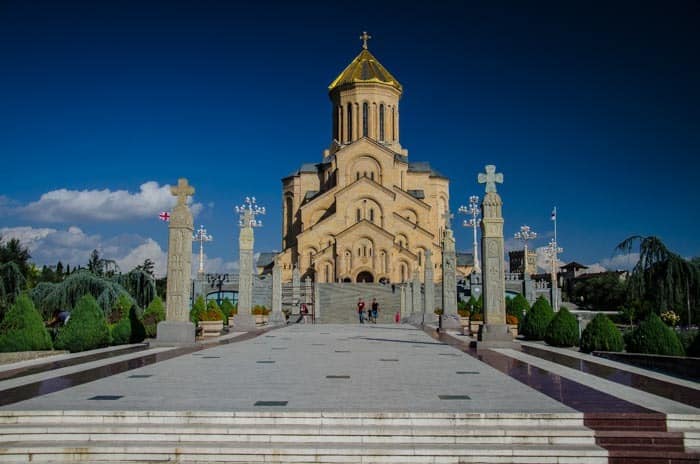 Things to do in Tbilisi:
Holy Trinity Cathedral – one of the largest religious buildings in the world.
The Bridge of Peace – an interesting modern bridge built of steel and glass
Narikala Fortress – ride a cable car up to this historical fort, there is a beautiful view of the whole city.
Mtatsminda – another hill, where you can ride by a funicular to have a beautiful view. There is also an amusement park at the top, where you can ride a Ferris wheel, try shooting or other different attractions.
Freedom Square – square with a lot of souvenir shops and restaurants.
The Chronicles of Georgia – a small Georgian Stonehenge.
Mccheta / Jvari – Former Georgia capital with Sveticchoveli cathedral and Church Jvari on the Rock with a beautiful view of the river confluence.
You can also check this article about things to do in Tbilisi.
Georgia wine tours from Tbilisi
Georgia is famous for its great wine. Taking a wine tour for degustation to Kakheti wine region is a great cultural experience. You can choose here:
Accommodation in Tbilisi
You can find many places to stay in Tbilisi on Booking.com. We stayed three nights in Herrmas Hostel and it was great. Willing and helpful personnel, clean rooms and a pub with Czech beer right next to the hostel.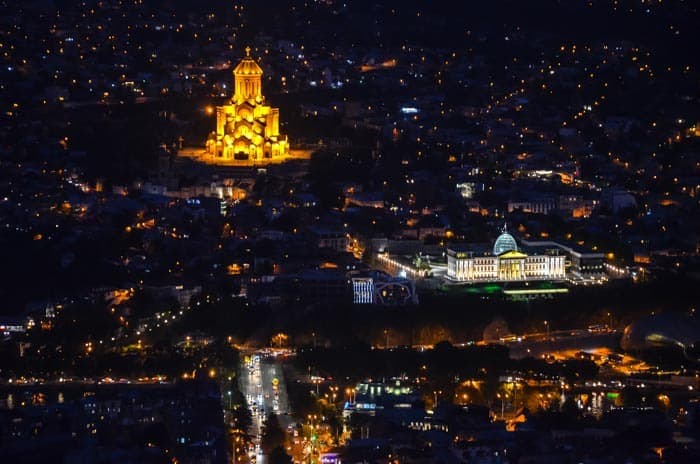 10) Gori
Gori is a birth town of Stalin is an interesting cultural attraction. In addition to the museum and Stalin's birthplace, there is not much else to see. The museum is definitely worth a visit though. You just need to take it easy. Stalin is seen as a positive person in Georgia. As a Georgian who achieved something …
Gori can be visited either on the way from Kutaisi to Tbilisi or as a one-day trip from Tbilisi. If you would like to spend more time there, check this guide to things to do in Gori.
We stayed in California Guest House in Gori, which is right in the city centre and totally perfect place. Cozy rooms and one of the best breakfasts we have had in Georgia! Highly recommended!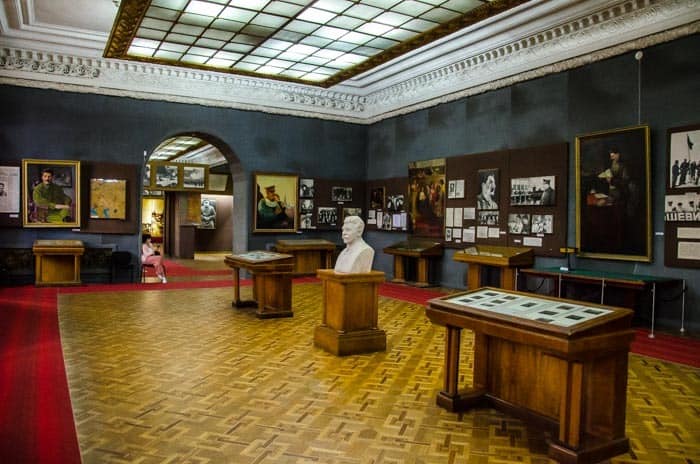 11) Uplistsikhe
Uplistsikhe Fortress and cave town 10 km from Gori. You can stop there if you have spare time. We haven't been there because we were in a hurry no to miss larger Vardzia.
12) David Gareja Monastery, Georgia – Azerbaijan border
David Gareja is a rocky monastery complex in a semidesert area on the Azerbaijan border. There is a nice view of the colorful surrounding countryside and you can also see pretty far to Azerbaijan. When you make a short loop walk (there is a touristic route), you will be able to cross the border to Azerbaijan for a while and there is a smaller rocky town.
There is a day trip organized from Tbilisi every day to David Gareja. Just go to the Pushkin Park Bus Station next to Liberty Square at 11:00. Exactly here. The return time is between 19:30 and 20:00.
You can also take a Private Tour with Wine degustation.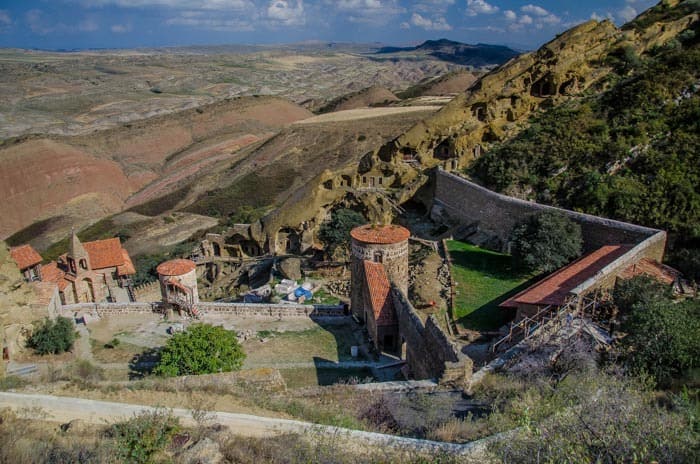 Kazbegi, Northern Georgia
Kazbegi is another famous Georgian mountain area. It's not as monumental as Svaneti, but also definitely worth a visit. There are regular marshrutkas from Tbilisi.
13) Ananuri
Ananuri is a beautiful monastery on the way between from Tbilisi to Kazbegi. Marshrutka will probably not stop at Ananuri, but you can pay a taxi for one day trip and ask the driver to stop for a while.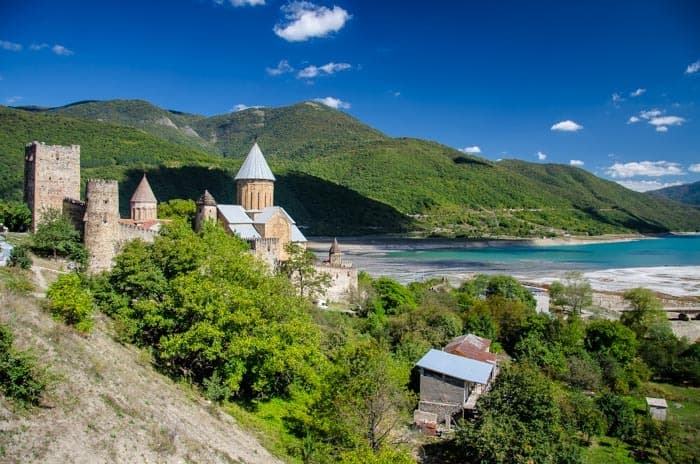 14) Russia – Georgia Friendship Monument
Propagandist Monument of Russia-Georgia Friendship, located in a beautiful location surrounded by colorful mountains. If you are riding in a taxi, stop there. If you ride a marshrutka, the view from a car is enough. You can try to ask the driver to stop for a short break.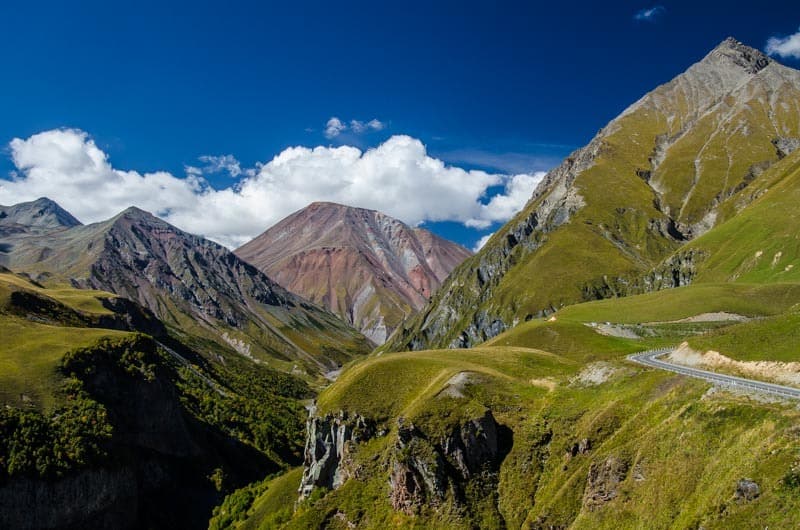 15) Holy Trinity Church
One of the most photographed places in Georgia. A Holy Trinity church sits on a hill with the background of a massive mountain range. If you visit Kazbegi, you have to climb to this church, it's a simply amazing place. The walk from Stepantsminda is quite short but very steep.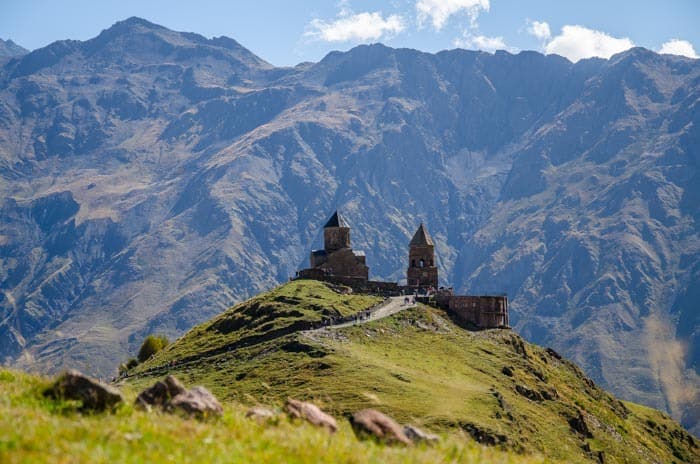 16) Truso Valley
Truso is a picturesque valley where you can go for a day trip. On the way, you will find various mineral springs, smaller geysers, ancient towers, and almost deserted villages.
Agency "Mountain Freaks" organizes trips to Truso valley twice a day. It departs at 9:30 (return 16:30) and at 11:00 (return 18:30) from the agency office. In the high season, it's a good idea to book a seat at least one day in advance, because marshrutka has only 7 seats.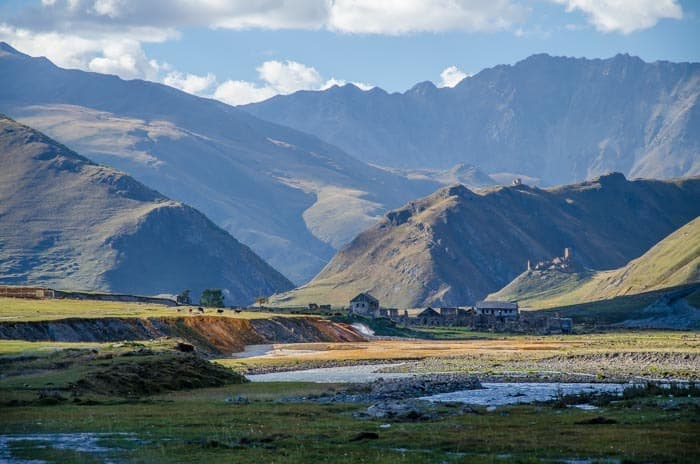 Accommodation in Kazbegi, Stepantsminda
We can definitely recommend Guesthouse Elia. Nice owner, clean rooms and amazing views of Mount Kazbeg and Holy Trinity church.
Kakheti – Eastern Georgia
Kakheti region is a little bit farther from civilization and less accessible. I would only recommend traveling to this area if you have more time because you will spend a whole day just to get there.
However, if you have enough time, you will experience a near-untouched area with wonderful nature in Kakheti!
17) Tusheti and Omalo
Tusheti and Omalo are other mountain areas in the foothills of the Caucasus. If you would like to enjoy long hikes in untouched nature, there are not many better places to visit in Georgia!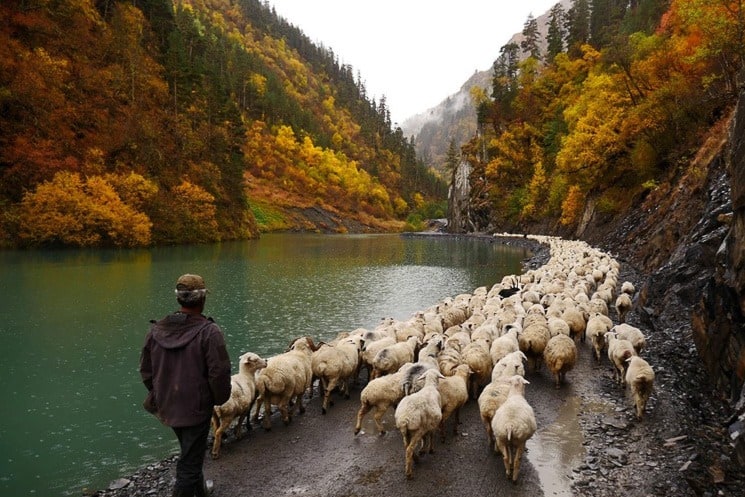 18) Alaverdi, Gremi, and Bodbe
If you like historic buildings, it is definitely worth visiting these three interesting monasteries.
Orthodox Alaverdi Monastery is the third largest monastery in Georgia.
Gremi – royal citadel build in 16. century.
Bodbe – another beautiful orthodox monastery.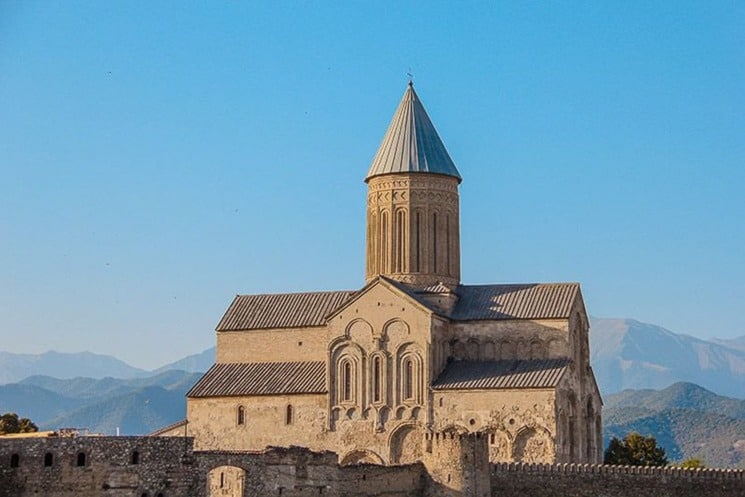 South Georgia
19) Vardzia
Vardzia is a huge cave monastery town is one of the most amazing places to visit in Georgia. It's definitely worth even a long journey by marshrutka. You can wander through dozens of different caves and tunnels.
The opening hours are every day except Mondays from 10:00 to 19:00. The last visitors are allowed in at 18:00. It's closed on Monday.
The only affordable hotel near Vardzia is Taoskari Hotel. We rather stayed next to Rabati Fortress in Akhaltsikhe.
Traveling to Vardzia could take a long time, so you can choose a Private day trip tour from Tbilisi. This tour will take you not only to Vardzia, but you will also stop at Rabati Fortress and Borjomi spa town.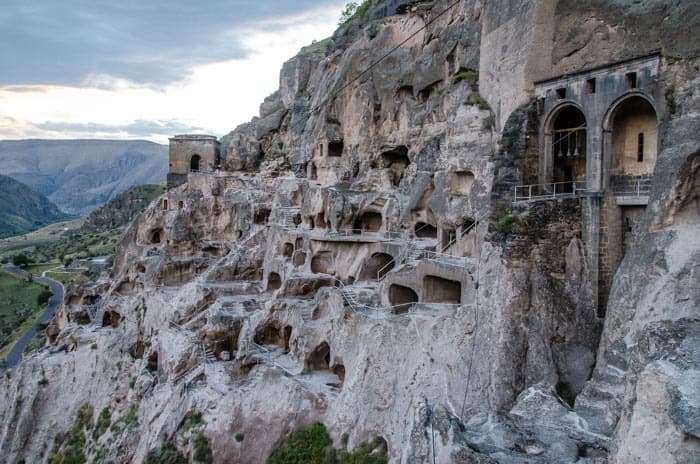 20) Rabati Fortress
On the way to Vardzia, it's worth stopping in the town of Akhaltsikhe to visit Rabati Fortress. The fortress has already lost its historic look – it's very modernized, but it's still pretty and photogenic.
In Akhaltsikhe, there is a great hotel – Hotel New Star, right next to Rabati. You have a nice view of the beautifully it up fortress directly from your window.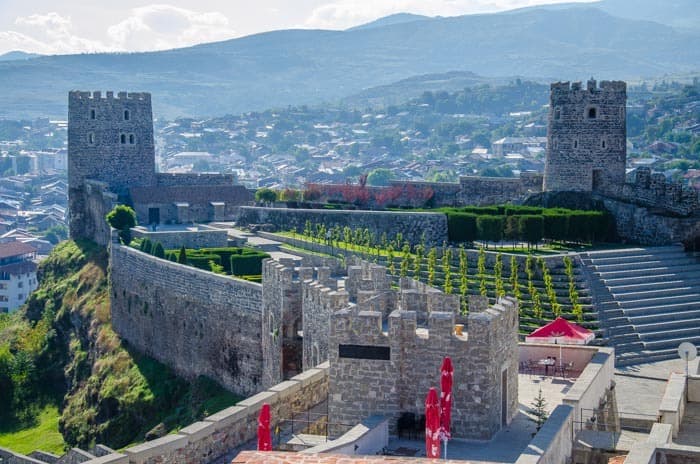 21) Borjomi-Kharagauli National Park, Georgia
If you have enough time, it's definitely worth it to hike some trek in this beautiful Borjomi-Kharagauli National Park.
Batumi, Western Georgia
Batumi is the second-largest city of Georgia, right at the coast of the Black Sea, is an ideal destination for the end of your trip to Georgia. Here, you can enjoy relaxing after a busy trip, bathing in the sea (which has very low salinity) and tasting the last pieces of Georgian gastronomy that you haven't tried yet.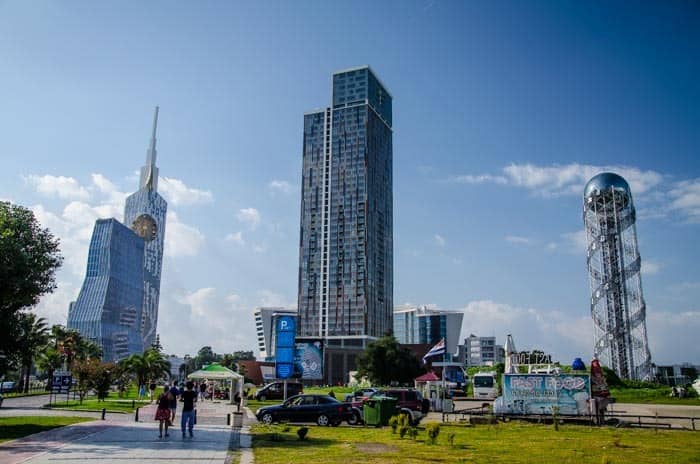 The walk through the Batumi city center and along the riverbank is lovely and you can find several architecturally interesting buildings or dancing fountains.
There is also a botanical garden for flora lovers and historical fortress Gonio.
Accommodation in Batumi
There is again a lot to choose from on Booking.com. We chose Hostel in Batumi, which is one of the cheapest and the locality directly in the city center is great!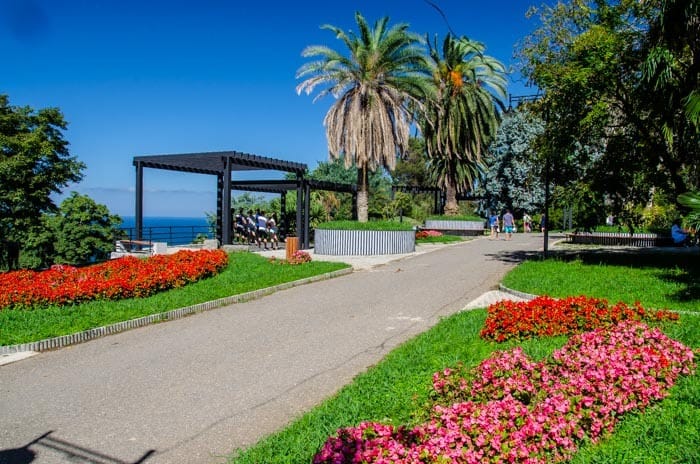 Map of the best things to do in Georgia Country
We have prepared a detailed map of Georgia (country) for you with all the best things to do in Georgia Country. You can export this map and import it to your mobile map application such as Maps.me or Locus.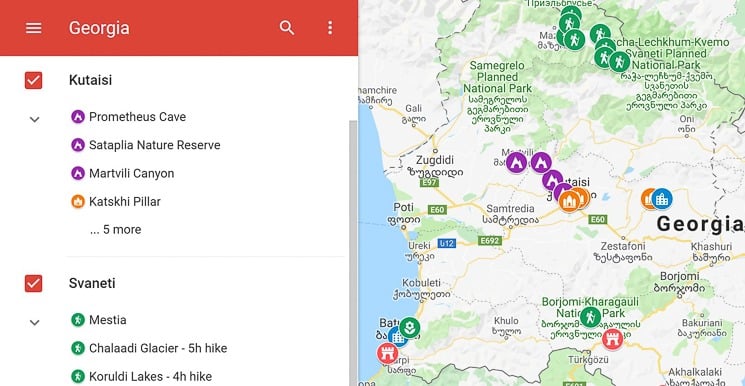 I want to go to Georgia (country)!
Are you decided? Great, just find the cheapest flight ticket!
If you would like to rent a car to travel, then the best car rental options are here.
Check this beautiful video about Georgia:
Georgia is a really beautiful country to sightseeing and travel around and everyone can find what he or she likes. Read also this post about general travel advice and tips in Georgia (country):
Georgia, Country: Online Guide – All you need to know before you go!
If you have any questions, comments, or if you think that there are some missing things to do in Georgia in this guide, don't hesitate to write in our comments.
More tips for your travels:
We have prepared for you this comprehensive list of links, discounts, and resources for travel planning in one place. Bookmark this page and whenever you plan a vacation in the future, just open it and save yourself a lot of time.
1) Where to book accommodation?
2) How to find cheap flights?
3) How to rent a car?
We recommend a comparison portal RentalCars.com to compare the best offers of all available rental companies.
Pin best things to do in Georgia country for later or for your friends: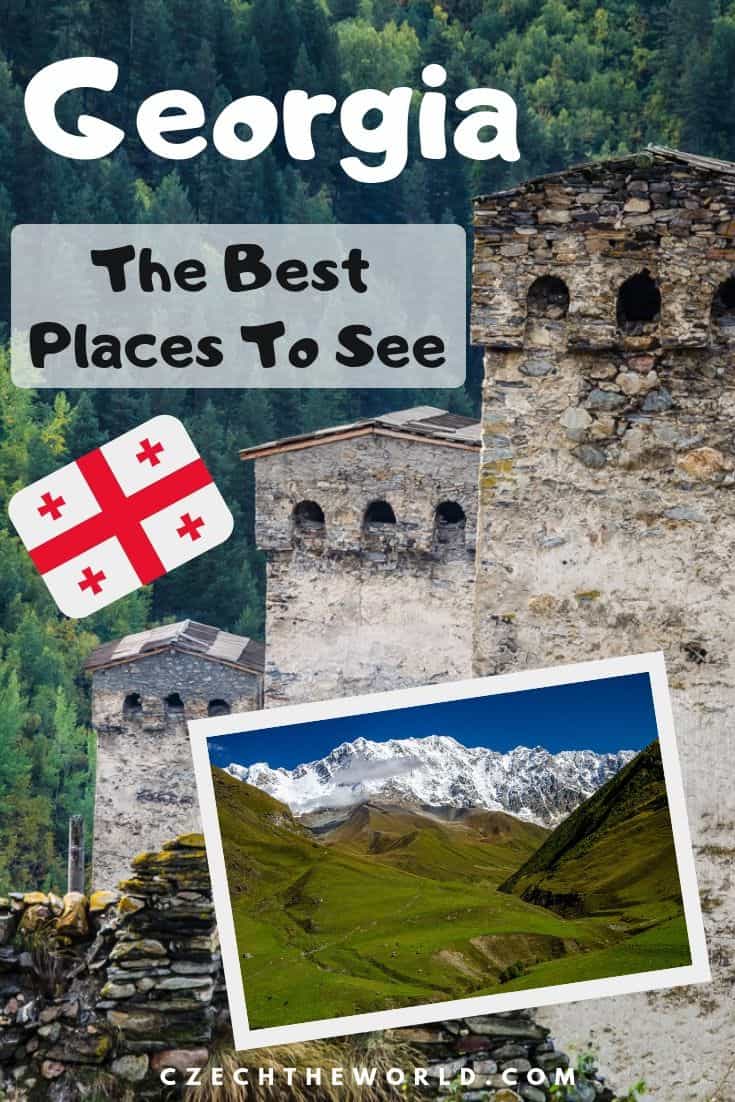 Best things to do in Georgia country – FAQ:
Did this post about the best things to do in Georgia country help you? Share it with your friends! It can help them too!
Disclosure: Please note that some of the links above may be affiliate links, and at no additional cost to you, we earn a commission if you make a purchase. We recommend only products and companies we personally use and we use this income for further improvement of this website. Thank you!