This is your Georgia (country) online travel guide. You will find all the practical information and tips for transport, visa, food, hotels, weather, sightseeing tourist places, and offline map.
Caucasus peaks rising over 5000 m above sea level, amazing cuisine, hospitable people and an interesting mix of advanced western culture and Asian chaos. Georgia (country) has something to offer for everyone. Whether are you a lover of mountain trekking or rather prefer to discover local culture, good wine, and sightseeing tourist places, you will find it in Georgia.
Why You should visit Georgia (country)?
Breathtaking Mountains – Georgia offers an amazing mountain trekking for everyone, whether are you a lover of multi-day (hikes? Místo treks?)long treks or shorter day trips.
Great Food – You will fell in love with the typical Khinkali or Khachapuri. Georgian food is budget friendly, excellent and they usually don't cheat on portions. If you love salty cheese, there is no better destination. If you are a meat lover or vegetarian, you always have a lot of delicious meals to choose from.
Hospitable people – there is nothing better than coming to the hostel and the whole family caring about you, fulfilling all your wishes, and preparing such a large breakfast, that you don't have a chance to eat everything.
Red wine – Georgia is well known for its wine. White isn't that great, but if you love red, you will be happy.
History – Visit Georgian beautiful churches, temples and old towns. You will feel the history everywhere during sightseeing tourist places.
The mix of cultures – Georgia is placed exactly between Europe and Asia, and therefore half of the things work like in Europe and half as if in Asia.
Sea beach vacation – Georgia offers also nice beaches of the Black Sea, which could be a nice vacation for families with children.
How to get to Georgia (country)
Tbilisi and Kutaisi are two large international airports in Georgia. A low-cost airline Wizzair flies to Kutaisi, so you can get a cheap return flight directly from many European cities.
The cheapest return flight tickets to Tbilisi or Kutaisi can be found as low as $50, usually from Wizz Air. For a specific date, you should expect a price of around $250.
Conditions of entry and Visa
EU citizens don't need a visa and you can stay up to one year.
If you are not EU citizen, check the Visa conditions here.
If you would like to visit Abkhazia, you will need a Visa. They can be obtained online and need to be picked up directly in Abkhazia no later than the third day after entry.
When to visit Georgia (country)
The best time to visit Georgia is from the beginning of May to the end of September, because it's usually the best weather.
Outside of this period, the country will be covered with snow and there will be a cold winter especially in the mountains.
In June and July, on the other hand, there could be temperatures well above 30 degrees in cities and lower elevation areas.
Therefore, I would most recommend visiting and sightseeing tourist places in Georgia at the end of May or at the beginning of September. The temperatures are not as high, the weather is still good, there are fewer tourists, and the whole country is covered with stunning spring or autumn colors.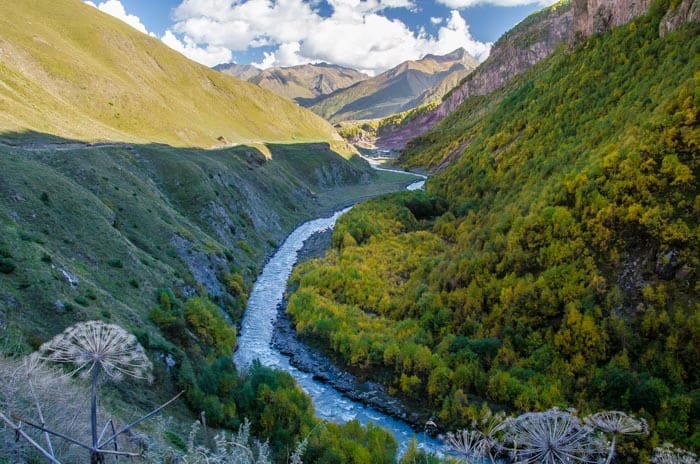 Money and approximate prices in Georgia
Georgia is generally very budget friendly country. Everything from food in restaurants, accommodation, public transport, and even private taxi is cheaper than in most European countries. Of course you should know the approximate prices, otherwise, locals could rip you off.
Currency
In Georgia, Georgian Lari (GEL) is paid. You need to change cash because the card is rarely accepted. You can find ATMs and currency exchanges on the Euro and US dollars in larger cities at every corner.
Budget for Georgia (country)
During our 15-day stay, we slept in budget hostels and ate mostly in restaurants. We were traveling by public transport (marshrutkas and occasionally private taxi).
Overall, we spent (per person):
| | | |
| --- | --- | --- |
| Item | GEL | EUR |
| Flight Ticket | 660 | 220 |
| Transport | 300 | 100 |
| Food | 300 | 100 |
| Accomodation | 300 | 100 |
| Entrance fees | 40 | 14 |
| Other | 60 | 20 |
| Total | 1660 | 560 |
Approximate prices:
| | | |
| --- | --- | --- |
| Item | GEL | EUR |
| Food in restaurant | 7 – 15 | 2,5 – 5 |
| Bread in supermarket | 0,5 – 2 | 0,2 – 1,3 |
| Bottle of wine | 8 – 25 | 2,3 – 8 |
| Hotel / hostel in the city | 10 – 15 | 3,5 – 5 |
| Hotel / hostel in mountain area | 40 – 60 | 13 – 20 |
| Marshrutka – in the city | 0,5 – 1 | 0,2 – 0,3 |
| Marshrutka – longer distance | 5 – 20 | 2 – 7 |
| Train – longer distance | 5 – 20 | 2 – 7 |
| Taxi (10 km) | 15 – 20 | 5 – 7 |
Food and drink in Georgia
Georgian cuisine is amazing. It offers a great selection of both meat and vegetarian food. Coriander or dill is ubiquitous in every dish. Georgia's main specialty is cheese. They are sold either individually or as a part of all kinds of local dishes. What should you taste?
Khachapuri – baked bread stuffed with cheese. You can buy it on every corner and in every restaurant and it's prepared in a million different ways. I highly recommend trying Adjarian Kchachapuri (so-called boat) – filled with cheese, butter, and egg.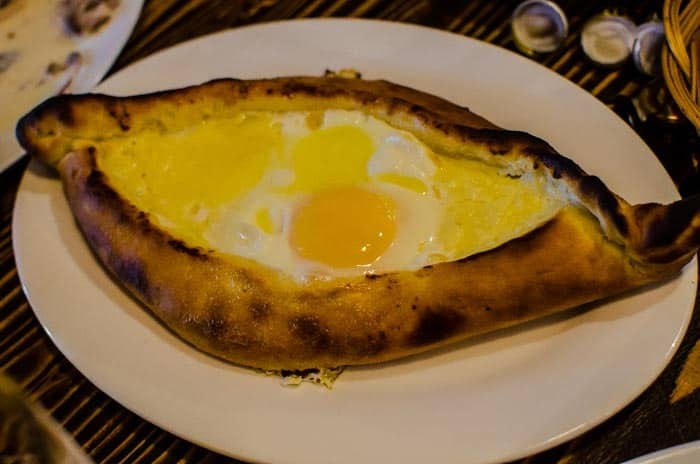 Khinkali – dumplings filled with everything possible. Most often with meat, but can be found even filled with potatoes, mushrooms or cheese. Khinkali can be also found in every restaurant. The proper way of eating is to first bite the top part, suck the liquid part and then eat the rest.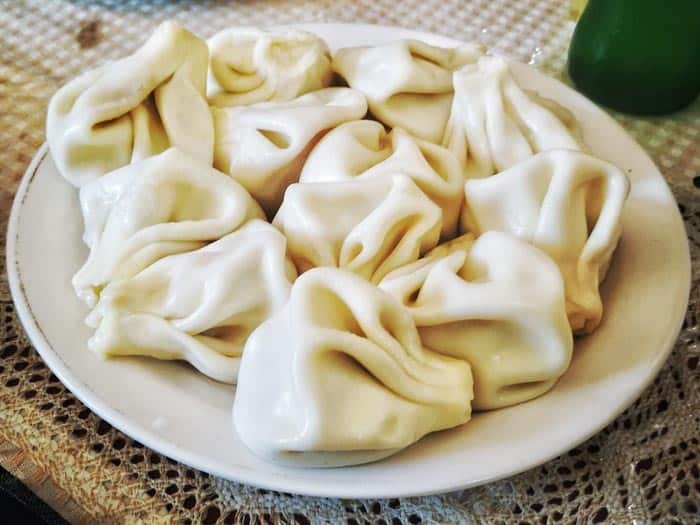 Shashlik / Mtsvadi – grilled meat skewer
Ojakhuri – grilled meat with potato and onion
Kubdari – salty pancakes filled with meat
Lobiani – similar to Kchachapuri, but filled with beans
Lobio – Bean soup with coriander
Badrijani – eggplant stuffed with nuts
Pkhali – a popular vegetarian appetizer
Sulguni – typical salty cheese
Churchkhela – the most famous Georgian candy – it's a candle-shaped mixture of flour, nuts, and grape juice.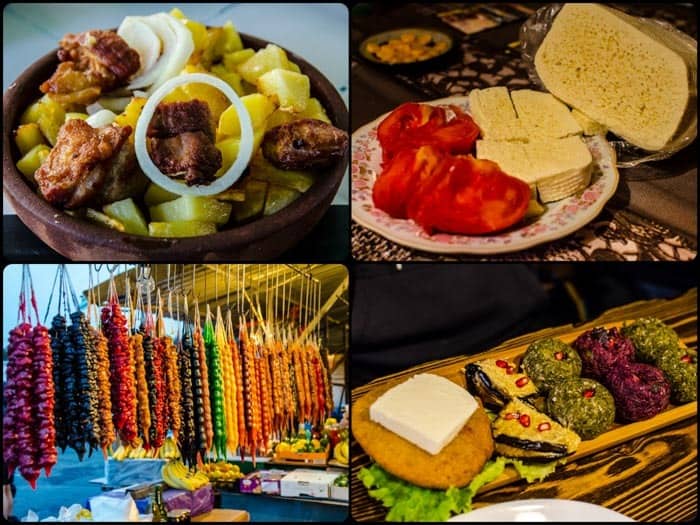 Wine tours from Tbilisi
Georgia is famous for its wine, which production started 8,000 years ago. Prefer red, because that's great. White wine not as much. Taking a wine tour for degustation to Kakheti wine region is a great cultural experience. You can choose here:
Local beer is not bad either and you can find Czech or German bears in many restaurants and shops too.
You will be probably offered a Chacha in most hostels – a local grape brandy. Each one tastes completely different.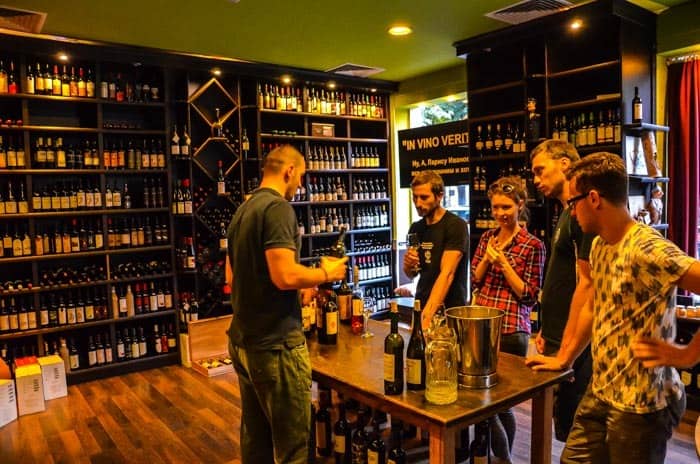 Transportation in Georgia
First of all, I need to warn you that you will be probably scared on Georgian roads. Public transport and taxi drivers have a very dangerous driving style. They often overturn without seeing, like to drive in the opposite direction or call while driving. In addition, there are no safety belts in most of the cars. Upon arrival back home, we felt incredibly safe while driving through the Prague city center.
Marshrutkas (minibuses)
The most widespread and cheapest budget way of transportation. You have to go to the marshrutka station and find (or ask someone) a marshrutka with the sign of your destination. They usually depart upon fulfilling capacity. It's also possible to stop passing marshrutka by waving, and if there is a place, the driver will take you.
It's unbelievable how many people are able to fit into the city marshrutkas. Several times we traveled by marshrutka, where there were roughly two times more people than seats.
Marshrutkas are generally very budget friendly – short rides cost close to nothing, and the Tbilisi – Kutaisi route costs around $5.
Marshrutka – the most common way of transportation across Georgia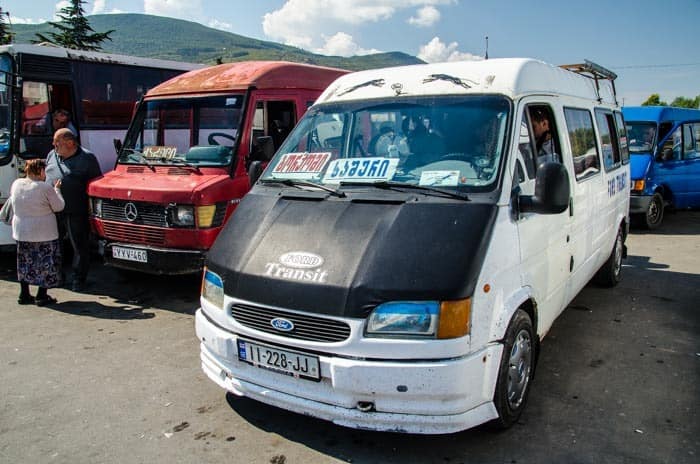 Railways
If you want a relax from the frantic drivers, the train can be a good choice. You can also use night trains with beds inside and you will save on accommodation. Tickets can be bought at the station as well as online.
Trains tickets cost similar to marshrutkas.
Metro (Subway) in Tbilisi
You can use two metro (subway) lines in Tbilisi. Metro operates from 6 am till midnight. One ride fare is 0,5 GEL and tickets can be purchased on every metro station. Here is a map of all metro stations: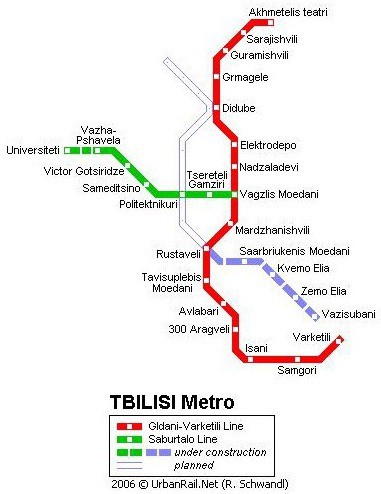 Taxi
You can also use a relatively budget taxi for a shorter distance (just negotiate the price and don't get yourself ripped off). For example, a 10 km long trip should cost roughly $5.
Advice #1: Haggle a lot!
Most taxi drivers put the first price much higher. The best approach is to hesitate and start leaving. The price can be lowered to half of the first bid this way.
Advice #2: Confirm the price and the destination before departure
Taxi drivers sometimes try to add to the price during the ride (they play on your emotions – gas is expensive, etc.). Always be insistent and stick to the agreed price.
Advice #3: Always pay an exact amount.
We paid with a bigger banknote and the taxi driver returned 10 lari less, with an explanation, that it was for drop off right to the hostel. Unfortunately, we didn't have a chance to get it back.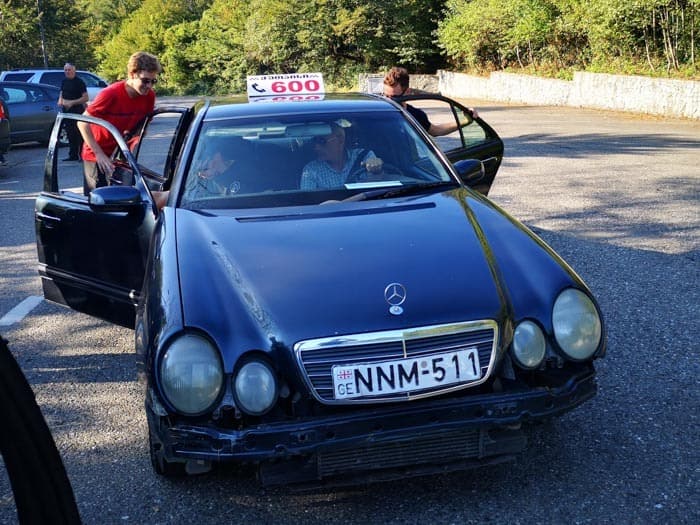 Flights
If you are planning a trip to the Svaneti Mountains, definitely consider flying into Mestia. Direct flights from Kutaisi and Tbilisi will cost only a little bit more than road transport and are not only significantly faster and more comfortable, but the views of the Caucasus are truly breathtaking.
It's necessary to book these flights long time in advance (for a larger group at least a month) because it's a small airplane with just 12 seats.
You can read the complete timetable, flight prices and reservation details here.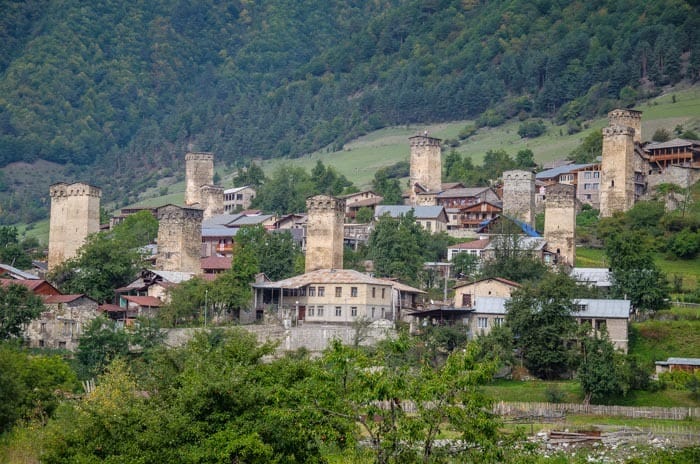 Car Rental
If you don't want to ride all these scary marshrutkas, you can use a car rental. You will certainly miss some adventures, but you will have a priceless freedom!
Rental costs are about 600-800 CZK per day, and gasoline costs about $ 20 per liter.
The budget car rental options are here.
BlaBlaCar
Another option is to use a BlaBlaCar platform for sharing the journey. The price will be usually similar to Marshrutka, but it should be more comfortable.
Hitchhiking
If you are adventurous, you should definitely try to hitchhike in Georgia. It should be easy and the waiting times are usually short.
We tried to hitchhike twice (in a group of 6 people) – for the first time we waited about 10 minutes and the second time the very first van stopped. And it was a great experience because we soon found out that there were no seats in the van but a tied calf instead. We drove for an hour with an animal company and had a lot of fun.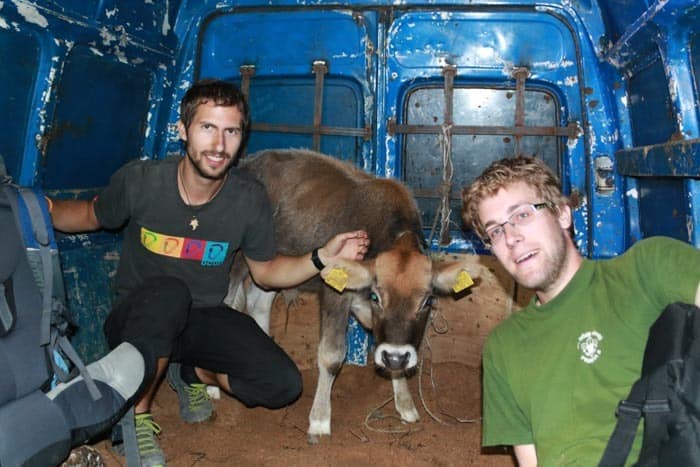 Hotels and hostels in Georgia
Accommodation options in Georgia are huge. The easiest way is to book hotel or hostel at Booking.com. You can also pay a couple of Lari extra for breakfast or dinner in most hostels. People are usually very hospitable and they will take care of you. Often they will make a feast so big that you will have a problem to eat it (except for the Mestia – Ushguli trek, where they are not as generous usually).
Choose the right accommodation by photos and reviews. If you don't choose the very cheapest option, it's usually decent quality accommodation. The building often looks terrible from outside, but it will surprise you from within.
In cities, you can find a hostel or hotel from about 10 GEL per person per night without meals. In the remote areas and on the trek, count 50 GEL with breakfast and dinner.
You can also use Airbnb, but it's usually not cheaper than Booking.com.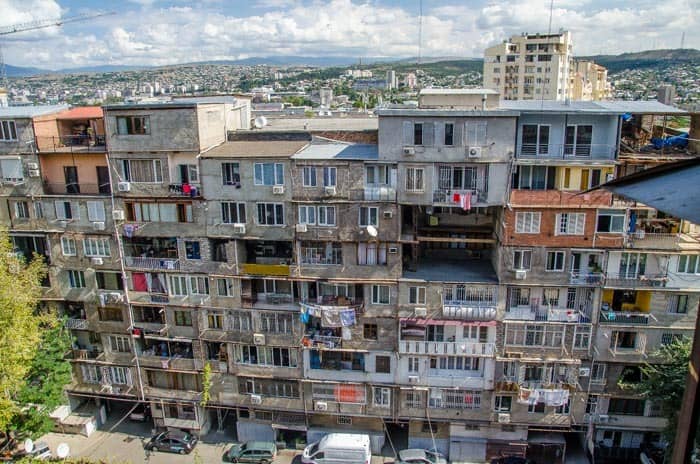 Just be careful that prices at Booking.com often aren't correct. It lists the price for the whole group, but when you get there, they will tell you that it's a prize for one person. It also happened to us that the hostel was in a different place than it was advertised. We wanted to live in the town center, and the owner came for us to advertised address and drove 3 km to the remote areas.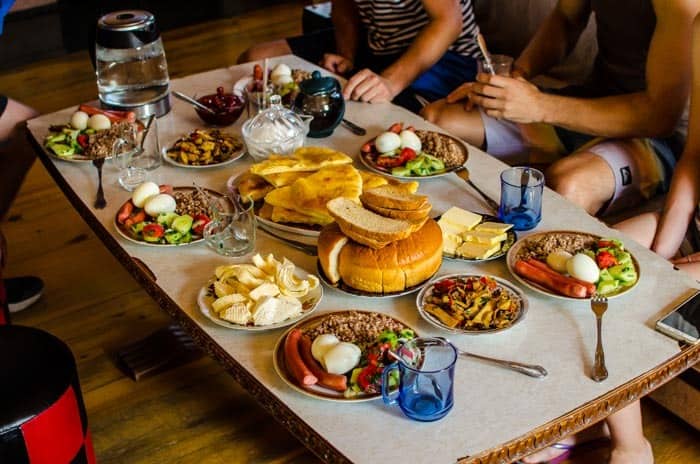 Safety
Georgia is generally a very safe country, it's not recommended to visit the separatist territories of South Ossetia and Abkhazia.
There are no dangerous diseases, so no special vaccination is needed. Just be careful about dogs roaming around.
Be careful on the roads, the drivers are driving very dangerously and the roads are not always in the best conditions. Always use seat belts (if there are any) while driving.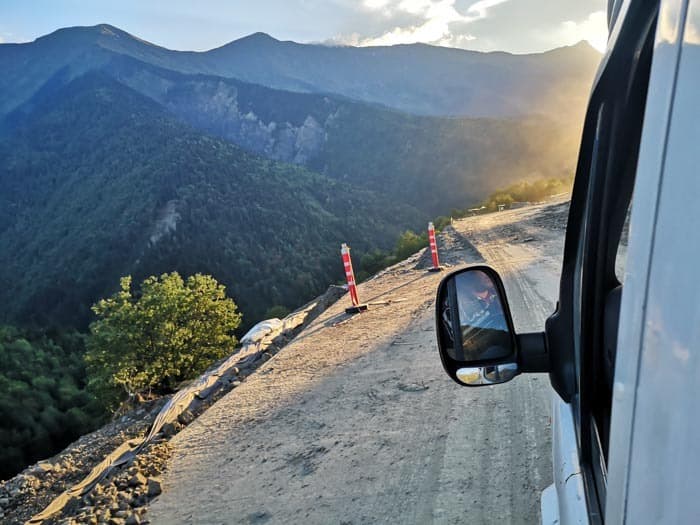 Other important things to know
Tap water is drinkable throughout the country, but there are people who warn about poor pipes in some older buildings. If you don't want to risk it, bottled water can be bought cheaply at every corner.
Just a few people in Georgia speak English, but you will always find someone in need. It's much easier if you know a little bit of Russian.
In restaurants without listed prices in the menu, always ask for the price in advance. So you can avoid being overcharged. If you already eat the food, you can't really refuse and the owner can ask you a much higher price (it happened to us on a trip from Mestia to Ushguli in Zhabeshi).
There are significant discounts for students at most sights. Really enormous – for example, adult admission is 15 Lari and student is 3 Lari. You need to show some student card as proof.
Tipping culture: Tips (10%) are automatically added to the price in restaurants. It's not usual to give tips to Taxi drivers or in hostels. You can read more about the tipping culture here.
More tips:
The sockets in Georgia are type C and F.
The weather forecast is not very precise. It's better not to rely on the internet, but rather to believe in looking at the sky or ask local people.
Cheap sweets sold per kilo are in every store.
If your driver is praying while driving (for example, before a terribly looking bridge), don't be scared! They have a habit of praying to every cross along the road.
Learn basic words in Georgian, locals will love it:
Funny interesting facts:
In which continent Georgia is located? It's right in the middle, so some sources place Georgia to Europe and some to Asia. But more place it to Europe.
Georgians are not able to build straight floors – almost all the hostels have a very crooked floor.
All restaurants are called "Café".
Don't be surprised when the lift doesn't take you up but only down. It's because they charge small money for rides up. You have to insert a coin and the elevator starts.
Perhaps you will find that the Georgians are always quarreling and screaming at each other. It's because of their language and style of speech is very strong and loud. A Georgian often speaks regularly, but he seems to be screaming at someone from our point of view.
Georgian's lifestyle is very lazy. You will often see groups of locals just sitting and doing nothing.
Almost every other car doesn't have a front bumper. Can you guess why?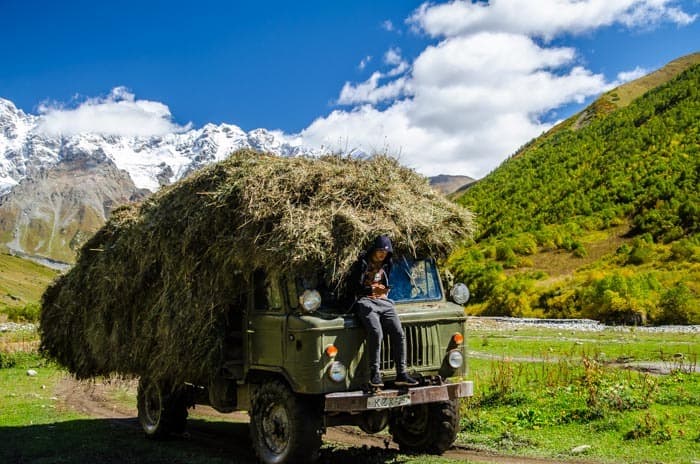 Map of Georgia and what to visit?
We have prepared a detailed map of Georgia for you with all the important sightseeing tourist places to visit on your trip to Georgia.
You can export this map and import it to your mobile map application such as Maps.me or Locus.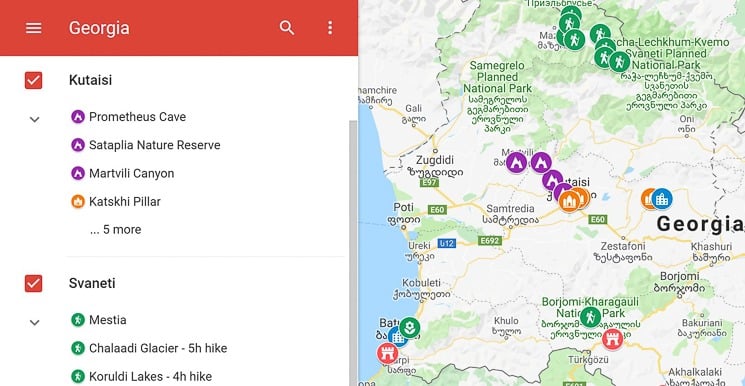 Don't hesitate and go!
Georgia is an amazing country for traveling and sightseeing and we can all recommend it to everyone. Active sportsmen will enjoy gorgeous mountain passes and cultural discoverers will love excellent cuisine, good wine, and easily accessible historical monuments. ­­
You can read about the best things to do in Georgia in this post: Georgia: 21 The Best places to see.
I want to go to Georgia!
Are you decided? Great, just find the cheapest flight ticket!
If you would like to rent a car to travel, then the best car rental options are here.
Check this beautiful video about Georgia:
Pin this for later or for your friends:
Did this post help you? Share it with your friends! It can help them too 🙂
Disclosure: Please note that some of the links above may be affiliate links, and at no additional cost to you, we earn a commission if you make a purchase. We recommend only products and companies we personally use and we use this income for further improvement of this website. Thank you!
---
Adriana & Matěj
Travelers, sport enthusiasts and photographers behind this blog. Creating high-quality and informative guides for your travels. Read more about us here.