Do you need captions for your perfect pictures? Use something cute! Expressing feelings is great and you will get a ton of likes!
Here is Your ultimate list of the best cute Instagram captions you can easily copy and paste and be an Instagram hero!
You will find the best cute captions for couples, girls, boys, selfies, beach and more…
Cute Instagram Captions for Couples
If you smile every time his name pops up on your screen. You're in love.
I am trying not to think about you but it's not working.
I just want to hug you so much right now.
By the way, I'm wearing the smile you gave me.
I will love you unconditionally.
One soul, two bodies.
You are the risk I'll always take.
Sometimes I look at you and I wonder how I got to be so damn lucky.
It's okay even the sky cries sometimes.
If you are always trying to be normal, you will never know how amazing you can be.
You mean more to me than you'll ever know.
I won't cry for you. My mascara's too expensive.
I'm not crazy I prefer the term mentally hilarious.
When a girl is in love, you can see it in her smile. When a guy is in love, you can see it in his eyes.
Let's commit the perfect crime. I'll steal your heart and you'll steal mine.
Thank you for reminding me what butterflies feel like.
Whenever I have a problem, I sing. Then I realize my voice is worse than my problem.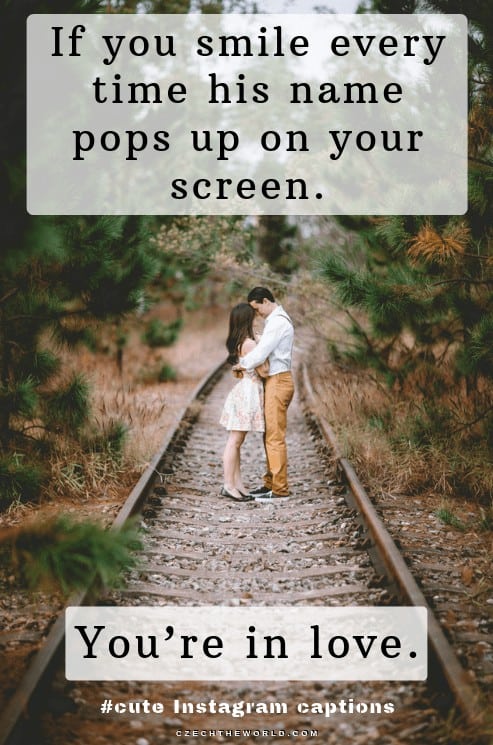 Cute Instagram Captions for Girls
A girl should be like a butterfly. Pretty to see, hard to catch.
When life throws a rock at you, throw back a brick.
Sometimes you gotta be a beauty and a beast!
Money can't buy happiness. But it can buy Makeup!
Boys are like purses, cute, full of crap, and can always be replaced.
My boyfriend still thinks my eyelashes are real. I guess we all have secrets, Don't we?
Being a girl is so expensive.
Shopping is cheaper than therapy.
A girl can never have enough jewelry.
All I need is Coffee and Mascara.
Lift up your head princess, if not the crown falls.
My hobbies are breakfast, lunch, and dinner.
Cinderella never asked for a prince.
Sometimes it's the princess who kills the dragon and saves the prince.
Weekend, please don't leave me.
Sunday FUNDAY.
I love the confidence that makeup gives me.
Behind every successful woman is herself.
Sometimes I pretend to be normal. But it gets boring. So I go back to being.
Born to express, not to impress.
Must Read: 257 Best Instagram Captions for Girls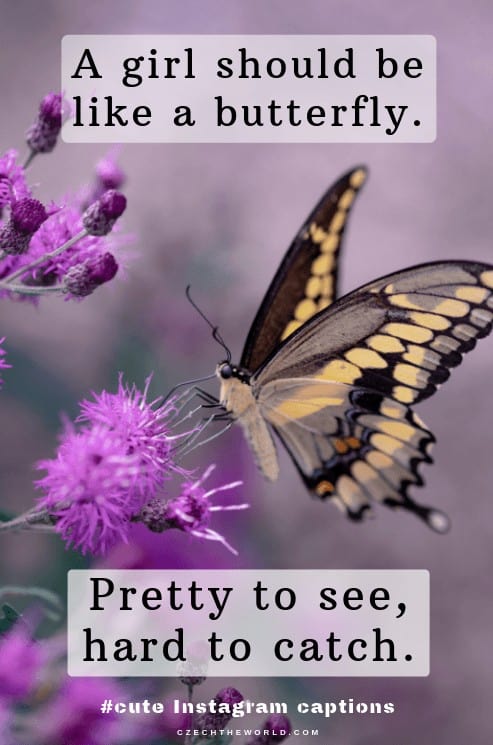 And more good Instagram captions for girls:
When life gives you lemons, make lemonade.
Real queens fix each other's crowns.
Quit trying to fix me, I am not broken.
You can't buy happiness, but you can buy makeup, which is pretty much the same thing.
Give a girl the right hairstyle and she will Conquer the world.
I am the princess of my own Fairy Tale.
No makeup !!! this is me.
I got that red lip, classic thing that you like!
I'm a queen crowned in my curls.
When you're stressed, you eat ice cream, cake, chocolate, and sweets.
My kind of makeup.
Be a Fruit Loop in a world full of Cheerios.
They told me I couldn't that's why I did.
Having those weird conversations with your friend and thinking if anyone heard us we would be put in a mental hospital.
When in doubt, wear red lipstick.
My hobbies include eating and complaining that I'm getting fat.
5'2 but my attitude 6'1.
Keep your heels, head & standards high.
I have enough jewelry – Said no one ever!
Be a beautiful cupcake in a world full of muffins.
Must read: 335+ Best Instagram Captions from Song Lyrics
And more…
If you're going to be two-faced, at least make one of them pretty.
You can't break this girl.
There's a million fish in the sea. But I'm a mermaid.
When I feel a little down, I put on my favorite high heels and dance.
Don't let today be a waste of makeup.
Lips without lipstick is like a cake without frosting.
God made us best friends because he knew our moms couldn't handle us as sisters.
My daily routine: Get up, Be brilliant, Go back to bed, Repeat!
Short hair, don't care.
Life isn't perfect. But my Hair is!
On Saturday's we wear pajamas.
Some people are worth melting for.
People will stare make it worth their while.
Am I adorable?? what do you think !!!
WARNING: You may fall in love with my face.
Love me or hate me, either way, I'm gonna shine.
Like me or hate me, I'd still be this pretty.
Hating me doesn't make U pretty.
I know I am Awesome, so I don't care about your opinion..!!
Don't be so quick to judge me. After all, You only see what I choose to show you.
You couldn't handle me even if I came with instructions.
Check also these Instagram Reels ideas.
Cute Instagram Captions for Boys
Quit trying to fix me, I am not broken.
I'm on a date, she isn't very social.
I'm in desperate need of a 6-month vacation…twice a year.
I'm on a seafood diet. When I see food, I eat it.
Smile today, tomorrow could be worse.
Weekend, please don't leave me.
Real men don't take selfies.
Women are like stars; there may be millions of them but only one can make your dreams come true.
Having those weird conversations with your friend and thinking if anyone heard us we would be put in a mental hospital.
Sunday FUNDAY.
When life throws a rock at you, throw back a brick.
Love me or hate me, either way, I'm gonna shine.
I know I am Awesome, so I don't care about your opinion..!!
My hobbies are breakfast, lunch, and dinner.
Being single is smarter than being in the wrong relationship.
Read also: 257 Best Quarantine Captions for Instagram
Cute Instagram Captions for Selfies
But first, let me take a selfie.
Once a while someone amazing comes along! And here I am.
My hairstyle is called "I Tried".
Real men don't take selfies.
Girls are like, I love my hair in this pic.
A smile is the most beautiful curve on a woman's body.
I always wake up smiling… I think it's your fault.
Tangled hair, don't care.
Eyebrows the one thing you can get into shape without exercising.
Anything is possible with sunshine and a little pink.
The hardest thing I ever tried was being normal.
Curly hair, don't care.
You are cute, Can I keep you..??
Let's flip a coin. Heads, you are mine. Tails, I am yours.
Yes, you're on my mind right now. And yeah, I can't help it.
Baby, I all need is you.
I want your heart because you stole mine.
I don't care if it's late, staying up late texting you is much better than anything!
I could spend hours looking at you and your smile.
When it's real, you can't walk away.
Must read: 273 Best Funny Instagram Captions
And more…
I'm not short, I'm concentrated awesome.
You are everything I think about.
You have no idea how fast my heart races when I see you.
Missing you is my hobby, caring for you is my job, making you happy is a duty and loving you is my life.
It's the little things you do that makes me so crazily attracted to you.
Slay them with sweetness.
The best kiss is one that has been exchanged a thousand between the eyes before it reaches the lips.
I smile like an idiot when I think about you.
Sorry, I'm late, I didn't want to come.
Hey you. Yeah, you. I love you.
Some kisses are given with eyes.
I want the part of you that you refuse to give to anyone.
The most beautiful clothes that can dress a woman are the arms of the man she loves.
One day I caught myself smiling, then I realized I was thinking about you.
You wanna know who I am in love with? Read the first word again.
You don't cross my mind, you live in it. In a sea of people, my eyes will always search for you.
Everybody has an addiction, mine just happens to be you.
Must read: 315 Best Instagram Captions for Selfies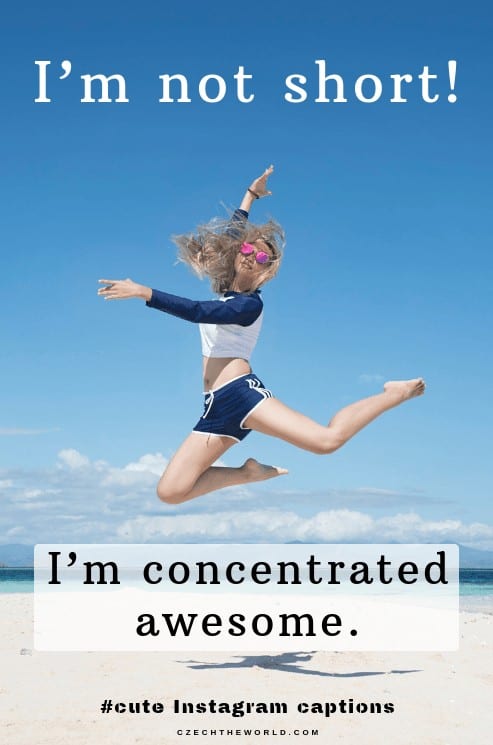 Cute Instagram Captions for Beach
Don't worry, BEACH happy.
Ocean Air, Salty hair.
Beach More Worry Less.
Happiness comes in waves.
I am happiest when floating in Sea.
Good Vibes happen on Tides.
The best days are Beach days.
I don't need a Man. I need Tequila and Tan.
Sun, sand, and pineapple in hand.
Sun Shine on my Mind.
If there's a will, there's a wave.
Tropic like its hot.
My love for you is deeper than the ocean.
I look my best when I'm totally free, on holiday, walking on the beach.
Palm trees & Ocean breeze.
Breathe in the Ocean.
I need some beach therapy.
Seas the Day!
Shall we dance?
The smell of the ocean never gets old.
I see you.
Do you need more? Read here: 333 Best Beach Captions for Instagram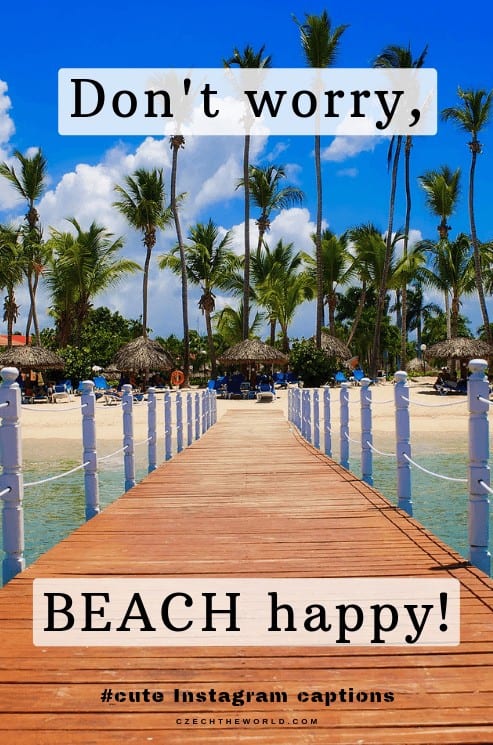 More Cute Instagram Captions
Think a little less, Live a little more.
If people call me cute, I am happier.
With the right person, you don't have to work so hard to be happy. It just happens. Effortlessly.
Stop looking for happiness in the same place you just lost it.
Don't worry if you haven't found your true love, they're just with someone else right now.
Temporary things can become permanent if you hold onto them for too long.
We all start as strangers.
I don't always make sense, but when I do, I don't.
The question isn't can you, it's will you?
I have so many chances to you; now let me give myself one more.
Attachments are good only for messages, emails or letters. Not for real life.
Some girls are just born with glitter in their veins.
The purity of heart and sincerity in a smile.
In our generation, people are bloody brilliant at changing their masks.
You're not fully dressed until you Sparkle.
Need advice on relationships? Get in touch with a broken soul or a one-sided lover.
I act like I'm ok, but I'm really not.
Never love anyone who treats you like you're ordinary.
I don't know whether love brings happiness or sadness, but it definitely brings something called 'CHANGE.'
Not trying stop-motion, just happy and retarded.
Must read: 231 Best Sassy Instagram Captions
And more good Instagram captions…
Never cry for that person who doesn't know the value of your tears.
Dear old me, I am so sorry I've hurt you and never thought about you please come back, if possible, I promise I'll not let you go again.
I actually wear glasses because I need them to see.
Aye, I'm just feeling my vibes right now, I'm feeling myself.
They say that good things take time, but really great things happen in the blink of an eye.
Always classy, never trashy, and a little bit sassy.
I broke my own heart just by loving you.
If you don't have a smile, I'll give you one of mine.!
I cannot see heaven being much better than this.
I just wanna spend the rest of my life laughing.
What a beauty it would be if people had hearts like dogs.
I'm everything you want but can't have.
Your pet is the only thing on earth that loves you more than he loves himself
When you're downie eat a brownie.
Sometimes it may feel stupid, and sometimes sensible but crying everything out is the relief.
Truth is, I'm crazy for you. And everyone can see that but you.
I'm that quiet girl who is absolutely insane with her friends.
The Master of Disguise.
Twinkle, Twinkle little star, Brave & Beautiful is what you are.
You don't have to be rich, to sparkle.
Check out more cute Instagram captions for couples.
And more…
We go together like cupcakes and frosting.
I try to be a nice person, but sometimes my mouth doesn't want to cooperate!
Stay Focused And Extra Sparkly.
So many nail polishes, not enough fingers.
I think you're lacking vitamin ME.
Finals are OVER!!!
Keep smiling because life's a beautiful thing and there's so much to smile about.
I don't know how time files after I hit the snooze button. And why it never flies when I study.
I'm an odd combination of "REALLY SWEET" and "DON'T MESS WITH ME"!!!
Cute but psycho, yet cute.
Curls run the world.
Do I believe in love at first sight? Of course, I fall in love with every dog I see.
Messy Bun & Getting Stuff Done.
Sometimes I need 2 shots of tequila, to know what I feel. Because sometimes I don't understand myself.
Trying to forget it but the memories are too strong.
You've stolen a pizza my heart.
Don't let your eyes be blinded by her beauty.
So, who ate my food?
I'm your worst nightmare.
I'm not arguing, I'm just explaining why I'm right.
If I die tomorrow, will you remember me?
Do you need more Instagram quotes?
Check our other Instagram Captions collections:
How to get highly engaged Instagram followers?
Pin this for later and for your friends: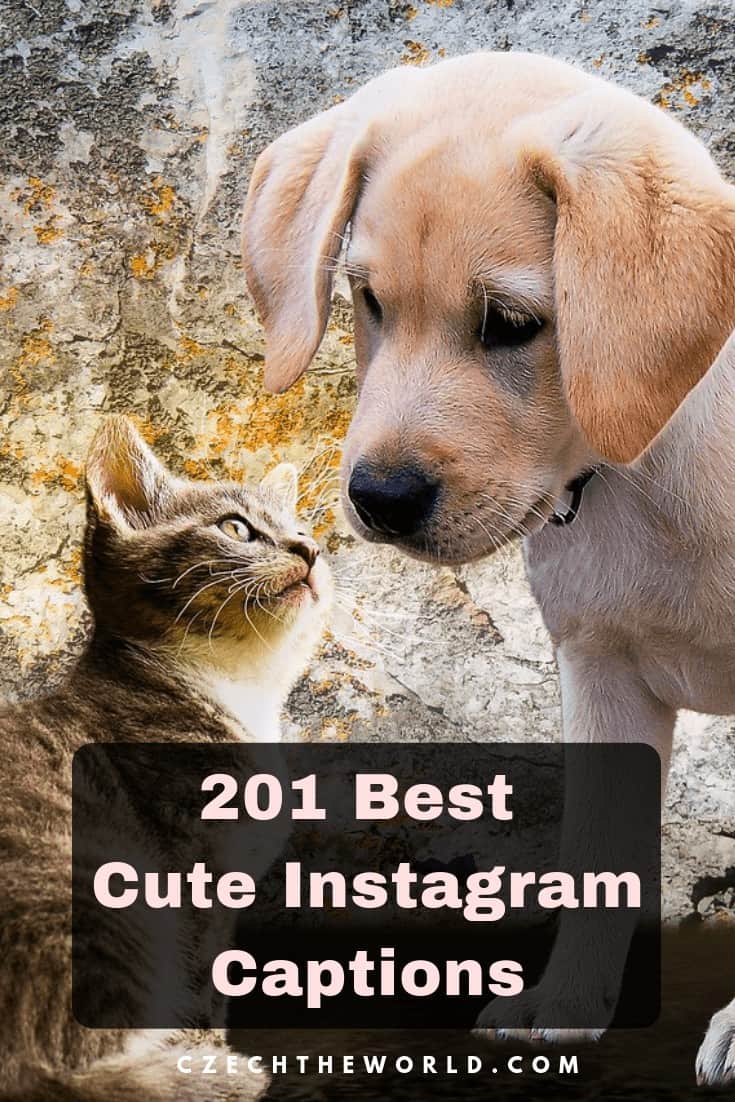 Do you like these Instagram captions? Share it with your friends: