Bridal Veil Falls or Wairēinga Falls are beautiful 55 meters high waterfalls in Waikato area. Waterfalls are located only 20 minutes from Raglan and there are 4 viewing platforms which offer different angles from where to admire Wairēinga Falls.
How to get there?
Bridal Veil Falls are located in the Waikato area. You can get there by car from Raglan in 20 minutes or from Hamilton in less than 1 hour.
Follow State Highway 23 from Hamilton or Raglan, then turn to Te Mata Road, 1 km past Te Mata turn left to Kawhia Road. From there it is last 4 km to the car park.
The car park at Bridal Veil Falls trailhead is quite big. Note that freedom camping is not allowed there.
Bridal Veil Falls track and facilities
Track to the top of the waterfall is easy and take less than 10 minutes. This part of the track is suitable for children stroller and designed for assisted wheelchair use.
First observation deck
Turn left to come at the first observation deck which is straight above the waterfall. You can admire 55-meters high falls (nothing for people who are scared of heights).
Second observation deck
If you turn right there is another beautiful view of the waterfall – I think my most favorite one. These two top viewing platforms provide spectacular views of the surrounding countryside as well.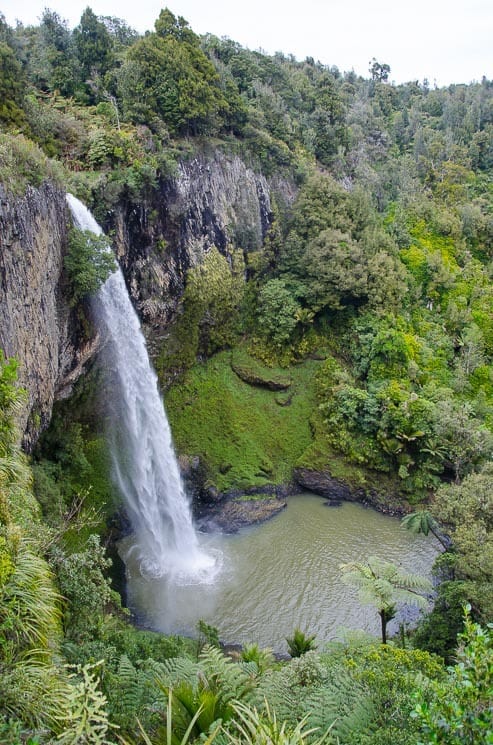 Third observation deck
If you continue 2 minutes more, you will reach a third observation platform, which is another great place to take pictures. You can frame the photo with surrounding trees.
It takes another 10 minutes to walk down to the viewing bridge. It is 135 steps down to the midway viewpoint which is stunning. In total 261 steps to the bottom bridge. There is the information shelter by the bridge with a view across the pool and up at the falls.
Facilities
There is a dry toilet at the beginning of the trail, as well as a picnic area by the Pakoka River (2 picnic tables).
Practical information
No dogs allowed
Freedom camping is prohibited
No swimming due to the water quality which doesn't meet health standards.
No abseiling and rock climbing to protect rare and endangered plants and flowers.
Official DOC website.
Photos of Bridal Veil Falls and track
There are several photos from a different point of view. Bridal Veil Falls are truly beautiful falls to visit!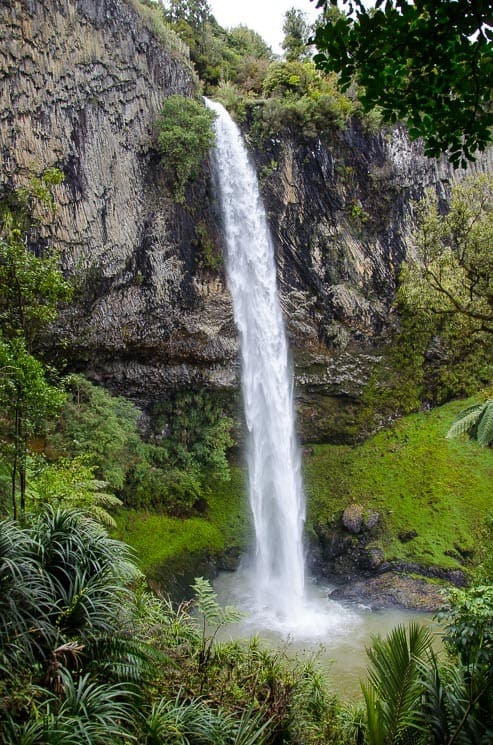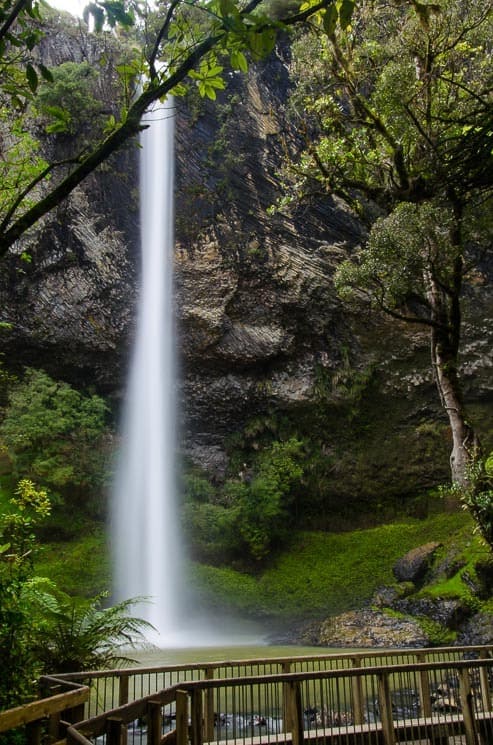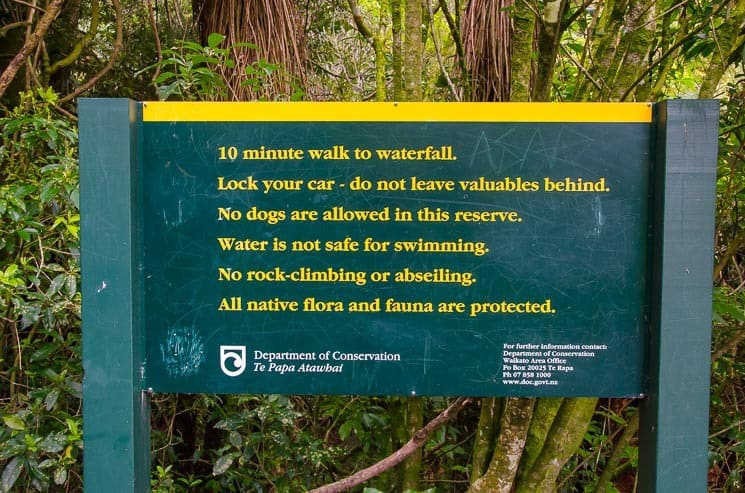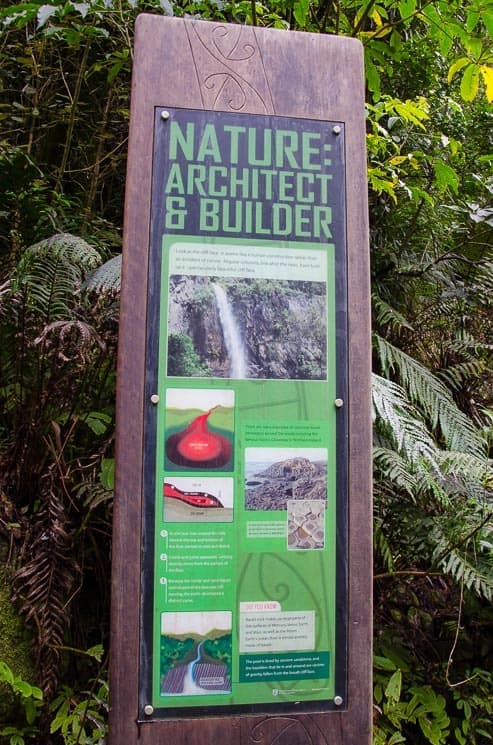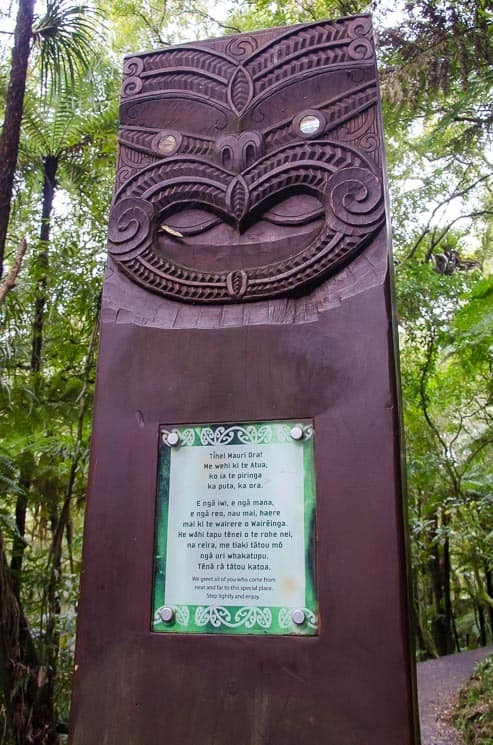 Bridal Veil Falls Video
Check this beautiful video:
Find more day trips ideas:
More tips for your travels:
We have prepared for you this comprehensive list of links, discounts, and resources for travel planning in one place. Bookmark this page and whenever you plan a vacation in the future, just open it and save yourself a lot of time.
1) Where to book accommodation?
2) How to find cheap flights?
3) How to rent a car?
We recommend a comparison portal RentalCars.com to compare the best offers of all available rental companies.
Pin this for later or for your friends:
How long is the walk to Bridal Veil Falls
The walk is only 5 minutes to the top viewing platform and 15 minutes to the bottom viewing platform.
Are dogs allowed?
No, dogs are forbidden on the trail.
Are there toilets?
There is a dry toilet at the beginning of the trail, as well as a picnic area by the Pakoka River (2 picnic tables).
Is freedom camping allowed on the parking lot?
No, freedom camping is forbidden on the parking lot.
Did this post help you? Share it with your friends! It can help them too ?
Disclosure: Please note that some of the links above may be affiliate links, and at no additional cost to you, we earn a commission if you make a purchase. We recommend only products and companies we personally use and we use this income for further improvement of this website. Thank you!