Florida is an enviable vacation destination, with a gorgeous climate, vibrant cities, and an extraordinary diversity of natural environments across the length and breadth of the state. Millions of tourists and travelers flock to Florida every year from the rest of the United States and around the world.
For native Floridians, their home state is a pretty perfect spot for weekend getaways. Florida itself is a remarkably diverse part of the world, and chances are that even born and bred Floridians will find something new and exciting just a few hours' drive away in their own state. Whether Miami locals fancy discovering the joys of the natural springs of North Florida, or Jacksonville natives want to drive down and explore the Everglades or even head all the way to the far-flung reaches of Key West, there are extraordinary new experiences everywhere.
Florida's location also provides some wonderful opportunities for more adventurous last-minute travel. With some of the most interesting and culturally rich destinations in the US to the north, Mexico just a few hours away by plane, and the gorgeous sun-drenched islands of the Caribbean just over the horizon to the south, a wonderful vacation is always at your fingertips.
So what are the best travel options and vacation destinations for? With such a wealth of possible places to visit and things to do, some help and advice might be required, particularly when you won't have time to plan! So whether you are in the mood to cruise last minute from Florida, want to set off on an epic road trip at the drop of a hat, or just want a surprise weekend getaway, here are some of the best options for weekend getaways from Florida?
Weekend Getaways in Florida
Florida itself is a superb place for weekend getaways and day trips. The state has a huge variety of environments, cities, and exciting experiences that mean you can make every vacation something new.
1) Road trips
Sometimes just jumping in the car and heading off onto the open road is the best form of last-minute travel. Florida offers some superb destinations to head towards, with sights and experiences for families and solo travelers alike.
North Florida's natural springs are one of the best spots in the state for east coast road trip destination. Riding the highway from Gainesville to Perry takes you along the magnificent Suwannee river with its wealth of state parks, freshwater springs (not to miss Ginnie Springs), and wildlife reserves, and a road trip gives you the freedom to spring hop your way along the best spots in North Florida.
Of course, sometimes the best thing about a road trip is the journey, not the destination, and Florida has some absolutely beautiful roads to enjoy driving along and landscapes to admire. The A1A scenic & historic coastal byway takes in Florida's oldest city, St Augustine, while 'The Scenic Highway' along route 17 takes in some of the most spectacular vistas in the state.
2) The Everglades
Probably Florida's most well-known attraction, the Everglades is a world-famous natural wonder, and a true gem of this amazing state. The Everglades is a tropical wetlands system spreading south from Lake Okeechobee all the way to Florida Bay at the southern end of the peninsula.
A trip to the Everglades is a magical experience. The most exciting way to get the best out of an Everglades vacation is to head out into the swamps on an airboat. These iconic boats driven by a huge fan propeller will take you on an exciting adventure featuring mangrove swamps, extraordinary wildlife, and terrifying alligators.
The Everglades is much more than just mangroves and 'gators though. There is some stunning hiking to be done, as well as kayaking, birdwatching, and even panther spotting. You can also visit the Big Cypress Seminole Indian Reservation, to learn about Florida's indigenous history and culture, and see artisans working on traditional crafts.
3) Florida Keys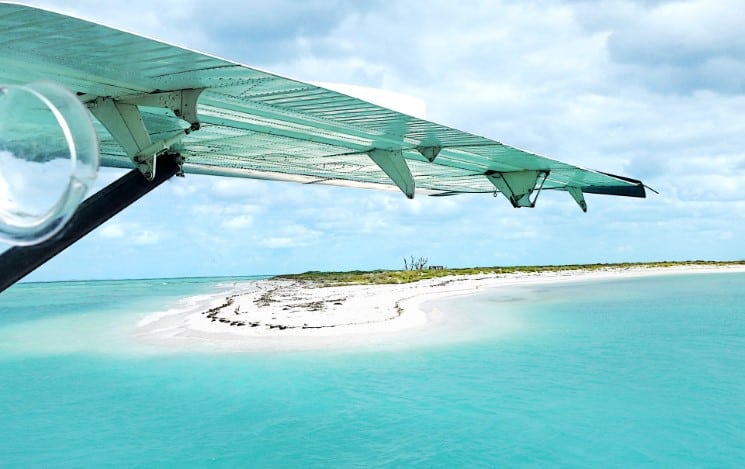 800 small islands that fly off the end of the Florida peninsula towards the Gulf of Mexico make up the Florida Keys. A road tripper's dream, they are all connected by one very long, magnificently picturesque road, the Overseas Highway. Over 113 miles and 42 bridges make up this incredible chain, and almost every island along the way has something unique to offer.
Starting off at Key Largo, the main attraction is over 70 miles of living reef at the John Pennekamp Coral Reef State Park. Swimming, diving, and snorkeling here are breathtaking, as the sea is full of gorgeous marine life, as well as an underwater statue of Jesus!
Next up, Islamorada is possibly the best place in the world for sports fishing and offers joy for wildlife lovers as well in the form of the Lignumvitae Key Botanical State Park and Indian Key Historic State Park.
For anyone who wants to see sea turtles up close in their natural habitat, the isle of Marathon is a fantastic spot. Home to the Turtle Hospital and the Dolphin Research Center, it offers the chance to swim with both of these amazing sea creatures. You'll also get a chance to see, and drive across, the iconic Seven Mile Bridge, a remarkable feat of engineering.
Key West is the final stop on a Florida Keys road trip, a delightful little speck of remote paradise with gorgeous warm beaches, clear waters and some amazing foodie treats like conch chowder and key lime pie.
If you are looking for accommodation, check these best Airbnb's in Florida Keys.
4) Orlando
Although most people heading to Orlando for a vacation come for the theme parks, the city itself is pretty special. Named the No. 1 Most Visited City in the US a few years back, it offers world-class spas, exciting sports venues, beautiful sunshine almost all year…and of course the best theme parks in the world.
First up is, of course, the parks. Taking you back to your childhood (as well as being the perfect place to take kids of your own), the array of magical worlds in Orlando is staggering. From Walt Disney World and Universal Studios to SeaWorld and Volcano Bay, there is something to delight and astound kids and grown-ups of all ages, and this is the main event for vacationers to Orlando.
There is plenty more to see, however. From world-class dining options in Epcot and International Drive, and a superb cultural scene with amazing museums, galleries and performance venues to glorious sporting venues like Daytona, the Orlando City Soccer Stadium and the National Campus for tennis fans, there's a little something for everyone. Plus, as is the case everywhere in Florida, the natural world is never very far away, and Orlando is a stone's throw away from pristine beaches, nature reserves, and freshwater springs.
5) Jacksonville
Jacksonville is the largest city in the contiguous United States and offers charm, eccentricity, and serious Southern hospitality. It is a little less flashy than other Florida cities but has built a reputation as a center for serious foodies, with a culinary scene that is hard to beat. There are some magnificent museums and art galleries like the Cummer Museum of Art and the Southlight Gallery, and some truly dreamy beaches are just a few miles away on Florida's Atlantic coast.
6) Tampa
While Tampa's slightly edgy past has left it with a bit of a reputation, it has left all that behind and is now a truly slick, modern city with a whole lot to offer. Stylish nightlife, adventurous restaurants, and gorgeous city parks make it a delightful urban hub to explore, and the nearby beaches on the Gulf of Mexico and Tampa Bay are exquisite.
7) Miami
Tourists flock to Miami for sun, sea, serious beach culture, and a world-famous party atmosphere. Miami is all these things, for sure, but also offers up stunning Art Deco architecture, a hip, alternative vibe in Wynwood (especially Wynwood walls street art), and an amazing intersection of American, Latin, and Caribbean cultures. Probably one of the best Florida city break destinations it is possible to find.
8) Fort Lauderdale
Just an hour away from Miami, Fort Lauderdale is often overlooked in favor of its glitzier neighbor. But with glamorous shopping, equally amazing yet less crowded beaches, and one of the largest cruise ports in the world, Fort Lauderdale is well worth a visit.
Weekend Getaways in the US
Just across Florida's northern border, some of the best and most exciting locations in the USA are within a few hours' drive.
9) New Orleans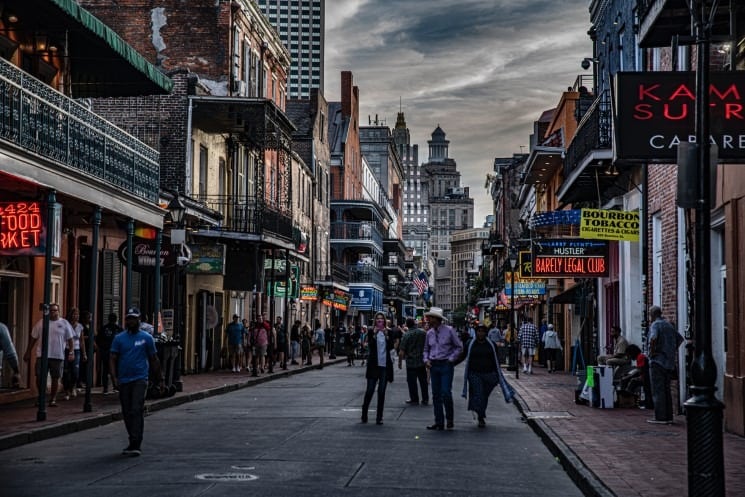 The heart and soul of Louisiana, New Orleans is a fantastic destination for weekend getaways from Florida. Full of life, music, and mouth-watering Southern cooking, a trip to NOLA guarantees fun and excitement.
The decadent delights of Bourbon Street and the more laid back but equally louche vibe of nearby Frenchmen Street are what draw most travelers to the Big Easy. New Orleans is indeed one of the best party cities in the US, and even when it's not Mardi Gras the streets are alive with folks dancing to the music that seems to be everywhere in this city.
The French Quarter is another must-visit spot in New Orleans. From beautiful, bright Creole architecture to the fascinating history of the city, there are loads to see and do here, with plenty on offer for kids as well as grown-ups. Families will love tales of witchcraft, voodoo, and piracy on the many walking tours and small pop-up museums, while the sugar-dusted delicacies that are beignets at the Cafe du Monde should not be missed either.
Food is a huge part of New Orleans' appeal, with gumbo, jambalaya, crawfish etouffee, and PO-boys making this one of the best places to eat across the US. Try crawfish at Felix's Oyster Bar, jambalaya and gumbo at Jacques Imo's Cafe, and of course, fried chicken at Willie Mae's Scotch House in Treme.
10) Savannah
Savannah offers a taste of a cultured past, of proper Deep South hospitality, manners and elegance, and an artsy and alternative revival of a historic, storied town. It is a wonderful combination of history, culture, and modernity, and is a great place to visit for a quick getaway from Florida.
Savannah is best known for its charming antebellum architecture, its manicured lawns, and gardens, and the genteel atmosphere epitomized by its horse-drawn carriages. A wall along the Savannah riverfront can feel like stepping back in time, and just strolling around taking it all in is a real treat.
But however much Savannah's reputation might lead you to believe it is not much more than a town frozen in time, playing off its former glories, there is a lot more to it than that. A recent creative revival has brought modern art, fusion cooking, and some seriously edgy nightlife options, which make it a wonderful mix of history, culture, and excitement. Don't miss the Jepson Center for the Arts or the curious ways that the local artisanal breweries have got around antiquated Prohibition-era licensing laws with free tastings when you buy a souvenir glass!
11) Nashville
For travelers looking to head a little further away from the Florida border, Nashville, Tennessee is a glittering light on the horizon. Nashville is a pretty spectacular city, all dressed up in neon, and the home of country music.
Nashville is a paradise for anyone with even a passing interest in country and western music, and any visit to the Music City should include as many gigs and concerts as you can fit in. It is also worth exploring the history of country music at the Country Music Hall of Fame and Museum, known locally as 'the Smithsonian of Country Music'.
Nashville is also a joy for history buffs, as the home of President Andrew Jackson, and boasting a full-size replica of the Parthenon in Greece!
Weekend Getaways Abroad
Florida is perfectly placed for short flights across the Gulf of Mexico and into the Caribbean, opening up paradise islands, glorious golden beaches, and the fascinating culture and cuisine of Mexico.
12) Mexico
Mexico is a fascinating and beautiful country to visit, and with most of its major cities, resorts and vacation destinations just a few hours' flight away, it is the perfect spot for a weekend getaway for Floridians craving something a little more exotic.
Mexico City is the sprawling, chaotic and exciting capital of the country, a vast city full of ancient historic sights, an incredibly vibrant atmosphere, and one of the best street food cultures in the world. Whether you choose to spend time exploring the ancient pyramids in the historic center, wandering through leafy Condesa and trendy Roma Norte, or pushing the boat out on the canals of Xochimilco, there's so much to do in this fascinating and diverse city.
Cancun is the closest city in Mexico to Florida, less than two hours away. The Riviera Maya which includes Cancun, Playa del Carmen, and Tulum boasts some of the best beaches in the world, an incredible array of luxury resorts, and the remarkable temples and archaeological sites of the ancient Mayan culture. Whether you are exploring jungles and diving into sinkholes or lazing on a sun-drenched beach with a cocktail in hand, this is a truly wonderful vacation destination and a real contrast to everyday life back in Florida.
13) The Caribbean
For many, the ultimate last-minute vacation is finding a tropical paradise island, lying back against a backdrop of crystal clear waters, golden sand and ocean breezes, and letting the cares of the world wash away. If this sounds too good to be true, think again, as with the Caribbean on Florida's doorstep, this is an achievable and incredibly attractive possibility.
Barbados – Barbados remains a little slice of British culture with its red letterboxes and love of cricket, but it is also the top Caribbean destination for foodies. The local cuisine is a fascinating blend of West African, Creole, Irish (!), and British flavors, which makes for a mouth-watering combination. The island has everything from fine dining destinations to fantastic street vendors, and don't miss out on a bit of rum tasting to accompany whatever dish tickles your fancy!
Dominica – For lush greenery and unspoiled natural beauty, look no further than Dominica. A mountainous island covered in a rich green jungle and full of hidden valleys and over 350 rivers, it is the perfect spot to get lost in nature. Hiking, riding, and waterfall hunting make exploring the interior a dream, while the coastline is full of dreamy stretches of sand to make full relaxation possible as well.
St Barts – If you fancy a taste of full-on, over-the-top luxury, then St Barts might just be the place for you. This tiny island has fully recovered from a devastating hurricane in 2017 and is full of glamorous resorts, spas, and high-end dining options that make it one of the most popular spots in the Caribbean for celebs. If a touch of luxury is what you are after, why not join them?
Getting around Florida
We recommend using OurBus for getting around or traveling from one destination to the next.
More tips for your travels:
We have prepared for you this comprehensive list of links, discounts, and resources for travel planning in one place. Bookmark this page and whenever you plan a vacation in the future, just open it and save yourself a lot of time.
1) Where to book accommodation?
2) How to find cheap flights?
3) How to rent a car?
We recommend a comparison portal RentalCars.com to compare the best offers of all available rental companies.
Pin weekend getaways from Florida for later or for your friends: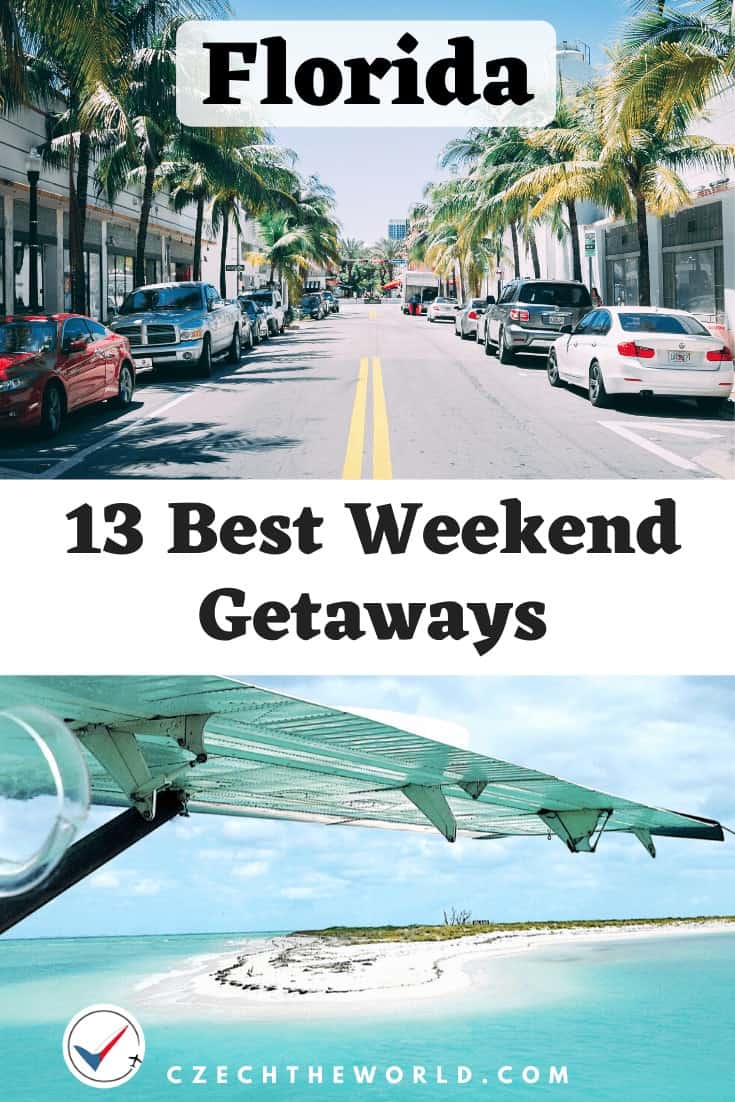 Did this post about weekend getaways from Florida help you? Share it with your friends! It can help them too!
Disclosure: Please note that some of the links above may be affiliate links, and at no additional cost to you, we earn a commission if you make a purchase. We recommend only products and companies we personally use and we use this income for further improvement of this website. Thank you!