For avid travelers, finding the next new destination is often overwhelming. After all, there are so many great places in the world to visit and most people only have a limited amount of time and resources. This means you have to make a choice and choose a destination that counts.
One destination that you'll want to add to your bucket list is Toowoomba, Australia. Toowoomba is on a current plan to expand its tourism expenditure by $41.8 million this year, according to Toowoomba Region which the locale demonstrates in how attractive they've become to visitors – especially in recent years.
Whether you want to see art, animals, or explore the natural beauty of Australia, Toowoomba has options for you. Read on to find the top five things to do in Toowoomba you'll want to add to your itinerary during your next visit.
1. Cobb & Co. Museum QLD
The Cobb & Co. Museum QLD is a portion of the Queensland Museum and a site that you won't want to miss while you're visiting Toowoomba. One of the major eye-catching features of this museum is that it's the home of the National Carriage Collection. This includes 59 unique horse-drawn carriages and vehicles and this is only part of what the museum has to offer.
The Cobb & Co. Museum also features exhibits that you can participate in as well as ones you can view. This includes exhibits on practices such as silversmithing, blacksmithing, milling, and lead lighting which mean that there are plenty of options for everyone – anyone can find something that interests them. You'll also have the chance to create something one of a kind to remember your trip by.
When you find yourself getting a little peckish while you explore the museum, don't forget to stop by the Cobb Coffee Shop. Here, you can pick up classic snacks like scones, tomato and basil bruschetta, and handmade sausage rolls. Of course, you can also get your fix of coffee or tea when you stop by as well. This will help you satiate your hunger and let you get a taste of Toowoomba while you're learning about its history!
2. Queens Park
As mentioned, the weather in Toowoomba – and all throughout Australia, for that matter – is something for everyone to enjoy. It's especially nice if you want to see some natural sites and plant life while you're visiting Toowoomba.
One of the most popular things to do in Toowoomba when you want to explore the more natural side of the locale is to visit Queens Park. This is a massive park that sprawls over 25 hectares which equals out to almost 62 acres. This includes three distinct sections: the Vera Lacaze Memorial Park, the Queens Park Botanic Gardens, and the general greater park area.
In the northeast section of the park, you'll find plenty of carefully tended gardens. These are looked after by local gardeners all throughout the year, so you won't have to worry about missing it. However, the best time to visit is during September to see the garden at its height.
The southeast and northwest are grassy areas in the park. Here, you can play sports with friends and family or grab lunch with a picnic. If you wander to the southern part of the park, you'll find a playground for children which makes this a great choice for visitors traveling with kids. You can also venture around the hiking and bicycle trails that the park offers for a little extra exploration and exercise. Check the best hiking apps to help with your experience.
The park is also home to seasonal offerings. For instance, the Carnival of Flowers and the Flower, Food, and Wine Festival are attractions that bring visitors to the park yearly to see what new and exciting experiences they have to offer.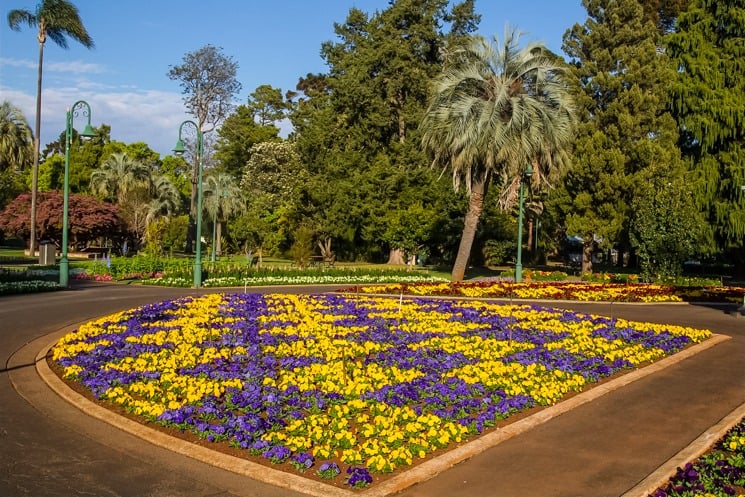 3. First Coat Outdoor Gallery
Toowoomba has the benefit of a bustling artistic scene. If you want to see some unique art while you're visiting Australia, you'll want to see what this town has to offer!
There are a lot of options available to you when you want to look around for art attractions but one of the most interesting things to do in Toowoomba is the First Coat Outdoor Gallery. This establishment actually stands out, in part, thanks to the fact that it is the largest outdoor gallery in the area. Visitors are free to roam around and soak in the sights at their own pace while enjoying the nice weather of Toowoomba.
First Coat Outdoor Gallery is dedicated to street art. Each artwork throughout the attraction is expertly crafted and impressive to look at. They cover a range of subjects and styles, so there's plenty of variety.
The First Coat Outdoor Gallery is free to access as well. This means that tourists don't need to worry about budgeting anything other than their time to enjoy this attraction.
On top of that, the businesses around the First Coat Outdoor Gallery have taken advantage of the attention that the site gets. This means that while you explore the outdoor gallery, you'll notice plenty of cafes and eateries to choose from.
You can also take advantage of the First Coat App while you explore. This will make it easier to find things like specific artworks while you explore even if you haven't visited the exhibit before or aren't familiar with the area.
4. Darling Downs Zoo
Who doesn't love the zoo? If you're traveling with young children, visiting a zoo can be a great way to keep them entertained and help them learn and see new things. Darling Downs Zoo is definitely one of the best things to do in Toowoomba. They boast a wide variety of animals and stands out as an incredibly unique experience.
The Darling Downs Zoo boasts a range of animals not only from Australia but more exotic species to even Australian locals as well. You'll have the chance to see plenty of different animals from continents such as Africa, Asia, and South America from lions to capybaras.
The main concern with many zoos is ethics. After all, no one wants to think of the animals they are looking at as sad or uncomfortable. This is a concern that the Darling Downs Zoo answers with stalwart conservation efforts.
For one, they host the only pride of African Lions that Queensland has to offer. As such, they put plenty of energy into making sure the big cats are happy, healthy, and comfortable. In particular, they put a large focus on captive breeding to help revive endangered species at these to boost their chances of survival as a species. Other records that the zoo holds include the only white lions, the largest zebra herd, and the largest herd of giant tortoises that you can see in Queensland.
5. Picnic Point Lookout and Parkland
While beautiful, Queens Park isn't your only option when you want to enjoy the natural scenery that Toowoomba has to offer. Another great locale to check out is the Picnic Point Lookout and Parkland.
This is an even bigger park than Queens Park and it boasts 64.7 hectares. This measures out to about 160 acres. It sits on the peak of the Great Dividing Range which also provides you with a gorgeous view of the Lockyer Valley, specifically a nice panoramic of Table Top Mountain. This makes a great place to have a picnic and actually allows you to enjoy the highest peak of the parkland area in Toowoomba.
Like Queens Park, the entirety of Picnic Point Lookout and Parkland is actually broken down into multiple sections. In this case, you can explore Lion Park, Tobruk, and Dive Park.
If you stop by Lion Park, you'll have the chance to take in a garden that is a frequent choice for couples planning their weddings. It also features an artificial waterfall and a cafe to stop by for a drink and snack.
Aside from picnicking, you can explore the numerous bush trails that dot the landscape. You can also stop by and see a Thistle Pipe Band "puppy" memorial for the mascot of Toowoomba. The mascot sadly passed away when they were struck by a car but Picnic Point Lookout and Park remembers them with a water tower memorial shaped like a mushroom which you can get to via Tubrok Memorial Drive in the Tubrok section of the park.
Things to Do in Toowoomba – Final Thoughts
Toowoomba is a beautiful place and it has a lot to offer. Whether you prefer to explore nature, see the hard work of local artists, or learn new things and see majestic animals at the zoo, there are plenty of things to do in Toowoomba for everyone. Thanks to these attractions and many more, Toowoomba is a must-see tourist destination for any traveler looking for a new and exciting experience.
Did this blog post help you?
Did this blog post help you? You can do us a favor and book your accommodation, buy flight tickets, book a tour or rent a car using our links. It doesn't cost you anything extra and we will have a small commission, which we will use for further improvement of this website.
We have also prepared for you this comprehensive list of links, discounts, and resources for travel planning in one place. Bookmark this page and whenever you plan a vacation in the future, just open it and save yourself a lot of time.
1) Where to book accommodation?
2) How to find cheap flights?
3) How to rent a car?
We recommend a comparison portal RentalCars.com to compare the best offers of all available rental companies.
Pin things to do in Toowoomba for later and for your friends: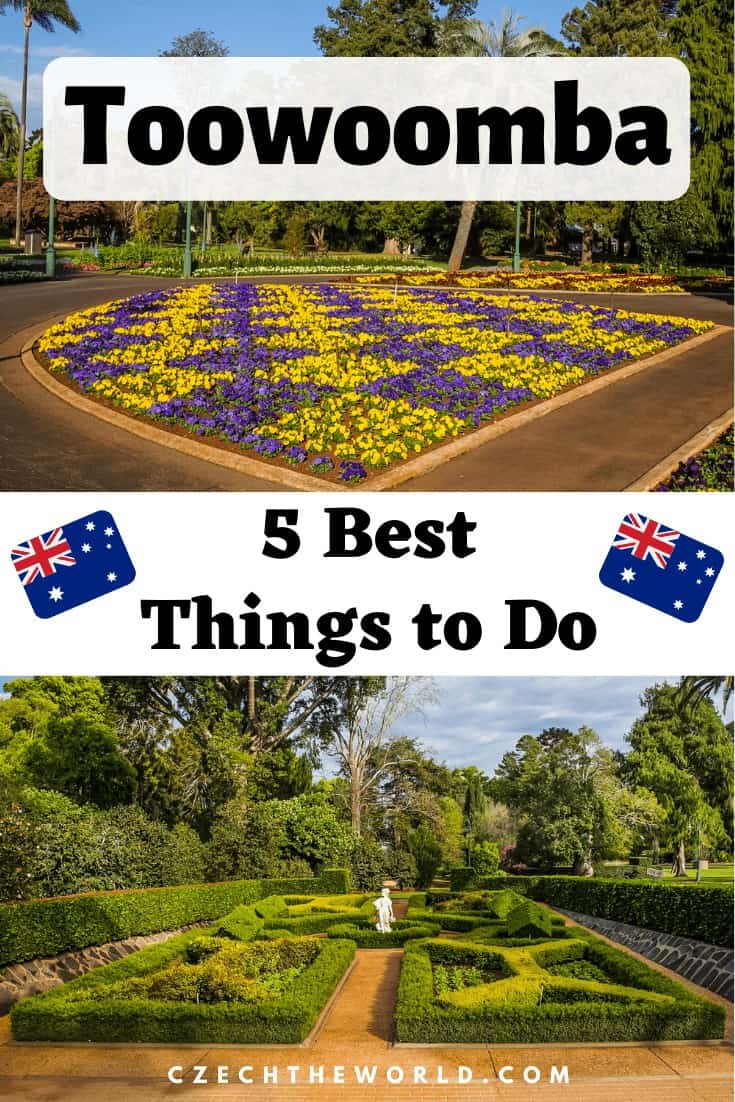 Do you like these things to do in Toowoomba? Share it with your friends:
Disclosure: Please note that some of the links above may be affiliate links, and at no additional cost to you, we earn a commission if you make a purchase. We recommend only products and companies we personally use and we use this income for further improvement of this website. Thank you!