Nusa Penida is a small picturesque island just next to Bali. It's an ideal place to visit for all adventure lovers and people who prefer a secluded vacation in No Man's Land. Not only is this place one of the most Instagrammed locations in the Bali area, but also an ideal place for the perfect honeymoon getaway. With pristine beaches and a hoard of water sport activities, Nusa Penida Island is sure to help in rejuvenating your soul. So let's have a look at the best things to do in Nusa Penida:
10 Best Things to do in Nusa Penida
1) Diamond Beach Viewpoint
What is visiting an island without basking under the sun on a beach? Diamond Beach
Viewpoint as the name suggests is located in the famous Diamond Beach. You will be
mesmerized with the sprawling views of the sea and watch the soft waves caressing the
shoreline. This is undoubtedly one of the best places to visit in Nusa Penida along with
your loved ones.
If you are on your honeymoon, Diamond Beach Viewpoint makes for
one of those Instagram worthy spots that you will cherish for your lifetime. If you visit
this place in the morning, you can look forward to a stunning sunrise as well.
2) Under the waters of Nusa Penida
Whenever you visit an island, indulging in water sports is a must. You can take up a wide
range of water sports either at the various beaches or even underwater. You can indulge
in simple diving to scuba diving or snorkeling. Put on your swimming costume and get
ready for some major adrenaline thrill. If you are a professional, dive right away. But if
you are a beginner, fret not as you can always take the help of experts who will be
available on-site at the beaches. After all, what's better than taking in the serenity of the
Underwater World than by diving right into it.
3) Suwehan Beach
This is an offbeat place to visit whenever you are in Nusa Penida. It is one of the most untouched beaches and is ideal for a romantic and secluded getaway. Not too many people can be found on this beach which makes it the ideal place if you prefer some private time with your loved ones. You can again find some Instagram worthy locations by the beach which makes this one of the best places to visit in Nusa Penida. You will have to walk for about 20 minutes to reach this beach. You will not feel too tired from the walk as the pathway has been paved into a staircase for an easy commute.
4) Kelingking T-Rex Point
Kelingking Beach itself is one of the most picturesque beaches to visit in Nusa Penida. The T-Rex point as you can see below is one of the most Instagrammed locations ever. Some of the first pictures that come to every person's mind when they think about Bali, is the Kelingking T-Rex point. As you hike downwards to reach Kelingking Beach, you will be able to view this structure which is a natural phenomenon by itself. Along the shore of the sea, you will be able to find a large, green-colored cliff that is shaped in the form of a T-Rex. You can catch the famous Balinese sunset when you visit this point making it one of the best things to do in Nusa Penida.
5) Broken Beach
It is called Broken Beach because there is a huge rock structure along the shoreline of the beach. This rock structure has a hole in the middle due to erosion of the rock over time. The erosion was a result of the waves lashing against the rocks which have resulted in nature taking its own course. The view of this rock on the Broken Beach is so popular that it sees a wide variety of tourists visiting the place just to click a picture at the spot. You will not be able to set foot on the beach as such due to a lack of navigational facilities. But this is still a great place to visit in Nusa Penida to click a great picture for your Instagram profile.
6) Angel's Billabong
This is one of the most popular places to visit in Nusa Penida. It is located in close proximity to Broken Beach. Whenever you visit any island, you can always look forward to the beach activities. The same is the case with Angel's Billabong. You can try your hand at parasailing which will be the best activity to take up if you are a beginner in water sports.
Another activity which is popular in Bali is undersea walking which is again a blessing in disguise for non-swimmers. You will be given protective equipment which will allow you to breathe normally while walking on the sea bed. You can witness the marine animals upfront like how a scuba diver would. If you are not too much into water sports, you can always indulge in a game of beach volleyball or building a sandcastle.
7) Rumah Pohon Treehouse
This is an Airbnb property which is very well known in Nusa Penida. It is located below
the Thousand Island Viewpoint which is similar to the Diamond Beach Viewpoint. It is
one of the most picturesque and cozy locations to ring in your honeymoon. If you want to
stay overnight at the treehouse you need to book well in advance, as the slot gets sold out
in a jiffy.
Even if you are not able to get a slot, you can always visit the spot for clicking
some great pictures as it is also open to the public. It is also a very scenic spot to witness
the Balinese sunrise. In any case, we recommend checking Airbnb in Nusa Penida because there are many more charming places to choose from.
8) Manta Bay
Manta Bay is definitely a must-visit location in Nusa Penida. Swimming with the manta rays has become a popular activity especially in islands like Maldives, Mauritius, and Bali. The best part about manta rays is that they are not harmful like the stingrays. In fact, they are really friendly and will swim along with you when you go scuba diving or snorkeling.
You only need to have the protective equipment required for scuba diving or snorkeling and you are good to go. If you take up this activity along with your partner, it will surely be an experience that you will remember for the rest of your life.
9) Stay in a Bamboo Hut
There are not many luxurious hotels in Nusa Penida considering that it is an island. But, if you are lucky you will be able to find accommodation which is close to nature. These include tree houses and bamboo huts which will allow you to spend some quality time amidst the serenity of nature. A short drive from the harbor of Nusa Penida will take you to some of these accommodations which have great amenities. You can look forward to a private pool, outdoor showers, and even your own minibar. If you pick your slot in advance, you can also book an appointment for a traditional Balinese massage or spa. This experience is definitely a must-do when you visit Bali.
10) Secret Viewpoint at Kelingking Beach
This is something that not many people know of. When you visit Kelingking Beach you will have to be prepared for crowds as this beach is thronged due to its popularity. A few meters away from the main point of Kelingking Beach, you will find a secret viewpoint, which will give you a stunning view of the T-Rex shaped cliff. Although you will have to indulge in a bit of hiking to go down until this point, it is worth the thrill. This will finish off your list of best places to visit in Nusa Penida like a cherry on top.
Best time to visit Nusa Penida
Bali as a destination can be visited all round the year but the ideal time is considered to be from the months of May to November. If you are specifically planning a vacation to Nusa Penida, it is better to stick to these months because it would not be a very pleasant experience if you were to travel during the monsoons from October to April. Although the setup of an island will look extremely beautiful against an overcast sky, you might not be allowed to wander around in the beaches or indulge in water sports.
How to reach Nusa Penida
You can visit Nusa Penida as a day trip from mainland Bali or even plan for an overnight stay if you felt that you did not have enough time to soak into the beauty of the island. A speed boat ride from the Sanur coast for about 45 minutes will get you to Nusa Penida. Do keep in mind that this will be a share transfer with about 30 of 40 people on board. You can visit Nusa Penida by taking a speed boat from Tanjung Benoa coast as well.
If you are planning a day trip to Nusa Penida, it is better to pay a visit whenever you're staying in the southern regions of Kuta or Seminyak. Commuting will be easier because Nusa Penida is located closer to the southern region of Bali. The return from your day trip can be planned in such a way that you are transferred to Ubud for the next leg of your journey.
How do you get around Nusa Penida
Bali, in general, is known for its scooter rentals. You will find people renting out scooters right outside your hotel itself for the purpose of driving around town and exploring the island at your pace. The same can be done in Nusa Penida as well. This is the best way to explore the island. It can be a truly romantic experience to go around the island at your pace and stop at scenic spots as you please.
Another way to get around the island is to hire a private car. This is also a nice way to explore the island since you will get hands-on information about the culture of the island from the driver himself. Although it is slightly on the expensive side, you will get to make use of the car for the whole day of exploration.
Best places and things to do in Nusa Penida by drone:
Map of the Best Things to do in Nusa Penida
We have prepared a map of all the best things to do in Nusa Penida to help you plan your trip out. The map can be exported and uploaded to the mobile map app like Maps.me or Locus maps.
Best Things to do in Nusa Penida – Conclusion
Do you need more reasons to visit the best places in Nusa Penida? I don't think so, as you might be packing your bags already to whisk your partner away to this beautiful island. You will surely have the time of your life when you visit Nusa Penida in Bali. If you have time constraints, make sure you visit Nusa Penida at least as a day trip. But if you have a lot of time in hand, plan at least two nights in Nusa Penida to enjoy the best things to do in Nusa Penida to the fullest.
A great vacation like this will be possible with the help of great travel planning. This is where globally renowned travel companies like Pickyourtrail come in handy. From offering on-trip support to the option of customizing your own itinerary multiple times, this company offers everything to you. You can choose from some of the best Bali tour packages and embark on your dream vacation. Happy traveling!
Did this blog post help you?
Did this blog post help you? You can do us a favor and book your accommodation, buy flight tickets, book a tour or rent a car using our links. It doesn't cost you anything extra and we will have a small commission, which we will use for further improvement of this website.
We have also prepared for you this comprehensive list of links, discounts, and resources for travel planning in one place. Bookmark this page and whenever you plan a vacation in the future, just open it and save yourself a lot of time.
1) Where to book accommodation?
2) How to find cheap flights?
3) How to rent a car?
We recommend a comparison portal RentalCars.com to compare the best offers of all available rental companies.
Pin the best things to do in Nusa Penida for later or for your friends: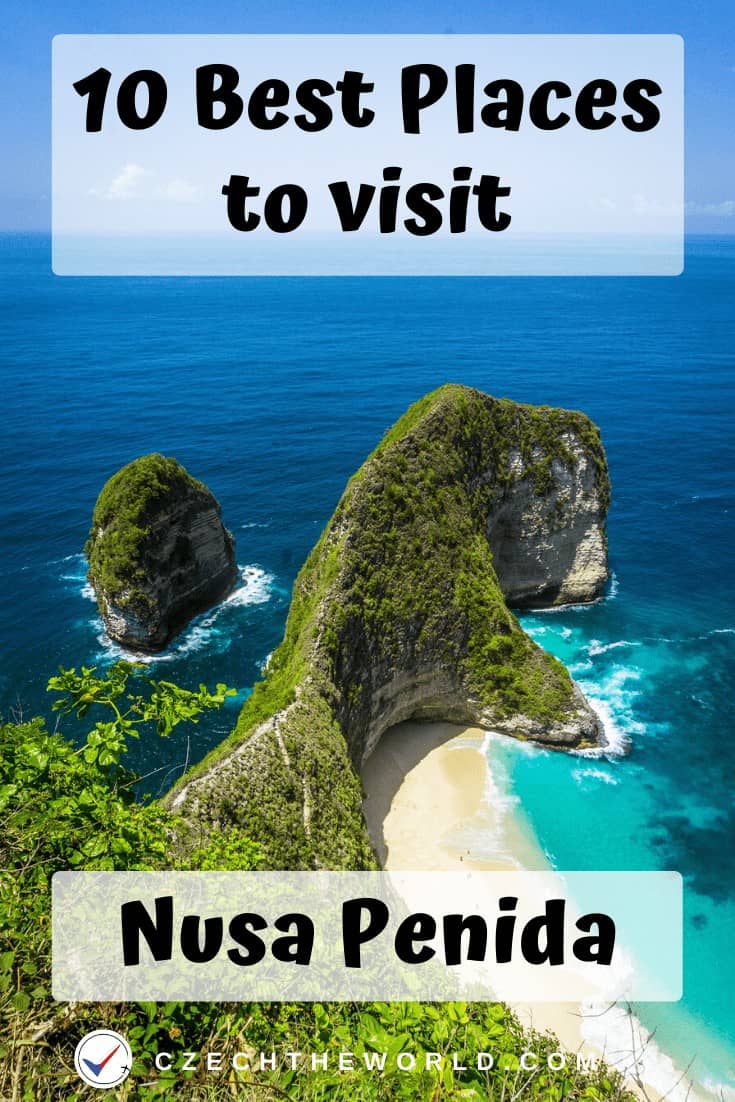 Did this post about the best things to do in Nusa Penida help you? Share it with your friends! It can help them too!
Disclosure: Please note that some of the links above may be affiliate links, and at no additional cost to you, we earn a commission if you make a purchase. We recommend only products and companies we personally use and we use this income for further improvement of this website. Thank you!