If you're looking for the perfect holiday, then look no further than Kauai, one of Hawaii's most captivating islands. From hikes to helicopter tours, cruises to stunning beaches, and unforgettable scenery, Kauai has something to offer both those looking for adventure and those looking to relax. Here are the 16 best things to do in Kauai:
1) Take A Helicopter Tour Of Kauai
If you only do one big activity whilst in Kauai, then make it a helicopter trip around the island. Although it may be one of the more costly experiences, it is worth the investment. Lasting approximately one hour, you will be able to have truly remarkable and breathtaking views of the whole island.
As well as the beautiful beaches, you'll also fly over the numerous waterfalls Kauai has to offer, as well as the stunning canyons. Additionally, you'll have the opportunity to see the entire 16 miles of the Na Pali Coast, which are otherwise only accessible via boat. It's worth booking this trip early on into your holiday so as to allow for enough time to reschedule it, should it be canceled due to poor weather conditions.
2) Visit Queen's Bath
In Princeville, on the north shore of Kauai, you will find Queen's Bath. It was once used by royals as a bathing pool. Accessible only by foot, you will need to hike a narrow, windy rocky trail, so make sure that you wear appropriate footwear. Once you arrive, you will see a wonderful and unique pool, which is technically a sinkhole. Separated from the ocean by lava rocks, it has a small inlet that allows the water to flow in.
However, despite its beauty, it can be a dangerous place to swim, particularly during the winter months. From rogue and rough waves that crash suddenly into the pool, to strong waves that can carry people out into the sea, there have sadly been fatalities. During the summer months of May to October, the water in the pool tends to be generally calm. There are plenty of warning signs around, so just ensure that you exercise caution before jumping in for a swim.
3) Wailua River State Park
On the eastern part of Kauai, you'll find Wailua River State Park. The 20-mile Wailua River is the largest river on the entire island and is a popular spot for water activities, including kayaking and water skiing. Alternatively, you might choose to take a cruise and take in the beautiful scenery along the way.
One of the highlights of Wailua River State Park are the Wailua Falls and Opaeka'a Falls. You can access the Wailua Falls by car. This stunning double waterfall is easily accessible at the south end of the Wailua River. Very often it even features a rainbow making it even more picture-perfect.
4) Fern Grotto
Another natural site worth visiting is Fern Grotto. Accessible by boat on the Wailua River, the grotto is rich in ferns for which it is named. As well as by boat, you can also see the grotto from an observation deck, which is a popular choice for weddings. You are not allowed to physically enter the grotto due to safety issues. Over the years the grotto has faced several challenges, but careful preservation has enabled Fern Grotto to survive and remain one of the island's most romantic and beautiful spots.
5) The Spouting Horn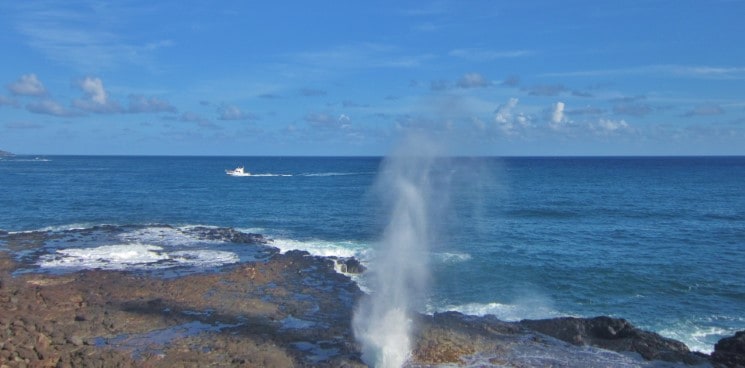 The Spouting Horn blowhole is one of the most photographed and popular sites on the entire island of Kauai. Its unique shape and amazing behavior are the result of an ancient lava tube. As the waves crash against the shore, the water travels through the lava tube holes and shoots approximately 50 feet into the air. You can even hear a hiss and roar as the waves crash into the lava tube, which formed the basis for a Hawaiian legend about the giant lizard Kaikapu, believed to be trapped in the tube hole. During the months of December to May it's also a fantastic place to spot humpback whales.
6) Sail Around The Na Pali Coast
The Na Pali Coast is a must-see destination. However, the huge sea cliffs are only accessible by either helicopter, by boat or on foot. If you have enough time, it's worth taking the entire day and spend it sailing along the Na Pali Coast. There are plenty of sailing, catamarans, diving, or snorkeling companies on offer to choose from to take you on a tour of the coast, depending on how adventurous you are feeling.
Another great alternative to a day trip is to book a sunset or dinner cruise. The Na Pali coast is especially beautiful at sunset. As well as the already stunning scenery, you might also see some humpback whales, turtles and dolphins swimming beside you.
7) Kilauea Lighthouse
Located on the North Shore of Kauai, in the Kilauae Point National Wildlife Refuge, the Kilauea Lighthouse is a lovely place to visit. At just $10 per person, it is also an affordable price to pay to see the 52-foot tall lighthouse.
It's also a great place to spot many birds, as thousands of migratory birds use the national refuge as a nesting habitat. As well as red-footed and brown boobies, you'll also be able to see laysan albatrosses and many other birds. Check before visiting as you may need to book your visit in advance.
8) Hanalei Bay
Head over to the North Shore to the small village of Hanalei. Right beside Hanalei Bay, it is a charming little village, perfect for a spot of shopping or to enjoy some local dining and cuisine. With the green mountains and waterfalls in the background, this is a wonderful destination, especially if you want to head on to Hanalei Bay.
Not only does Hanalei Bay have spectacular mountains, but the beaches are some of the best on the island of Kauai. It's also a great choice for anyone looking to do some water sports. From swimming to stand-up paddle-boarding and surfing, the bay is a perfect destination. For those looking to make the most of the waves, plan to visit during the winter months when the waves are at their best.
9) Hike The Kalalau Trail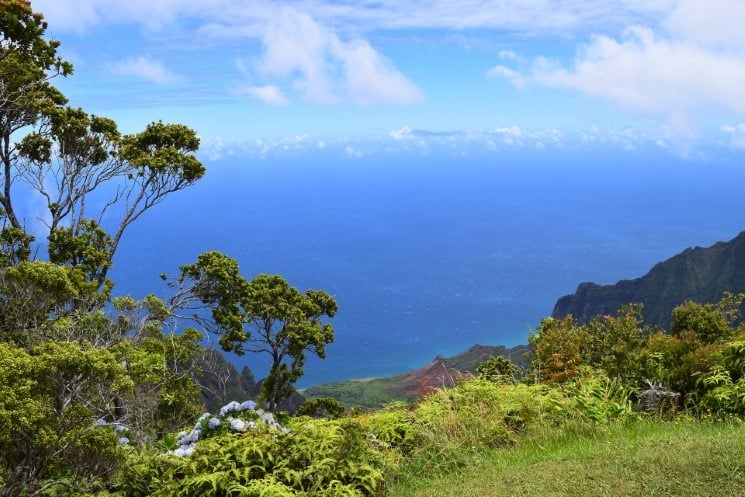 For anyone looking for a spectacular hiking experience, the Kalalau Trail is not to be missed. The 11-mile long trail starts at Ke'e Beach and ends at an isolated beach on the Na Pali Coast. There are various routes on offer. For those looking to experience some of the amazing natural beauty and scenery but who prefer shorter hikes, there is a short section of the trail that can be taken. Otherwise, for more serious explorers, the Kalalau Trail has plenty of challenges on offer. Depending on the trail that you choose, make sure to go prepared. The trail does require plenty of vigilance and appropriate footwear to travel on challenging terrain.
10) Koke'e State Park
Koke'e State Park is the ideal destination for hikers and outdoor enthusiasts. Best known for its fantastic hikes, it also offers some truly wonderful views of the Na Pali Coast, especially if you take the Pihea Trail, which follows the rim of the valley. As well as the hikes you can also go tent camping in Koke'e State Park, which might be required depending on the hike trail you choose to take. You can even spot some wildlife, go bird watching or even spend time studying the flora and fauna.
It's recommended to take decent footwear appropriate to the terrain. This can be especially important if has been raining as the rain can be heavy in the area and it's worthwhile packing a poncho just in case.
11) Kapa'a
For a change of pace, head to Kapa'a. Although it is the largest and most populated town in Kauai, it remains charming and relaxed nonetheless. The town is a fun place, with plenty of activities on offer. As well as plenty of shops, it also offers some great views of the Sleeping Giant mountain formation.
Perhaps the best reason to visit Kapa'a is food. Food lovers should make sure they spend some time in Kapa'a and experience a brilliant range of places to eat. From farmers' markets to unforgettable shave ice stands, you'll be able to find unique restaurants and delicious food trucks to suit everyone's tastes and budgets.
12) Visit The Caves
A trip to Kauai wouldn't be complete without some cave exploration. There are plenty of caves to explore on the island, meaning that whatever your budget, you will be able to find one to suit you. The caves are split into two types – 'dry caves' and 'wet caves', as some feature underground springs that result in pools, although it is not advised to swim in them.
The Waikanaloa Cave and Waikapalae Wet Cave are two of the best wet caves to visit. On the other hand, if you'd prefer a dry cave, head to Maniniholo Dry Cave. The caves located on the Ha'ena State Park are also worth a visit and are believed to be over 4,000 years old.
13) Give Tubing A Go
For a fun activity, give tubing a go. Tubing involves jumping into a tube and relaxing while you float through old sugar cane canals, which flow through the rain forests, as well as mountain tunnels. Headlamps are provided on the tour and there are five different tunnels that can be travelled down. The longest tunnel, which takes approximately 20 minutes to float through, is about one mile long.
This is a thrilling and enjoyable experience, including for families. You can even have a picnic at the end of your journey. However, there are some age and height restrictions, so be sure to check before booking if you're planning on taking young children.
14) See Wildlife At Poipu Beach
Animal lovers should make sure that they add Poipu Beach to their itinerary when visiting Kauai. As well as being a beautiful sandy beach, it is also a fantastic choice for anyone wanting to do some snorkeling, particularly beginners. Take a simple stroll along the beach and you are likely to see some turtles or even monk seals. Just remember not to touch them as they are protected by law.
15) Waimea Canyon State Park
A trip to Kauai wouldn't be complete without visiting Waimea Canyon State Park. Commonly referred to as the 'Grand Canyon of the Pacific', the canyon is a breathtaking sight to behold. At 14 miles in length, 1 mile wide and over 3,000 feet deep, it is a must-see destination.
It's easy to visit the canyon by car. There are a number of viewpoints along the way, where it is possible and safe to pull over and take in the astonishing scenery. Waimea Canyon Overlook is the main lookout and offers some beautiful views of Waipo'o Falls, which is a waterfall that cascades an impressive 800 feet. Alternatively, you can also explore the park on foot, with plenty of hiking trails on offer. However, it is recommended that you stick to the marked trails for safety reasons.
16) Hike The Sleeping Giant
Whilst visiting Kapa'a, you'll have a lovely view of the mountain. However, hiking the Sleeping Giant formation is an adventure worth experiencing. Resting on the Nounou Mountain, the Sleeping Giant formation is only four miles long. However, it is recommended that you take decent footwear that has good traction. It can be easier to hike the Sleeping Giant during the morning in order to avoid the heat. Even better, hike it during sunrise for a truly unforgettable experience.
Things to do in Kauai – Conclusion
Kauai is an incredible destination and a fantastic way to experience Hawaii. Whether you are an adventure-seeker, animal lover, or merely looking for a relaxing holiday destination, then Kauai has it all. With truly spectacular scenery and an array of activities on offer, Kauai promises to be an unforgettable experience.
Author's Bio:
Michael Dehoyos works as a professional editor and content marketer at Phd Kingdom and Academic brits, working closely with companies of all sizes to improve their marketing strategy concepts. He regularly writes articles for Origin Writings, as well as having contributed to numerous other websites and publications. In his spare time Michael enjoys travelling and immersing himself in the culture of the places he visits.
Map of the best things to do in Kauai
We have prepared a detailed map of all the best things to do in Kauai to help you plan your trip out. The map can be exported and uploaded to the mobile map app like Maps.me or Locus maps.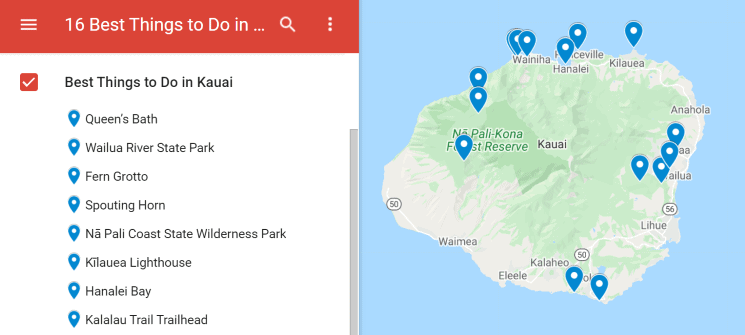 Pin things to do in Kauai for later and to your friends:
Things to do in Kauai – FAQ:
What are the best things to do in Kauai?
Map of the best things to do in Kauai
Do you like these things to do in Kauai? Share it with your friends:
Disclosure: Please note that some of the links above may be affiliate links, and at no additional cost to you, we earn a commission if you make a purchase. We recommend only products and companies we personally use and we use this income for further improvement of this website. Thank you!