Located in the heart of the Andes Mountains, Cuenca belongs to one of Ecuador's most captivating destinations. With its rich history, vibrant culture, and stunning natural surroundings, Cuenca has something to offer to every type of traveler.
From exploring the cobblestone streets of the historic city center to hiking in the nearby Cajas National park, there are countless ways to experience the vibe of this colonial city.
Let's take a closer look at some of the best places and things to do in Cuenca:
1) Explore Cuenca's Historical City Center
Step back in time and discover Cuenca by strolling its historical city center, which is part of the UNESCO World Heritage. Explore its cobblestone streets, charming plazas, and colonial architecture. The city center is also home to several museums. There are also many chocolate shops near the cathedral that might interest some of you.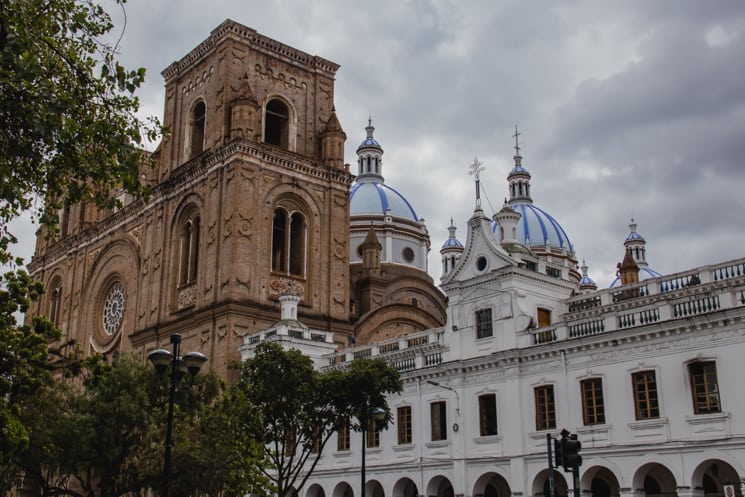 2) Climb to the rooftop of the New Cathedral
For a nice view of Cuenca's historic city center, climb to the rooftop of the Cathedral de la Inmaculada Concepcion. The entry fee is about $2 and it's worth the climb. From the rooftop, you can see the blue domes as well as other parts of the city.
Don't forget to visit the cathedral itself. It's one of the largest in South America and can hold over 9,000 church-goers. With its stunning marble interiors, stained glass, and gold leaf-covered altar, it's worth a visit.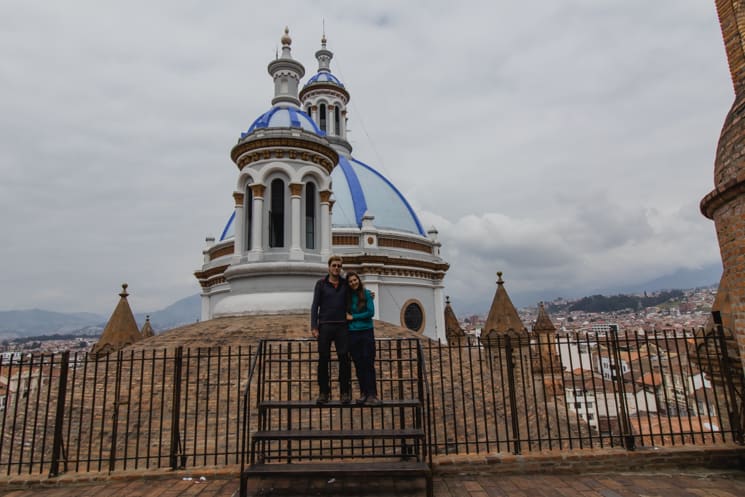 3) Try Roasted Guinea Pig
Trying a roasted Guinea Pig was something we wanted to try in Ecuador. Our friend recommended us two restaurants in Cuenca, where they do the best Roasted Guinea Pigs and we were blown away. If you are not a vegetarian we can highly recommend it. The roasted Guinea Pig cost about $25 and it is a giant portion for two people (including all the sides).
If you want to get a hint of the taste – it's a little bit like a rabbit, but much better. For us it was a delicacy.
The restaurants are called Mi Escondite a Tres Estrellas.
4) Take a Stroll Along the Tomebamba River
Another nice walk was around the Tomebamba River. The riverbanks are lined with nice paths and garden-like areas, making it a perfect place for a relaxing walk. There is also one very nice bridge decorated with umbrellas.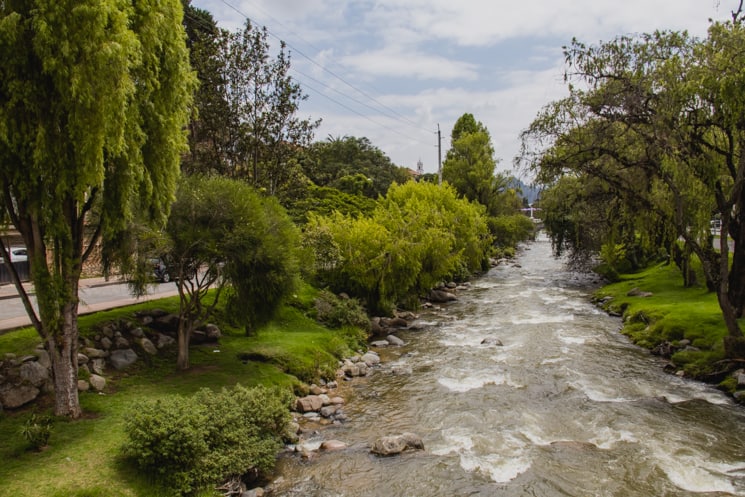 5) Visit the Pumapungo Archaeological Park
We weren't lucky to get there while it was open, but most of the people consider the visit to be one of the highlight of their Cuenca visit. The park is situated on the grounds of an ancient Incan city that was once a significant center of power in the region. You can find there well-preserved Incan ruins, including a fortress, a ceremonial center, and a marketplace. The park also has a museum that displays a collection of artifacts from the Incan and colonial periods.
6) Enjoy the Views from the Turi Viewpoint
Mirador de Turi is located a few kilometers outside of the historic center. The easiest and fastest way to get there is by taxi. The viewpoint is perched on a hill overlooking the city, providing a panoramic view of the city's surrounding areas. There is a small entry fee.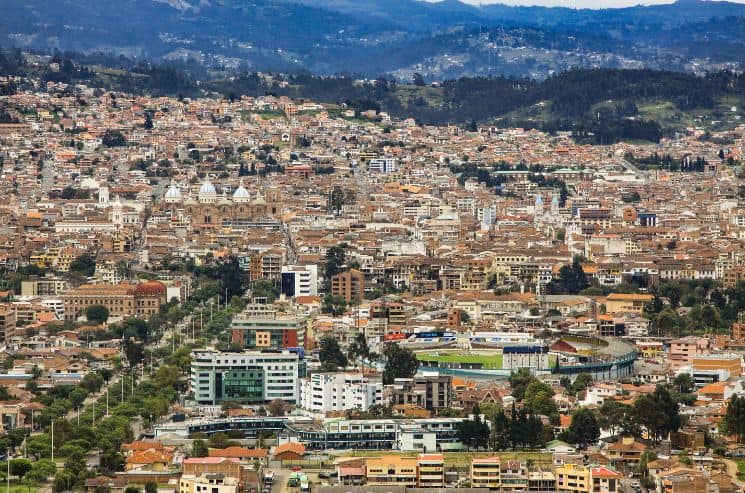 7) Try Agua de Pitimas At the Flower Market
Another place worth the visit is the Flower Market located in the city center. They have the most beautiful roses here in Ecuador. Stroll around and enjoy the nice smell of tons of flowers.
The one thing that makes this place unique is the mysterious flowery drink called Agua de Pitimas. It is made by nuns who live in seclusion within an adjoining monastery. This pink drink is made of dozens of flowers and herbs from a secret recipe passed down for decades. Locals claim it to be a cure-all for many ailments, including anxiety and sleeplessness.
You can get a cup for $1. Well, it tastes as it looks. Flowery.
There's a rumor that the nuns add drops of valium to the water, which cannot be confirmed, so sip a cup only if you're ready to relax.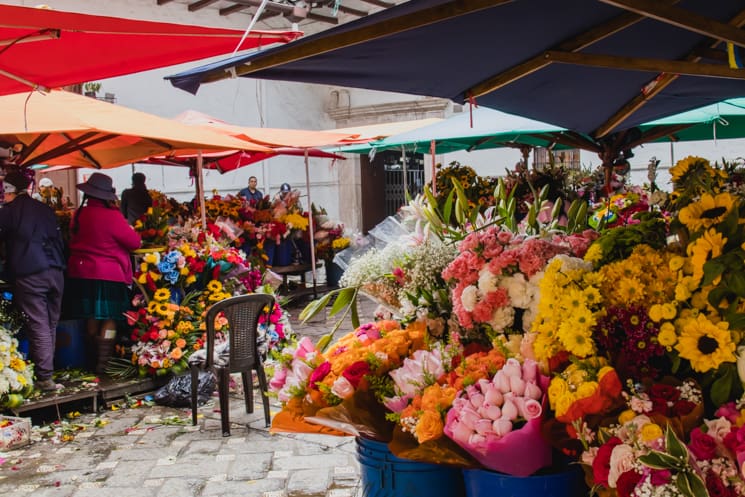 8) Learn about Panama Hats at the Homero Ortega Museum
Despite its name, the "Panama Hat" is neither from Panama nor produced there. The true origin and production center of this famous hat is Ecuador. In the early 1900s, Ecuadorian hats were exported to Panama while the Panama Canal was being constructed. Another option is to visit Museo Sombrero De Paja Toquilla.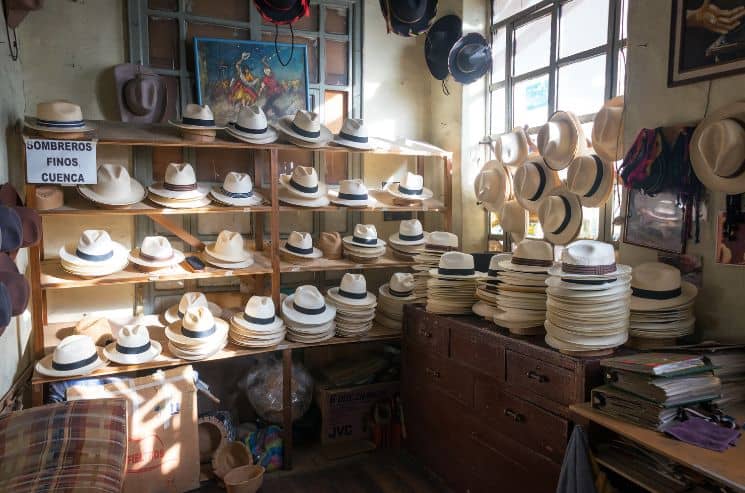 9) Enjoy the Calderón Park
Calderón Park is located right in front of the New Cathedral, it is named after a national hero. You can stroll through the well-manicured gardens, relax on benches, and enjoy a large fountain. On weekends, the park comes to life with live music and street vendors selling street food and handicrafts.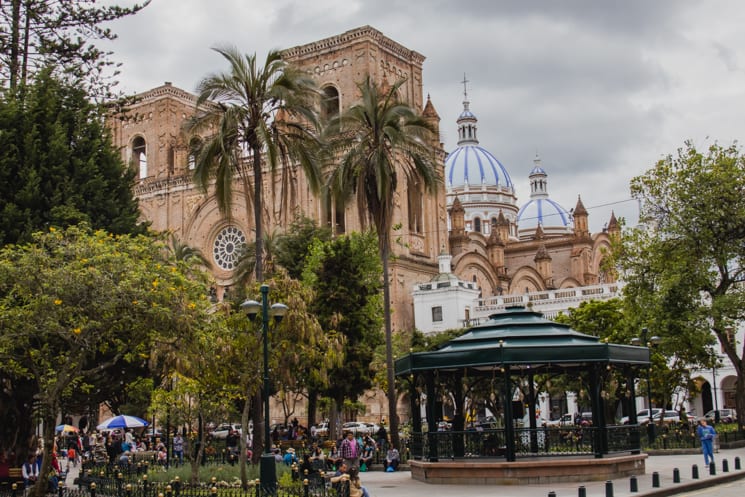 10) Relax in Piedra de Agua or another volcanic Spa
If you want to relax, you can visit some of the spas (baños) on the outskirts of Cuenca. They are about 10 minutes' drive from the city center. These spas take advantage of the volcanic landscape, utilizing natural hot springs and mineral-rich mud. The Piedra de Agua spa offers not only mud baths and massages, but the full range of services to relax your mind and body.
11) Browse Colorful Markets and shop for Artisan Crafts
There are two places you should visit:
Plaza de San Francisco
Mercado de Artesanias Rotary.
I would recommend shopping only if you have enough space in your luggage, but it is nice just to look at and admire crafts at these markets.
12) Take a Cooking Class and Learn to Make Traditional Ecuadorian Dishes
Taking a cooking class to learn how to make traditional Ecuadorian dishes is an excellent way to immerse yourself in the country's culture and cuisine. You can learn how to prepare classic dishes such as ceviche, locro de papas (potato soup), or empanadas. Classes typically end with a delicious meal shared with the fellow participants. If you enjoy cooking, it's a fun way to enjoy the country's unique flavors.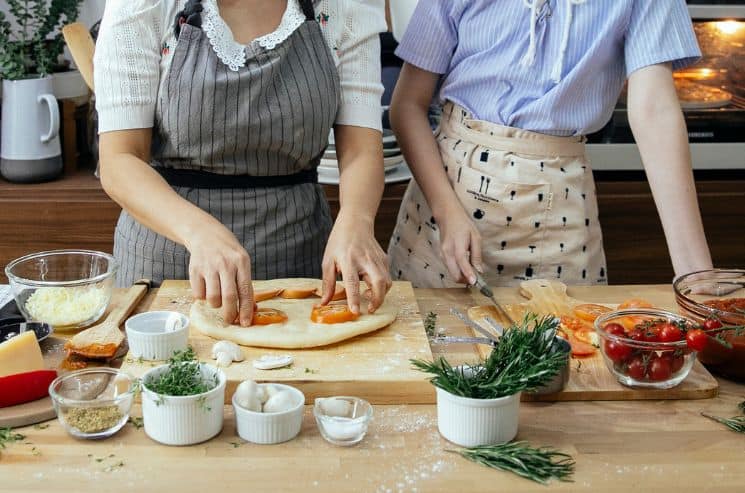 13) Meet wildlife in Amaru Zoológico Bioparque
Located on east side of Cuenca (about a half an hour drive from the city center), the bio park is home to a variety of animals native to Ecuador, including monkeys, tapirs, jaguars, pumas, and even Andean condors. You can find more info at the zoo's official website.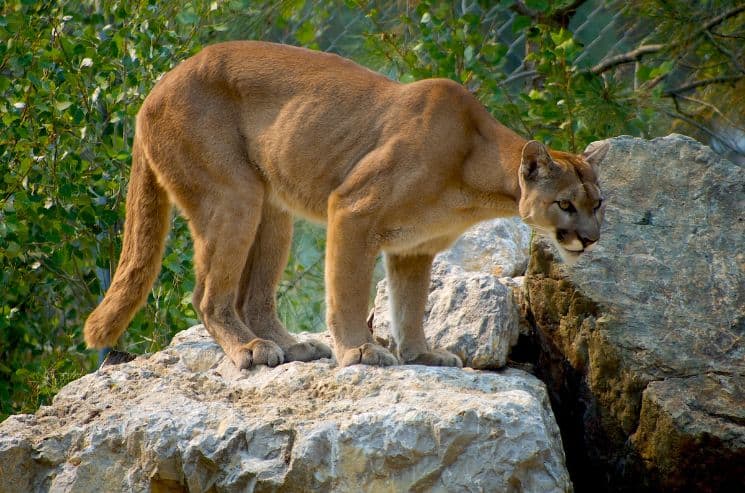 14) Discover Modern Art Museum
The Museum features 608 modern and contemporary art pieces, including rotating exhibits. You can explore permanent and temporary collections, which showcase traditional paintings, sculptures, mobile art, photography, and interactive space. All the works are created by artists from Ecuador, as well as other South American countries.
15) Sample Local Cuisine & Beverages at Mercado 10 de Augusto
Mercado 10 de Augusto is a bustling marketplace in the heart of Cuenca, where you can find a variety of meals and juices on the highest floor of the market. You can find cheap "economic Almuerzo menus" there or try the hornado (roasted pig). The market is a popular destination for locals and tourists alike.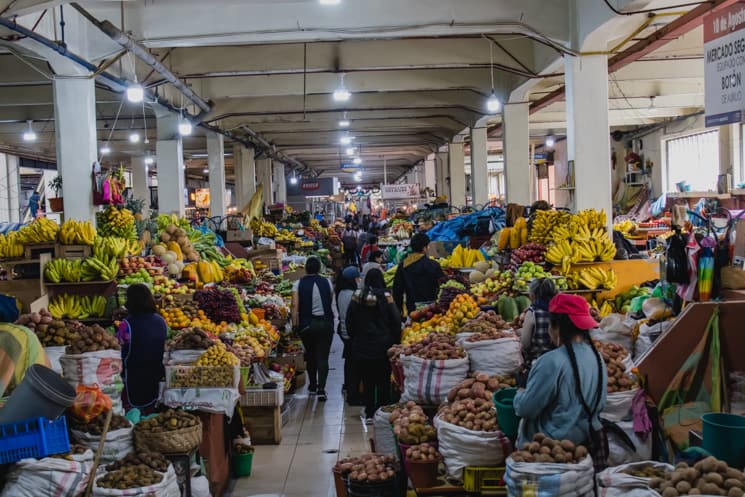 16) Visit the Museo de las Culturas Aborígenes
If you're interested in learning about the indigenous cultures of Ecuador, visit the Museo de las Culturas Aborígenes. This museum is dedicated to preserving and showcasing the rich heritage of Ecuador's indigenous people. The exhibits feature artifacts, tools, clothing, and artwork from various indigenous groups.
17) Taste the delicious Ecuadorian chocolate in some of the chocolate shops
You can either buy classic chocolate or come and enjoy a cup of hot chocolate. We tried hot chocolate at Chocolateria Dos Chorreras. Our most favorite brand of Ecuadorian chocolate is Dikaty – even the high percent chocolates like (75, 85, 90) have smooth and fruity flavors thanks to the finest cocoa production.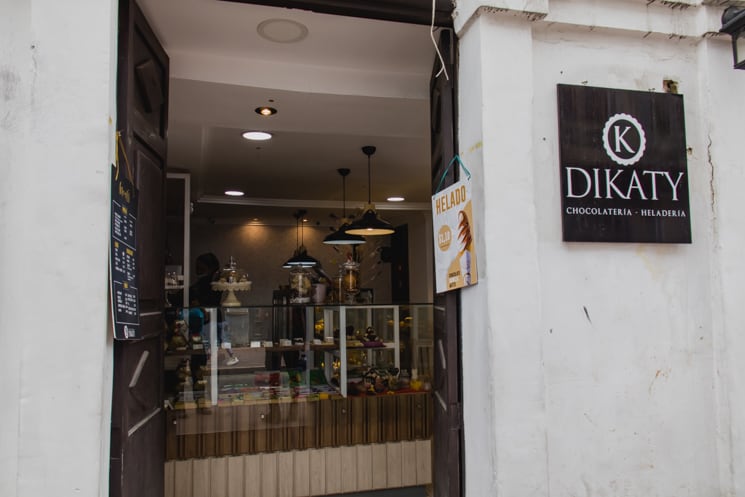 18) Walk la Calle Larga
While the street boasts unique architecture, it's the attractions housed within that make it truly special. Many of the buildings along the street have been repurposed into charming cafes, restaurants, artisan shops, and museums. Visitors are encouraged to stop by and experience the vibrant energy of the area at least once during their stay.
Day trips from Cuenca
1) Hike in the Cajas National Park
Visiting Cajas national park is magical, as you can see several types of mountain flowers, explore local caves, meet llamas, or wander through Polylepis forests. There are many hiking trails to choose from. We have prepared for you a comprehensive guide on visiting and hiking in Cajas National Park.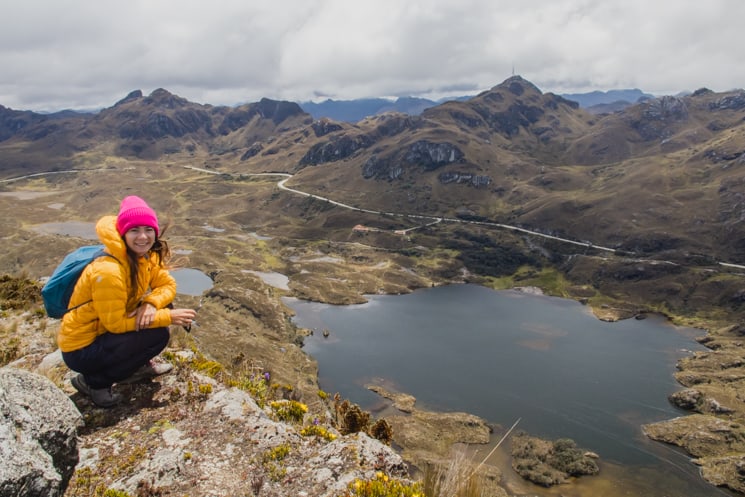 2) Explore Ingapirca Ruins
The Ingapirca archaeological site is located about 2,5 hour bus drive from Cuenca. It is considered the most significant and well-preserved Inca ruin in Ecuador, boasting impressive stone terraces, walkways, and buildings. The most important building is the Sun Temple, which aligns perfectly with the sun on solstice days.
A guided tour is required (you can't walk there independently). Tours are available both in English and Spanish.
In case you don't want to organize your own transport, you can book a complete tour from Cuenca.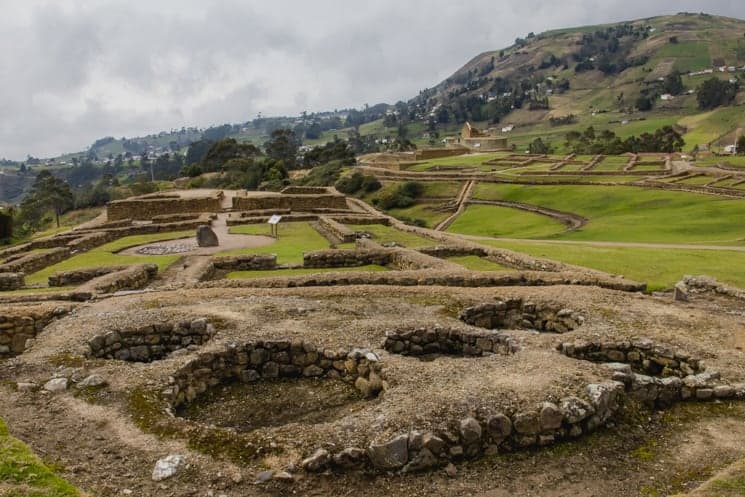 3) Day Trip to the Nearby Village of Gualaceo
Located just a short drive from Cuenca, Gualaceo is known for its vibrant market, where vendors sell everything from fresh produce to handmade crafts. You can join an organized tour visiting not only Gualaceo but also Chordeleg and San Bartolomé.
Safety in Cuenca
Cuenca is generally considered a safe city, with low levels of violent crime. We didn't feel anyhow "in danger". However, as with any city, it is recommended to avoid displaying valuable items or carrying large amounts of cash. Unlike the historic center of Quito, where there was no one on the streets after sunset, Cuenca was still alive with its pleasant urban bustle even after sunset. And it was especially nice to see the cathedral lightened during the evening.
Where to stay in Cuenca
Cuenca's city center is incredibly picturesque, making it worthwhile to find accommodation in the heart of the city in order to have easy access to everything.
Budget
There are a lot of places where to stay in Cuenca. We stayed in Check Inn Bed and Breakfast with a wonderful rooftop terrace and breakfast.
Mid-range
If you prefer a hotel over a hostel, choose Suite Le Fabrique, which is perfectly situated in the city center.
Luxury
If you prefer something more luxurious, you can go to Itza Hotel Boutique Internacional, which is also perfectly situated in the city center.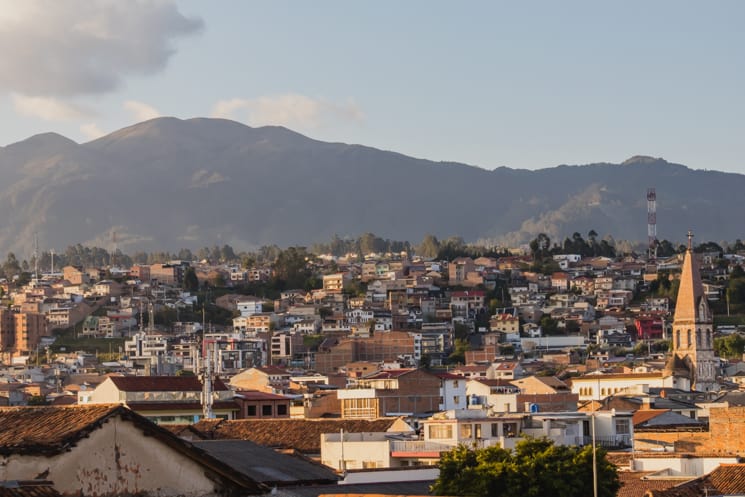 How to move around Cuenca
You will probably come to Terminal Terrestre (the main bus station in Cuenca). From there you can easily go anywhere in the city by taxi. You don't have to worry about using them as they all have taximeters and the prices are very favorable.
Once you are in the historical center it is very easy to walk around the city. There are a couple of points of interest that are outside of the city center, where you will need to take a taxi or use public transport (beware that you can't pay in cash there, as they are using prepaid cards for it).
Get more inspiration for traveling around Ecuador
More tips for your travels:
We have prepared for you this comprehensive list of links, discounts, and resources for travel planning in one place. Bookmark this page and whenever you plan a vacation in the future, just open it and save yourself a lot of time.
1) Where to book accommodation?
2) How to find cheap flights?
3) How to rent a car?
We recommend a comparison portal RentalCars.com to compare the best offers of all available rental companies.
Pin this guide for later or for your friends:
Did this post about things to do in Cuenca help you? Share it with your friends! It can help them too!
Disclosure: Please note that some of the links above may be affiliate links, and at no additional cost to you, we earn a commission if you make a purchase. We recommend only products and companies we personally use and we use this income for further improvement of this website. Thank you!