Are you wondering what are the best things to do in the British Virgin Islands? We have prepared a list full of inspiration for what to do on these beautiful islands blessed with pristine beaches and natural wonders.
1) Yacht charter – Go sailing the BVI
If you want to truly explore and discover hidden marine coves, bays, and snorkeling spots, sailing is the most rewarding way to see all the different islands in BVI. You can rent a boat – yacht or catamaran and head out exploring because sailing is the only way to see more remote islands that ferries don't visit. And we can 100 percent recommend it!
You can find out about sailing in the BVI in this article or go straight to check some charter offers from Navigare Yachting.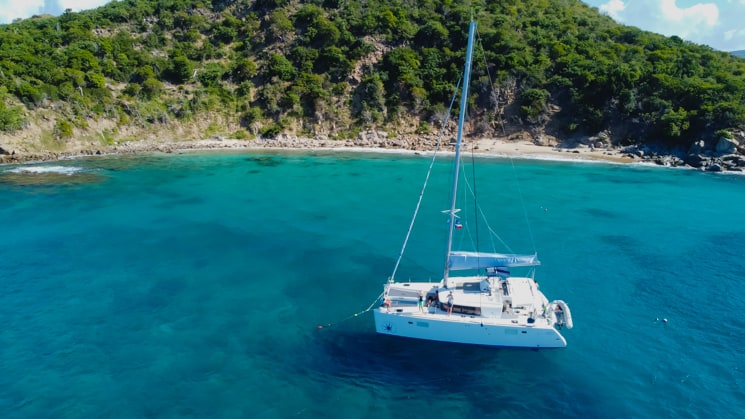 2) Explore The Baths – The famous stone maze
Probably one of the most popular places in the entire British Virgin Islands. These surreal and spectacular rock formations can be found on the island of Virgin Gorda. The rocks form kind of a maze, you can walk through.
For yachts, there is a daytime anchorage that is ideal for swimming and snorkeling. We strongly recommend taking your dinghy, to go to the shore and enjoy the beautiful beach by these spectacular rocks.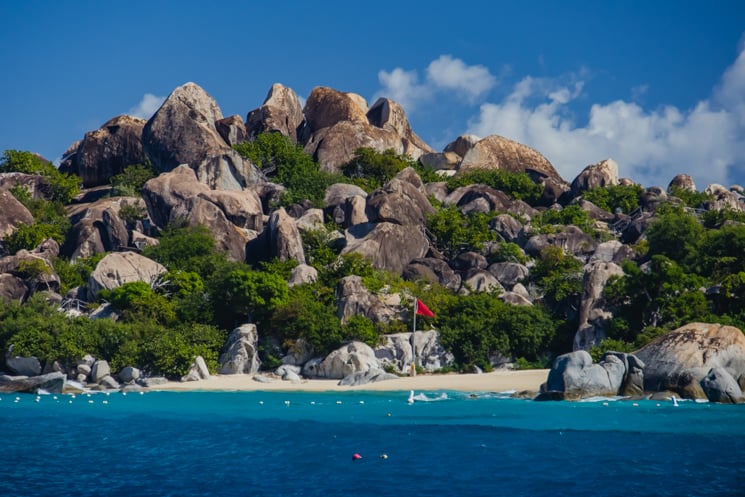 3) Rent a car or motorbike and explore Anegada Island
Anegada island is the true Caribbean paradise location with white sand beaches, palm trees, and sea turtles swimming in the anchorage. If you have time, plan at least two nights over there, because you can rent a car or motorbike and do a little tour around the island.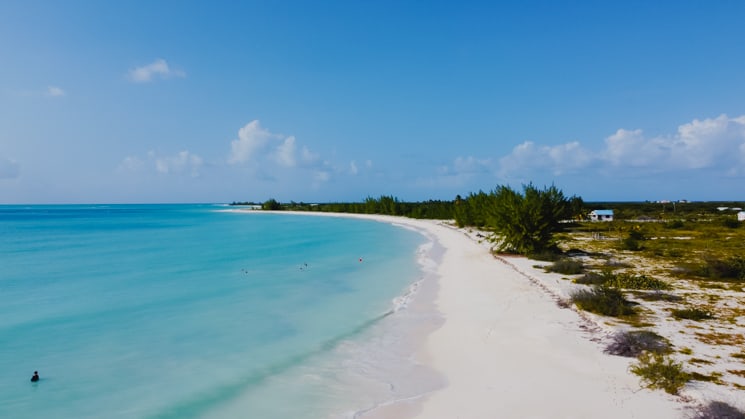 4) Eat a lobster at Lobster Trap, Anegada
The Lobster Trap is a restaurant situated at the water's edge in Anegada. They focus on sunsets and moonlight dining, which has a really nice atmosphere. The lobsters are grilled on an open wood fire and they are truly delicious.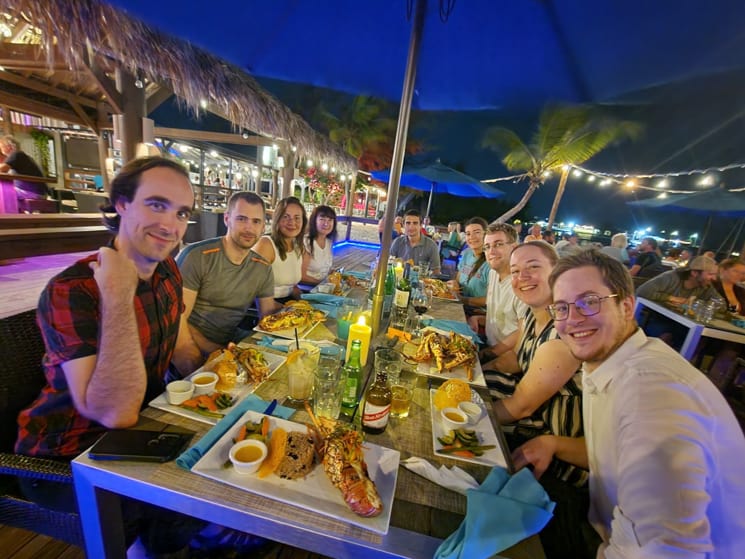 5) Enjoy the Full Moon Party at Trellis Bay
Have you heard about the full moon parties? The idea comes from Thailand, but if you are around the full moon around Tortola Island, you have to visit Trellis Bay. We were lucky to enjoy such a party and we can 100 % recommend it!
There were fire shows, dance shows, great party music, and delicious drinks!
Inside tip: The moorings in Trellis Bay fill up quite quickly for the full moon party – there was no space after 1 PM. So our suggestion is either to come early or you can always find a place in Low Bay and come by dinghy – it is quite far (a little over 1 km), but the dinghy can do it. In that case, don't forget the light with you.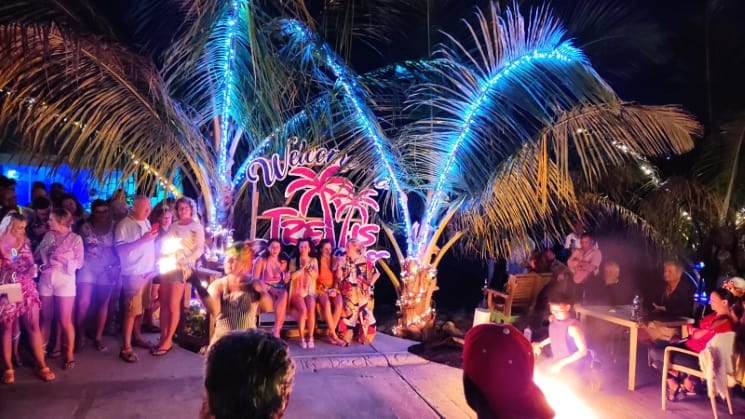 6) Don't miss the Soggy Dollar bar at White Bay, Jost Van Dyke
Maybe you have already read something about the famous Soggy Dollar Bar. Yes, it is located at an amazing place, as the rumors say. Shallow turquoise bay with laid-back bars & white-sand beach and coconut palms. This place is paradise on Earth. Once you are there, you should try the Painkiller cocktail. Cocktail originated and perfected at the Soggy Dollar in the 1970s, which is now famous around the Caribbean.
The Painkiller is a mix of premium dark rum, coconut cream, pineapple, and orange juice topped with fresh grated Grenadian nutmeg.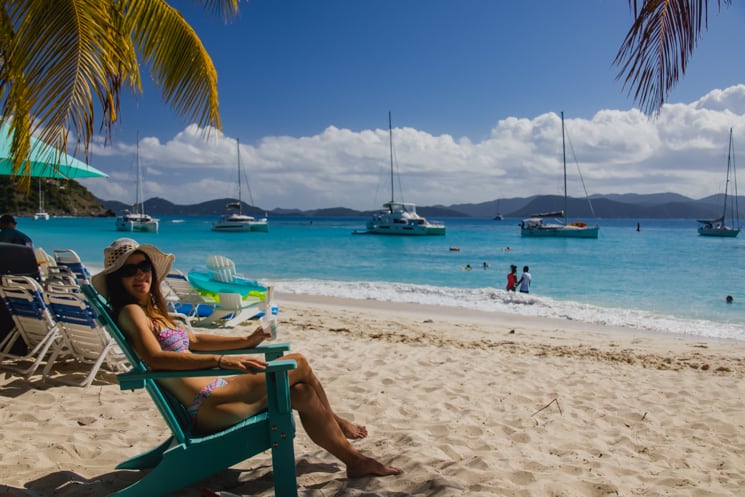 7) The Indians – Swim at no 1. Snorkeling Spot
The Indians is the no. 1 snorkeling spot on British Virgin Island. We have stopped at many different spots but this one was definitely the highlight of our journey. You'll find both hard and soft corals. We saw many fish, like parrotfish, cowfish, damselfish, sergeant majors, jacks, queen angels, wrasse, and even a sea turtle.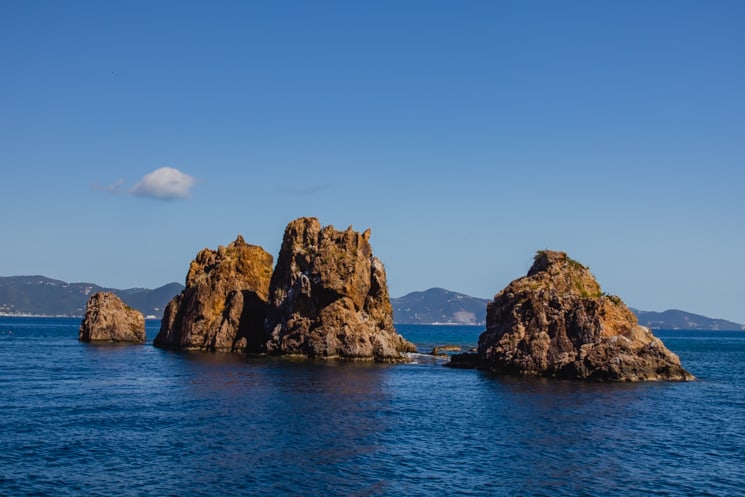 8) Enjoy Scrub Island Resort, Spa, and Marina
If you want to enjoy a luxurious place, stay for a night or two at Scrub Island Marina. It is a very nice complex with a spa, swimming pool, and whirlpool with an amazing view. There is also a very nice snorkeling spot just a short ride with a dinghy. A night in a Marina was 120 USD per catamaran.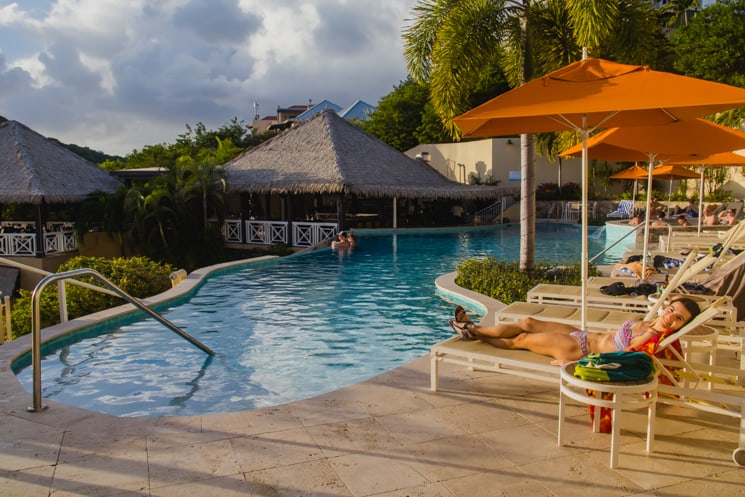 9) Swim at night with the bioluminescent plankton
One of the best experiences in the British Virgin Islands was a night swimming with bioluminescent plankton. The only thing you need to experience it is to find some dark bay with not so many lights around. I also recommend taking your snorkel and mask because it is an even better experience under the water. It is simply like swimming in a sky full of stars.
I have a funny story, about how we found the plankton – I wanted to flush the toilet in the middle of the night and I pumped in some shining creatures inside of the toilet. So the next day we decided on a night swim that was 150 percent worth it. And we saw a lot of plankton practically everywhere around the BVI.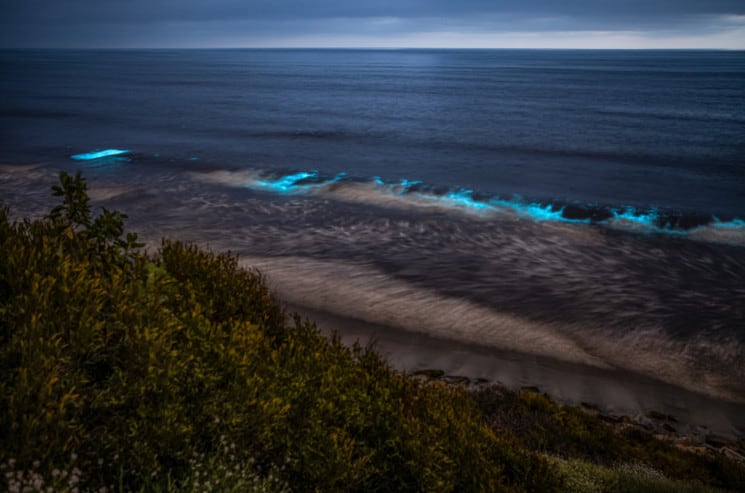 10) Spend Day at North Beach at Scrub Island
If you are looking for a tranquil beach, North Beach at Scrub Island is the one you are looking for. There is a beach bar, a little swimming pool, a shower, and many deckchairs under nice palm trees. You can get there by a quick ATV ride from the marina or it is a nice 10-minute walk from there.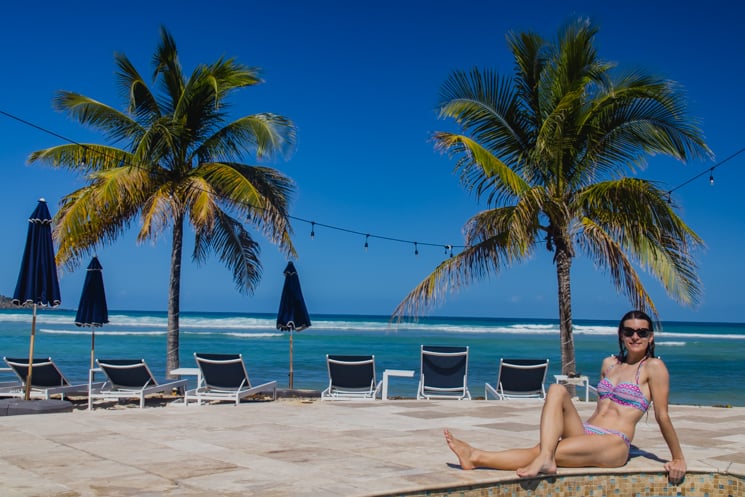 11) Visit the Callwood Rum Distillery
If you are a fan of Caribbean rum, you can visit the Callwood Rum Distillery, which is one of the oldest continuously operating pot distilleries in the Caribbean. Local rum has been distilled and blended by the Callwood Family for more than 200 years. You can visit the distillery Monday through Friday on your visit to Cane Garden Bay. Don't forget to ask for the rum tasting, it costs just 1 dollar.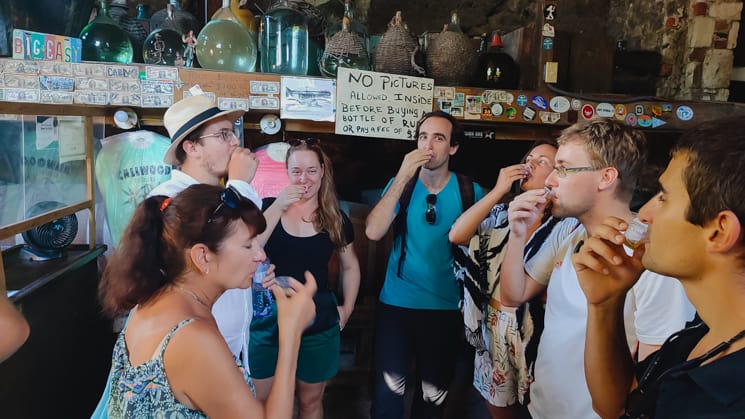 12) Enjoy the white sand beach and have a drink at Foxy's
Foxy's is another famous bar at Jost Van Dyke Island. Unlike the Soggy Dollar Bar, you'll find Foxy's in the neighboring bay, which also has a beautiful white sand beach. As they say: "Foxy's has been serving food and strong rum drinks to sailors and visitors since 1968." On Friday and Saturday Nights you can join their Beach BBQ.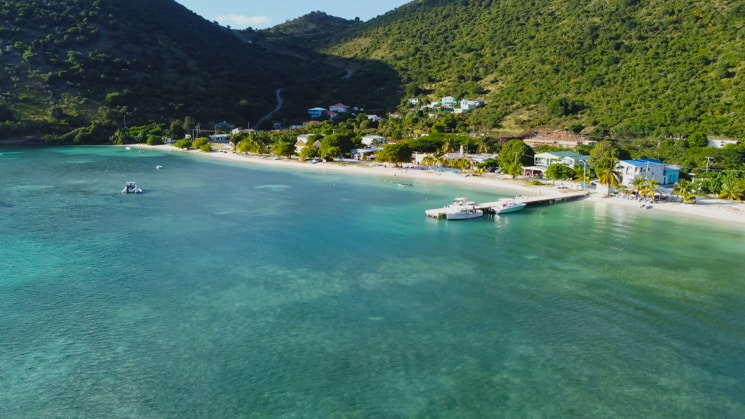 13) Wreck diving – Discover RMS Rhone
The shipwreck of the RMS Rhone is located just offshore from Black Point Rock, near Salt Island. It's easy to reach and it is a popular spot for scuba diving and snorkeling. RMS Rhone is one of the best-preserved shipwrecks in the Caribbean. It is a worthwhile stop spot for snorkeling but if you want to see it in detail I would recommend booking a diving tour.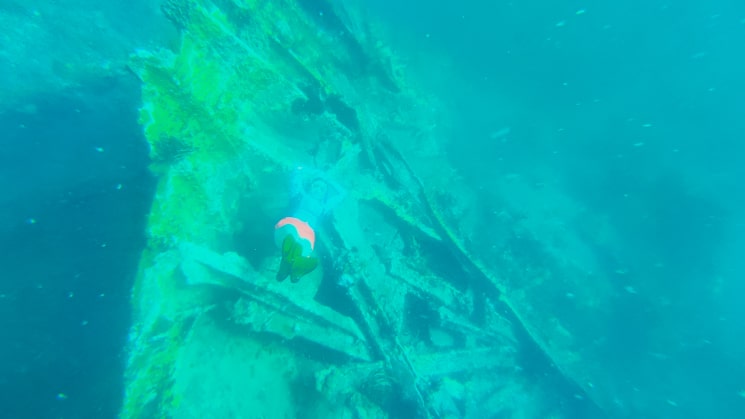 14) Happy hour at Cane Garden Bay
All cocktail fans will like the happy hour at Cane Garden Bay. Bars on the beach have special offers for 2 drinks just for 7 dollars. You can choose from Painkiller, Rum punch, and others. Don't forget to take a picture with cocktails at the lovely wooden swing on the beach.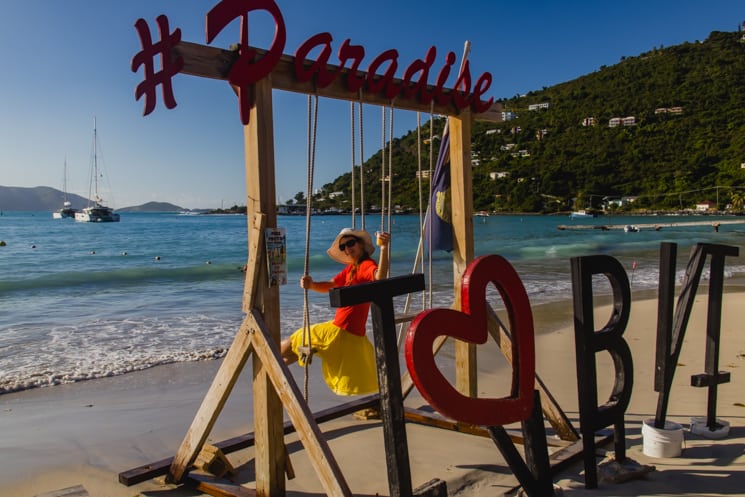 15) Go surfing at Josiah's Bay
If you are looking for a surf spot, hit the northeast corner of Tortola Island and catch a wave on your surf at Josiah's Bay. You can take a lesson from the local Surf School or rent a surfboard, bodyboard, or paddleboard there.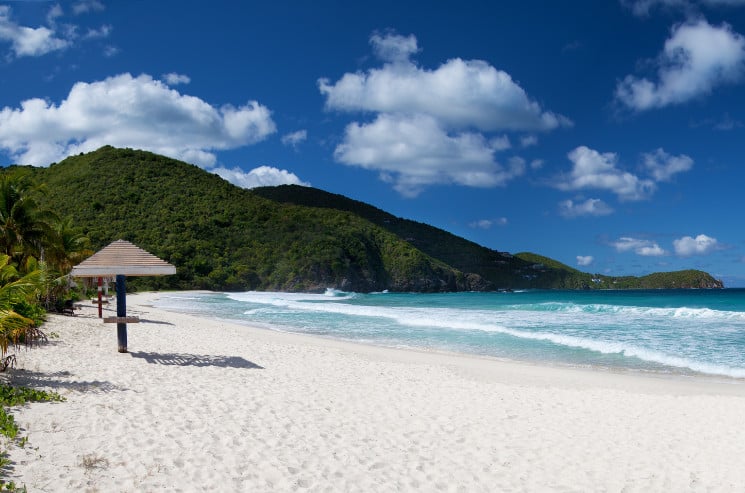 16) Hiking in Sage Mountain National Park
Sage Mountain is the highest point in the British and US Virgin Islands. It is 523 meters (1,710 ft) tall, and it's one of the best hiking destinations in the area. There are 12 different trails with loops creating a circular route. The main entrance to the park is just a 5-minute walk from the car park. You can find out more about the park here.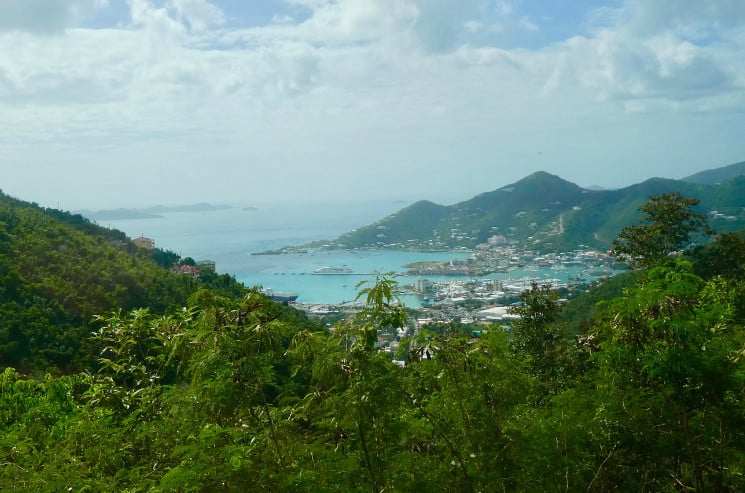 17) Hike to Gorda Peak
Gorda Peak is one of the tallest mountains in BVI (about 417 meters/ 1370 ft). There are two well-marked trails leading to the summit. From the top, there are nice views of the entire island as well as nearby islands.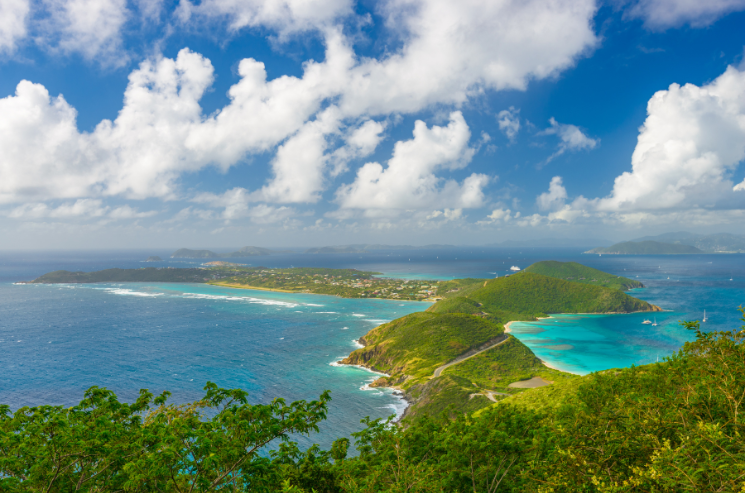 BVI Map – Map with Points of Interest at the British Virgin Islands
We have prepared for you a detailed map of all the interesting things to do in the British Virgin Islands. You can export the map and upload it to Maps.me or Locus mobile apps.

Read more about BVI:
Pin Things to Do in the British Virgin Islands for later or to your friends: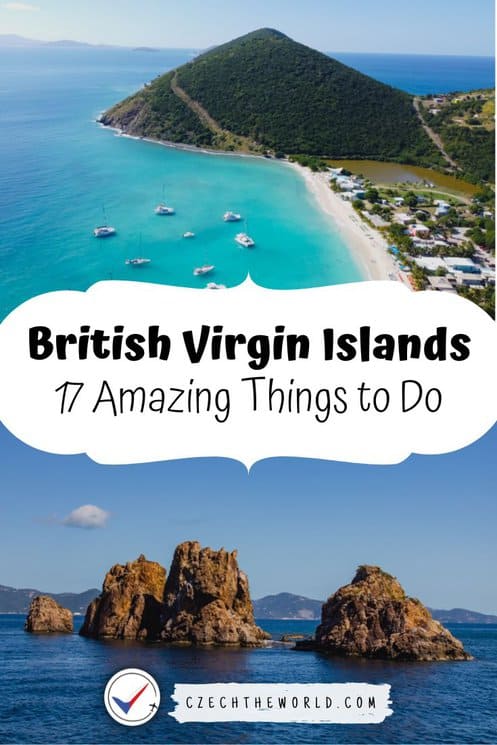 Do you like our post about Things to Do in the British Virgin Islands? Share it with your friends!
Disclosure: Please note that some of the links above may be affiliate links, and at no additional cost to you, we earn a commission if you make a purchase. We recommend only products and companies we personally use and we use this income for further improvement of this website. Thank you!