Interested in Belgrade, Serbia? Let's dive into this marvelous city, which is one of the best European places to visit in Spring. Belgrade is the capital of Serbia which is located in the South East of the European continent. The country of Serbia became an independent republic in 2006 and it's one of the cheapest countries in Europe. The language is Serbian, but it is very similar to the other countries near it. They use both Latin characters and Cyrillic. The Serbian currency is called dinar and there is also a bank there that you can get your face printed on a bill (of course a fake bill), but that is still a fun activity!
Without further ado, let's jump right into the best things to do in Belgrade!
Things to do in Belgrade, Serbia
There are many things to do in Belgrade, but we list here some of the biggest ones in order to start planning your trip!
1. Yugoslavia Museum
The Yugoslavia Museum was opened in 1996 in order to preserve the history of the area. Yugoslavia was a country that comprised of many countries in the Balkans (like Croatia, Serbia, and Macedonia) during the "Cold War" (from WWII to the fall of the Berlin Wall).
The museum is open Wednesday and Friday from 10:00 to 14:00. There are guided tours of the museum, but I walked around on my own. It is a bit outside the city center of Belgrade and I took a bus to get out there. Within the museum, you can find the mausoleum of the leader of Yugoslavia. We recommend checking the website before going to make note of how much tickets cost for families and students, and other useful information.
A good recommendation, which I did when I was there, was to go in the morning to have enough time there to absorb all the history that is held within! Also, there is free Wifi there so you can plan your next steps.
2. Kalemegdan Fortress
This fortress is pretty close to the city center of Old Belgrade. It is usually a part of any walking tour you could take in Belgrade. In the summer, this fortress turns into a park with people lounging around. In the winter, you still find people walking around, but less as it fills with snow. The fortress was a work in progress from the 2nd century to the 18th century, so basically, a long time! This is now a free park for anyone to walk around no matter the time of day. Make sure to check out sunset!
My personal recommendation is to explore it during the later afternoon and bring a picnic for dinner to watch the sunset. A lot of locals sit on the edge near the river to watch the sun go down. If you are there during the winter, the fresh snow is a beautiful sight! Definitely one of the best things to do in Belgrade.
3. Austrian part of Belgrade: Zemun or New Belgrade
Fun fact! Even before Yugoslavia, this area was controlled by the Austrian-Hungarian Empire. However, Belgrade was split in half by the Austrians and the Ottoman Empire. Since it is a section of the city, it is free to walk around whenever you want. This would be a cool place to see the sunrise! There is a bus from the city center to get to Zemun, but it is also a nice walk, which entails going over the river via the bridge and following the river via a nice park path.
My biggest recommendation is to do this early in the day as well. I would take the walk and fully see the river and the different city views. You might want to take the bus back due to a lot of walking, but I believe it is worth it! In the winter it does get cold enough that the river freezes. Please be careful walking out onto the river along with the locals.
4. Nikola Tesla Museum
Nikola Tesla did a lot of his inventions in the United States, but he was actually born in Serbia (during the Austrian-Hungarian reign). In honor to commemorate one of their famous historical figures, they have gathered his belongings and documents into this museum, which was open in 1955. You have to take a tour, but it is well done. Once again, be sure to check the museum's website for more information in regards to ticket pricing. In general, it is open Tuesday through Sunday from 9:45 to 20:00 and it is in the city center of Belgrade.
I would recommend taking this tour in the afternoon after the Yugoslavia museum or perhaps after a walking tour especially since the museum is open so late. If you are a big fan of science and inventions, this is a great museum! I really enjoyed seeing all that he created and supported.
5. St. Mark's Church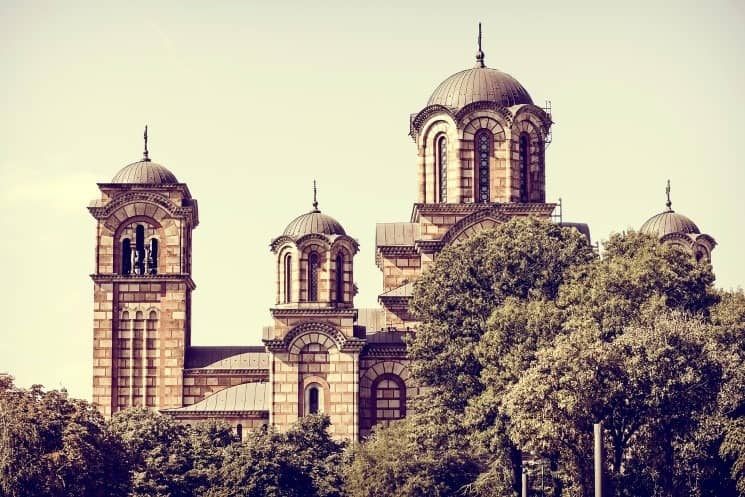 The current revision of the St. Mark's Church is similar to the original one built between 1931 and 1940. The original once was destroyed during WWII. The new and current church is in the Serbo-Byzantine style. This is a working church so please be respectful when visiting. It was considered one of the biggest in Serbia, until St. Sava was built.
When I was there, they were still making the inside beautiful; however, even under construction, it was massively impressive!
6. St. Sava Church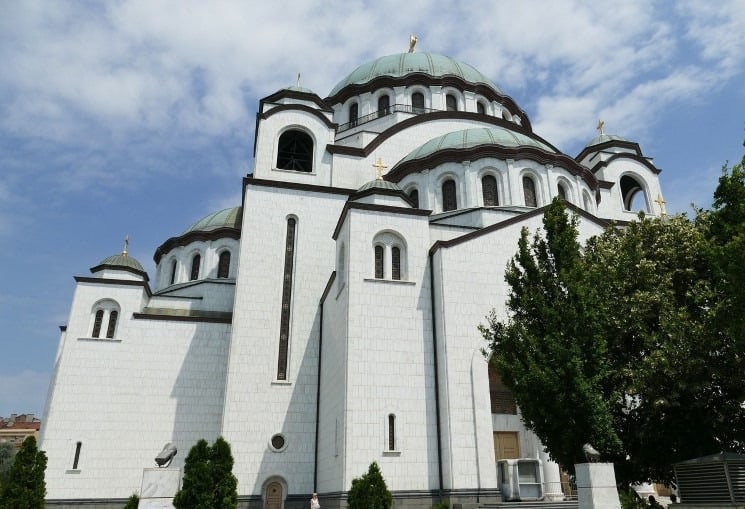 St. Sava Church is one of the largest Orthodox churches in Serbia and the Balkans. It is definitely not to be missed. It is a working church as well so again, please be respectful when visiting.
This church is actually close to some places that hold memory of the Balkan war from the 1990's. The buildings still hold bullet holes and other signs of turmoil. There are a few plaques around to learn more.
I hope this has peaked your curiosity to travel to Belgrade. It is really one of my favorite cities! If you are looking for a more local perspective of Belgrade, be sure to check out doing a work exchange program in Belgrade just like I did! From there, I was able to explore more of the countryside and the city!
7. Skadarlija
This is one of the cool things to do in Belgrade. Skadarlija area of town holds a bunch of bars and restaurants. This is what locals do on a Friday or Saturday night. They get together with friends and eat, drink, and be merry! There are a variety of local cuisines and drinks you need to try while participating!
8. Danube River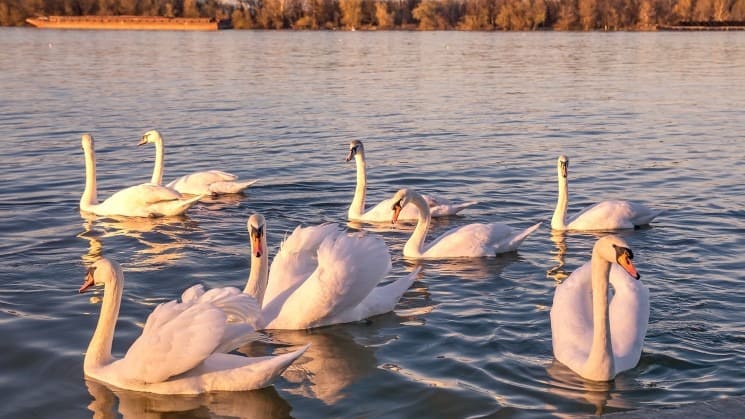 The Danube flows from Germany all the way to Serbia. In fact, there is a nice bicycle route that goes along the Danube. You can get a good view of the river from the fortress. Be sure to pack a picnic! You can bicycle around Belgrade and along the river if you wish to do so! There is that path in Zemun!
9. National Museum Belgrade
The National Museum Belgrade was in renovations while I was there, but it should be open by now! It was founded on May 10, 1844 and since then has collected a lot of work! This is a massive building and one sure can't miss it while you are touring around. The collection includes a lot of work from throughout Serbian history. You might see some familiar artists, but also artists that are lesser-known to Western Europe. If you are in the city center, the museum is a quick walk; however, there are multiple buses that go.
The museum is open Tuesday, Wednesday, Friday, and Sunday from 10 in the morning to 6 at night. However, entrance is free on Sundays. Thursdays and Saturdays it is open from noon until 8 at night. Like other museums around the world, it is closed on Mondays. We advise you to see their website for further information on ticket pricing for when you do go as they have an assortment of prices depending if you are viewing certain exhibitions or the full museum.
10. Sava River
Did you know there were actually two rivers in Belgrade? The Danube rushes into the Sava here! Just like the Danube, you can get a good view of the river from the fortress. Did you know that the place where two rivers, meet like the Danube and Sava, is called in English- confluence? I found that out during my time in Serbia! They are quite proud of their two rivers and why not, the confluence is beautiful!
11. Try Serbian food and drinks
The list of the best things to do in Belgrade woudn't be complete without local food:
Cheese Filled Sausage – like a hot dog, but it was their traditional sausage (Cevapcici), but quite large and of course, with cheese in it. We got it from a hole in the wall food vendor. Literally, she sold from this little booth on the side of the building.
Burek – This dish can be filled with anything! The outside is a pastry crust thing (think croissant) and it is wrapped usually in a spiral. The inside can be meat, cheese, veggies, or even some type of sweet thing. You can get this at any bakery and usually one was enough for lunch or dinner! It is a bit greasy though, be warned.
Cevapcici – traditional sausage. I cannot explain it further than that. It is delicious, for those who are meat-eaters and definitely worth trying. It is quite different than the sausage we have available in North America or Western Europe. Cevapcici is actually little sausage. Other countries call it Cevapi. The cici is the "small."
Rakija – This is the local traditional drink. Locals swear it can cure anything. It is clear and reminds me of vodka, but harder. My first taste was on a walking tour and the guide gave some out at the end. But any bar will have it. You can take it as a shot or sip on it.
I hope you enjoyed this mix of information and my own personal experiences! If you would like to know more in-depth look at Serbia from a local perspective, please feel free to explore my other postings!
Read also: 12 Best places to see in Croatia
Things to do in Belgrade – Author's Bio
The article about the best things to do in Belgrade was contributed by Marinella Yule of myopenpassport.net. She has explored over 40 countries, 48 out of the 50 USA states, and currently speaks English, Spanish, and French. She likes doing outside the box things like pole dancing and long-distance cycling. She has done two trips comprising of about 6k miles or 10k km in total. Connect with her via Instagram, Pinterest, and YouTube.
More tips for your travels:
We have prepared for you this comprehensive list of links, discounts, and resources for travel planning in one place. Bookmark this page and whenever you plan a vacation in the future, just open it and save yourself a lot of time.
1) Where to book accommodation?
2) How to find cheap flights?
3) How to rent a car?
We recommend a comparison portal RentalCars.com to compare the best offers of all available rental companies.
Pin things to do in Belgrade for later or for your friends:
Did this post about the best things to do in Belgrade help you? Share it with your friends! It can help them too!
Disclosure: Please note that some of the links above may be affiliate links, and at no additional cost to you, we earn a commission if you make a purchase. We recommend only products and companies we personally use and we use this income for further improvement of this website. Thank you!