Check our large collection of beautiful Sunday blessings! We have divided these blessings into several categories – happy, positive, good morning, inspirational, clever, funny, and more…
Look at the table of contents and jump directly to the category that you want:
Happy Sunday Blessings
Fill your heart with courage and your mind with positive thoughts. On this Sunday, make sure you're all set for a new start. Happy Sunday!
May this Sunday bring endless peace and comfort to your heart. May you always be surrounded by your loved ones. Wishing you a bright Sunday!
May your week be bright and filled with clarity and serenity. May this Sunday spark the start of success for you. Happy Sunday, my friend.
You deserve nothing but the best on this Sunday and every Sunday after it. Wishing you a day of delight and rejoice. Happy Sunday to you!
Let your Sunday be filled with unbearable happiness and joy! Happy Sunday!
Have a prosperous Sunday! Meet with your family and friends and spend each second of this day enjoying the beauty that surrounds you.
Open your heart to the joy of Sunday and appreciate another week. Happy Sunday to you and your loved ones!
Decide to enjoy and spend this beautiful Sunday with family and friends. Use this happy note to make the rest of the week successful!
Good morning and a very Happy Sunday to you all, my friend. I want you to know what a blessing you are in my life and how much you mean to me.
Sunday is a day to thank God for all His blessings of the last week.
Sundays bring a lot of love and inspiration for you. Accept every opportunity that comes in your way and be grateful. Happy Sunday!
All our dreams can come true–if we have the courage to pursue them. Happy Sunday!
May your Days be as beautiful as your thoughts are. Happy Sunday!
May your Sundays be blessed just like the way you blessed our lives. Happy Sunday to you. Wishing you a fantastic week ahead!
Open all the doors of your heart and let the blessings of a new Sunday come in waves. Happy Sunday to you and your family!
Positive Sunday Blessings
Open your heart and your eyes to all that you are blessed with this Sunday, be grateful!
Many people struggle to wake up or feel cheerful in the morning – especially after a long week. You can help wish them the best start of the day with these Sunday blessings.
Sunday is a day to rest. I pray you to get to rest and an end to all war in your life. Happy Sunday, friends.
Take a deep breath. Be thankful for the life you've got. Seek courage from your loved ones and have a wonderful Sunday!
May your week be bright. May this Sunday mark the beginning of success for you. Happy Sunday.
Smile, because today is Sunday. Give no room for sadness. Seeing another Sunday is a great privilege. Make sure you enjoy every bit of today. Happy Sunday, friends.
Sunday is the perfect day to re-energize your soul and focus on all of the things you are grateful for. I am grateful for you.
The sun may not be shining this Sunday, but bless others by sharing the sunshine in your heart.
This Sunday morning, feel the soothing energy of the day. It's the fresh start to another week, so soak up all that energy to get you through the week. Wishing you a happy morning and a lovely Sunday.
Today is magical because you wake up to another Sunday. Feel how special it is and understand that you are blessed. Good morning my love!
Sunday is a day for smiles. I'd like to bring a Sunday smile to your face by letting you know that I think you're amazing.
I'm happy to see you today. Because it's Sunday, it's even more important for me to tell you how much I love you. Wishing you a Sunday of feeling cherished.
You bring joy and happiness to those around you, may you have a blessed Sunday
Many people find inspiration in their faith, prayer, nature, or simply counting and appreciating their blessings. Help them realize what matters the most with Sunday morning blessings.
May you have a prosperous Sunday! To better enjoy the beauty that surrounds you, meet your family and friends and appreciate your time with them.
Good Morning Sunday Blessings
May God bless your morning, keeping you safe all day long.
Good Morning, Have a blessed Sunday! Smile because Peace begins with a smile.
Good morning God bless, May He bless you and those you love this day.
Sunday clears away the rust of the whole week. Good morning, Have a blessed Sunday!
Wake up and enjoy the soothing nature of the Sunday morning. May this Sunday morning freshness last till the last day of the week. Good morning, and wishing you a lovely Sunday.
Let this Sunday morning bring you lots of smiles, and you'll leave all of last week's troubles behind you.
Start this Sunday with a clean heart. No doubt, no tears, no fear, no worry. Thank God for his priceless gifts and miracles throughout the world.
Feel the magic of this Sunday morning and know that you're blessed because you're alive to see this beautiful morning! Good morning!
A good morning blessing is sent to you with love and encouragement for a day that is the best too in all that you do.
May the angels look after you, and your prayers receive answers soon on this fantastic Lord's Day. Good Morning, Happy Sunday. 
Welcome another morning. May you be blessed this day and may you be a blessing to others.
There is no better time to say thank you to God for all His blessings in life than a bright Sunday morning! Good morning to you with a lot of good wishes!
Good morning! Surround yourself with positive people and let their bright emotions make your Sunday unforgettable!
Good morning to you. Wake up and embrace the miracles of this beautiful Sunday morning. May you this morning bring you a thousand reasons to smile throughout the day!
May Sunday morning gives you the energy to start the week pleasantly. Enjoy the best day of the week. Good morning and wishing you an enjoyable Sunday.
Read more: 579 Best Good Morning Blessings (with Positive Energy)
Inspirational Sunday Blessings
Blessings are sent to you this day. You are in our thoughts when we pray.
Let this Sunday be a rainbow for the entire upcoming week! Shine & smile!
The best of Sunday is not about the little prayers but the mighty faith. Happy Sunday, Friends.
I pray you get nothing but the very best. Far above your prayers and wishes. Happy Sunday, friends.
Do not let Sunday be taken from you. Find strength in the Lord, and give your anxieties unto Him.
Sunday is a wonderful day to spend in the circle of your family and friends. You can set the mood for the whole week today!
May your praises go up so blessings will come upon you this Sunday.
My prayer for you this Sunday is that you begin to excel. The coming Sunday will be a day of testimonies. Happy Sunday
Let go of all the worries and anxiety in order to be light and free. May your Sunday be happy!
May the good Lord wrap His Almighty arms around you and your family today. May you enjoy His peace, His love, and His joy. May your heart be filled with hope for the week ahead. Have a beautiful Sunday.
May the Lord make His face shine upon you this Sunday.
Have a blessed Sunday and give thanks for all the blessings you have.
It's Sunday! Find harmony with yourself and the outer world and spend this day brightly.
May the grace of God be with you and fill you will peace and contentment.
I'm thankful for so many things in life. I'm thankful especially for the gift of your love which has brought bliss into my life. Happy Sunday my love.
Clever Sunday Blessings
Dance in the rhythm of life and enjoy all that this world has offered you. Happy Sunday!
Just a quick reminder this Sunday evening that I know you will manage the week ahead with strength and tenacity. You've got this!
Don't tell God how big your storm is, tell the storm how big your God is.
Sunday. Take it slow and give your soul a chance to catch up with your body.
Have a great Sunday! Don't forget that, while an experience may be good or bad, it will always help you learn and grow.
We may be parted by many miles, A blessings is sent for many smiles.
The more hardpressed one is to give, the more he is likely to receive a personal blessing from that unselfish act of giving.
Bathe in a sea of euphoria and bliss today, good morning!
The 4 R's of Sunday blessings: be Rested, be Restored, be Refreshed, and, be Renewed.
Take your life into your own hands and make this Sunday awesome!
Whenever you meet someone – whoever it may be and wherever it may be – let your greeting be a blessing.
Ah, Sunday, the day of rest… now THAT'S something to be thankful for!
Meet this gorgeous day head on, and keep in mind that your biggest major enemy is fear.
Sunday is the Lord's Day. Let us find time to be with him.
While you may be away May you be blessed on this Sunday.
Unique Sunday Blessings
Good Morning Beautiful! Today started off great! Head up, cheer up & be positive. Let nothing or no one steal your joy. Happy Sunday!
I pray God to remove all the negativities, fatigueness, dullness, weaknesses, illness & meagerness from your life & bestow upon you the abundance of positivity, happiness, hope, success & love, making your life marvelously good on a Sunday ahead. Good Morning!
I wish you a wonderful day this Sunday. Take a walk outside, enjoy the sunshine, and meditate on the peace of this beautiful day.
Think about everyone and everything you have in your life and remember that you are loved beyond measure. Wishing you a joy-filled Sunday.
Sunday is a fun day to relieve stress and take a break from your daily routine.
Sunday is the perfect day to refuel your soul and to be grateful for each and every one of your blessings. Have a Blessed Sunday!
A smile can do a lot of things; it can save a soul, brighten a gloomy heart, and heal a broken spirit. Take your smile with you everywhere you go, today and in the week ahead. Happy Sunday.
Sunday morning is my favorite day this week. Do you know why? Because I get to share a message I've had for you for the whole week: you are my Sunday blessing today and every day.
Sunday is a perfect day to choose a new path in life. Don't be afraid of changes, they come when they are really needed. God bless Sunday.
Be open to change today. It is a bright morning of opportunity and possibility. So step out into the sunshine and seize the day.
God gave you a gift of 84,600 seconds today. Used one of them to say Thank You! Have a Blessed Sunday! Good Morning!
Let's spend some time together. It's Sunday morning, and I feel so blessed. There's nobody else I'd rather share my Sunday with than you.
I'm wishing you the best day possible this Sunday. Today, choose to see how beautiful and amazing you are.
Whatever has been stressing you out this week, let it go. Sunday is the day when you have permission to do nothing and let go of your worries.
Good Morning Dear! Open your heart and your eyes to all that you are blessed with this Sunday, be grateful!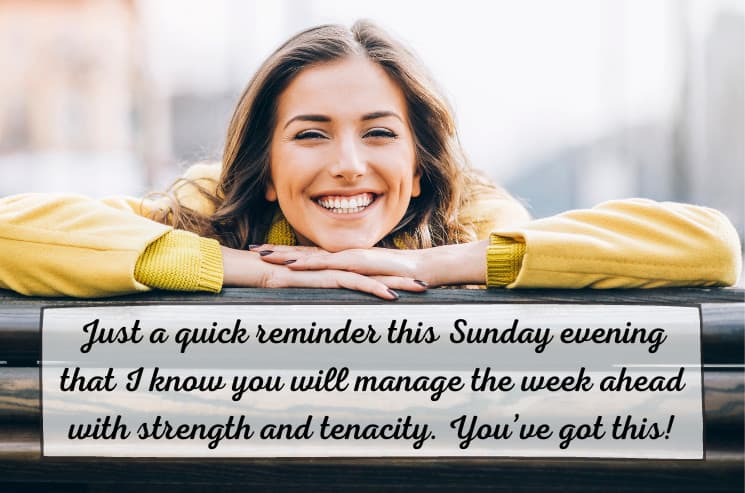 Funny Sunday Blessings
I really need a day between Saturday & Sunday.
You are like Sunday morning jazz to me – peaceful, upbeat, and easy. You inspire me to live every day like it's Sunday.
It's Sunday…Therefore I'm 100% motivated to do nothing today!
Warning: Going to sleep on Sunday will cause Monday.
The early bird gets the worm, and I know you are always up early. May you have a productive Sunday. Good morning!
Sundays should come with a pause button.
It's Sunday, therefore I am 100% motivated to do nothing today!
Today is Sunday. Share this and within 7 days you'll get another Sunday. It really works. My friend ignored this message and he got a Monday within 24 hrs.
My Sunday plan: I'll sleep until I'm hungry and then eat until I'm sleepy.
Shhhhh…I'm busy doing Sunday
It's not a Sunday unless you completely waste it then feel really sad around 8 PM.
Sunday is your best day. You know you had an amazing week. Time to recover and think how you gonna kill the next one.
Wake up! It is Sunday, which means that spontaneous and happy meetings are guaranteed to start your week off right!
Sunday clears away the rust of the whole week.
A Sunday well spent brings a week of content.
Cool Sunday Blessings
Every word of God is pure he is a shield unto them trust in him. Good Morning!
If you are brave enough, you can make your dreams come true. Happy Sunday!
It's a new day. I'm alive. I'm blessed. I wish you all a happy and blessed Sunday. Good Morning!
I send you a good morning blessing this Sunday with encouragement and love. Wishing you the best day today.
Here is my message to you this morning: TGIS – thank God it's Sunday – because today I get to spend time with you!
May you receive the blessings of Sunday! And may your days reflect the beautiful that is you.
I'm hoping that your Sunday is laden with precious blessings from above. Have a beautiful day! Good Morning!
It's another gorgeous Sunday. Let's be happy together and show each other how wonderful today is. Treasure your day today.
Smiling is good for the heart, Laughing is good for the soul, and Loving will keep you living, laughing, and smiling. Have a Blessed Sunday Morning!
Welcome to Sunday. Cuddle by the fireside, read a good book, enjoy a hot cup of tea, watch an old movie, and spend the day relaxing. You deserve it!
We do not sign up for faith, faith signs up for us. It is a blessing.
Good morning and happy Sunday. It's a glorious day outside, the sun is shining, and there's so much to be thankful for. I am thankful for you!
Stay Tough, Strong & Unbeatable! Good Morning! Have a great Sunday!
Good morning, my friend. I am thinking about you and know you've had a tough week. Appreciate today and remember that today is a fresh start.
May this Sunday be blessed with beautiful smiles and the laughter of family and friends.
Short and Simple Sunday Blessings
May you enjoy the blessings and favour of God today. Wherever you go, whatever you do, may God's angels watch over you.
Good Morning Sunday! God bless us, everyone!
May God bless you and your family this Sunday.
May wonderful things unfold before you. Sunday blessings.
May God's peace be with you always.
May God's blessings be yours today.
Let go of your problems and let God handle them.
May you grow stronger in the Lord!
Indescribable bliss and delight – may these be your goals this Sunday.
Let go of your worries and let God bless you.
A blessed Sunday is prayed for you.
Good day and God bless you this Sunday.
Good Morning! May your Sunday be blessed!
Start this Sunday morning with a clean heart.
It is a great day to be alive. Happy Sunday.
Do you need more blessings? Check our large collection:
Positive Sunday Blessings
Inspirational Sunday Blessings
Do you like these blessings? Share them with your friends:
Disclosure: Please note that some of the links above may be affiliate links, and at no additional cost to you, we earn a commission if you make a purchase. We recommend only products and companies we personally use and we use this income for further improvement of this website. Thank you!