Wine tourism is becoming popular with every passing year and has so much to offer to the tourist. Apart from the gorgeous gardens, it is the thrill of discovering and tasting new varieties of wines that attracts tourists. The restaurants at wineries run on the concept of farm-to-table food, menus, and dishes, making sure that the tourist has an immersive experience altogether. Wine tasting is definitely one of the best things to do in California.
The California wineries are a unique blend of innumerous spas, bed, and breakfasts, comfy, luxury resorts – a perfect destination for wine-loving travel buffers. The state also has some of the most innovative wine tasting spaces. The Napa region of California can provide for one of the best wine tasting experiences in the country. Wineries here include workshops, wine pairing activities amid beautiful decor and lush green landscape.
Furthermore, wineries in the Golden State offer some of the best liquor, including champagne. The most popular varieties are sparkling wine, red wine, rose wine, Andre Champagne (from the Andre Champagne Cellars), and white wine. So, if you've been craving for an experiential vacation, filled with discoveries, excitement, and explorations, California wineries are the best choice for you, considering that the tourist gets an opportunity to dive into the world of chardonnay and cabernet sauvignon. The Golden State in the United States is a hidden gem. Here's a list of the best California wineries that are perfect to satiate the travel bug in you.
Top 10 Best California Wineries
1) Beringer Vineyards
Let's start with a winery that was one of the first to be founded in California. California's Oldest Continually Operating Winery, Beringer Vineyards was founded in 1868. If you are up for brushing your knowledge about the history of winemaking in the state of California, then you must visit this place. This winery has a rich background as it was one of the first ones in California to provide public tours back in the early 1930s.
This is precisely what started the famous hospitality tradition of Napa Valley. The Beringer Vineyard gives the tourist a perfect taste of the history and origin of winemaking in the estate. If you are exceptionally inclined towards ancient 19th-century architecture and lush greenery, this winery is probably one of the best properties you can explore during your vacation. Palatial views, tall trees, and vintage vibes are the USP of this winery. This Californian winery will strike a chord with everyone who has a fascination towards vintage architecture, and of course, wine-tasting. Moreover, it is also known to be one of the most historically rich locations.
2) Domaine Carneros, Napa
This winery is a must-visit if you're a fan of the French culture. Anyone who's been meaning to visit France, but for some reason, couldn't make up for it by touring around Domaine Carneros Winery in Napa, California. This gorgeous place has an unparalleled panache. It is a French-style estate with a vast deck that gives a view of the Carneros appellation at the winery and one of the most famous and best sparkling-wine houses in California.
The winery, owned by a French Champagne producer, Taittinger, has kept the French-touch of the property intact despite being located in the West. One of the unique things about this winery is that it provides table service, which is not something you can find at any of the other California wineries. Apart from the sparkling wine, this place is perfect if you are a foodie tourist. You'll get a chance to eat cheese platters, caviar, and pastries. These meals are best served at the terrace, overviewing the garden, where dim lights and bulbs make for the best ambiance to wine and dine at. And once you are in there, remember that there are also many more things to do in Napa Valley.
3) Presqu'ile Winery
Ever wanted to sip wine at a hilltop? Well, then Presqu'ile Winery is the place to be. Located in Santa Maria Valley, the heart of Santa Barbara County, Presqu'ile is perfect for a short getaway with your inner circle. This winery is family run and is known for having pleasant weather during most times of the year. Famous for serving Chardonnay and Sauvignon Blanc, this vineyard offers one of the best hill and ocean views across California and gives you the perfect taste of the locally manufactured wine.
4) Opus One, Oakville
Are you the kind of tourist who gets enchanted by captivating architecture and construction? Do you often crave for having splendid wine while gazing at stunning views from a rooftop deck? The opulent interiors of Opus One are the perfect mix of American and European cultures. To add to the enchanting decor is the wine-tasting experience like no other kind.
This particular winery is known for serving a few of the most expensive wines like cabernet franc, and malbec. Craving for a staycation that you remember for a lifetime? The valley floor view of Oakville and Rutherford qualifies for the Opus One being your picture-perfect destination, which you'd repeatedly want to visit and experience along with your family, friends, and loved ones.
5) Silver Oak Cellars
One of the most extensive vineyards in the Golden State of California, Silver Oak, spans 400 acres in Alexander and Napa Valley. Producing only Cabernet Sauvignon, this cellar is certified under California's Sustainable Winegrowing program. This place is known for its hospitality and rich reading experience. If you are fond of reading and wine both, Silver Oak Cellars is the place for you.
Their glasshouse library dates back to the 1970s and will give you the best green trail view to sip one of the most excellent wines. The lush green landscape, limestone decor, the best wine, favorite book, and a comfortable chair, isn't this enough to make for the perfect vacay ever? Wait for the tranquility of this place to enchant you.
6) Flowers Vineyards & Winery, Cazadero
Flowers and wine – what else does one need for the most romantic setup? Flowers is one of the newest to have a wine-tasting room in 2019 after it was founded in 1991. The Flowers Sonoma Coast Chardonnay or Sonoma Coast Pinot Noir has already become a rage among the locals, and chef Tyler Florence's chicken served with local sides. Also, it is one of the most promising vineyards in the state.
If you are looking for a quick and super romantic vacation with your lover, Flowers is the perfect pick for you. A former nursery, Flowers, has precisely the kind of vibe that its name suggests. Flowers have all to qualify as one of the most romantic wineries in California ever from magnificently romantic interiors to Dutch-imported chandeliers. To add to all of it, Flowers also has Instagram-friendly private cabanas situated throughout the outdoor gardens, which let couples share their special moments with near and dear ones. After all, who wouldn't want to upload a proposal on Instagram?
7) Preston
Looking for a paradise tucked off the outskirts of Dry Creek Valley? A place where you can just lay low, relax, chill, calm your traveler's nerves and spend a few laidback afternoons – Preston winery is your one-stop for all, including tasting a few of the most excellent wines ever made. This vineyard is built across the Preston family's 125-acre property. While it does have grapevines like every other winery, it is different from the rest because it is a properly functioning working farm.
From organic vegetables to complete livestock, various fruit trees to raw vibes – the Preston winery has it all. Not just wine, the Preston makes the tourists and its visitors taste all that they prepare organically at the farm. The list includes various types of pickles, olive oil, cider, meat, and fresh bread. All the travelers who love the idea of showing up, grabbing a glass, eating some olive oil dipped bread with some delicate wine, give this winery a visit soon.
8) MacRostie Winery and Vineyards
This winery in California has got some well-deserving awards. From the 'Best Winery in Sonoma' to 'Best Tasting Room in Napa and Sonoma' titles at San Francisco Magazine's 'Best of Wine Country Awards', MacRostie Winery and Vineyards have got them all. This beautiful winery was founded in 1987 and is one of the leading wineries, known for having the best Chardonnay and Pinot Noir. MacRostie's Sonoma Coast wines are made using the most exceptional quality of home-grown grapes.
These are being planted for decades at vineyard-designate-quality winegrowing sites. These vineyards provide for the best conditions for the growth of grapes. The perfect marine influences, right speed of the wind, fog, and elevated ground create the best growing atmosphere for MacRostie's balanced wines. This renowned winery also offers one of the most scenic views for the intimate tasting experiences of MacRostie's best. Not to forget the patios which transport you straight to Europe.

9) Malibu Wines
Who would have thought that Malibu is famous for something other than its beaches? The fact is that Malibu is an equally crucial hidden gem for wine-loving travel enthusiasts. This winery is one of the best suited for those who wish to have an adventurous experience of being at a vineyard other than tasting the most exquisite quality wines. Hence, the Saddlerock Ranch comes to the rescue of all travel lovers who've always wanted to go on wine safari tours.
This humongous beautiful winery gives tourists a chance to explore Malibu's 1,000-acre Saddlerock Ranch and vineyard. A team of guides and drivers accompanies the tourists while they tour the vines in a custom-built open-air Safari. What adds to the total experience is that you can stop by, taste local wines, and admire the lush green scenery. You also get to spend some quality and fun time with animals like camels, zebras, and the Giraffe.
The winery's proximity to Los Angeles makes it one of the most frequently visited, famous, loved, and preferred wineries from the locals at LA. Aren't the two cities the perfect combination for tourists who are up for tangentially different but memorable experiences in California? Undoubtedly, the Malibu Wines will only become better and more crowded in the times to come.
10) Raymond Vineyards
Are you the kind of tourist who wants not just to love to try their hand at winemaking? Raymond Vineyards is the California winery, which will allow you to attend the 'Winemaker for a Day blending class'. One of the best wineries in California, Raymond Vineyard, is full of private experiences and tours and tastings. It also includes a pretty fascinating library tasting facility.
Raymond Vineyards was founded in 1970 and is spread across 300 acres of estate vineyards in the Napa Valley. It is particularly famous for visitor's learning the basics of winemaking and blending their red wine from Napa's regal appellations. After you've successfully combined your wine, you can take a bottle of it with you home. Not just that, this bottle will also feature your custom label, creating a memory for life.
Map of California Wineries
We have prepared a map of the best California wineries to help you plan your trip out.
This map can be exported and uploaded to the mobile map app such as Maps.me or Locus maps.
California Wine History
Among many wine-producing states globally, the ones in Europe, Australia, and the United States are considered to be one of the best as far as the quality of the wine, and the overall cost of travel is concerned. The Golden State of California has a wide variety of vineyards that may surprise you as a tourist. California has a rich winemaking history, which traces back to 1700 and is one of the largest wine-producing regions of the United States.
This is when the missionaries from Spain brought vines along to produce wine and then using it for communion. This variety of wines, popularly known as mission grape, became quite popular around the 1800s. Gradually, the vineyards spread across different parts of the state, giving way to Napa and Sonoma. As of May 2019, California has about 139 American Viticultural Areas (AVAs). It happens to produce over 30 percent more wine than what is produced in the Australian subcontinent and approximately 90 percent of the total wine production of the USA.
Conclusion
It wouldn't be wrong to say that when countries across the world speak about American wine, they refer to California wine. The rich wine country provides for a varied experience to the tourist, just like the way it should be and even more. If you are the kind of travel buff who would love to wake up amongst the vines amid an immersive holiday, then have these California wineries at the top of your vacay bucket-list. Here's to a great grape to glass experience.
Are you planning a road trip around West Coast USA? Check our ultimate guide:
Author's Bio:
Rebecca Siggers is a passionate writer & guest blogger. Writing helps her to improve her knowledge, skills & understanding about the specific industry. She loves writing & sharing her knowledge mostly in the Travelling Industry. She believes travelling is the key to a peaceful life & wants to spread her belief across the world. Apart from writing, She loves Traveling and Reading.
More tips for your travels:
We have prepared for you this comprehensive list of links, discounts, and resources for travel planning in one place. Bookmark this page and whenever you plan a vacation in the future, just open it and save yourself a lot of time.
1) Where to book accommodation?
2) How to find cheap flights?
3) How to rent a car?
We recommend a comparison portal RentalCars.com to compare the best offers of all available rental companies.
Pin California wineries for later and for your friends: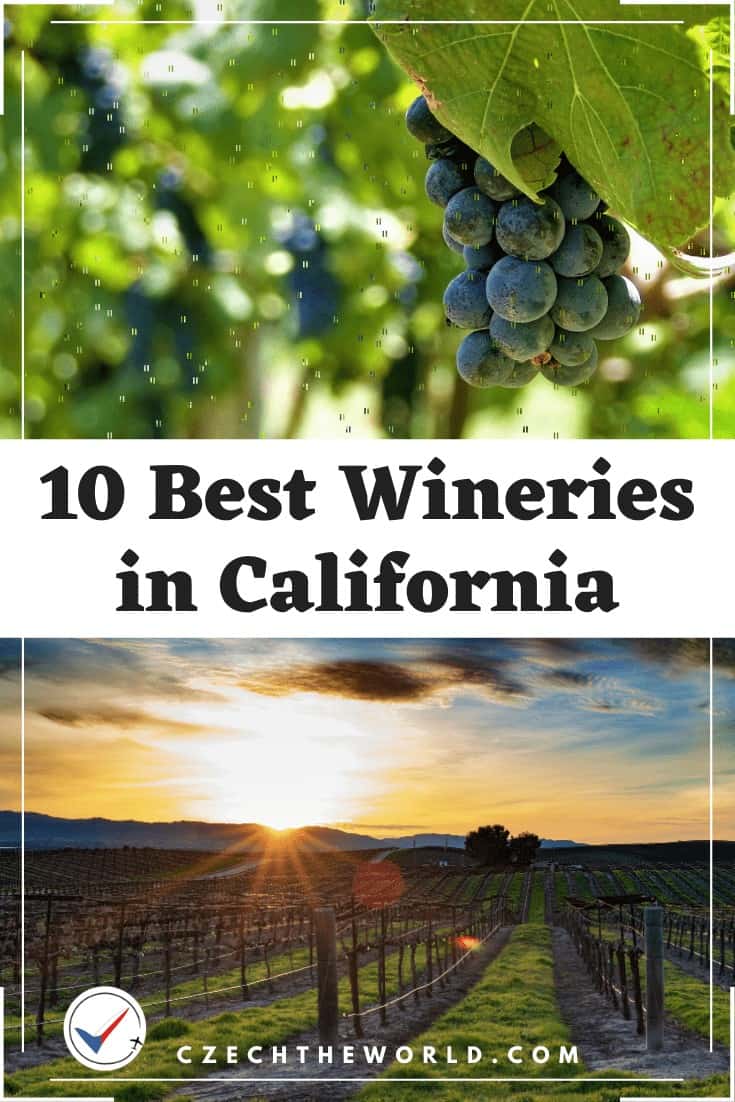 Do you like this article about California wineries? Share them with your friends:
Disclosure: Please note that some of the links above may be affiliate links, and at no additional cost to you, we earn a commission if you make a purchase. We recommend only products and companies we personally use and we use this income for further improvement of this website. Thank you!