There are many scams waiting for innocent tourists in Bangkok, Thailand. How do Bangkok Scams look like? What should you avoid during backpacking Thailand? There are more than just the well knows gem duty free scam or tuk tuk scam.
You should be careful before going to the Thai metropolis – Bangkok. There are a lot of traps waiting for innocent tourists. Bangkok is known for many scammers and you can fall into a well-prepared trap very quickly and easily. Bangkok scams can be very tricky.
We consider ourselves to be travelers who aren't easy to scam. But this was so good that it got even us (at least partially).
1) "The Grand Palace is closed today" Scam
Imagine walking along the Wat Phra Chetuphon temple, which is right next to the city's main tourist attraction. A smiling guy will approach you. The conversation unfolds to a friendly: "Where are you from? Where have you already traveled? Where are you going now?" There wasn't anything unusual about that be because the local people wanted to talk with us many times already.
You mention that you are going to the Grand Palace: "You're going in the wrong direction, the entrance is over there, but they're closing in 20 minutes now, you would not be able to see it properly. "Are you here tomorrow?" "Yes, we are." "Ok, let's leave Palace for tomorrow and I can show you some other interesting places to see while I am waiting for my family sightseeing in the Temple.
At that moment, we pulled out our cell phone and GPS. The guy had a map and started showing us different points on the map. The Largest Standing Buddha – yes, we wanted to go there. Happy Buddha – why not – there are many temples around the city and the locals probably know which are worth to visit. We still had in our minds that we'll say goodbye and try to see the Grand Palace today, but it was difficult to leave.
Be Aware of the Tuk-Tuk Taxi Drivers
After explaining nicely where and what we must see, he warned us to be aware of the taxi drivers. They do sightseeing tours, but they want 200 Baht, but those prices are far lower for locals. "Do you speak Thai?" "No". "Never mind, I can help you." Before we had a chance to think about it, he was the driver: "How much is one ride?" "200THB". That is too much! They had a little conversation in Thai and then our guy told us: "80 Bath, do not give him more!" He will go with you to all the shown places and he will wait for you while you will be taking pictures (maximum 30 minutes at each stop).
The driver was looking at it furiously – he could have unsuspecting tourists for a higher price. We still hadn't decided if we want to do that. Nevertheless, after the whole day walking with heavy backpacks in such a heat, we finally decided – why not to rest a little bit in a tuk-tuk. In addition, we wanted to get there anyway and it's pretty cheap.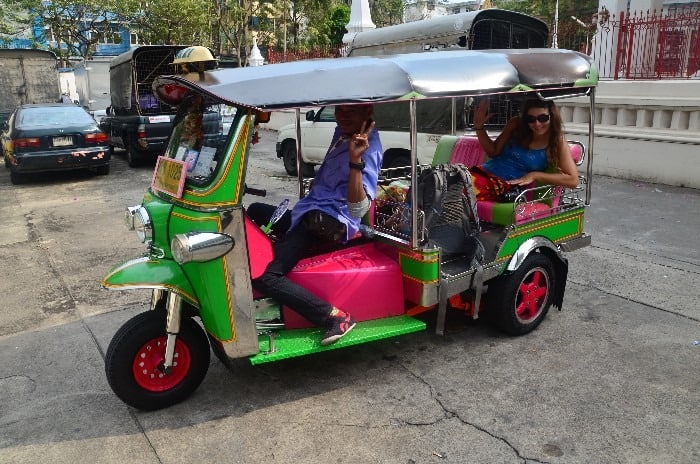 Bangkok Scam could begin
The guy remembered at the last minute that we could have a tour to the tailor's factory on the way too and gave the taxi driver a map. People from all over the world come here to have their suits sewn, and they have extra discounts today. We ignored this part, but it might be interesting as a short stop on the way.
First stop – Lucky Buddha
The driver stopped with us at one of the temples. Lucky Buddha should be inside. Despite the lower price, the driver was still very nice and smiling. Another guy was standing before the temple and we had a very nice conversation with him, he told us where we had to put our hands on the 1,000-year-old Buddha, and wish something. The guy was very nice and told us other interesting facts and gladly answered our questions, so we were back in enthusiasm. We were very suspicious about this tour, but not all the people want to just scam tourists here, we thought.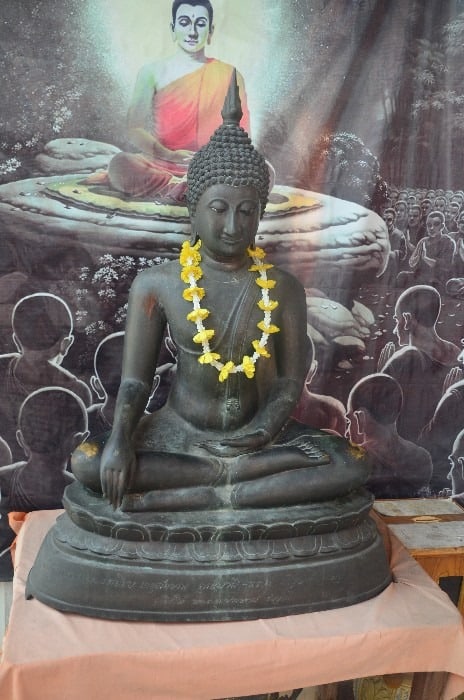 When we returned back, the driver was very nice again, he had shown us the next point of interest on the map. Well, he deserves even more than the promised 80 with this approach, we thought.
Fake Tailoring Factory
He stopped with us at the "factory", I would rather say tailor's shop. The tour didn't seem to happen. They immediately started asking us what we want and started offering us suits. Two high quality branded suits for a very cheap price – 20000 THB. Today is the last day of this sale. We refused and started to look at other fabrics. So, would you like a scarf? It's a real silk. We refused again. I just wanted to take a photo, but I have been cruelly stopped that 1 photo is for 1000 THB and if we don't want anything, go away! Wow, this is how companies care about customers?
Gasoline Coupons for Drivers
We returned back and the driver was a little bit sad when he saw we didn't buy anything and he, therefore, wouldn't receive gasoline coupon. But the driver asked us to know he had one more place to buy a gasoline coupon if he chooses a long time. He took us to another tailor's shop and told us that he will receive a coupon even if we stay inside for a long time just looking around.
The vendor approached us with "What do you want?" We were hardly figuring out the answer because we didn't want anything. He started to offer us shirts. Three for 4000 THB. We rejected again. "Czech Republic – no money?" The vendor behaved utterly inappropriately and tried to force us to buy the overpriced clothing. We tried to explain to him that we are backpackers and really don't need shirts. We were literally kicked out from the shop.
Scam Revealed
What a behavior?! That's how luxury vendors care about their customers. At that moment, it became clear that it is a scam. At least that tailors are fake.
Buddha in Scaffolding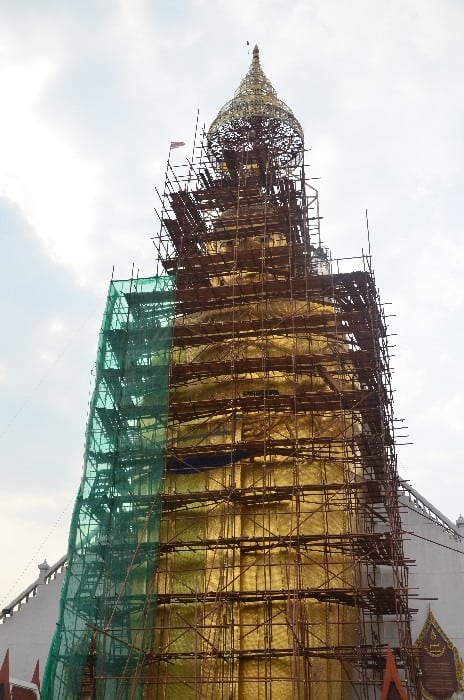 The other temple was not much better, aggressive ticket sellers (40 THB) did not allow us to go down the road around the temple without paying them. The golden-standing Buddha was all hidden in scaffolding, so we finally realized that not just the fake factories, but all this tour is a scam. The driver wasn't that nice anymore after factories. We told him that we want to get out halfway at another point of interest (one of the really nice temples).
Tourist Scam Continues
When the driver found out we want to get out, he began to explain to us that this temple is also closed because of some maintenance, therefore we should rather continue to the river and take the boat to the floating market. We were just curious about the price – 1200 THB. Oh, well… We gave him 80 THB and got out. The temple that was supposed to be closed, was of course open.
We were discussing a long time about how perfectly organized scam it was. That is the infamous Bangkok Mafia, which cooperates with many different companies and businesses in the city.
Fortunately, it cost us just about an hour and 80 THB, so it was actually even worth the "experience" and at least this post can help some other travelers to avoid such scams. As we learned later, the Bangkok Mafia has prepared many other scams and traps for innocent tourists.
Here are some other Bangkok Scams for tourists:
2) Half Price Massage Scam
This scam begins like many other bargain offerings. A guy on the street offers a massage with a 50% discount. When the customer accepts, he is asked to pay before the massage. Everything looks great, but after a massage, he is forced to pay again and even more than the original bargain offer.
3) Taxi and Tuk Tuk Scam
Bangkok is primarily known for its taxi mafia. Therefore, it is never worthwhile to take any taxis waiting near the main tourist attractions. Taxi drivers often do not switch on the taximeter and insist on a pre-set amount. If you find some taximeter taxis, they often have a huge boarding tax or faster mileage. Finally, the drivers take some long detours to prolong the journey and force you to pay more.
4) Laundry Scam
If you would like to have your clothes washed in Bangkok, be really careful! The clothes are magically disappearing from the washing machines and the launderette staff will then happily take you to some place where you can "affordably" buy new clothes …
5) Fake Police Officer Scam
The Bangkok tourist mafia is not afraid to dress even as a police officer. Such a policeman checks your visa and tells you that something is wrong and you have to pay a fine. Sometimes even this "policeman" wants to check your wallet and unobtrusively pulls some money out of it.
How do you avoid this? Insist on writing the official protocol at the police station. You will see how quickly "the officer" forgives you this time.
6) Rented Motorcycle Steal Scam
The Bangkok gangs have gone even further. Some rental companies steal their own rented motorcycles. Therefore it's a good idea to lock the motorbike with your own secondary lock.
7) Fake Jewelry Duty Free Gem Scam
Beware of any vendor who will want to sell you very cheap duty-free gold, silver or other jewelry. You would take home just cheap trinkets. Rather check this guide to the best souvenirs to buy in Thailand and buy something real and not fake.
8) Bird Feed Scam
You are most likely to encounter scammers in the park. Definitely, don't let them put bird feed to your hand. After dispelling the feed, you will be demanded astronomical sums.
9) Wrong Change Scam (Not only in Bangkok)
Intentional wrong return of change can happen anywhere. Always carefully count your money after buying anything, especially in Bangkok.
10) Hua Lamphong Railway Station Scam
If someone at Bangkok main train station tries to tell you that your train is full and he can offer you cheaper and faster means of transport, don't trust him. Fraudsters often use fake TAT (Tourism Authority of Thailand) badges. If you accept such a "favorable offer", you can expect even threats of violence at the end of the journey, forcing you to pay additional charges. TAT doesn't offer any bus, train or other tickets or excursions.
Bangkok's tourist mafia is very inventive and will certainly come with other "little tricks" and scams. Therefore it's a good idea to always keep eyes open. Be aware if anyone offers you anything very advantageous – it will be most likely some scam. The more the vendor tries to urge his offer, the more likely is the fraudster. Therefore don't accept offers of people, who fastly approach you, but rather walk around and find something safer.
Do you have an experience with other Bangkok Tourist Scams? Let us know in comments. We would like to have this guide complete.
Are you tired of all these tourist spots? There are many off-the-beaten things you can do in Bangkok, where you will not meet all these crazy scammers.
I am aware of Bangkok scams, let's go!
Read also our guide to the Best Things to Do in Bangkok!
We also recommend buying this anti-theft bag to avoid being pick-pocketed.
Great, now You just need to find accommodation in Bangkok. We can recommend based on personal experience Hostel Blue House, which is situated right next to the main train station Hua Lamphong. You can search other hostels here:
Check this video about Bangkok Scams:
If you are seeking some inspiration for what to visit in Thailand, you can continue to:
More tips for your travels:
We have prepared for you this comprehensive list of links, discounts, and resources for travel planning in one place. Bookmark this page and whenever you plan a vacation in the future, just open it and save yourself a lot of time.
1) Where to book accommodation?
2) How to find cheap flights?
3) How to rent a car?
We recommend a comparison portal RentalCars.com to compare the best offers of all available rental companies.
Pin Bangkok Scams for later or for your friends: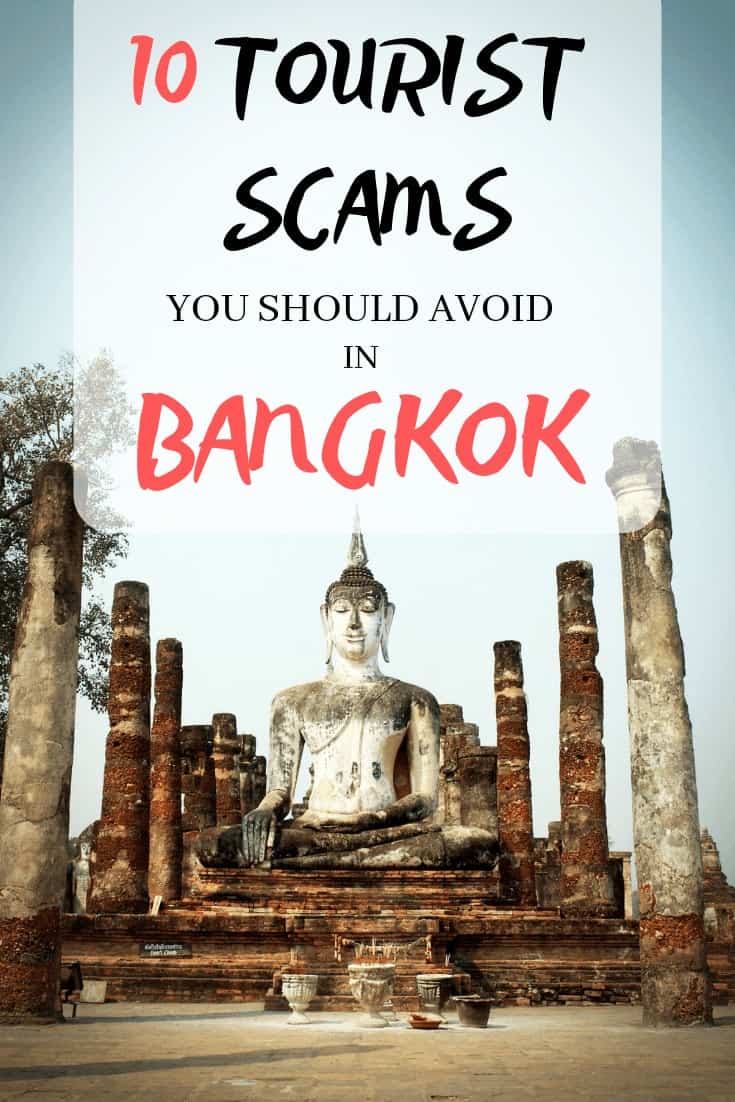 Bangkok Scams FAQ – frequently asked questions
Did this post about Bangkok scams help you? Share it with your friends! It can help them too!
Disclosure: Please note that some of the links above may be affiliate links, and at no additional cost to you, we earn a commission if you make a purchase. We recommend only products and companies we personally use and we use this income for further improvement of this website. Thank you!